Join One of the Top Real Estate Teams in Summit County
If you want massive success in your real estate career, click the button below.
According to the National Association of Realtors, 87% of real estate agents fail out of real estate within the first 5 years. The reason is simple: a lack of training and a lack of systems. Agents fail to learn the right strategies and don't earn enough income to stay in business. At the Breck Life Group, our agents create thriving real estate careers with commission income of $100,000 or more possible, just by following our systems!
You Deserve More
3 Things Separate Breck Life Group Agents
1
Our Team Cares About Your
Personal Success and Growth
2
Majority of Your Expenses,
Leads & Staff Covered
3
Team of Staff to Support You,
Family Culture
Majority of Your Expenses, Leads & Staff Paid for You
What is Paid for You?
Your staff, leads, signs, sign riders, lockboxes, copies, business cards, postage, thank you notes, flyers, presentations, folders, CMA binding, database software, paperless closing software, open house signs, etc.
Your Leads are Emailed Daily
We generate HUNDREDS of leads per month & they are emailed to our agents daily.
What Fees Do You Pay?
License ($750/yr/approx), MLS ($50/mo), eXp ($85/mo), $0 listing marketing… that's it!
How Much Should You Expect to Earn?
First year agents can earn $75,000+ and in their second year agents have the potential to earn $150,000 or more. As your pipeline of current and past clients grows, your earning potential is nearly unlimited.

Integrity
Always doing the right thing, even when no one is looking. We value honesty and adhering to our morals and ethics.

Service
Success comes from placing our clients' needs first. We go above and beyond to make your real estate experience one that is helpful, informative, smooth, and reliable.

Collaboration
Stronger together. Through open communication with team members and clients, we share ideas, experiences and perspectives to achieve common goals.

Transparency
We keep our word. We value clear and honest communication with our team members and our clients.

Fun
When selling real estate in the mountains, we're not just selling homes. We're selling a lifestyle - a lifestyle of play, adventure and exploration.
About the Breck Life Group
Pete Deininger found his home in Breckenridge when he moved here in 1994. Breckenridge and Summit County afforded him the life he always wanted - an opportunity to serve his community while playing in the great outdoors each day. As many locals discover, they come for a winter, but stay for the summers. Pete couldn't imagine anything better than skiing all winter and mountain biking all summer. Life at 10,000 feet was appealing, and he planted his roots in the heart of the mountains.
Pete started his real estate career in 2008, where he found his passion for helping others realize their dreams of home ownership in the mountains. He was fortunate to combine the elements he enjoyed most from his prior careers - custom home building, web development with SEO focus, digital marketing, and customer service - into his daily life. By applying what he learned previously about exceptional customer service, he was able to quickly climb to among the top 1% of sales agents in all of Summit County.
As his business grew, Pete recognized that he could help more people if he had a group working together to achieve an even higher level of service. It was in that recognition that the Breck Life Group was born and he uncovered another passion in real estate - training, teaching, and mentorship.
Today, Pete is the proud owner and Team Lead of the Breck Life Group at eXp Realty. Together, the BLG team works tirelessly on personal growth and development so that they can deliver the best possible service to sellers and buyers. The Breck Life Group goal is to clearly understand clients' needs in order to help them reach their dreams. The results speak for themselves: more than 300 families served and more than 300 dreams realized!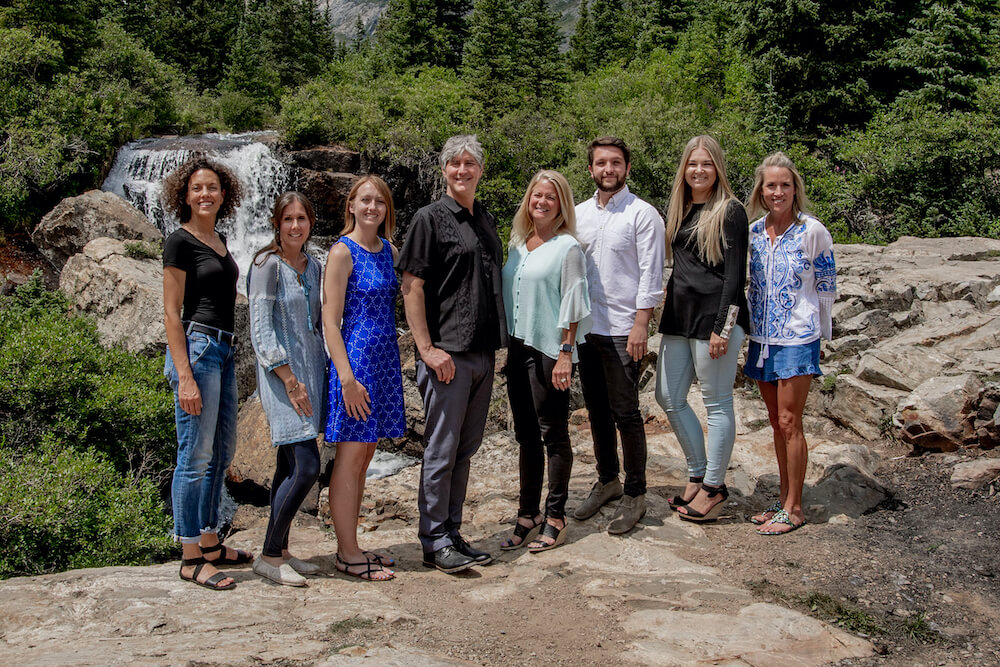 Mission Statement
We continuously strive to be the top producing Real Estate sales organization as a result of our client-focused systems, tools, marketing and support of real estate agents who place exceptional customer service above all else.
Our Agent Training is the BEST in the Country
I joined Pete Deininger and the Breck Life Group in early 2017. In the last 4 years, I have found the training opportunities Pete provides to be relevant, forward thinking, and a huge asset to building my skill set as an agent. The technology/tools offered are also market leading and a game changer for me for lead generation. To date, the majority of my closed business has been converted leads supplied by Pete and/or these tools. Pete also takes a vested interest in each person on our team both personally and professionally, which is rare in this business. That foundation creates an atmosphere of collaboration and teamwork which helps us all succeed and have fun doing it!
Gretchen Gallacher
Pete has been a great mentor, leader, and an absolute professional in my time working with him and Breck Life Group. By working with Pete I have been able to leverage his experience to progress much faster than possible as a solo agent. I have been able to build a great foundation to a successful career based on the training and tools I've received. Pete has made it possible for me to not only be financially successful at the beginning of my career, but most importantly has helped me become a better friend, local volunteer, person, and active member of our Breckenridge community by encouraging work life balance and efficient time management.
Christian Vales
Pete is not only a wonderful mentor but an amazing human being. He will always welcome you with a big smile and you will feel his positive (and contagious!) attitude when being around him. What I really enjoy about working with Pete is that he always provides practical guidance, motivates and encourages you every step of the way. He genuinely wants you to succeed in your role and shares his knowledge and expertise to that end. Pete provides a great working atmosphere and all the necessary tools and training to do your job well. I have learned more from him in the last six months than in the last few years of my career. I really appreciate him and all he does for our team at Breck Life Group.
Aleks Matthews
What Are We Looking For?
While many newer agents are taught to do manual grunt prospecting like door knocking and cold calling, our agents call WARM leads who have raised their hands about buying or selling real estate.
We live by all the same principles we use with our clients—respect, integrity, knowledge, efficiency, excellence, integrity, service, collaboration, transparency, fun - and treat each other accordingly. If you are looking for a challenge, as well as an incredibly supportive team, working with the Breck Life Group is the way to go.
We are looking for people with:
Integrity
Passion
Compassion
Drive
Initiative
Accountability