Maximizing Vacation Rental Income: Best 14 Days to Rent Out Your Breckenridge Vacation Home
Posted by Pete Deininger on Thursday, July 13, 2023 at 9:56:31 AM
By Pete Deininger / July 13, 2023
Comment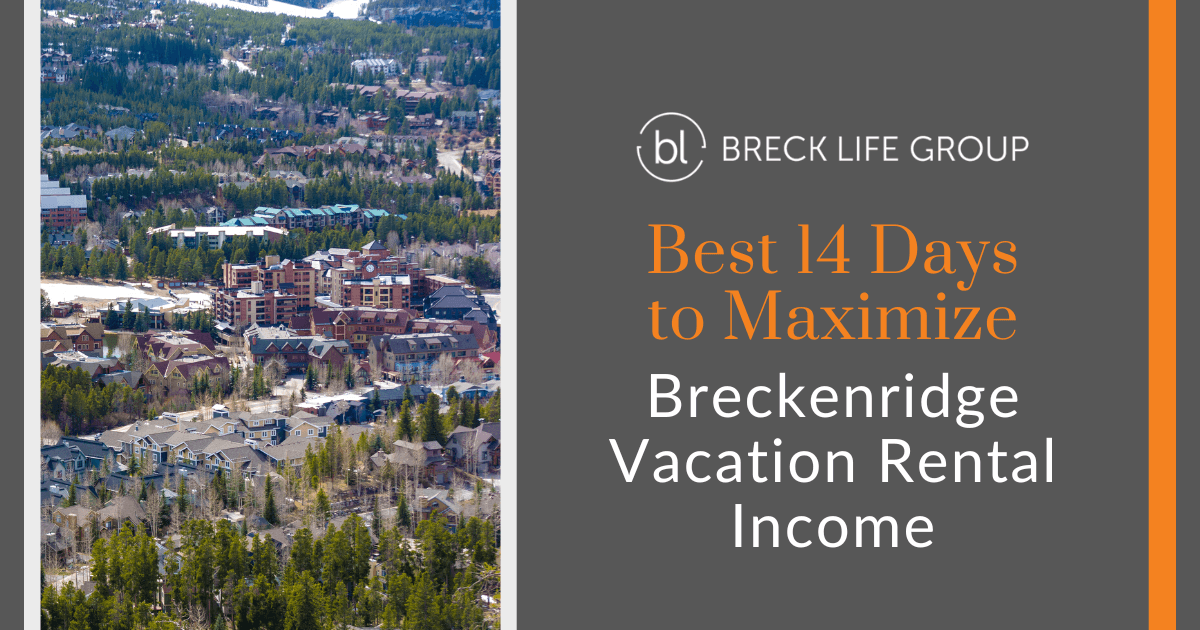 A thriving real estate market for vacation homes lies in the enchanting town of Breckenridge, Colorado, nestled amidst the majestic Rocky Mountains. For owners of vacation homes and investment properties seeking to maximize their rental income, understanding the most profitable days to rent out Breckenridge vacation homes is essential. This article unveils the 14 optimal days that promise lucrative returns, allowing homeowners to capitalize on the region's abundant tourism. By delving into the intricacies of Breckenridge's short-term rental market, this guide presents valuable insights to investors and property owners alike, enabling them to make informed decisions and unlock the full potential of their vacation rental properties.
The 14-Day Rule on Vacation Homes
Income taxes can affect potential profits for vacation property owners. The IRS allows owners to rent a personal vacation home for up to 14 days per year without reporting rental income. Renting a vacation home for more than 14 days per year means that owners must report this income to the IRS and pay taxes on it. Those who have a personal vacation home that they don't use during the busiest season in Breckenridge can maximize profits. They can rent out their home for up to 14 days while rentals are in high demand without paying any income taxes on rental revenue.
Owners who plan to rent their vacation home for 14 days or less should note that they won't be able to deduct rental-related costs. In this case, the IRS considers their vacation home a personal residence rather than a business. The IRS considers vacation homes to be private residences with a caveat when rented for more than 14 days per year. In this case, owners have to pay income taxes on rental revenue. However, they can also write off some rental-related expenses to help lower their taxes.
Ski Season in Breckenridge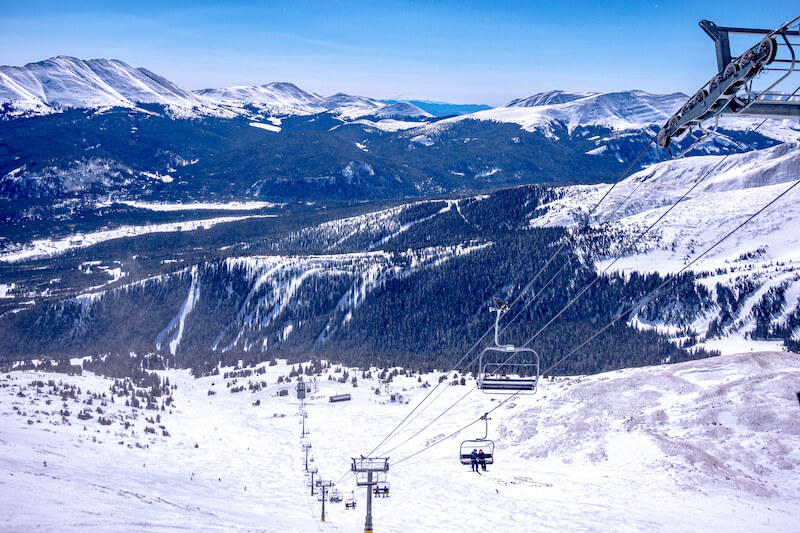 The year-round appeal of the beautiful Rocky Mountain retreat is one of the reasons Breckenridge vacation homes make great investments, but ski season is the most profitable time to rent out a vacation home. Breckenridge Ski Resort is a top ski destination in the U.S. It's one of the most crowded ski resorts. The ski season runs from November through April. During this time, lodging options and ticket prices are at their highest on weekends and holidays, including Thanksgiving, Christmas Day, and Presidents Day. Rental rates at the start and end of ski season tend to be slightly lower than the rest of the season. Those who want to maximize vacation home rental profits can do so with ski season rentals.
What makes Breckenridge Ski Resort such a big draw? This resort has over 2,900 skiable acres, including four terrain parks and 187 trails. Ski trails for all skill levels are available, from beginners to experts. The resort includes five peaks and North America's highest chairlift. Visitors can also go snowboarding and enjoy the area's other amenities and attractions, such as a rejuvenation spa, historic tours, shopping, and dining. With ski season offering tons of excitement on the slopes and plenty to do in town, this is an ideal time to rent a vacation home in the area.
Average Vacation Rental Costs During Ski Season in Breckenridge
Vacation rental costs in Breckenridge during its busiest season can vary from one property to the next. Factors such as size, amenities, and proximity to ski slopes can all affect how much owners charge for rentals. Generally, the average cost for a trip to Breckenridge is between $1,613 and $3,265 per person. For families, the average cost falls between $5,120 and $9,394. This includes lodging, flights, food, and other expenses. For homes in Breckenridge's best neighborhoods and those closest to the area's main attractions, costs can be considerably higher.
Average rental prices are often lower in early to mid-November and early to mid-April. These are the beginning and end of the ski season, when some ski runs at the resort might not be available. Vacation rental costs at the height of ski season tend to be much higher, especially for vacation homes compared to hotels.
Vacation rental homes in Breckenridge that are smaller and offer fewer amenities are at the lower end of the average cost range. Those offering four or more bedrooms, luxury amenities, and ski-in/ski-out access are at the higher end of this cost range. Costs also vary based on the length of a rental. Owners typically offer discounts for guests who rent for more than two weeks at a time.
Breckenridge Winter Events and Local Attractions
Breckenridge offers much more than skiing for those who visit in winter. Property owners can mention local festivals, events, and other attractions when marketing their vacation homes for winter rentals. The Lighting of Breckenridge & Race of the Santas offers festive fun in early December. Visitors can watch runners dressed as Santa race along Main Street. The lighting ceremony includes over 250,000 holiday lights that brighten the town for the season. This event includes a holiday dog parade, carolling, and a Children's Moose March.
The Ullr Festival in early December is a Viking-themed event featuring a Main Street parade, bonfire, and other festivities. The International Snow Sculpture Championships take place in late January. This competition creates an outdoor art gallery of hand-carved ice sculptures downtown.
Breckenridge offers several outdoor winter activities to enjoy besides skiing. Visitors can go sledding, take sleigh rides through scenic mountain terrain, and go ice skating at Stephen C. West Ice Arena. Other activities include sonic snowcat tours, year-round fly fishing, snowshoeing, and snowmobiling. Attractions in Breckenridge include the Edwin Carter Museum, High Line Railroad Park, Breckenridge Backstage Theatre, and Breckenridge Gallery.
Meeting the High Demand for Breckenridge Vacation Rentals
As the sun sets on Breckenridge's breathtaking landscape, this exploration of the 14 most profitable days to rent out vacation homes draws to a close. By scrutinizing the dynamics of the local rental market, property owners can leverage this knowledge to bolster their financial gains and make their Breckenridge properties truly shine. Whether it's the allure of winter sports, all the things to do in Breckenridge year-round, or the mesmerizing fall foliage, the town offers many opportunities for lucrative rentals. With an understanding of these optimal days, investors can confidently navigate the real estate landscape, optimizing their profits and ensuring a prosperous future in this captivating mountain retreat.