4th of July 2023 Events in Breckenridge, Colorado
Posted by Pete Deininger on Wednesday, June 28, 2023 at 8:00 AM
By Pete Deininger / June 28, 2023
Comment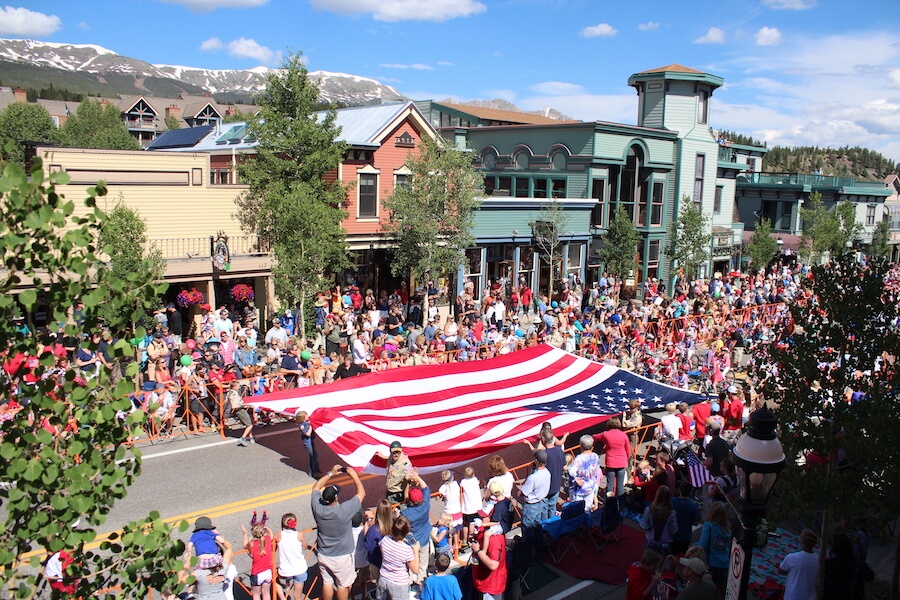 Ask any local about the Fourth of July in the town of Breckenridge, Colorado, and they'll have a lot of exciting things to talk about. This mountain community tends to shut down fairly early, with Main Street preparing for various festivities throughout the day. Leave the car and pets behind, and come with a solid plan for food, drinks, and enough time to snag a great spot. Keep reading to discover the upcoming Fourth of July events in Breckenridge, Colorado, this year.
Start the Day Off at the Firecracker 50
As one of the country's only 50-mile mountain bike races, attendees can take on the challenge of the Firecracker 50 in Breckenridge. Riders will wind around some of the finest single-track trails the community offers. Registration is required, and there are only 750 spots available, so sign up early!
Races are for mountain cyclists of all skills, including solo and team relay races. In addition to levels for pro-riders and single-speed races, sport racing rallies for ages 12 and older and dedicated men's and women's categories are also available.
Cyclists just getting started in mountain biking might want to start in the Sports Racer category, while more experienced riders might go for the gusto in the pro-levels. The minimum age for solo racers is 16. Registration costs $120 for individuals and $180 for teams.
Run the Trails at the Independence Day 10K
The Breckenridge Independence Day 10K Trail Run takes runners across 10 kilometers of unpaved trails starting at 9,634 feet and rising to 10,428 feet before returning to the home base. Since its inception in 2007, this run has become somewhat of a community tradition with locals.
There will be a few challenging slopes, plenty of wildlife, and glorious views to enjoy along the way. Register early to receive a guaranteed technical race day tee shirt because participation is limited to 500 racers. Restrooms and refreshments are available at the starting and ending points. The course will have two first-aid stands situated along the route.
Breckenridge Independence Day Parade
On July 4th, festival-goers line Main Street and the surrounding downtown roadways to catch a glimpse of the floats, bands, and dancers at the annual Breckenridge Independence Day Parade, which kicks off at 9:30 a.m. Many roads are closed from 6 a.m. to 6 p.m. on July 4th, so be prepared to walk, bike, or use public transportation to get to the festivities.
Head over to the Arts District to participate in the creation of art and patriotic crafting sessions. There will be a pop-up live music zone, interactive activities, chalk contests, and water games in addition to the attractions and activities in the Surfin' USA zone. The fun goes on all weekend long before Independence Day, so there's a good chance to enjoy a remarkable holiday!
Participate in Songs, Art & Games at Surfin' USA
Cirque USA kicks off the action right after the parade ends. It will feature circus crafts and games, face painting, glitter tattoos, balloon animals and you can even participate in our annual chalk art contest and dog fashion show. This year, th AirStage will have a Side Show Talent Competition.
Pets are welcome but must be on leashes in public spaces during the festival. The Blue Ribbon Winner Announcements of all contests will take place at 4 p.m. on the AirStage. Let's go "Surfin' in the USA" to celebrate this patriotic day!
National Repertory Orchestra Concert
The Fourth of July Spectacular Breckenridge features musical performances by the locally based National Repertory Orchestra. After the reading of the Declaration of Independence, the NRO Alumni QuartetCount will performe some of the most beloved patriotic songs in the nation. The program will be announced just before showtime at the sit-down 'Beyond the Program' with music advisor Carl Topilow.
The National Repertory Orchestra puts on this performance annually and dedicates it to all who have previously or are currently serving our country. This year, the show will start at 6 p.m. with the doors opening at 5:30 p.m., giving attendees time for a snack or a quick drink before showtime.
While the National Repertory Orchestra works on its own performances throughout the year, they also offer a unique and intensive fellowship program. This organization strives to enrich the lives of young musicians, visitors, and Colorado residents. Come and show support for their efforts and endeavors by attending this ticketed event, with proceeds going toward scholarships and financial assistance.
Ring in the Fourth of July at Breckenridge's Top Events
With downtown Breckenridge transformed into a hotbed of fun activities spread across the Fourth of July weekend, plan to spend at least one day at the festivities. Celebrate the nation's independence and connect with others in the community, whether there are fireworks this year or not. Make it a bang in its own right by joining locals and visitors in Breckenridge, Colorado, this year!