Breckenridge Resort Condo Communities with Luxe Après-Ski Amenities
Posted by Pete Deininger on Thursday, October 6, 2022 at 8:03 AM
By Pete Deininger / October 6, 2022
Comment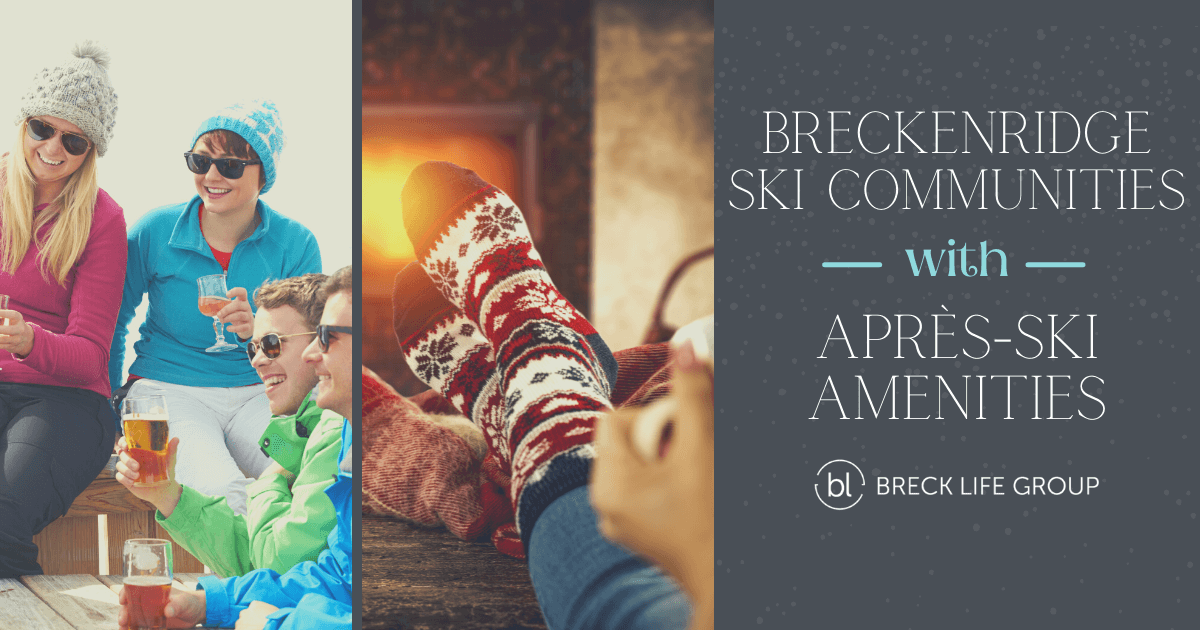 Located about 80 miles west of downtown Denver, Breckenridge is a lovely town with a population of just 5,000 residents—but those numbers swell significantly every year when the snow flies. In Breckenridge's ski condo communities, the après-ski amenities and traditions that surround the skiing lifestyle are a part of what makes the town so special to residents. Keep reading to discover some of the Breckenridge communities with the best après-ski amenities.
What is Après-Ski?
Après-ski is all the socializing and fun activities that happen after the skis and snowboards come off the feet at the end of the day. The original term in French literally means "after skiing." Virtually every country in the world where residents enjoy skiing now has its own sort of après-ski traditions. Think of it as a blanket term for all the fun stuff that happens once the skis come off.
In Breckenridge, skiers often head to The Warming Hut restaurant for locally-made vodka cocktails or craft beers or to Mi Casa for $1 tacos and discounted drinks for their après-ski activities.
One Ski Hill Place
One Ski Hill Place Condos in Breckenridge is one of the most impressive ski-in/ski-out communities you can find in town. With four chairlifts located right outside your front door, access to the slopes has never been easier. And when you come back, a luxe selection of après-ski amenities await.
One Ski Hill has a ski concierge, ski storage, and private ski lockers available for residents. The T-Bar is the spot for après-ski amenities at One Ski Hill Place. This in-house bar has regular après-ski specials, cocktails, and fun activities, with a great view of the mountain. DJs perform every Friday and Saturday night through the winter season, starting in early December. The bar also boasts the largest number of local micro-brews of any bar on the mountain.
The amenities for residents at One Ski Hill Place are nothing short of luxurious. Complimentary wireless, in-suite dining, and valet parking are just the beginning of the amenities. Condos range from studios all the way up to four-bedroom suites. It has an in-house spa and fitness center, so you can stay healthy and relaxed.
One Ski Hill is perhaps most notable for the Mine Shaft Bowling Alley, which features two full-size lanes. You'll also love the two movie lounges and the fully stocked game rooms. If you're interested in renting out your Steamboat ski condo, it should come as no surprise that the top-notch amenities make it one of the highest-earning vacation rental communities in town.
Beaver Run Ski Resort
Condos at Beaver Run Resort, as the name implies, are located very close to the Beaver Run SuperChair in Breckenridge. It's conveniently situated right between the mountain and Main Street in Breckenridge.
Depending on preferred après-ski activities, the Beaver Run Ski Resort offers:
Pizza and drinks at Pub on the Hub, located between the community's arcade and the pool area
Pizza and mixed drinks at Peak 9 Pizza, located in the Skywalk Deli
Holiday feasts during Christmas and New Year's Eve
5-Star dining at Spencer's Steaks & Spirits
Beaver Run Resort is often referred to as a "condotel," meaning all the units are individually owned, but it still has the service and amenities of a hotel. The luxurious condos at Beaver Run Ski Resort include private baths, gourmet kitchens (or in-room catered meals), free Wi-Fi, balconies, and breathtaking views of the Rocky Mountains in all directions. The condos can house between four and 12 people, depending on size. The resort has gas heat, but each condo has a wood fireplace for a truly authentic "old school" experience.
The community features in-room grocery delivery, ski-in and ski-out access, a ski school for younger skiers or beginners, a fitness center, and multiple indoor heated pools and hot tubs. There is also a full arcade with video games, interactive sports, and a mini-golf course for year-round residents or visitors to enjoy.
Vacation rental investors can maximize their year-round income by purchasing in the Beaver Run community. Its four buildings surround a conference center that's fully booked during the "shoulder season," the period between ski season and summer (May to October) when other rentals experience a dip in bookings.
BlueSky Breckenridge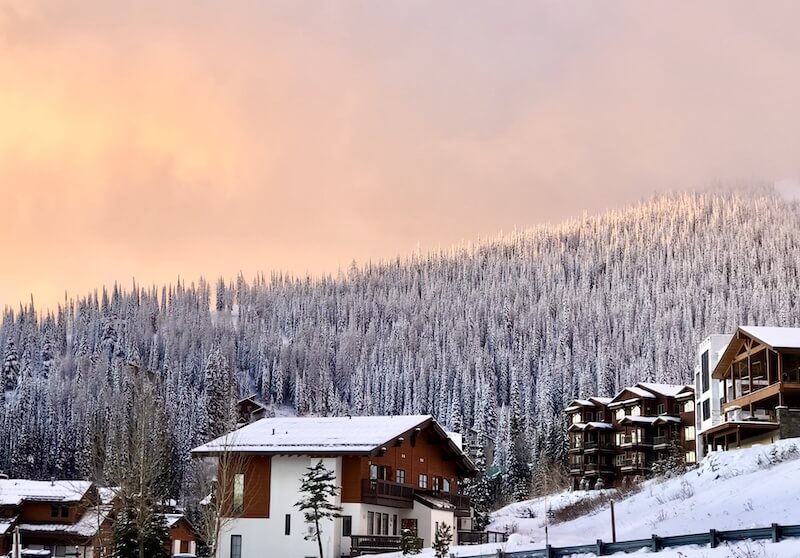 Condos at BlueSky are located just a few steps from the Snowflake lift on the mountain. It is a ski-in, ski-out community well worth considering as a personal getaway or a lucrative short-term rental.
BlueSky has an in-house après-ski bar with regular specials and events for residents. Everything is so conveniently located near BlueSky that residents can forget that they even own a car during their ski vacations. BlueSky also offers a heated pool, shared community hot tubs, a game room for children, a fitness center, an in-house spa, and a business center.
The homes in BlueSky Breckenridge can only be described as "plush." Gourmet kitchens in each suite include granite countertops and stainless steel appliances. Each condo has a spacious living and dining room, as well as a private balcony, in-house washer and dryer, and gas fireplace. Excellent views of the mountains, free shuttle rides, and step-free access are available directly from BlueSky Breckenridge. Want a ping-pong table in a suite? That's available too!
Mountain Thunder Lodge
Containing just over 100 homes, Mountain Thunder Lodge is a luxurious ski-in, ski-out community and resort conveniently located at the foot of Shock Hill in the heart of Breckenridge. This desirable vacation destination offers homebuyers the opportunity to purchase homes in a beautiful mountain area that promises privacy, accessibility, and upscale amenities. The property began construction in 2001 and was completed in 2005.
The community contains a lodge and condo buildings with distinct architecture and the conveniences of a modern lifestyle. The lodge offers two fitness centers, five outdoor hot tubs, one outdoor pool, on-site management and ski storage, ski-in and gondola-out access, and complimentary shuttle service. Shops, restaurants, and a grocery store are just a short walk from Mountain Thunder Lodge, which sits directly west of the gondola off Park Avenue. Resort guests and community residents can access Mountain Thunder Lodge from the Breckenridge traffic circle by heading south on Park Avenue and turning right on Mountain Thunder Drive.
Mountain Thunder Lodge condos range from studios to three-bedroom units. Each residence has high-end appointments like gourmet kitchens, moss-rock fireplaces, and private balconies and patios. Those who want to experience mountain living at its finest will love Mountain Thunder Lodge's offerings.
Main Street Station
Resort-style Main Street Station condos provide the comforts and conveniences vacation guests and residents desire in a mountain community between the base of Peak 9 and historic Main Street. After a day on the slopes or exploring within-walking-distance downtown Breckenridge, take in the incredible mountain views from the private balcony, entertain in the large living areas, welcome guests into the granite kitchen, and warm up by the gas fireplace in residences ranging from studios to three-bedroom homes.
Main Street Station accommodations include a washer and dryer in most units, flat-screen TVs with cable and a DVD player, complimentary Wi-Fi, and one-vehicle parking. Enjoy convenient access to the Breckenridge Ski Resort and the unique shops and restaurants lining downtown. A eucalyptus steam room, indoor and outdoor hot tubs, an outdoor pool, ski valet, and a fitness center await those who visit or reside at Main Street Station. Nearby ski lifts include QuickSilver Super6, CamelBack Platter, Beaver Run SuperChair, Snowflake Chair, BreckConnect Gondola, and Peak8 SuperConnect.
The Village at Breckenridge
At the base of Peak 9, this unique ski-in/ski-out property has everything from studios to four-bedroom units with full kitchens and fabulous amenities designed to make daily life exceptional. With a concierge service, four outdoor hot tubs, an indoor/outdoor pool, a steam room, a sauna, and a rec room, the Village at Breckenridge has everything you could want for rest, relaxation, and entertainment without needing to leave the property.
The Village at Breckenridge offers 24-hour security and a 24-hour front desk, complimentary in-unit coffee and tea, high-speed internet, and a shuttle service to take you to town. Don't miss the great restaurants and boutique shops on Main Street! The Village at Breckenridge has an on-site fitness center, but guests are also invited to use the amenities at One Ski Hill Place.
The Village at Breckenridge can be the home you dream of for skiing, but it will be equally enjoyable during the summer when you can take your mountain bike up and down the slopes or go hiking on the ski trails.
Crystal Peak Lodge
At the base of Breckenridge's Peak 7 is Crystal Peak Lodge, a beautiful condo building with old-world charm and gracious ambiance that belies its thoroughly modern appeal. This luxury condominium property offers ski-in/ski-out access to the slopes and a private stop for the BreckConnect Gondola. Residents can easily take the line to town or the base of Peak 8.
Lodging options at Crystal Peak include upscale furnishings, stone fireplaces, private balconies, underground parking, and personalized concierge service. When you feel like indulging in apres-ski delights, it's easy to hop on the shuttle or ride the gondola either to town or to the base of Peak 8, where you can use the upscale amenities of One Ski Hill Place.
Breckenridge is an Après-Ski Dream Come True
Anyone who enjoys the après-ski lifestyle will find that Breckenridge, CO, offers that and more. The biggest names in snowboarding head to Breckenridge every December for the Winter Dew Tour. The Norse god of snow is celebrated during Ullr Fest in January, and the town also hosts the International Snow Sculpture Championships and the longest ski mountaineering race in North America every year—The 5 Peaks. Whether you live in a condo at Breckenridge resort or a remote lodge, the après-ski lifestyle in Breckenridge is always enjoyable.