Breckenridge Resort Condo Communities with Luxe Après-Ski Amenities
Posted by Pete Deininger on Wednesday, November 24, 2021 at 8:03 AM
By Pete Deininger / November 24, 2021
Comment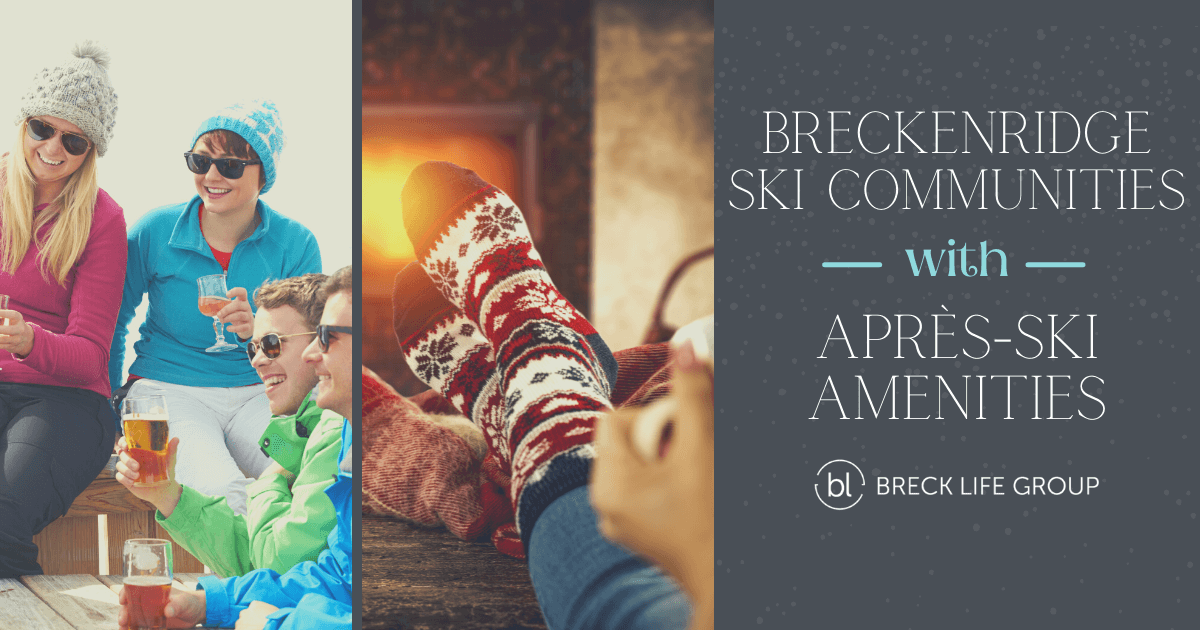 Located about 80 miles west of downtown Denver, Breckenridge is a lovely community with a population of just 5,000 residents—but those numbers swell significantly every year when the snow flies. In Breckenridge's ski condo communities, the après-ski amenities and traditions that surround the skiing lifestyle are a part of what makes the town so special to residents. Keep reading to discover some of the Breckenridge communities with the best après-ski amenities.
What is Après-Ski?
Après-ski is all the socializing and fun activities that happen after the skis and snowboards come off the feet at the end of the day. The original term in French literally means "after skiing." Virtually every country in the world where residents enjoy skiing now has its own sort of après-ski traditions. Think of it as a blanket term for all the fun stuff that happens once the skis come off.
In Breckenridge, skiers often head to The Warming Hut restaurant for locally-made vodka cocktails or craft beers or to Mi Casa for $1 tacos and discounted drinks for their après-ski activities.
One Ski Hill Place
One Ski Hill Place Condos in Breckenridge is one of the most gorgeous ski-in/ski-out communities one is likely to find outside the Swiss Alps—and it's just a few steps away from the gondola. One Ski Hill has a ski concierge, ski storage and private ski lockers available for residents.
The T-Bar is the spot for après-ski amenities at One Ski Hill Place. This in-house bar has regular après-ski specials, cocktails, and fun activities, with a great view of the mountain. DJs perform every Friday and Saturday night through the winter season, starting in early December. The bar also boasts the largest number of local micro-brews of any bar on the mountain.
The amenities for residents at One Ski Hill Place are nothing short of luxurious. Complimentary wireless, in-suite dining, and valet parking are just the beginning of the amenities. Condos range from studios all the way up to four-bedroom suites. It has an in-house spa, fitness center, bowling alley, two movie lounges and a game room. Year-round aquatics are available in two indoor pools, indoor and outdoor hot tubs, and fire pits.
Beaver Run Ski Resort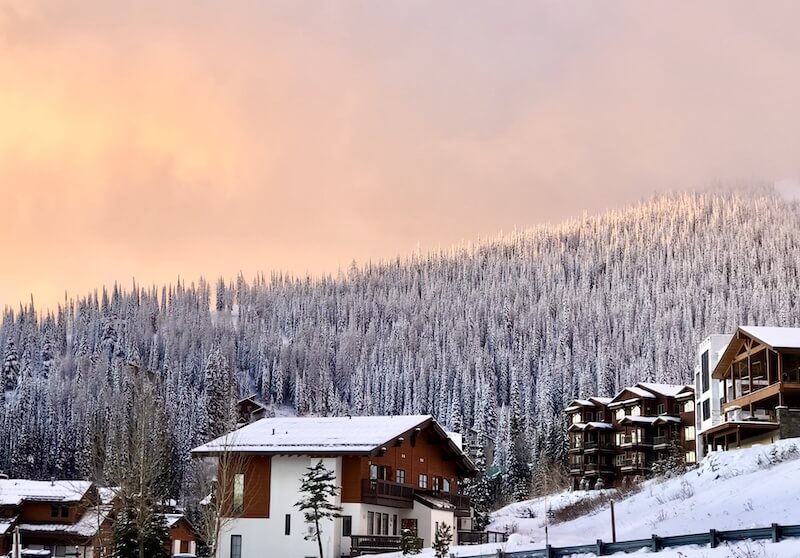 Condos at the Beaver Run Ski Resort, as the name implies, are located very close to the Beaver Run SuperChair in Breckenridge. It's conveniently situated right between the mountain and Main Street in Breckenridge.
Depending on preferred après-ski activities, the Beaver Run Ski Resort offers:
Pizza and drinks at Pub on the Hub, located between the community's arcade and the pool area
Pizza and mixed drinks at Peak 9 Pizza, located in the Skywalk Deli
Holiday feasts during Christmas and New Year's Eve
5-Star dining at Spencer's Steaks & Spirits
The luxurious condos at Beaver Run Ski Resort include private baths, gourmet kitchens (or in-room catered meals), free WiFi, balconies and breathtaking views of the Rocky Mountains in all directions. The condos can house between four and 12 people, depending on size. The resort has gas heat, but each condo has a wood fireplace for a truly authentic "old school" experience.
The community features in-room grocery delivery, ski-in and ski-out access, a ski school for younger skiers or beginners, a fitness center, and multiple indoor heated pools and hot tubs. There is also a full arcade with video games, interactive sports and a mini-golf course for year-round residents or visitors to enjoy.
BlueSky Breckenridge
Condos at BlueSky are located just a few steps from the Snowflake lift on the mountain. It is a ski-in, ski-out community well worth considering for a short stay, a time-share condo, or an investment property. BlueSky has an in-house après-ski bar with regular specials and events for residents. Everything is so conveniently located near BlueSky that residents can forget that they even own a car during their ski vacations. BlueSky also offers a heated pool, shared community hot tubs, a game room for children, a fitness center, an in-house spa and a business center.
The homes in BlueSky Breckenridge can only be described as "plush." Gourmet kitchens in each suite include granite countertops and stainless steel appliances. Each condo has a spacious living and dining room, as well as a private balcony, in-house washer and dryer, and gas fireplace. Excellent views of the mountains, free shuttle rides and step-free access are available directly from BlueSky Breckenridge. Want a ping-pong table in a suite? That's available too!
Breckenridge is an Après-Ski Dream Come True
Anyone who enjoys the après-ski lifestyle will find that Breckenridge, CO, offers that and more. The biggest names in snowboarding head to Breckenridge every December for the Winter Dew Tour. The Norse god of snow is celebrated during Ullr Fest in January, and the town also hosts the International Snow Sculpture Championships and the longest ski mountaineering race in North America every year—The 5 Peaks. Fun activities take place year-round, but it's the après-ski lifestyle in Breckenridge that makes people keep coming back time and again.