5 Best Hot Springs in Breckenridge & Summit County: Relax in These Great Natural Springs
Posted by Pete Deininger on Thursday, October 5, 2023 at 2:29:15 PM
By Pete Deininger / October 5, 2023
Comment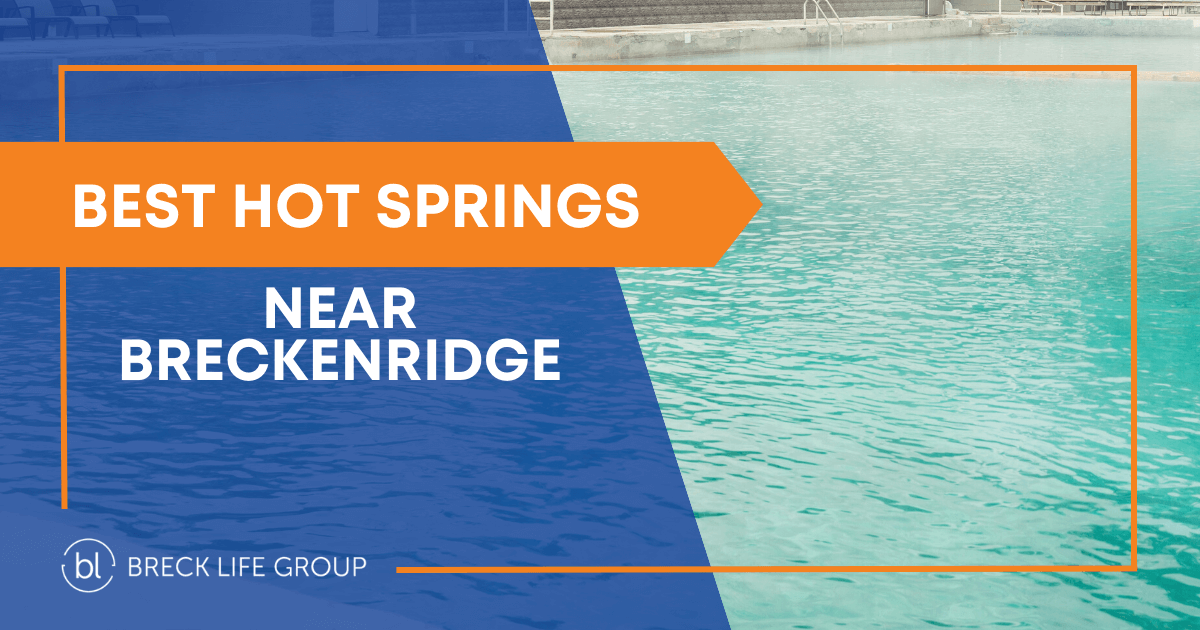 Located in the heart of the Rocky Mountains, the town of Breckenridge, Colorado, is not just famous for its world-class skiing and picturesque landscapes. Beyond its snow-capped peaks, it boasts many natural hot springs, each offering a unique experience for relaxation-seekers. These geothermal wonders provide visitors the perfect opportunity to unwind, especially after a vigorous day of mountain activities. From hidden gems to popular oases, the Breckenridge and Summit County area promises a rejuvenating escape for every enthusiast.
Indian Hot Springs
Indian Hot Springs is a historic Colorado site in Idaho Springs, just off I-70 and less than 50 miles from Breckenridge. As the closest of the area hot springs, it's a popular destination despite the bounty of things to do in Breckenridge.
This beautiful facility offers public and private amenities, including a large mineral pool open year-round from 8:00 a.m. to 9:00 p.m. The site includes geothermal caves and private baths from 9:00 a.m. to 9:00 p.m. and typically only closes for occasional maintenance.
The geothermal caves and Club Mud have age requirements, but the mineral pool and private baths are available to all ages. The mineral pool doesn't have a lifeguard on duty, so adult supervision is highly encouraged.
Hot springs rates start at $20 per person for the mineral pool, $24 for the geothermal caves, and $36 for the pool/cave combo.
Most of Indian Hot Springs is walk-in only, with no reservations needed. However, visitors may make reservations online for rooms at the resort. The resort offers two room sizes, including a queen-size room, starting at around $139 per night plus tax, and a suite, starting at $179 per night, plus tax.
Rates vary based on the day of the week, holidays, and which amenities visitors choose.
Cottonwood Hot Springs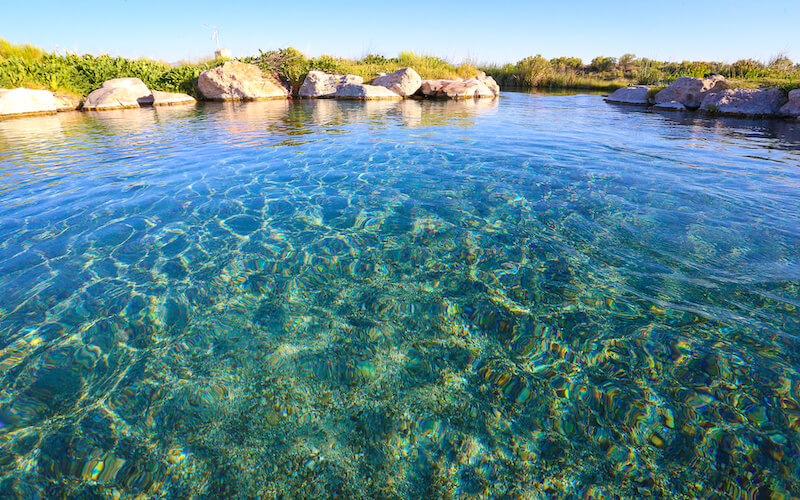 Cottonwood Hot Springs is located in the Collegiate Peaks Range and is bordered by Cottonwood Creek, with the San Isabel National Forest surrounding it. The public hot springs are approximately 90 minutes from Downtown Breckenridge and offer visitors a peaceful, relaxing space to balance the body, mind, and spirit.
A wide range of separate spa services include scrubs, facial massages, wraps, and more. The average pool temperatures vary but usually range from 80–104℉. The hot springs' soaking hours are from 8:00 a.m. to midnight, seven days a week.
Admission to the hot springs is $30 for adults and $24 for children under the age of 16, but rates are higher on weekends and holidays, with a rate of $34 for adults and $30 for children. The resort also has a newly remodeled hotel and several smaller, private lodges for rent.
Reservations can be made online or by contacting Cottonwood Hot Springs directly. These naturally-fed hot springs contain minerals that help to relax the body and mind.
Mount Princeton Hot Springs
Mount Princeton Hot Spring Resort is a private resort located in Nathrop, Colorado, between Buena Vista and Salida. This peaceful resort provides a range of incredible amenities.
Mt. Princeton Hot Springs is just over 80 miles from Breckenridge. The resort is in the heart of the Rocky Mountains, offering spectacular views and geothermal hot springs open to the public year-round. Pools range from 70–120℉, and guests can choose their preferred temperature.
The hot springs are popular for vacations—including for those vacationing in Breckenridge—corporate events, and mountain weddings. Resort lodging is also available with accommodations, including private cabins, hillside cabins, a large lodge, estates, and more.
All guests enjoy the following perks:
Two days of hot springs
10% off spa treatments
Complimentary bike rentals
Fitness classes
Snowshoe and cross-country ski rentals
Towel and locket rentals for a small fee
Day passes are also available and include access to the historic bathhouse, Creekside hot springs, and the upper pools and infinity pool. The infinity pool is available for private soaks and parties outside of regular business hours with a prior reservation.
Hot Sulphur Springs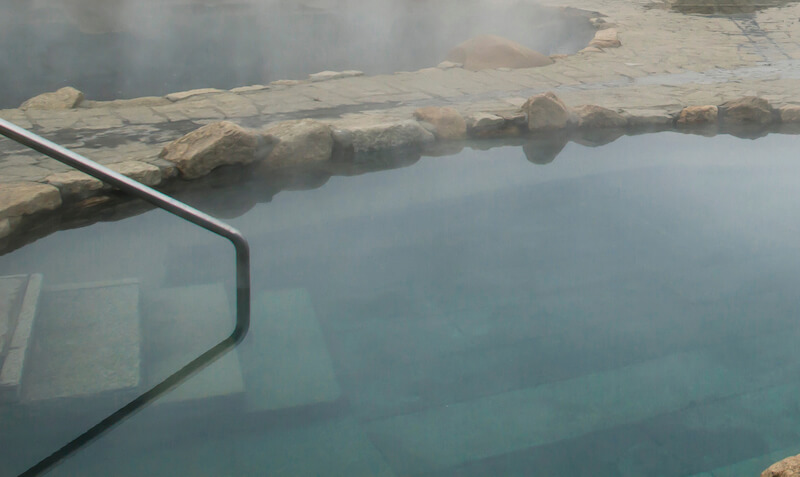 Located less than 90 minutes from Breckenridge and less than an hour from the town of Silverthorne, Hot Sulphur Springs is nestled deep in the Colorado Rockies.
These public hot springs provide year-round soaking and relaxing from 8:00 a.m. to 10:00 p.m. Walk-ins are welcome, with the last walk-in available at 9:15 p.m. All pools and showers close when lighting is within five miles of the facility and will re-open when the lighting moves out of the area. Guests should be aware that all bags can be subject to search.
Visitors can relax and enjoy a meal between soakings at a designated picnic area. A private pool is also available and can be booked in advance online.
Hot Sulphur Springs has 19 pools that are all 100 percent natural with no added chemicals. All the water is gravity-fed, and mineral levels have remained consistent since they were first measured in 1946. Clothing is required to soak and visit the hot springs. Swedish and deep tissue massages are available, with all massages including a free all-day pass to the hot spring pools. All massages receive a free all-day pass to the hot spring pools.
Overnight lodging is available and includes 17 rooms in various sizes, including an 1840s cabin and an apartment. Lodging includes a pool pass every day of guests' stay, including check-in and check-out days.
Iron Mountain Hot Springs
Iron Mountain Hot Springs is located in Glenwood Springs, less than a two-hour drive from Breckenridge via a scenic drive that takes visitors through the Frisco community.
These beautiful, natural hot springs are open rain or shine, and they're open to the public, offering a variety of fun and unique amenities. Guests can enjoy a jetted spa, a bathhouse with luxury products, geothermal pools, a freshwater family pool, and more. There are also cafes and bars for food and drink. Each guest receives two free towel rentals and access to a locker, with more towels available for $5 each.
General access soak tickets are $40 per person, and it's best to reserve a spot online to beat the crowds and guarantee availability. Annual passes are $495 for the primary adult, $395 for an additional partner, and $125 per dependent. Locals enjoy the annual pass due to the easy access to the mineral pools.
The new pool is also open year-round, and annual pass holders 21 and older can enjoy the new UPRIVER pools that feature ten different experience pools, two freshwater pools with waterfalls, and more. The property has 32 pools to enjoy, explore, and experience.
There is no on-site lodging, but the website offers several options for overnight stays in Glenwood Springs.
Heating Up in the Hot Springs Near Breckenridge
In the shadow of the towering peaks of the Rocky Mountains, these hot springs provide a tranquil escape and great additions to Breckenridge's outdoor activities. Whether you're unwinding after a day on the slopes or simply indulging in nature's soothing embrace, the hot springs around Breckenridge offer a unique and rejuvenating experience. As the sun sets behind the Rockies, these geothermal treasures invite you to soak, unwind, and embrace the serenity of the Colorado high country.
If you're looking for the perfect Breckenridge home, contact Breck Life Group with eXp Realty at (970) 409-4787 to get in touch with a local Breckenridge real estate agent and discover your new dream home today.