8 Best Breckenridge Neighborhoods: Live Near the Slopes, Shops & More
Posted by Pete Deininger on Wednesday, March 30, 2022 at 12:10 PM
By Pete Deininger / March 30, 2022
Comment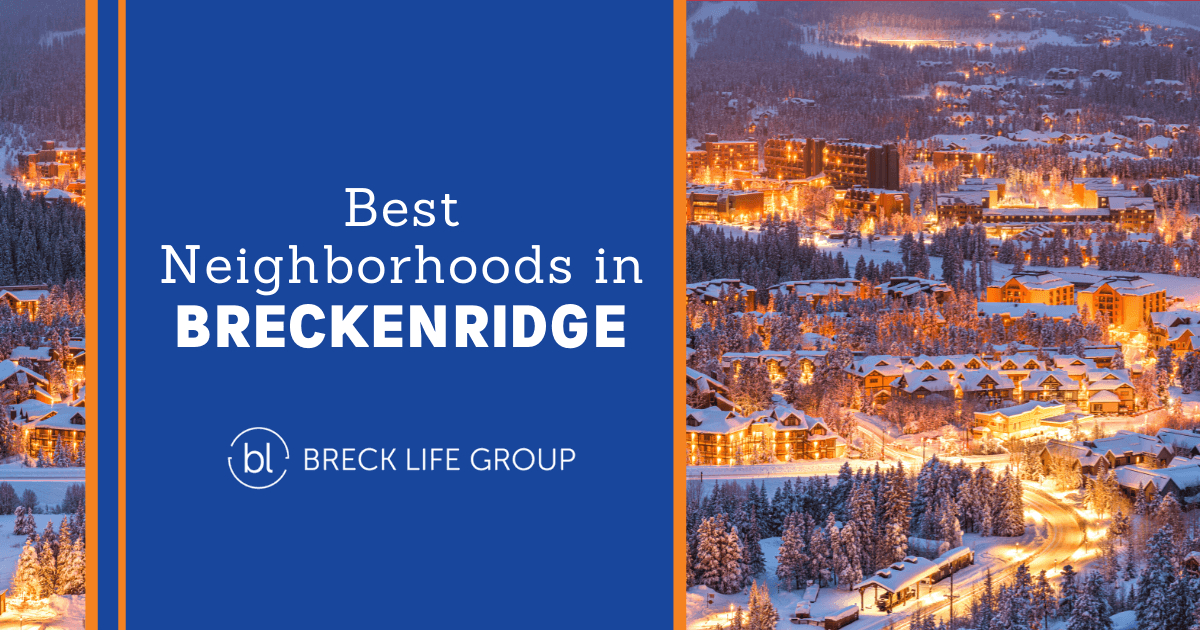 Breckenridge is one of Colorado's most beloved and exciting ski communities, but this Rocky Mountain community offers much more than just the slopes. It's an incredible spot for getting outdoors, as well as enjoying the community's vibrant shopping and dining. But with so many great places to settle down, those looking for a home may be a bit overwhelmed by all the options. So we're taking a closer look at the top neighborhoods in the Town of Breckenridge to buy a home.
Before buying or browsing in Breckenridge, it's crucial to be aware of what is being sold and how real estate here may differ from other areas. For example, some listings may only include timeshare rights to the property, while others will include only partial ownership. While this can help would-be homeowners enjoy homes they might otherwise not be able to afford, it's essential to be crystal clear about what the purchase does and does not include. If you're ready to move to Breckenridge, keep reading to learn about some of the best neighborhoods to call home.
Four O'Clock
Four O'Clock Amenities
Centrally located to downtown and major peaks and runs
Wide price range for homes
Home to Snowflake Lift and Trailhead
This top Breckenridge neighborhood is perfect for those looking for skiing right outside their front door. It takes its name from Four O'Clock Run, the town's longest ski trail at more than three miles in length. It's also among the most popular runs, especially at the end of the day as the lifts are closing, as skiers can take it directly back into town.
The Four O'Clock neighborhood is excellently located, close to many of the most popular peaks of the area and just a short walk from the dining, shopping, and nightlife of downtown Breckenridge. It's also a perfect jumping-off point for summer activities like hiking, thanks to the presence of the Snowflake Trailhead, from which residents can enjoy hikes like the popular Sawmill Reservoir hike.
Four O'Clock's housing consists primarily of condo and townhouse-style communities, along with the rare luxury single-family home. They range from less than 500-square-foot studios to larger, two- to four-bedroom properties with multiple bathrooms. Correspondingly, homes are available at a variety of price points, from as little as half a million dollars to more than $2 million.
Warrior's Mark
Warrior's Mark Amenities
Quieter, more secluded location
Access to Peak 10 and White River National Forest
Nearby Shuttle stop
Columbine Pool
Future homeowners who want a quiet location still just minutes from downtown Breckenridge may find what they're looking for in the Warrior's Mark community. The neighborhood comprises Breckenridge townhomes and condominiums nestled in a relatively secluded area near Breckenridge's Peak 10 and the Blue River. The community offers some of the area's best views and scenery, and it also provides access to the black diamond terrain of Peak 10's ski slopes, plus hiking, fishing, and other outdoor activities in the White River National Forest. Residents are also just steps from a stop for the free shuttle that offers transportation around town. Many Warrior's Mark buildings also include access to the Columbine Pool facilities, which features a heated pool, hot tubs, and a clubhouse.
Warrior's Mark homes start around a half-million dollars for smaller two-bedroom units. More commonly, units sell in the high six figures to more than a million dollars. Typical units include more than 1,000 square feet of living space, though smaller floorplans with less than 600 square feet can also be found at lower price points.
The Peaks (7, 8, and 9)
The Peaks Amenities
Diverse housing styles and prices
Good ski access
Home to numerous ski schools
Good transit and shuttle access
Collectively known as "The Peaks," these three neighborhoods offer diverse housing styles, ski access, and other amenities—all of which are among the most desirable in town.
Peak 7 and Peak 8 Village Condos are both set further from the center of Breckenridge, offering authentic mountain retreats in a quieter location. The Peak 7 area is known for its larger lots and spacious luxury homes, while Peak 8 housing provides more of a mix of single-family detached homes and condo communities. Peak 8 tends to offer more accessible access to the slopes and Breckenridge transit, though many Peak 7 homes also have good ski access, along with proximity to backcountry hiking and incredible wildlife viewing opportunities. Most Peak 7 and 8 properties start north of $1 million and can reach well into the mid-to-high seven figures.
Peak 9 is known for its convenient location to both the ski slopes and the hustle and bustle of downtown. It's also popular with those just learning to ski and snowboard, as it's home to several ski schools and less crowded terrain to help beginners get some experience before hitting the more intense slopes. Housing primarily consists of condos, with a few single-family homes also available. Peak 9 homes are typically more affordable than Peaks 7 and 8, starting in the high six figures and reaching close to $1.5 million.
Historic District
Historic District Amenities
Extensive shopping, dining, and nightlife options
Great walkability
Homes across the price spectrum
Those looking to live right in the center of it all may find their new home in the Breckenridge Historic District. The neighborhood is centered around Main Street, a bustling stretch of shopping, dining, nightlife, and other small businesses. Many commercial buildings predate the town's ski history and stretch back to its mining days. Residents can grab a bite or a drink at local favorites like Downstairs at Eric's or The Canteen Tap House and Tavern before strolling past the beautiful historic buildings for some window shopping. This makes it an excellent spot for buyers with non-skiers in their household—they'll have plenty to keep them busy while others hit the slopes! The area is also close to the gondola, as well as numerous parks, hiking and biking trails, and other attractions.
Single-family detached houses and Breckenridge condos make up the majority of homes throughout the Historic District. They range from humble studios of just a few hundred square feet to spacious historic and new construction homes from 2,000 to 4,000 square feet of living space. More modest properties can be found starting as low as the $300,000 to $500,000 range, while larger homes easily sell for $1 to $2 million. Those looking for properties in the middle of that range will also find plentiful options.
Blue River
Blue River Amenities
More secluded from downtown Breckenridge
Larger homes
Goose Pasture Tarn
Just south of Breckenridge, the legally separate town of Blue River offers another incredible community just a short drive from the heart of the ski community. Homes in Blue River take advantage of the extra space provided by their location outside of Breckenridge proper, primarily consisting of larger single-family detached homes on lots of typically a half-acre or more. They start at around $600,000, though most sell from upwards of $1 million to more than $3 million. The area also has the occasional undeveloped lot available for those looking to build their own custom dream home.
Blue River is best for those who want their home a bit removed from the busiest parts of the Breckenridge region. The community is almost entirely residential, providing a peaceful environment. Still, even the farthest reaches of Blue River are barely five miles from the heart of the ski slopes and Breckenridge Historic District, putting skiing, shopping, dining, and nightlife just minutes away.
Blue River is also perfect for nature lovers, with properties set among the woods and mountains offering incredible wildlife watching opportunities. There's also easy access to numerous hiking trails and other activities in the surrounding White River National Forest. The community is also home to the Goose Pasture Tarn, a popular lake used for kayaking, fishing, and more.
The Highlands
The Highlands Amenities
Incredible mountain views
Underground utilities
Natural gas available in all homes
Close to Breckenridge Public Golf Course
Convenient to Interstate 70
The Highlands is one of Breckenridge's most desired neighborhoods, and it's easy to see why. The Highlands offers unparalleled views of the mountains, proximity to top amenities, and large, luxurious homes. With nearly 700 homes once fully developed, it's among the larger communities in the area.
Set on the north side of town, The Highlands is only a short drive from the ski slopes and downtown Breckenridge and relatively close to Interstate 70. Golfers will also enjoy the nearby Breckenridge Public Golf Course, which offers 27 holes of Jack Nicklaus-designed golf in the warmer weather, and miles of Nordic ski trails during the snow season. Numerous walking and biking trails also wind through the community.
The private nature of The Highlands results in some of the most expensive homes in the Breckenridge area. Homes typically start north of $1 million, with properties available throughout the price range to nearly $4.5 million. Homeowners enjoy lots of up to four acres, with most homes including four to five bedrooms and 2,700 to 4,000 square feet of living space.
All homes in The Highlands enjoy community benefits like underground utilities and natural gas for heating and cooking. Many also include luxury features like ample outdoor entertaining space, spas and saunas, and more.
Shock Hill
Shock Hill Amenities
Larger, luxury homes
Easy access to BreckConnect Gondola
Close to Historic District shopping, dining, nightlife
Neighborhood hiking/snowshoeing trails
Shock Hill is located just to the northwest of downtown Breckenridge. Fewer than 60 lots exist in this small community first developed in the early 2000s, allowing residents to get to know their neighbors. Skiiers and snowboarders will love the BreckConnect Gondola stop. In fact, Shock Hill is the only neighborhood with such a stop, providing access to the slopes that few other areas can provide. In just minutes, residents can be skiing the trails of nearby Peaks 7 and 8.
Walking and snowshoeing trails weave throughout the neighborhood, and nearby Cucumber Gulch offers some of the area's best wildlife viewing opportunities. In the other direction, downtown is just a short trip away, with its many dining and shopping options. Shock Hill is also home to the Breckenridge Nordic Center, which offers equipment rentals, lessons, and a restaurant.
Shock Hill homes offer luxury living at correspondingly high prices. Most homes in the community sell for more than $2.5 million, with many stretching well into the $4 million range. They'll typically include three to five bedrooms, with interior and exterior styles designed to embrace the neighborhood's mountain location. Additionally, all are required to have a two-car garage, providing plenty of space for residents to house their vehicles and store other items.
The Best Of Breckenridge: An Outdoor Paradise For New Homeowners
Lovers of skiing, the mountains, or the great outdoors could hardly find a better place to buy a home than Breckenridge. With some of Colorado's best skiing, a vibrant downtown, and many diverse neighborhoods with homes of varying styles and price points, Breckenridge has so much to offer homebuyers. The hardest part may be settling on just one neighborhood!
If you're looking for the perfect Breckenridge home, contact Breck Life Group with eXp Realty at (970) 409-4787 to get in touch with a local Breckenridge real estate agent and discover your new dream home today.