8 Best Neighborhoods & Towns Near Copper Mountain: Where to Buy Near Copper Mountain
Posted by Pete Deininger on Tuesday, February 21, 2023 at 11:33:38 AM
By Pete Deininger / February 21, 2023
Comment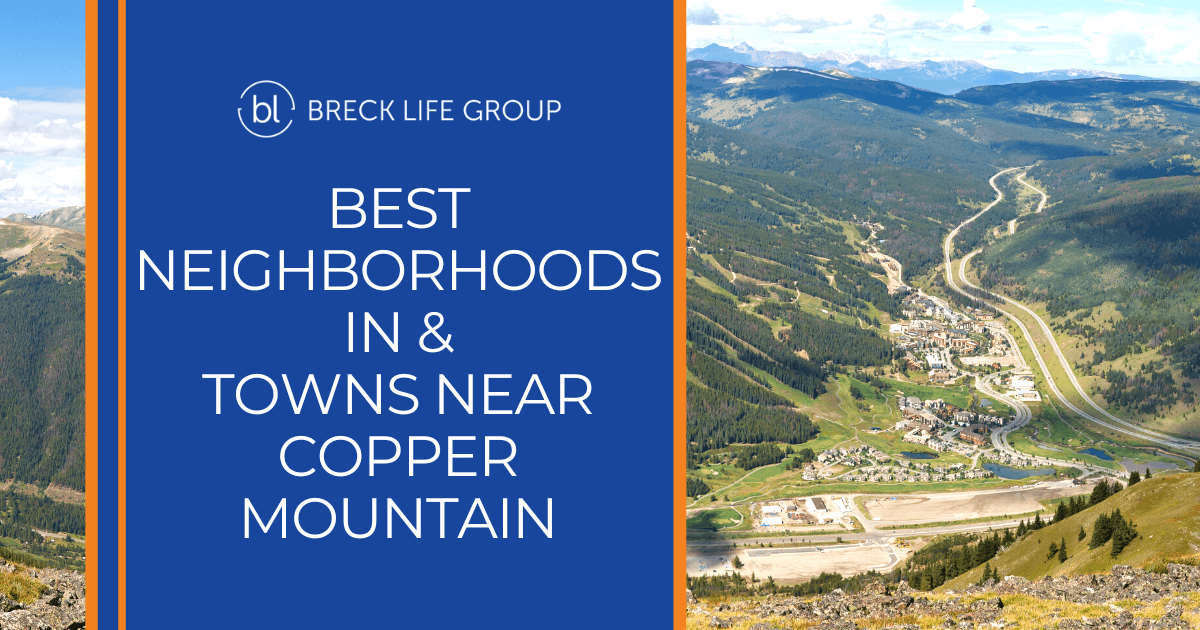 Copper Mountain is one of Colorado's most popular ski resorts, boasting 2,465 acres of ski and snowboard terrain and three pedestrian-only villages with shops, restaurants, activities, and events. While winter sports are the resort's main attraction, the area offers numerous things to do year-round. In the summer, Copper Mountain opens for hiking and biking, while nearby creeks and lakes provide opportunities for fishing and boating.
The best neighborhoods and towns near Copper Mountain allow residents easy access to the slopes and other great attractions, including shops, restaurants, and parks. Many communities at the mountain's base also offer ski-in, ski-out homes for even more convenience. For homebuyers considering moving to Copper Mountain, here are some of the best neighborhoods and towns in the area.
Lewis Ranch
Set at the western base of the Tenmile Range, the Lewis Ranch neighborhood is a luxurious ski-in, ski-out gated community just minutes from several high-speed lifts.
Lewis Ranch's mountain-style homes feature exquisite finishes and custom appointments. Most homes are expansive, with three to seven bedrooms and four to ten bathrooms. Their lavish furnishings, excellent locations, and generous sizes afford them sale prices between $1.7–$5.5 million.
Lewis Ranch residents have numerous options for hitting the slopes directly outside their doors. They can take the Lumberjack Lift to the easy West Ten Mile trail—which ends inside the neighborhood—or ski down the easy Roundabout trail to Copper Mountain's West Village. A half-mile road also allows Lewis Ranch residents to reach the West Village by car in just two minutes.
Residents can fuel up and get supplies for their ski session at the West Village Cafe and Copper Sports West. From the West Village, two high-speed lifts offer access to even more trails, including some more challenging runs and four progression parks of varying difficulty. The West Village also features an entrance to Copper Mountain's 9.5 miles of cross-country trails.
Lewis Ranch Amenities
Free on-call shuttle
Recreational path to Vail
Copper Mountain Schoolhouse
West Village Day Lodge
Koko's Hut
Elk Run
Elk Run features ski-in, ski-out townhomes in Copper Mountain's East Village, offering residents easy access to the slopes, other outdoor activities, and great restaurants.
The sizable townhomes in Elk Run have two to four bedrooms and three to four bathrooms across three stories, as well as a one- or two-car garage. Residents can relax by their fireplace and enjoy views of the nearby Copper Creek Golf Course from large windows and private balconies year-round. Elk Run townhomes range from the low $600s to $1.2 million.
Elk Run is less than 100 yards from the Super Bee chairlift, which provides access to numerous difficult and extremely difficult trails and a few double diamonds. The base of the lift also offers a tubing hill and a free snow maze for less challenging wintertime fun.
Several businesses and restaurants are also located at the base of the Super Bee lift, allowing Elk Run residents to stock up on supplies and enjoy a warm meal before hitting the slopes. JJ's Rocky Mountain Tavern serves burgers, flatbread, soups, and sandwiches for lunch and dinner, while Super Bee BBQ offers fresh barbecue for a casual lunch.
Elk Run Amenities
Free shuttle
Copper Mountain Athletic Club
Copper Sports East
Christy Sports
Frisco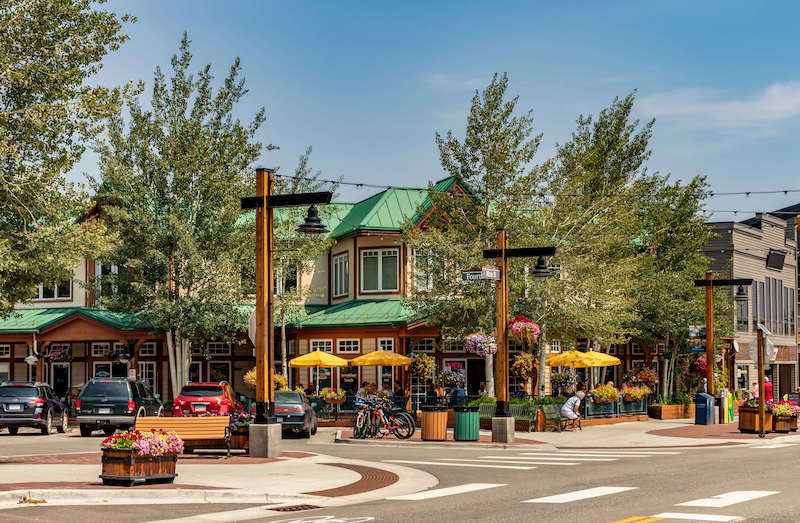 Nestled between the Rockies and Dillon Reservoir, Frisco is a small town with excellent opportunities for outdoor recreation and numerous shops and restaurants.
Henry Recen founded Frisco in 1873, and the town quickly grew due to the Colorado Silver Boom. In 1880, the town hung a sign for "Frisco City" to help convince the Frisco Lines Railroad to add a stop there. The effort was unsuccessful, but the name stuck regardless.
The town is just 7.5 miles from Copper Mountain, allowing residents to reach the ski resort in 10–15 minutes. The Summit Stage also provides free bus service to Copper Mountain and the town of Breckenridge. However, there are also plenty of things to do without leaving Frisco.
The Frisco Adventure Park offers snow tubing and a beginner ski and snowboard hill for practice in the winter. The park becomes a popular spot for hiking, mountain biking, skateboarding, and disc golf during the summer. Across the street, the Frisco Nordic Center boasts 19 miles of trails for skate skiing and classic cross-country skiing, and six miles for snowshoeing.
At the Frisco Bay Marina, visitors can enjoy certified environmentally friendly boating, fishing, and paddling sports on the town's 3,000-acre lake. A sandy beach and waterside dining options offer more ways to enjoy Frisco Bay without getting out on the water.
Frisco offers a diverse mix of detached homes, townhomes, and condos. Frisco condos list from the high $500s, while single-family homes in Frisco list from around $1 million.
Frisco Amenities
White River National Forest
Frisco Peninsula Recreation Area
Walter Byron Park
Frisco Historic Park and Museum
Frisco Mall
Crossroads Shopping Center
Outer Range Brewing Company
Highside Brewing
Copper Creek
Copper Creek is a collection of four neighborhoods near Copper Mountain's East Village, allowing residents to enjoy golf, skiing, and restaurants just minutes from home.
The Masters at Copper Creek features 22 luxury single-family detached homes ranging from $3 million to $3.6 million. Many homes in the neighborhood have backyards abutting the Copper Creek Golf Course, an 18-hole championship course designed by Pete and Perry Dye.
During the winter, the Copper Creek Golf Course becomes the site of snowshoe and Nordic ski trails. Copper Creek's proximity to the course allows residents of all four neighborhoods quick access to these cross-country trails, known as the Golf Course Loops.
Homes in The Masters are less than half a mile from the East Village's shops, restaurants, and chairlifts. From the East Village, Copper Creek residents can access many of Copper Mountain's challenging trails using the Super Bee chairlift. Meanwhile, the Stinger lift provides access to the Home Run trail, which leads straight into the neighborhood, allowing residents to ski home.
The Woods and Legends feature 50 townhomes built between 1985 and 1989. Homes in Legends at Copper Creek typically cost $1.2 to $1.4 million, while homes in The Woods can range from the mid-$700s up to $1.9 million. Many homes in these neighborhoods overlook the golf course and are even closer to the East Village than homes in The Masters.
The Greens at Copper Creek offers condos in the heart of the East Village. With prices from the low $300s to the low $700s, The Greens offers one of the most affordable ski-in, ski-out housing options.
Copper Creek Amenities
Free shuttle
Shared laundry facilities (The Greens)
Copper Mountain Athletic Club
East Lake
Tubing hill
Free snow maze
Silverthorne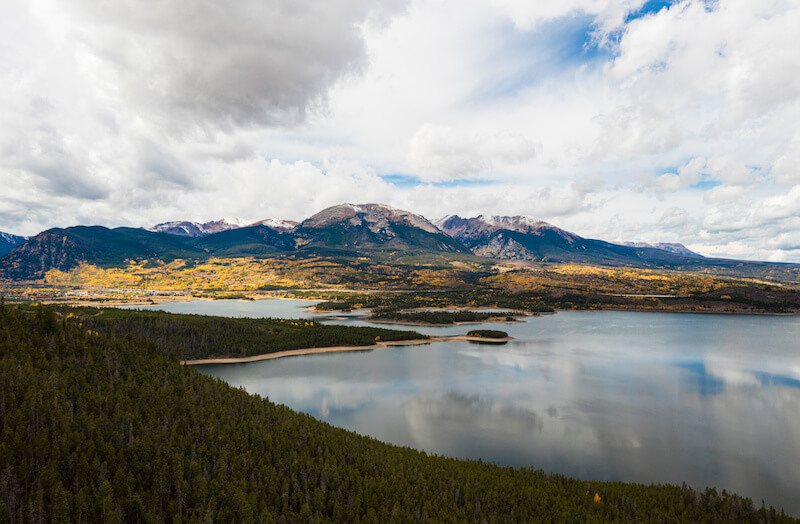 Located just 11 miles north of Copper Mountain, Silverthorne is a small town boasting plenty of things to do and homes at varying price points.
Silverthorne's name comes from Judge Marshall Silverthorn, a Breckenridge miners' court judge. He claimed a section of the Blue River in 1881, hoping to find gold there. Although gold proved sparse, the land changed hands between various mining companies several times before Clayton Hill purchased it and subdivided it for homes and stores in 1953. From 1961 to 1963, Silverthorne was home to many of the Dillon Reservoir construction workers. It was officially incorporated in 1967.
Silverthorne offers numerous attractions today, such as the Raven Golf Club at Three Peaks. This 18-hole public golf course becomes the town's Nordic Center during the snowy months, opening a trail for cross-country skiing and snowshoeing. Silverthorne also has its own brewery, Angry James Brewery, home to craft beers, food trucks, and live music on Wednesdays.
Homes in Silverthorne include detached homes, townhomes, and condos. While smaller homes start in the high $200s, Silverthorne's largest and most secluded homes can cost as much as $8.3 million. Condos in Silverthorne typically list from the $500s.
Silverthorne Amenities
Silverthorne Performing Arts Center
Silverthorne Pavilion
Outlets at Silverthorne
Silverthorne Recreation Center
North Pond Park
Rainbow Park
Trent Park
A-Lift Neighborhood
Centered on Copper Mountain's Alpine Lift, the A-Lift Neighborhood features luxurious ski-in, ski-out homes just one mile from the resort's East Village.
Construction of A-Lift's five single-family detached homes, ten townhomes, and 21 condos began in the spring of 2021. Each detached home and townhome has a unique floor plan with a biophilic design incorporating expansive windows and natural materials. Prices in the neighborhood range from $3.8 to $4.2 million.
Many of A-Lift's homes and townhomes overlook beautiful forested wetlands, while a few houses have backyards right at the mountain's base that allow for ski-in access from the Formidable trail. Meanwhile, the neighborhood's condo complex is adjacent to the Alpine Lift, providing quick access to some of Copper Mountain's most challenging runs.
The Born Mountain Club Hotel is also right next to the Alpine lift. This lodge offers dining options residents can enjoy before or after their daily adventures.
A forested trail through the wetlands and a road open to vehicles and pedestrians lead from A-Lift to the East Village. Residents can find the Super Bee lift, a tubing hill, and several rental shops and restaurants where they can stock up on supplies before heading up the mountain.
A-Lift Neighborhood Amenities
Nordic trails
Colorado Trail
Event lawn
Copper Creek Golf Course
Dillon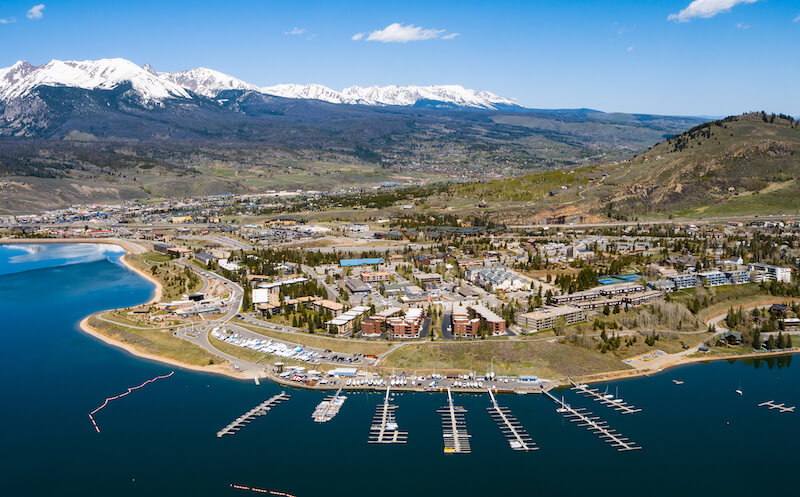 Set on Lake Dillon's northern bank, Dillon is a small town less than 13 miles from the Copper Mountain Ski Resort.
The town began as a stage stop and trading post on the Snake River during the 19th century. As railroads expanded into the area, Dillon relocated twice to be closer to the new lines. The town's third location at the confluence of three rivers and two railroad lines proved to be the most prosperous. However, it relocated again in 1956 to accommodate the construction of the Dillon Reservoir.
Lake Dillon—considered one of the best Breckenridge-area lakes—is now the town's star attraction and a favored spot for boating, kayaking, paddle boarding, and fishing. The full-service Dillon Marina offers boat rentals, sailing lessons, and tours, while the Dillon Yacht Club operates racing regattas on the weekends. Next door, Marina Park has lakeside walking trails, a picnic pavilion, and the Dillon Amphitheater, which hosts live music and free movies in the summer.
Homes in Dillon can range from the mid $200s to $2.2 million. Dillon condos occasionally list from the $500s, but more commonly, they can be found from the $900s and up.
Dillon Amenities
Dillon Dam Brewery
Dillon Town Park
Dillon Farmers' Market
Pug Ryan's Brewery
Elevation Bowl
Summit County Archery Range
Dillon Disc Golf Course
Summit Historical Society
Copper Point
Copper Point is a deed-restricted workforce housing development of affordable townhomes located just outside the East Village.
The neighborhood features 15 two-bedroom and two-bathroom townhouses split into three duplexes and three triplexes. Copper Point townhomes feature oversized garages, interior storage space, and private balconies. While all Copper Point townhomes offer stunning mountain views, some overlook East Lake.
Copper Mountain Resort built the townhomes between 2016 and 2017, with the first occupants moving into them in 2017. The deed-restricted community requires owners to work at least 30 hours per week in Summit County, allowing the region's workforce to secure permanent affordable housing. Copper Point homes typically sell from the low to high $300s.
Copper Point is just a third of a mile from the East Village, allowing residents to easily access the Super Bee chairlift, tubing hill, and all of the village's businesses. Residents can pick up rentals at Copper Sports East or enjoy a meal at Super Bee BBQ.
A bus stop outside Copper Point enables residents to ride the free shuttle throughout the resort. The Summit Stage, which provides free public transit throughout Summit County, also stops here, allowing Copper Point residents easy access to the rest of the county.
Copper Point Amenities
Shared lawn
Community shed
Recreational path
Copper Creek Golf Course
Enjoy Copper Mountain Area Real Estate
Living near Copper Mountain allows residents to enjoy the resort's many attractions year-round, from skiing and snowboarding to hiking and golf. Many homebuyers find themselves deciding between Copper Mountain and Breckenridge, but they quickly realize that you can't go wrong with either community. These Copper Mountain neighborhoods and towns offer beautiful homes less than 25 minutes from the ski resort, making it easy to hit the slopes whenever the mountain calls.
If you're looking for the perfect Copper Mountain home, contact Breck Life Group with eXp Realty at (970) 409-4787 to get in touch with a local Copper Mountain real estate agent and discover your new dream home today.