Explore Subdivisions in the Highlands at Breckenridge: Where Would You Buy a Home?
Posted by Pete Deininger on Wednesday, March 22, 2023 at 9:23:12 AM
By Pete Deininger / March 22, 2023
Comment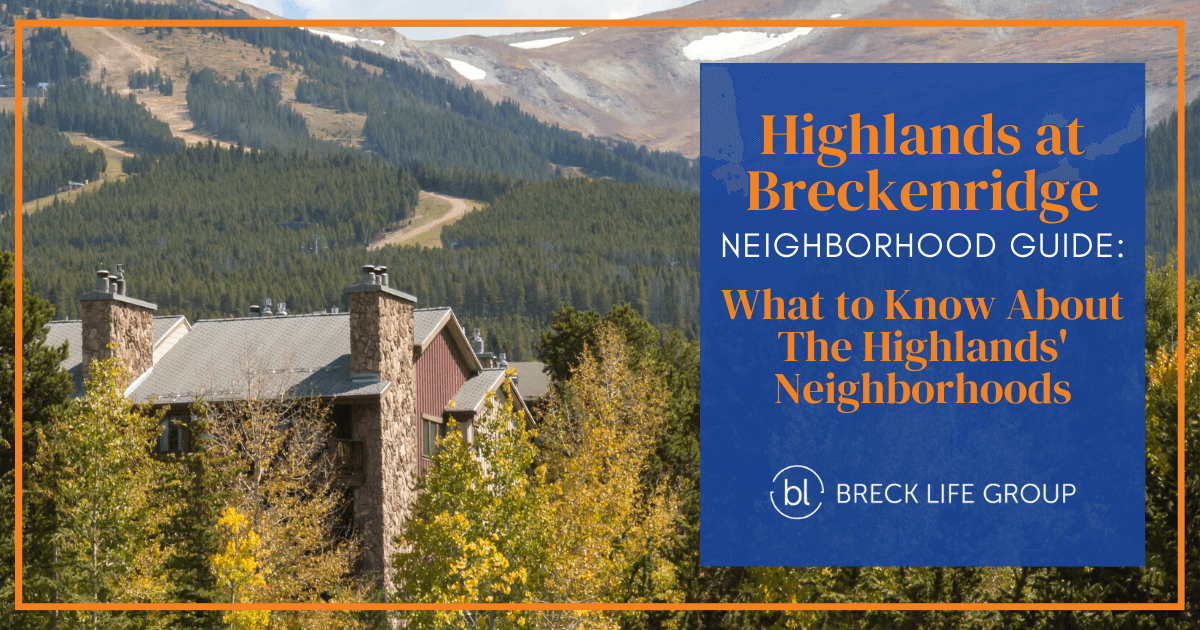 Breckenridge, Colorado, is a town whose name has become synonymous with skiing, thanks to the worldwide popularity of the Breckenridge Ski Resort. Breckenridge is located at the base of the Tenmile mountain range and attracts over 3 million visitors annually. This picture-perfect Colorado mountain town has a little over 5,000 permanent residents, but that population fluctuates to over 37,000 when visitors and part-time visitors are factored in.
The Highlands at Breckenridge, a prestigious development of custom luxury homes just north of Downtown Breckenridge across from the town recreation center, is a popular, coveted place to call home within the community. Residents enjoy breathtaking mountain views, access to all the best things to do in Breckenridge, and world-class shopping, dining, and entertainment here. The Highlands has paved roads, underground utilities, natural gas availability, and connection to the city's water and sewer systems.
Within the Highlands, several individual subdivisions offer a selection of permanent residences and vacation properties, so homebuyers moving to Breckenridge will benefit from an overview of the varied neighborhoods. Learn more about the different neighborhoods.
Braddock Hill
Braddock Hill is the northernmost subdivision within the Highlands at Breckenridge community, approximately five miles north of downtown. The neighborhood was named after Broncho Dav Braddock, a boisterous resident of Summit County in the 1880s who ran a hotel at the junction of the Swan and Blue rivers.
Established in 2000, Braddock Hill has 32 lots ranging from 1–1.95 acres, on the larger side for The Highlands. The subdivision features primarily new construction homes, with available properties ranging from $1.6 million to over $3 million. Homes in Braddock Hill are generally between 3,300 and 7,500 square feet, with most having between four and six bedrooms. Living in Braddock Hill offers beautiful views of the Tenmile Range, quick access to I-70, homes with a lot of natural sunlight, and properties that enjoy natural privacy.
Braddock Hill has a property owners' association (POA) that keeps its association documents online and accessible to the public. The POA puts forth extensive documentation about property guidelines, including encouraging homeowners to use different materials and architectural styles inspired by the natural beauty of the Breckenridge area. Braddock Hill POA has an annual meeting and provides meeting minutes online.
Braddock Hill Amenities
Some of the largest lots in The Highlands
Close to Breckenridge Ski Resort
Close to Breckenridge Golf Club
Gold Hill Trail
Tiger Run Resort
Highlands Golf Course
Another wonderful community within the Highlands at Breckenridge is Highlands Golf Course, which is ideal for golf enthusiasts. It sits immediately south of the Breckenridge Golf Club, a 27-hole course divided into three nines, all three Jack Nicklaus Signature courses. Interestingly, the Bear nine sits on one of the oldest established parts of Breckenridge, where a miners' tent city once stood! Every winter, the course transforms into the Gold Run Nordic Center, a winter playground with cross-country skiing, ice skating, and more.
Highlands Golf Course homes, developed primarily in the 1990s, feature an average of 4,000 square feet of living space, and many have four to six bedrooms. Available properties in Highlands Golf Course start at a little over $1 million and run to around $6.9 million at the upper end.
Also, like most other subdivisions in the area, Highlands Golf Course has a property owners' association with declarations, articles of incorporation, bylaws, and other agreements. As with many local POAs, strict home design guidelines are updated regularly. Routine Design Review Board meetings are held monthly on the afternoon of the second Thursday.
Highlands Golf Course Amenities
Closest subdivision to Breckenridge Golf Club
Alpine Villa Retreat, the largest luxury retreat rental in Breckenridge
Blair Witch Trail
Broken Compass Brewery
Cross-country ski and hiking trails run through the neighborhood
Highlands Park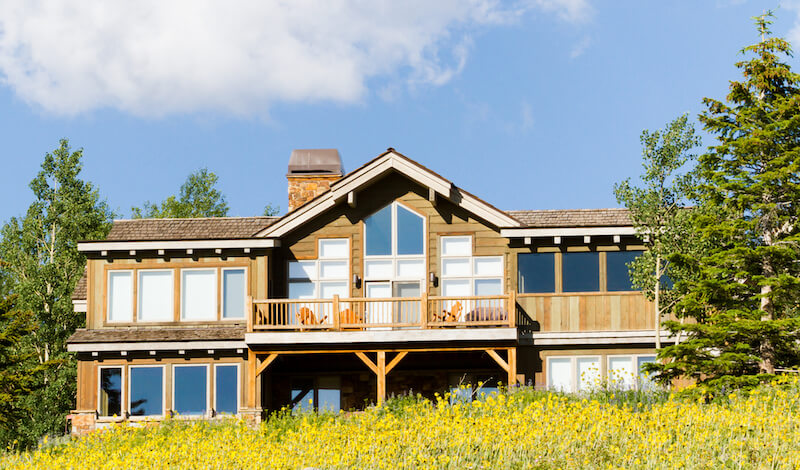 Just southeast of the Breckenridge Golf Club, the Highlands Park subdivision is located in open meadows and is known as a mountain park. Due to the open area, views in Highland Park aren't blocked by steep mountain ridges or woods.
Highlands Park was established in 2001 and features 98 spacious lots of 0.5–2.4 acres. The stately homes in this community range from 2,200 to over 7,500 square feet, and most houses have three to six bedrooms, though some have seven bedrooms. Homes in Highlands Park, one of the largest communities in The Highlands, are typically priced between $5–7 million.
The Highlands Park POA provides online copies of its declarations, bylaws, articles of incorporation, and rules as per its Good Neighbor Policy for residents. Last updated in February 2020, the Good Neighbor Policy provides regulations related to noise, parking, speed limits, garbage collection, pets, exterior lighting, and more. The policy details registration requirements and distinctions between Highlands Park's design guidelines and construction fines.
Highlands Park Amenities
Breckenridge Golf Club
Brewery Hill Peak
Point View Place lodge
Ski House Lodging
Winterfell Estates
Gold Run
Established in 2005 and lying along Gold Run Gulch Road, the Gold Run subdivision is one of the most recently developed neighborhoods in the Highlands at Breckenridge. It is named for the creek that runs through the community, which refers to Breckenridge's rich history as an important mining town.
Many of the homes in Gold Run are located next to beaver ponds or Gold Run creek, making the neighborhood a prime destination for those seeking waterfront homes. Gold Run has 22 lots in total, with sizes ranging from 0.83 to over 1.5 acres. Most properties are between 3,400 and 6,000 square feet, with three to five bedrooms, and available properties run between $2–$4 million.
Gold Run is also part of the Highlands at Breckenridge property owners' association. Online association documents can be found here, including declarations, articles of incorporation, bylaws, design guidelines, and a Good Neighbor Policy similar to that of Highland Park. Annual meeting minutes, board meeting minutes, and financial budgets are also available for residents.
Gold Run Amenities
River Park and Playground
Several waterfront and water view lots
Close to Breckenridge Golf Club
The Jessie Mine and Mill Landmark
Welk Resorts Breckenridge
Discovery Hill
Discovery Hill is a Highlands subdivision just south of the Breckenridge Golf Club. It is one of the newer neighborhoods, with most of its homes built between 2002 and 2010. Located off Discovery Hill Drive near Gold Run Gulch Road, Discovery Hill's name is another reference to the area's mining history.
There are 74 lots in Discovery Hill, but 61 of them are vacant, and some are undeveloped—a fantastic opportunity for folks looking to build their dream home in Breckenridge. Many of the existing homes are adjacent to beaver ponds and Gold Run Creek, similar to the properties in adjacent Gold Run. Discovery Hill homes generally have between 4,000–7,000 square feet and four to six bedrooms. You can expect to spend between $2.7 million to over $5 million on a home here.
Discovery Hill residents are members of the Highlands at Breckenridge property owners' association. As with other local POAs, association documents are available online. Also, like other local associations, Discovery Hill has its own design review guidelines, intending to create a community where homes celebrate the region's natural elements while having distinct appearances.
Discovery Hill Amenities
Close to Breckenridge Golf Club
Breckenridge Recreation Center
Waterfront lots
Vacant lots for building
Breckenridge Ski Resort
Upper Miner Creek Trail
Highland Greens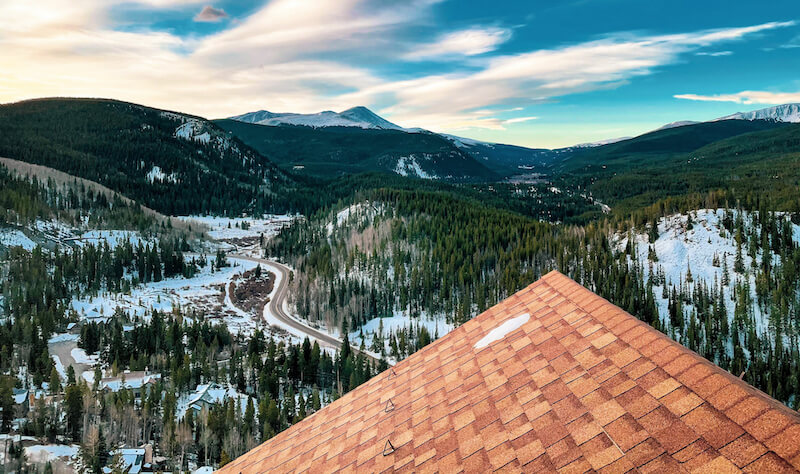 The Highland Greens community is a collection of condos and townhomes in the center of The Highlands. Originally a sports field for the surrounding neighborhoods in the 1970s, today, the area is home to 102 townhouses and a 50-unit lodge—all Summit County condos near local golf courses.
Highland Greens is an excellent option for people who are enthusiastic about local recreation and community events and don't want to focus resources on maintaining a large home and property. Between the lodge and townhouses, homes in Highland Greens range from under 1,000 to over 2,000 square feet of living space. Bedrooms range from one to four, depending on where you buy and the floor plan.
Residents of Highland Greens Townhomes are members of a homeowner's association managed by Alpine Edge Property Management. Governing documents are similar to a traditional neighborhood and include articles of incorporation, bylaws, declarations, rules, and various policies. Annual and board meeting minutes are also available for reading or download. While there aren't design guidelines as there would be for new construction homes, the association does have several regulations concerning exterior appearances. Notably, the Highland Greens HOA also permits short-term rentals.
Highland Greens Amenities
Short-term rentals permitted
Colorado Trail access point
The Dog House Dog Daycare Center
Breckenridge Golf Club
Breckenridge Ski Resort
Fairways
The Fairways subdivision, as its name implies, is within walking distance of the Breckenridge Golf Club. Homes are also closer to Highway 9 and I-70 than other subdivisions in The Highlands at Breckenridge. Fairways properties are near the first, third, fourth, and sixth holes at the nearby golf course that inspired the community's name.
The oldest homes in Fairways were built in 1999, and there are 37 lots total, with just over half vacant and undeveloped. Most lot sizes are between 0.74 and 1.25 acres, but one standout is a whopping 6.17 acres. Fairways homes—37 in total—are single-family properties that run between 3,800–6,900 square feet and usually have three to six bedrooms. Prices for Fairways homes range between $1.8-4 million.
Residents in this community are members of the Fairways at Breckenridge Homeowners' Association. Unlike most others within The Highlands, this HOA is managed by Hawks View Property Management. Homeowners are still expected to abide by the community's strict architectural standards. The subdivision forbids commercial lodging or bed and breakfast operations, but short-term rentals are allowed.
Fairways Amenities
Short-term rentals permitted
One of the closest communities to Breckenridge Golf Club
Golf course homes
Breckenridge Ski Resort
Cucumber Gulch Wildlife Preserve
Fox Crossing
Fox Crossing is a small subdivision on the Highlands' outskirts at Breckenridge, nestled between it and Silver Circle. The area was initially developed by the Rounds family, who are also behind developing the Breckenridge Ski Resort. The Fox Crossing subdivision was first established in 1998 and features many large, custom-built, high-end properties, all steps away from nearby hiking and cross-country skiing trails. In fact, all of The Highlands is great for trail access as it's one of the top Breckenridge neighborhoods near hiking trails.
There are 12 lots in Fox Crossing, all just over one acre in size, and only two of these are vacant and undeveloped. Homes in Fox Crossing typically have four or more bedrooms, and living spaces range from 4,400–8,000 square feet. The single-family homes in Fox Crossing start at around $2.6 million and increase to almost $7 million.
Fox Crossing is part of the Highlands at Breckenridge property owners' association, whose documents are available online. Homes in the community are subject to the bylaws, Good Neighbor Policy, declarations, and other records of The Highlands. Property owners must adhere to the design guidelines established by the association. Design Review Board Meetings are held every month on the third Thursday.
Fox Crossing Amenities
Rounds Park
Multi-use trails
Close to Breckenridge Golf Club
Cypress Mountain Chalet
Highlands Hideaway
Come for a Vacation, Stay the Whole Year
Breckenridge may be one of the country's most popular destinations for outdoor recreation, including skiing, but it's so much more than that. The Highlands at Breckenridge and its various subdivisions offer a range of properties that residents can enjoy as permanent or short-term investment properties, allowing you to experience that iconic Rocky Mountain high again and again!
Whether you're seeking a grand home on a large lot or a luxury condo within a multi-unit property, you'll find it in The Highlands—one of Breckenridge's best neighborhoods. Best of all, you're greeted by panoramic views celebrating Breck's natural beauty, and you're never far from everything Colorado has to offer, thanks to the proximity of I-70.
If you're looking for the perfect Breckenridge home, contact Breck Life Group with eXp Realty at (970) 409-4787 to get in touch with a local Breckenridge real estate agent and discover your new dream home today.