8 Best Neighborhoods in Keystone: Where to Live in Keystone CO
Posted by Pete Deininger on Tuesday, September 5, 2023 at 10:40 AM
By Pete Deininger / September 5, 2023
Comment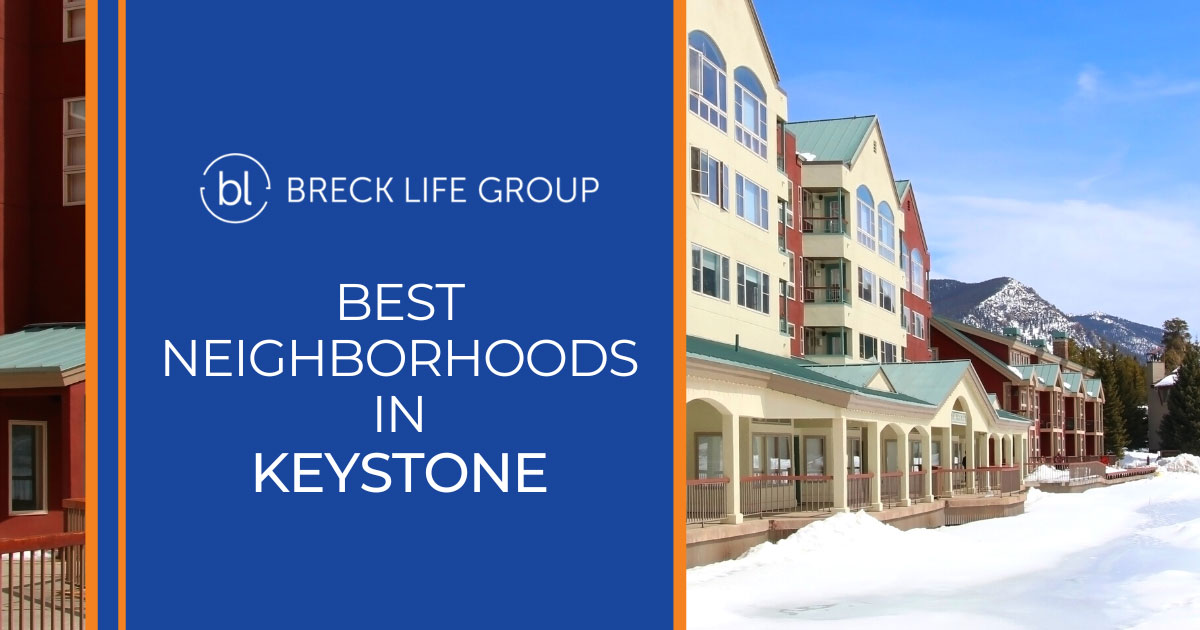 Colorado's Keystone community is a picturesque mountain town nestled in the heart of the Rocky Mountains. Known for its world-class skiing, breathtaking natural beauty, and vibrant community, Keystone offers a range of charming neighborhoods catering to many lifestyles. Whether you're a nature enthusiast seeking outdoor adventures or a homebuyer looking for a serene mountain retreat, Keystone's best neighborhoods include everything from bustling resort areas to peaceful residential enclaves.
West Keystone
Steeped in local history and impressive natural beauty, West Keystone offers condos and single-family homes near the tranquil White River National Forest.
Before Max and Edna Dercum opened the Keystone Resort in 1970, Old Keystone Village was a booming railroad town exporting silver, gold, and lumber. West Keystone sits on much of the former village's site, with a few historic buildings still standing in the neighborhood today.
The eastern part of West Keystone consists primarily of condos and townhomes ranging in price from the low-$600s to the low-$800s. Communities like Flying Dutchman and Wild Irishman take their names from former mines, following the suit of Keystone's ski runs. Meanwhile, the western part of West Keystone features a small selection of single-family homes typically priced between $1.8 million and $4.6 million.
Located at the western end of the neighborhood, Keystone Science School inhabits 23 acres of Old Keystone Village. The campus features several old cabins, including the former Dercum home where Max and Edna drafted Keystone Resort's original plans. Today, Keystone Science School offers science education through field-based adventures and summer camps.
West Keystone is also home to the Keystone Nordic Center. With over 10 miles of groomed trails and nearly 25 miles of backcountry trails in the White River National Forest, the Keystone Nordic Center is a favorite spot for classic skiing, skate skiing, and snowshoeing.
West Keystone Amenities
Free resort shuttle
Lakeside Village
Keystone Gulch Trail
Keystone River Golf Course
North Keystone
Nestled in the foothills of the Tenderfoot Mountains, North Keystone is frequently the first community visitors see upon entering Keystone. North Keystone offers large estates, roomy condos, and townhomes near essential shops, restaurants, and endless entertainment options.
Homes in North Keystone can vary in price from the high-$400s for condos to $2.5 million for single-family homes. The community has several condo and townhome communities, including Aspen Ridge Condos. Comprised of three condo complexes, Aspen Ridge contains generally larger condos than other parts of Keystone.
North Keystone is within walking distance of numerous attractions, including Lakeside Village. Centered on Keystone Lake, this area features waterfront shops, restaurants, and recreation. During summer, the lake is popular for kayaking, stand-up paddleboarding, paddle boating, and other water sports. When it freezes in the winter, Keystone Lake becomes the country's largest maintained outdoor ice rink, open to ice skating, sledding, and hockey.
North Keystone residents can also walk to the Keystone Conference Center, the largest in the Rockies, in under 10 minutes. It offers 100,000 square feet of exhibit, function, and meeting space. Hosting some of the nation's largest organizations, the Keystone Conference Center is always buzzing with activity.
North Keystone Amenities
Free resort shuttle
Pedestrian tunnel
Keystone Grocery & Gas
Keystone Tennis Center
Keystone Adventure Center
Mountain House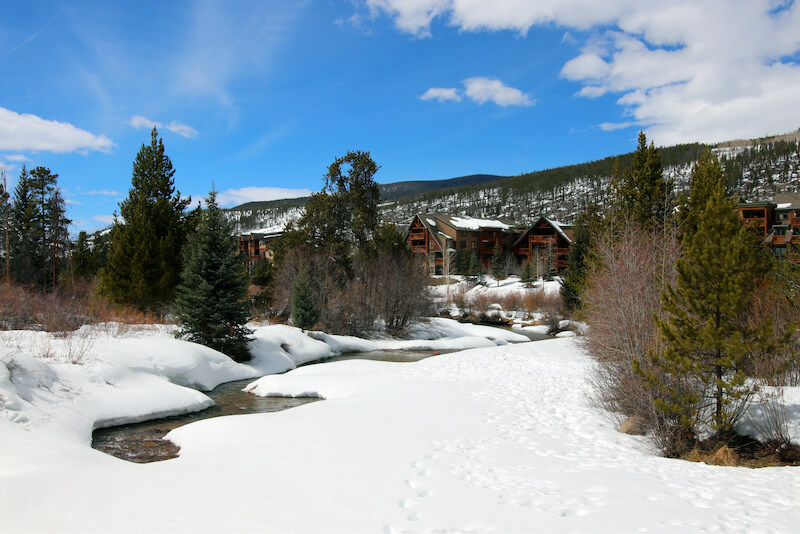 Keystone's original mountain base area, Mountain House, features mid-size homes just 200 yards from the ski lifts.
Most homes in Mountain House were built in the early 1980s to accommodate the growing community around the ski resort. These spacious properties offer two to three bedrooms and bathrooms spanning 1,445 to 1,807 square feet. Buyers can expect to pay between $1 million and $1.6 million for a Mountain House home.
Set at the base of Dercum Mountain, Mountain House is just 200 yards from the Peru Express Lift. This six-passenger high-speed lift opened in 2021, providing even faster access to the slopes. It leads directly to the award-winning A51 Terrain Park — the only one in Colorado to offer night skiing and riding. Back at the mountain's base, residents will find a few shops and the classic Last Lift Bar, featuring a spacious deck where patrons can enjoy live music and outstanding mountain views.
Mountain House's nightlife ends earlier than other parts of Keystone, allowing residents to enjoy the quiet in the neighborhood after 8 p.m. However, Mountain House is still within walking distance of US Highway 6's many shops, bars, and restaurants.
Mountain House Amenities
Free resort shuttle
Swimming pool
Hot tub
Lift ticket office
Keystone Sports
Keystone Resort Ski/Ride School
St. Anthony Keystone Mountain Clinic
Keystone Ranch
Set on Keystone's western outskirts, Keystone Ranch features expansive luxury homes with pristine views of golf courses, mountains, and the White River National Forest.
Keystone Ranch sits on the former site of the Smith family's various homesteads, which once sprawled across 325 acres of the grassy valley. Dating to the 1880s, the former cattle ranch and lettuce farm was one of Colorado's oldest working ranches until it closed in 1977.
The community's first construction phase began with 74 single-family homes in the early 1980s and has since expanded to contain 170 properties with up to 5,500 square feet. Homes for sale in Keystone Ranch typically sell between $1 million and $3 million. Residents enjoy outstanding views of the national forest, the surrounding mountain ranges, and the nearby Keystone Ranch Golf Course. Designed by Robert Trent Jones, Jr., the par-72 course has been consistently top-rated by Golf Magazine and Golf Digest and is one of the highest-elevated 18-hole courses in the world.
The Keystone Ranch House Restaurant and Golf Pro Shop sit at the heart of the community, occupying the Smith family's original ranch house. The critically acclaimed restaurant is a popular wedding site offering one of Keystone's finest reservation-only dining experiences.
Keystone Ranch Amenities
Free resort shuttle
Clubhouse
Swimming pool
Tennis courts
River Run Village
River Run Village is the heart of Keystone, brimming with boutique shops, world-class restaurants, and exciting events. Luxury condos put residents in the thick of all the action and are mere steps from the mountain.
In 1994, River Run Village became the main base area for Keystone Resort. It features a main plaza surrounded by numerous shops, restaurants, and condos. This venue hosts fun events throughout the year, including the Keystone Wine & Jazz Festival, Bluegrass and Beer Festival, and Oktoberfest. It's also the central meeting point for the kids' ski school.
Condos in River Run Village typically range from the mid-$100s to $4.3 million. Many suites offer cozy fireplaces or spacious balconies overlooking the plaza and mountain. Some of the area's most luxurious condo communities have even more amenities like private lounges, fitness centers, and billiards rooms.
Residents can enjoy quick access to world-class bars and restaurants like Kickapoo Tavern. Established in 1995, this casual eatery has been the lively anchor of River Run Village since the neighborhood's early days. Just around the corner lies Warren Station, an art center hosting live music, yoga sessions, and comedy shows.
River Run Village is also home to the Keystone Bike Park. After ski season ends, residents can enjoy one of the largest bike parks in the country, featuring over 50 interconnected singletracks spanning 100 miles.
River Run Village Amenities
Heated parking
Outdoor fire pit
Heated pool
Hot tubs
River Run Gondola
Lift ticket office
Keystone Sports
Frey Gulch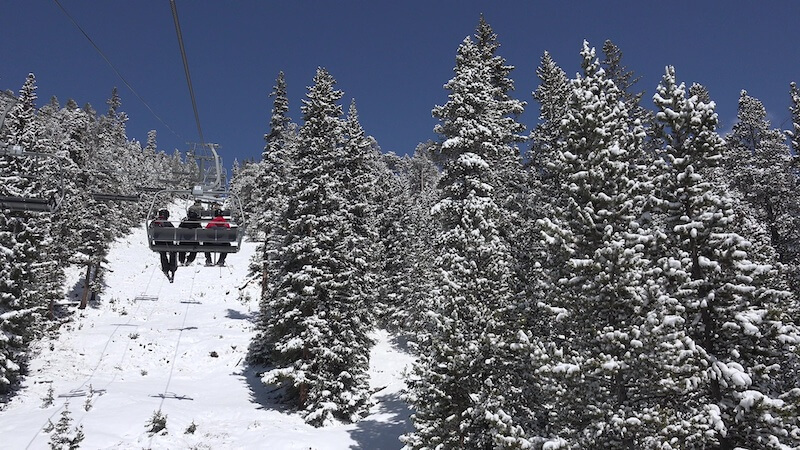 Set in the foothills of Tenderfoot Mountain, Frey Gulch features paired townhomes with quick access to tons of outdoor recreation.
Frey Gulch homes are relatively affordable, typically priced between the high-$400s and the mid-$500s. Each home follows a 1,777-square-foot, two-story layout with a great room, three bedrooms, and 2.5 bathrooms. Gourmet kitchens contain granite countertops, stainless steel appliances, and knotty alder cabinetry, while master bedrooms feature a spacious walk-in closet and bathroom.
Vaulted ceilings and sizable windows provide ample light and space in Frey Gulch's townhomes. Residents enjoy spectacular views of the Gore Range and Ten Mile Mountains. Natural gas fireplaces, in-floor radiant heat, and heated two-car garages help residents stay warm no matter the season.
With the Frey Gulch Trail in their backyard, Frey Gulch residents have quick access to outdoor recreation year-round. During summer, the dirt and gravel trail is used for hiking, horseback riding, and mountain biking. Come winter, it transforms into a popular cross-country skiing and snowshoeing route.
Frey Gulch is also just across the road from the 18-hole Keystone River Golf Course, which follows the Snake River through lush forests and dramatic elevation changes for a fun but challenging par 71.
Frey Gulch Amenities
Keystone Science School
Keystone Nordic Center
Summit Cove Trailhead
Keystone Grocery & Gas
Settlers Creek
Settlers Creek is a quiet East Keystone neighborhood offering townhomes and luxury estates overlooking Snake River. The neighborhood is one of Keystone's newest, developed in 2007. Most properties in Settlers Creek are spacious townhomes priced from the low-$400s to the low-$600s. Layouts range from two to four bedrooms and two to three bathrooms, with the roomiest floor plans spanning up to 1,650 square feet.
The Estates at Settlers Creek offer a private collection of 26 sizable lots, and a few vacant options are available. While they can sell from the high-$200s, luxurious mountain homes can cost $1.5 million. Some of these homes sit directly on the Snake River, a popular brook and rainbow trout fishing spot.
Settlers Creek is also just around the corner from the charming Ski Tip Lodge. This award-winning restaurant and bed and breakfast features a reservation-only, four-course dinner with a seasonally rotating menu. The cozy lodge operates from a former stagecoach stop dating to the 1800s, allowing visitors to experience a slice of Keystone's early history.
While Settlers Creek is a relatively secluded neighborhood on the outskirts of Keystone, it's still only one mile from all the ski lifts, shops, and restaurants at River Run Village.
Settlers Creek Amenities
Free resort shuttle
Private clubhouse
Billiards room
Heated outdoor pool
Hot tubs
Gas grill
The Enclave
Just north of River Run Village, The Enclave is a collection of 24 sprawling townhomes with exceptional mountain and forest views. This amenity-rich community backs onto the White River National Forest at the base of Tenderfoot Mountain and is just a short walk from numerous shops and restaurants.
Initially built in 1981, The Enclave has since been completely renovated to a contemporary style with rustic mountain features. It offers several elevations boasting plenty of rock on the exterior and floor-to-ceiling rock fireplaces inside. Floor plans are generous, with three- to four-bedroom layouts spanning an impressive 2,700 to 3,100 square feet. These spacious townhomes can sell anywhere from the mid-$400s to $2 million.
The Enclave's convenient location across US Highway 6 from River Run Village gives residents quick access to the base area's ski lifts, shops, and restaurants while allowing them to remain somewhat removed from all the action. Breakfast, lunch, and the famous Bacon Bloody Mary are just a short walk from home at Haywood Cafe. Meanwhile, the nearby Snake River Saloon & Steakhouse serves steaks, seafood, and live entertainment.
The Enclave Amenities
Private clubhouse
Full sauna
Fitness center
Indoor heated pool
Indoor racquetball court
Ping pong
Tennis courts
Basketball courts
Discover Keystone's Best Neighborhoods
From bustling village atmospheres to serene mountain settings, there's something for everyone to love about living in Keystone. With its stunning mountain vistas, proximity to world-class ski slopes, and year-round recreational activities, Keystone stands out as an exceptional destination for those looking to make a home in the Colorado Rockies.
If you're looking for the perfect Keystone home, contact Breck Life Group with eXp Realty at (970) 409-4787 to get in touch with a local Keystone real estate agent and discover your new dream home today.