7 Neighborhoods Near Breckenridge Ski Resort [2023]
Posted by Pete Deininger on Monday, December 5, 2022 at 2:28:12 PM
By Pete Deininger / December 5, 2022
Comment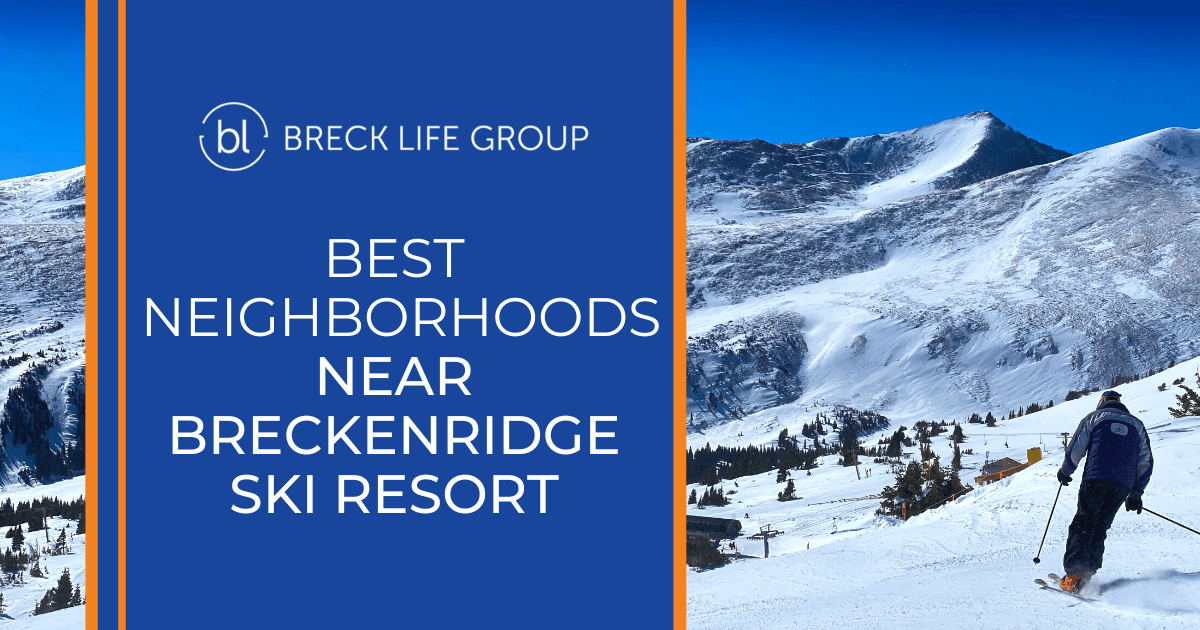 Six decades ago, a few humble ski trails being cut into the slopes of Peak 8 of Colorado's Tenmile Range sparked the development of what would later become one of the country's best winter sports destinations. Although Breckenridge was established in the mid-1800s, its growth took off in the 1960s with the opening of the Breckenridge Ski Resort. With more than 150 runs and over 30 lifts today, often with incredible views, the nearly 3,000 skiable acres provide limitless fun for skiers and snowboarders.
Breckenridge is also home to some top-tier neighborhoods, providing comfort and convenience for vacation homes and full-time residents. Visitors and homebuyers moving to Breckenridge can read on as we explore seven of the best, including a look at everything from community amenities to distance from the front door to the slopes.
Downtown Breckenridge
Want to be in the center of the action and close to the slopes? You may find the dwelling of your dreams among the homes for sale in Downtown Breckenridge. The community is centered around Main Street between North French Street and South Park Avenue, a designated historic district among Colorado's largest.
Downtown features a dense strip of shops, restaurants, and local services, including The Canteen Taphouse and Tavern with its many beers and cocktails and BoLD Restaurant and Bar, which promises "Mediterranean-inspired cuisine at 9600 feet." Residents can also catch a show or musical performance at the Riverwalk Center or enjoy a peaceful stroll along the paths adjacent to the Blue River. Combine all this with easy access by foot or car to nearly every part of town, and it's easy to see why Downtown is such a popular choice for would-be homebuyers.
As one of Breckenridge's denser neighborhoods, properties consist primarily of condos, townhomes, and other multifamily homes. Most are two miles or less from Breckenridge Ski Resort, with the famous Four O'Clock Run ending just across the Blue River from Downtown. Homes can be found across a comprehensive price spectrum, from the high $300s for the most modestly sized one-bedroom units to nearly $1.25 million for the most spacious, finely finished townhomes.
Peak 7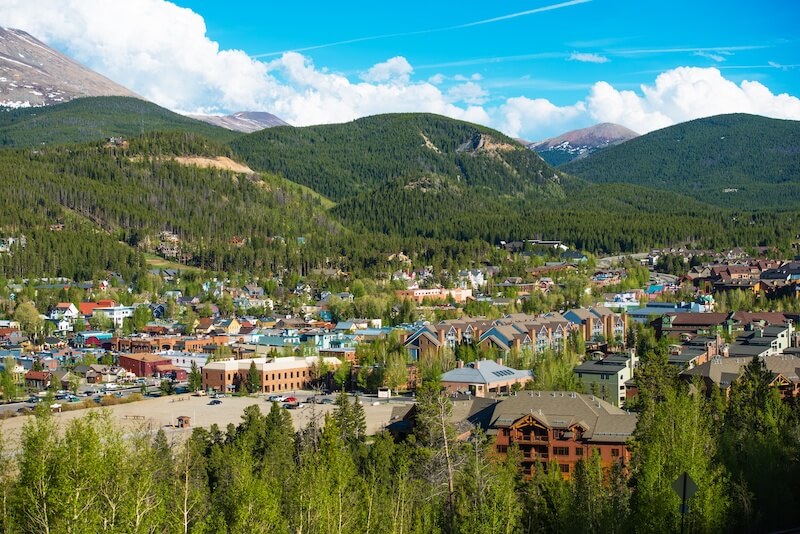 The neighborhood known as Peak 7 covers a loosely defined area beneath and to the east of the mountain that gives it its name. Just three to four miles from Breckenridge Ski Resort, it's a perfect combination of convenience to the slopes and Downtown mixed with mountainside seclusion. In the winter, residents have quick ski access to one of the area's most noteworthy mountains, which doubles as a desirable hiking and exploring destination in the warmer months. Peak 7 is also a convenient area to try some of Breckenridge's homemade spirits, with both Breckenridge Distillery and Broken Compass Brewing close by.
Housing in the Peak 7 area consists of single-family detached homes in various styles, from log cabin structures to sleek modern homes. They typically include three to five bedrooms and 2,000–5,000 square feet of living space. Most properties sell from $1.25–$2 million. The Peak 7 area also includes several undeveloped lots for those looking to build their own homes, typically from a half acre to an acre. These sell from the high $500,000s to close to a million.
Boulder Ridge
Set just to the south of Ski Hill Road, Boulder Ridge offers unparalleled access and views of Peak 8 and the nearby Breckenridge Ski Resort. It's hard to be closer than Boulder Ridge, where homes are typically less than a mile from the resort entrance. This also means public resort amenities, like The TBar Restaurant and Robbie's Tavern, are close at hand. Meanwhile, residents can enjoy ski-in access with the famous 4 O'Clock Run along the area's southern edge. Boulder Ridge is also close to the gorgeous, unspoiled Cucumber Gulch Wildlife Preserve, which offers opportunities for exploring no matter the season. Downtown is also nearby, accessible by car or the Breckenridge free shuttle, which stops outside the development.
Just 35 properties make up Boulder Ridge, including several of Breckenridge's vacant lots for sale. Like other Breckenridge communities, Boulder Ridge offers a variety of spacious, luxurious single-family detached homes, nearly every one exceeding 5,000 square feet of living space. Development began in the 1990s, though parts of the community are undeveloped. As some of the town's best homes, they command some of the area's highest prices: homes for sale in Boulder Ridge list from $4 million, but exceptional homes regularly list for nearly $20 million.
Shock Hill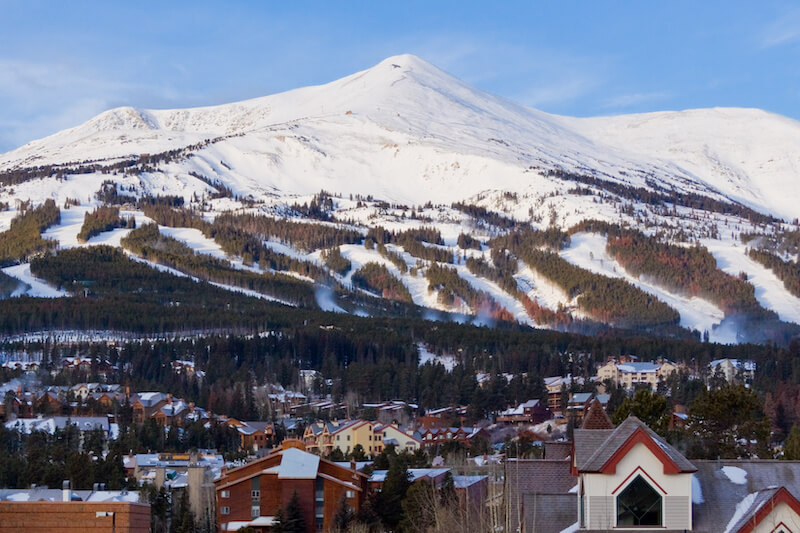 Shock Hill is hard to beat for its excellent location and high-end homes. Located on a rise northwest of central Breckenridge, the community is the first stop on the free and convenient BreckConnect Gondola, which runs from Downtown to the base of Peaks 7 and 8. It's also the site of the Breckenridge Nordic Center, a top local spot for cross-country skiing and snowshoeing. Less than two miles down Ski Hill Road or by gondola from Breckenridge Ski Resort, it's one of the closest places to live to the slopes.
As one of Breckenridge's top communities, it should be no surprise that homes for sale in Shock Hill are among the most luxurious and high-dollar in town. Development only began within the last two decades, making them relatively new properties. Homes typically include five to seven bedrooms and at least 5,000 square feet of living space. Often constructed with a modern ski chalet look, they list from the high single-digit millions into the $15–20 million range. Vacant homesites are also periodically available on Shock Hill, usually of a half-acre or more. They start at around $5 million.
Weisshorn
Weisshorn comprises several quiet loop streets just northeast of Downtown Breckenridge, providing a combination of convenience and style for would-be homeowners. It includes nearly 140 single-family detached homes split between two subdivisions. The community is just 2.5 miles east of the slopes, centered around Wellington Road between Morning Star Drive and Briar Rose Lane. Construction began in the early 1960s, shortly after Breckenridge Ski Resort first opened. Just a short walk from Downtown, just about everywhere in Breckenridge is easily accessible from Weisshorn via the free Breckenridge Shuttle.
Homes in the Weisshorn community are exclusively single-family detached properties on lots ranging from a third of an acre to nearly three acres. Interiors can also vary widely, from as few as three bedrooms to as many as eight, with exterior styles including Craftsman, Chalet, and more Contemporary options. Most homes for sale in Weisshorn list from $2.5 million, but some properties eclipse $10 million.
Yingling and Mickles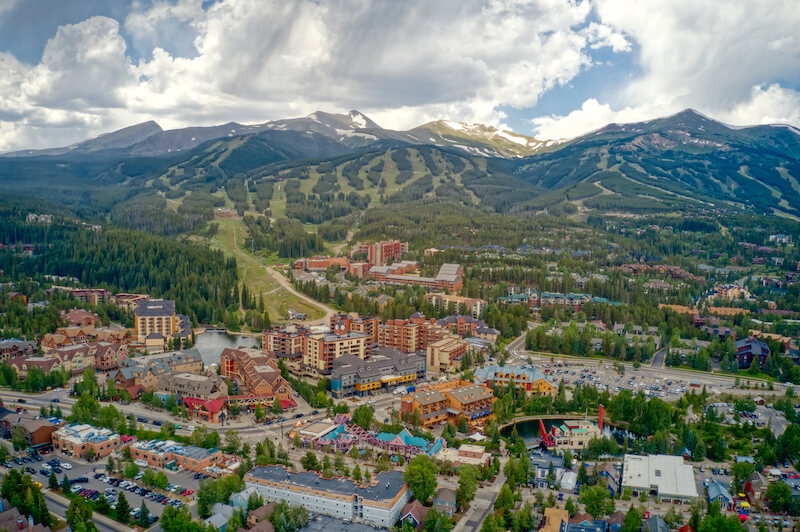 Another excellently located Breckenridge neighborhood, the Yingling and Mickles subdivision, sits just east of French Street, south of Wellington Road. This places it just a few minutes' walk from Main Street's shops, restaurants, and nightlife, from Breckenridge Coffee Roasters' Cuppa Joe Cafe to the healthy American cuisine of Amazing Grace. It's also just 2.5 miles from Breckenridge Ski Resort, an easy trip by car or BreckConnect Gondola. The community is also close to Carter Park and Pavilion, one of Breckenridge's best parks, with sledding, a dog park, and sports facilities. With so much so close by, it's easy to see why it's so popular.
Yingling and Mickles is one of Breckenridge's most established neighborhoods, with development dating back to the 1970s. Those considering homes for sale in Yingling and Mickles will find large single-family detached homes supplemented by spacious, high-end townhomes and duplexes. The latter group is the most affordable, listing from $1.5 million and including three to four bedrooms and approximately 2,000 square feet. Detached homes are often significantly larger, with five to seven bedrooms spread over as much as 6,000 square feet of living space. These usually list from $3 million.
Christie Heights
Christie Heights is a compact luxury community located just over a mile down Ski Hill Road from Breckenridge Ski Resort. Just three dozen homes are set along two quiet streets, providing excellent views of the Tenmile Range and Bald Mountain across the valley. There's no closer location to the cross-country skiing and snowshoeing at the Breckenridge Nordic Center, which is connected to Christie Heights via trails.
The Nordic Center area also offers city shuttle stops for easy, free transit around Breckenridge, from the slopes to the Downtown core. In addition, the community is just across the road from the Lomax Placer Mine (part of the Breckenridge History group). This living history museum preserves heritage from the earliest days of Breckenridge.
Homes in Christie Heights also enjoy more and earlier sun than other properties thanks to the hillside location, which gets light far sooner than Downtown and eastern parts of Breckenridge. Properties include three to five bedrooms, though even the most modestly sized feature 3,000 square feet of living space and lot sizes of a third of an acre. Buyers should expect listing prices of $2.5 million or more for homes for sale in Christie Heights.
Breckenridge's Best Neighborhoods Are Waiting Near The Slopes
Few ski towns in the country can compete with Breckenridge, CO, especially regarding the number of high-quality neighborhoods close to world-famous ski runs. Each offers unique advantages, from extra spacious homes and lots to proximity to Downtown excitement, and Breckenridge's neighborhoods with the best mountain views are spectacular. Overall, it's hard to go wrong with any of these top-tier ski communities.
Thinking about buying a home in Breckenridge? Breck Life Group's expert real estate agents are ready to help you find the perfect home!