8 Best Neighborhoods in Silverthorne: Where to Live in Silverthorne, CO
Posted by Pete Deininger on Wednesday, November 15, 2023 at 9:45:58 AM
By Pete Deininger / November 15, 2023
Comment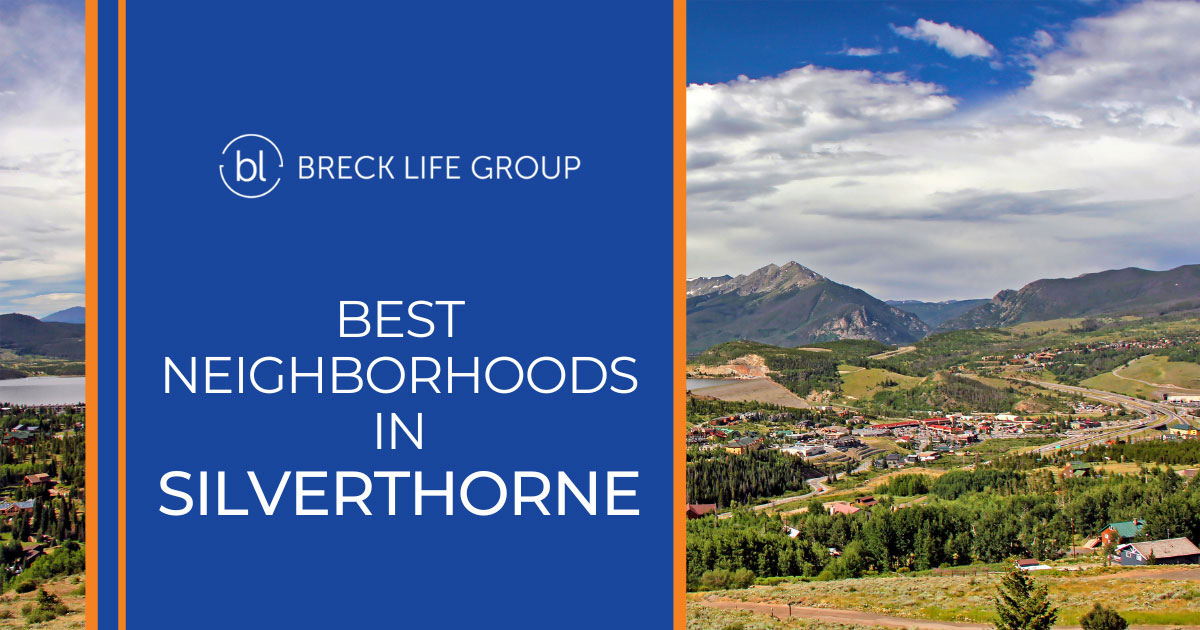 Silverthorne, Colorado, is a beautiful Summit County town surrounded by mountains, rivers, and lakes. The lovely community is home to a wide variety of neighborhoods that will suit any lifestyle. If you're thinking about moving to Silverthorne, here are some of the best neighborhoods to check out.
Eagles Nest
Eagles Nest is a beautiful community nestled in the hills of Silverthorne. With diverse topography and breathtaking panoramic views, every house features exquisite craftsmanship and architectural designs that harmonize with the Rocky Mountain landscape. The Silverthorne homes in Eagles Nest have rustic log and timber construction, rock and stone elements, cathedral ceilings, and expansive walls of windows to capture the stunning scenery.
The award-winning Raven Golf Club at Three Peaks is at the heart of the community and serves as a gathering place for residents. There is also an extensive network of trails for hiking and biking, and you can go fishing, kayaking, and boating in nearby lakes and ponds. In the winter, there are spots for cross-country skiing, snowshoeing, alpine skiing, and snowboarding nearby.
Homes in Eagles Nest are typically listed for sale with prices ranging from $1.3 million to over $5 million. This enclave offers residents an opportunity to fully immerse themselves in the natural beauty of the surrounding mountains and forests while also enjoying the convenience of world-renowned ski resorts nearby.
Eagles Nest Amenities
Raven Golf Course
Many luxury omes over 3,000 square feet
HOA clubhouse
Summit Sky Ranch
Summit Sky Ranch offers modern homes and a plethora of amenities. This 400-acre community features homes ranging from 2,150 to 3,500 square feet; homes in Summit Sky Ranch generally list from $1.3 million to $3 million. The contemporary-meets-craftsman exteriors of the homes boast elements such as rich dark wood, stone accents, and captivating asymmetrical designs.
Amenities include the Aspen House, which offers a year-round pool, hot tubs, fitness and wellness studios, a library, a fire pit, a children's recreation room, a business center, and a catering kitchen. There's also a private observatory that provides unparalleled stargazing opportunities. Homeowners also enjoy private access to a stretch of the Blue River, along with an extensive network of trails for hiking, biking, or jogging. There's also a communal dog park, a multi-use field, a warming hut, a disc golf course, and a sledding hill.
Lake Everist is a true gem within Summit Sky Ranch. This 20-acre private community lake is stocked with fish and offers non-motorized boat storage. The Lake House, situated on the lakeshore, provides a welcoming community space complete with a kitchen, grill, indoor and outdoor seating, and a cozy firepit.
Summit Sky Ranch is ideal for those who want to experience modern mountain living. Summit Sky Ranch provides a unique lifestyle, from the private lake during the summer to the extensive network of ski trails in the winter.
Summit Sky Ranch Amenities
Maryland Creek Park
Community centers like the Aspen House and the Lake House
Private observatory
Private access to part of the Blue River
Angler Mountain Ranch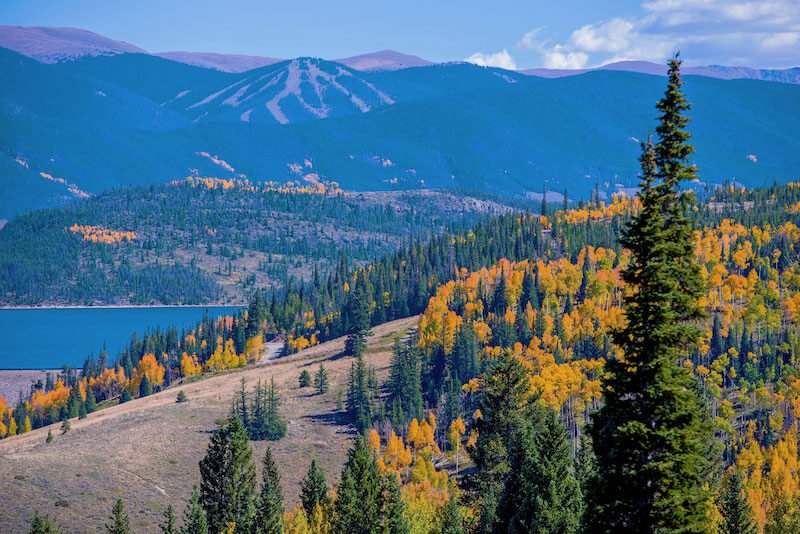 Angler Mountain Ranch is a contemporary mountain community with an array of housing options and amenities. Nestled amidst the majestic Colorado Rocky Mountains, the ranch features nearly 150 Silverthorne condominiums, townhomes, and duplex-style residences, along with 62 homesites for detached estates and 30 cabins spread across 90 pristine acres. These residences boast a rugged frontier-inspired design crafted with rich timber, expansive glass elements, and refined stone accents.
Homes in Angler Mountain Ranch typically list from the high-$500s to more than $3 million. Residents can indulge in world-class Blue River fishing right at their doorstep or take advantage of the convenient trailhead for a multitude of awe-inspiring hikes. The Silverthorne Bike Path, accessible just under the bridge, also provides excellent recreational opportunities. Residents have plenty to explore with the Raven Golf Course across the street and the Ptarmigan Trail connection at Angler Mountain Ranch.
Nearly half of the ranch has been thoughtfully dedicated to preserving natural open spaces, and the gold medal trout pond further enhances the rustic charm of this picturesque Western-style ranch. Angler Mountain represents a unique opportunity for those seeking an authentic mountain ambiance enriched with a touch of modernity.
Angler Mountain Ranch Amenities
Private lake and pond
Mix of condos/townhomes and single-family Homes
Ptarmigan Trail
Blue Valley Acres
Blue Valley Acres is a picturesque mountain community with spacious properties. Residents also get access to private fishing along the Blue River. Located 27 miles north of Silverthorne, the two sections of the community offer different sizes and amenities. Section 1 consists of 89 parcels that average around five acres. These parcels require individual well and septic systems and are serviced by an active Land Share corporation that maintains the private roads and common areas. Residents enjoy one-and-a-half miles of riverfront and private fishing.
Section 2 boasts 160 parcels that are approximately one acre in size. These parcels share a community well and have individual septic systems. A special taxing district oversees the maintenance of the water system and roads. Residents can access private fishing and boating on the lower Blue River. Some parcels offer scenic riverfront views, while others border BLM land or private ranches.
The homes in Blue Valley Acres are spacious, with square footage of 3,500 square feet or more. Prices typically range from the mid-$600s to about $1.3 million. With the variety of sizes and amenities, Blue Valley Acres is an ideal neighborhood for those looking to buy an acreage property in Silverthorne.
Blue Valley Acres Amenities
Private access to the Blue River
Large lots
Near Green Mountain Reservoir
Ruby Ranch
Located at the base of the Gore Range near Silverthorne, Ruby Ranch offers an exceptional Western-style living experience with 54 individual properties and 500 acres of stunning meadows and wetlands. This gated community is bordered by a beautiful national forest and wilderness areas. Ruby Ranch homes typically range from $1 million to $2.5 million, though some properties may be more expensive.
Ruby Ranch features a sizable barn with an outdoor riding arena, stalls, a feed room, a tack room, and a winter shelter, in addition to a stunning share of the luxury homes in Summit County. The barn manager and outfitter can coordinate trail rides, hunting expeditions, and fishing outings into the backcountry. There are also over 180 miles of trails in the surrounding Eagle's Nest Wilderness, leading to destinations like the Gore Range, Mesa Cortina, Willow Creek, Middle Creek, and Salmon Lakes.
The community is also home to 200 acres of communal open space, making it a great place for outdoor activities. Property owners have the option to board their horses at Ruby Ranch or on their own Summit County horse properties. In addition, the ranch provides an opportunity to experience the rustic beauty of the Rocky Mountains in a luxurious setting.
Ruby Ranch Amenities
Gated community
Large homes and lots
Equestrian amenities like a barn and arena
Mesa Cortina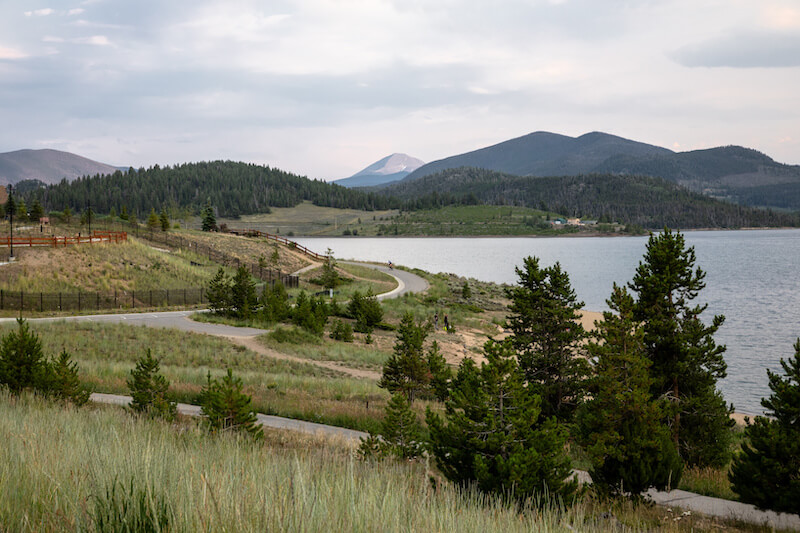 Mesa Cortina is a serene single-family residential community situated at the base of Buffalo Mountain, flanked by the White River National Forest on two sides. Homes in Mesa Cortina are built on spacious one-third- or half-acre lots, with a wide range of homes ranging from A-frames to expansive residences. It is conveniently located close to Highway 9 and offers stunning views of Lake Dillon and the surrounding mountains. The area is also close to various outdoor activities and is a great place to escape the hustle and bustle of town.
The neighborhood of Mesa Cortina West is the largest of the four subdivisions and encompasses homes, vacant lots, and larger lots with more spacious homes. It is located along Shooting Star Way, Kings Court, Solomon's Lane, Royal Buffalo Drive, Lord Gore Road, and Royal Red Bird Drive.
Cortina is a subdivision adjacent to Mesa Cortina, which has over a hundred homes and a dozen vacant lots.
The Cortina Ridge neighborhood is also adjacent to Mesa Cortina, featuring 30 larger lots with mostly newer homes constructed since 2001. These properties can range up to 5,000 square feet in size and are located along Solomons Lane, Aspen Drive, Kings Court, and Lake View Drive.
At an elevation of around 8,000 feet, Mesa Cortina is a tranquil retreat with breathtaking views of the mountains, meadows, forests, and the valley. It is the perfect place to enjoy the outdoors and relax in a quiet, sun-soaked neighborhood.
Mesa Cortina Amenities
Mesa Cortina Trailhead
Near downtown
Near Dillon Reservoir
Willowbrook Meadows
Nestled in the heart of Silverthorne, Willowbrook Meadows offers a plethora of amenities, including a baseball field, tennis courts, and a playground. Trent Park, the entrance to the neighborhood, also includes a small fishing pond. With access to the nearby Blue River and Summit County recreational trail system, it's easy to find a variety of hiking and biking trails.
Homes in Willowbrook Meadows boast breathtaking mountain views of Williams Fork, the Gore Range, Buffalo Mountain, Red Mountain, and even the iconic Keystone Ski Resort. Wetlands and creeks create an ideal habitat for wildlife, offering opportunities to spot moose, elk, foxes, and other creatures.
Willowbrook comprises around 285 homes, including single-family homes, duplexes, and triplexes. Dating back to the late 1970s, the properties range from .02 acres to 4.41 acres. With high ceilings, big windows, and outdoor living spaces, the homes in this neighborhood promote a peaceful atmosphere.
Willowbrook Meadows Amenities
Trent Park
Right off SH 9
Along Willow Creek
Summit Blue
Summit Blue is a riverfront community located in Silverthorne and boasting 35 residences, including Silverthorne townhomes and single-family homes. Situated along the scenic Blue River, it is adjacent to a picturesque bike path and just steps away from the local recreation center and Rainbow Park. Residents can enjoy concerts at this park during the summer months.
For entertainment and dining options, a pedestrian bridge provides convenient access to the town pavilion. Visitors can find a performing arts center, shops, and restaurants like Sauce on the Blue, Enza's, and Red Mountain. Additionally, just across Highway 6 is the Bluebird Market and shops at 4th Street Crossing.
Homes in Summit Blue include 19 three-bedroom townhomes and 16 four-bedroom single-family homes with direct access to the Blue River trail. Homeowners also have private access to 350 feet of Blue River shoreline.
Summit Blue is ideal for those who want to be close to nature and enjoy all the amenities of a bustling town. With its convenient location and numerous attractions, this community is sure to be a desirable destination for many.
Summit Blue Amenities
Community fire pit and park
Along Blue River
Private river access
Explore the Best Neighborhoods in Silverthorne
There's no shortage of great neighborhoods in Silverthorne, a dynamic community located less than 15 miles from Downtown Breckenridge. From Eagles Nest to Summit Sky Ranch and from Angler Mountain Ranch to Blue Valley Acres, there's something for everyone. Whether you're looking for a cozy mountain getaway or a vibrant outdoor lifestyle, Silverthorne has it all.
If you're looking for the perfect Silverthorne home, contact Breck Life Group with eXp Realty at (970) 409-4787 to get in touch with a local Silverthorne real estate agent and discover your new dream home today.