5 Best Parks in Breckenridge: Explore Carter Park, Kayak Park & More
Posted by Pete Deininger on Monday, July 11, 2022 at 8:33 AM
By Pete Deininger / July 11, 2022
Comment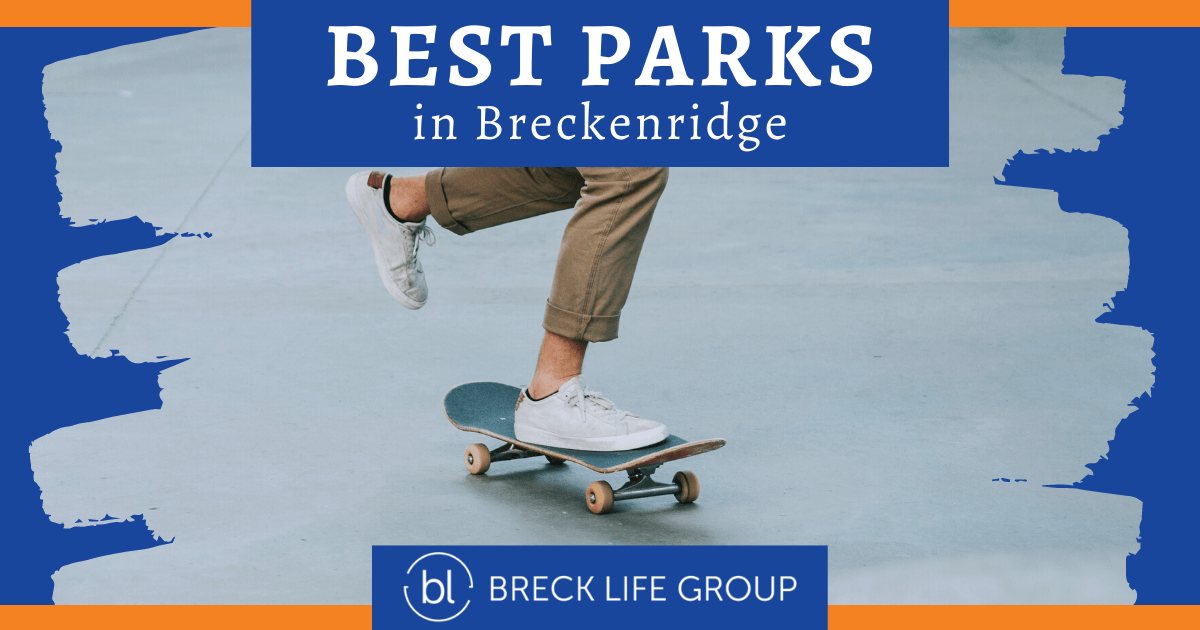 The Town of Breckenridge, Colorado, has a rich history of outdoor activities. From the gold rush and other mineral mining to trapping and hunting, settlers have enjoyed the local fresh air throughout the ages. Today, most people in the area seek out public parks for outdoor exercise and stress relief.
Colorado being a four-season state also means a variety of activities throughout the year, no matter which location is preferred. Read on to explore some of the best parks near or in Breckenridge.
---
Carter Park & Pavilion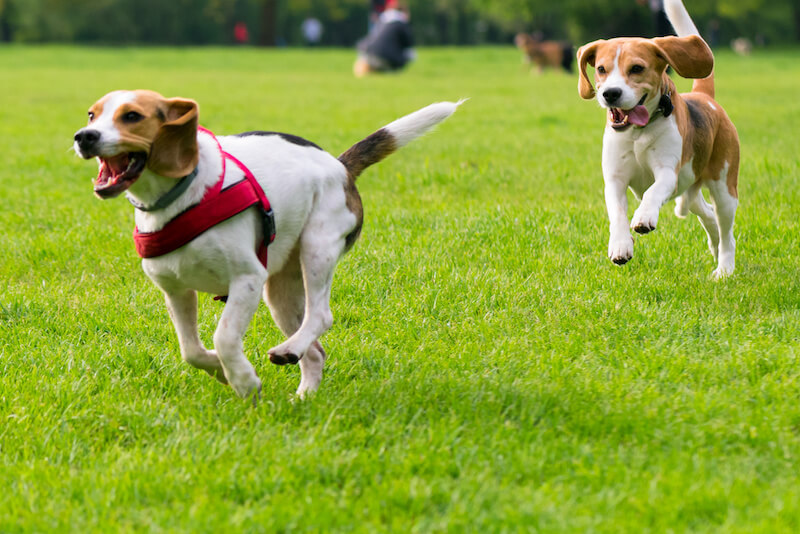 Just a few blocks east of Main Street, Carter Park is undoubtedly a favorite place for kid-friendly activities in Breckenridge. The park is adjacent to Breckenridge Elementary School and has many unique amenities that create a favorite green space for people of all ages. Groups can even take advantage of the heated indoor gathering space by reservation.
Outside, there are plenty of picnic tables and a large natural gas grill. Competitive types will love using the tennis courts and pickleball courts. Both options are accessible for summer use, and it is even possible to borrow pickleball equipment. The warmer seasons also see frequent use of baseball diamonds and sand volleyball courts.
Pet owners can give their dogs freedom in the public dog park, with a separate area for smaller dogs. Best of all, everything is fenced in.
During snowy weather, Carter Park is also a very popular sledding location.
---
Kingdom Park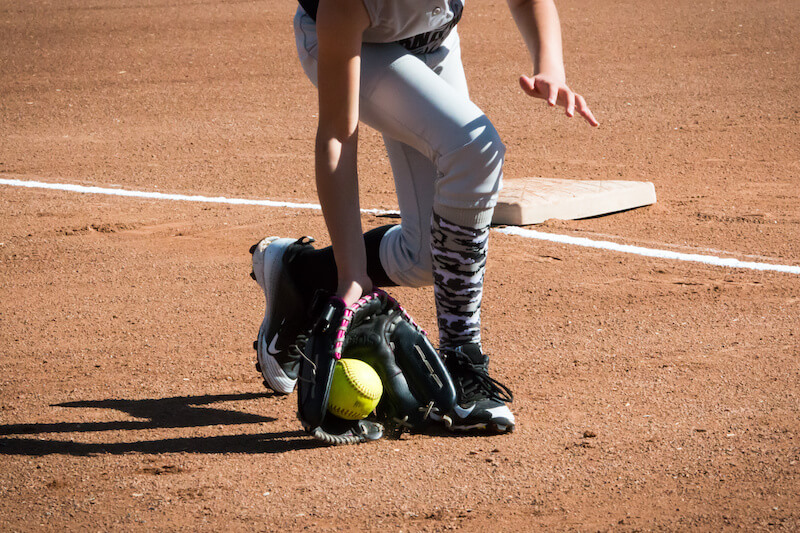 Set against the beautiful backdrop of the lower Rocky Mountains, Kingdom Park is primarily a sports complex. Breckenridge Recreation Center is next door, offering nearly 90,000 square feet of communal space. Visitors can enjoy fitness rooms, free weights, cardio machines, studios for aerobics and dance, and even an indoor climbing wall during intemperate weather. There is also an aquatics area with the Summit Plummit water slide, sauna, and hot tubs.
Kingdom Park extends on those amenities during great weather with nearly every fresh-air activity imaginable. Weekend athletes can conquer softball, soccer, and rugby fields and basketball courts. The softball fields are well lit for after-work leagues. Skateboarders will also find one of the largest skateboard parks in the region, with several ramps, dips, and other challenges.
Not feeling particularly daring? Use the park for picnic tables and public restrooms for group outings. There are also two playgrounds, including structures for kids to climb. The Breckenridge Recreation Center is only $18 per day for adults, with reduced price package deals and savings for certain groups.
---
River Park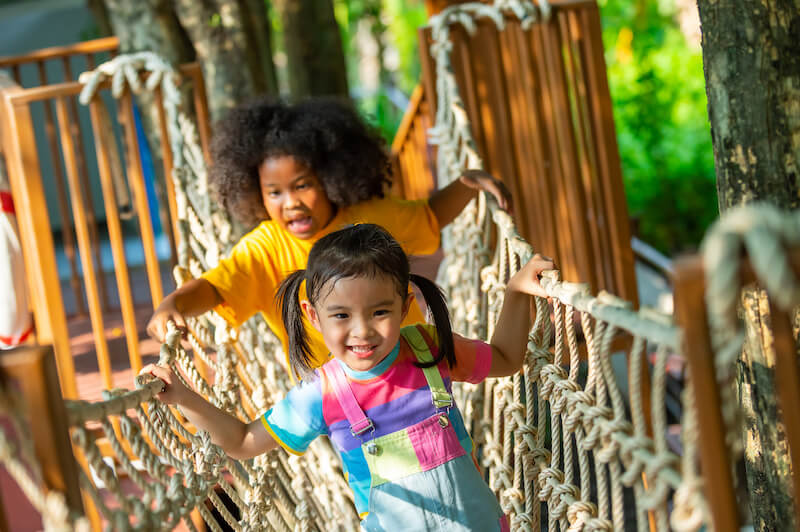 River Park is a massive public park giving kids ages 5-12 the unique experience of playing in nature. This different approach to playgrounds uses a uniquely designed environment simulating forests, river systems, and snowcapped mountains. Instead of standard slides and swings, these structures stimulate the imagination and connect young minds to the local topography. Phase 1 of the project was completed in the spring of 2019.
Near the Blue 52 housing development, a new pedestrian bridge connects this park to the Recreation Path and River Trail. There are also bike racks on-site for those that rode into the area as part of a larger route. Adults nearby can relax on a bench or the covered pavilion with restrooms.
This project's creativity has been recognized in two ways. First, it won the 2019 Starburst Award from Great Outdoors Colorado. Second, the Town of Breckenridge received another grant to complete Phase 2. Finished in fall 2020, the second stage provides a strider skills park and grassy play area. Toddlers are also included in the fun, with a smaller area for the youngest kids.
---
Prospector Park
Another novelty green space area, Prospector Park sits along the Main Street Trolley route. However, drivers will find plenty of parking on the street or in the South Gondola Parking Structure across Main Street. No matter how they arrive, the area offers unique fun, especially for kids. As a "pocket park," most visitors may consider it a small neighborhood amenity or special attraction for those who have just moved to Breckenridge.
The park contains the Tom's Baby sculpture. Commemorating the discovery of the largest ever gold nugget in 1887, the large bronze statue is named after the way Tom Groves swaddled his find. There are also some rock-themed climbing structures designed for kids to play on. The ground is covered in wood chips, and picnic tables and benches are nearby.
---
Kayak Park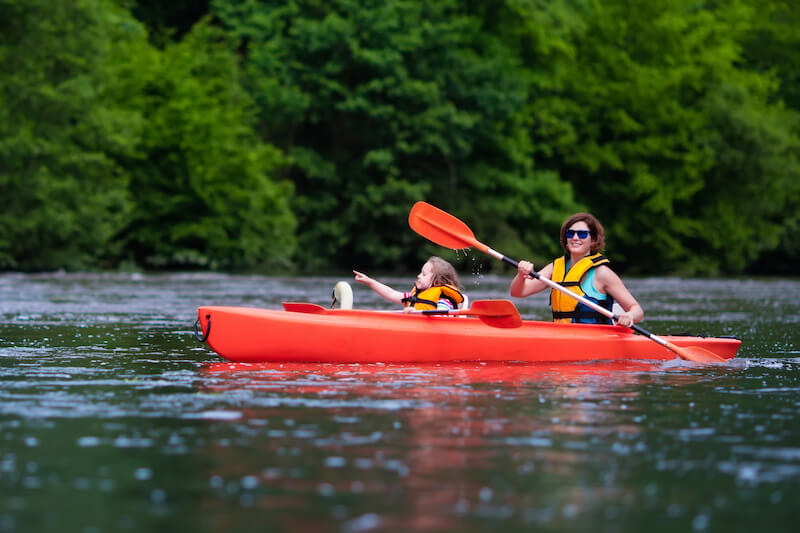 It should not be difficult to figure out the most popular activity at Breckenridge's Kayak Park. One of the largest public green spaces in the state, it was established in 2001 to conserve part of the Blue River. In addition to this goal, the preservers wanted to highlight the area by creating an attraction for seasonal kayaking. Using around 15 artificial water features, the Blue River can challenge boaters of all levels.
The Blue River runs through the entire community alongside the Recreation Center mentioned above to its east. The waterway begins where Monte Cristo Creek and Bemrose Creek meet, flowing through the Goose Pasture Tarn south of Breckenridge before emptying into Dillon Reservoir to the north. The river flows May through August, but the peak season for boating is May through June.
Although it is free to use the park itself, taking advantage of its amenities will require some supplies. Fortunately, there are plenty of kayak outfitters within Breckenridge. Inexperienced boaters may also want to consider traveling with a tour group the first few times. Experienced rafters will know what to expect from this particular route and help with the preparations.
Because Colorado is elevated compared to much of the country, boaters need to bring plenty of insulated clothing for the cold water.
---
Can't Beat Breckenridge Parks
From its long legacy of rugged outdoor adventures to modern afternoons in the park, Breckenridge residents continue the fresh-air fun. Those relocating to the community will find various group or individual exercise activities at Breckenridge's best parks. Boredom is not an option here!
Thinking about buying a home in Breckenridge? Breck Life Group's expert real estate agents are ready to help you find the perfect home!