Where to Retire in Colorado: 4 Best Colorado Cities to Move to After Retirement
Posted by Pete Deininger on Wednesday, May 17, 2023 at 1:02:22 PM
By Pete Deininger / May 17, 2023
Comment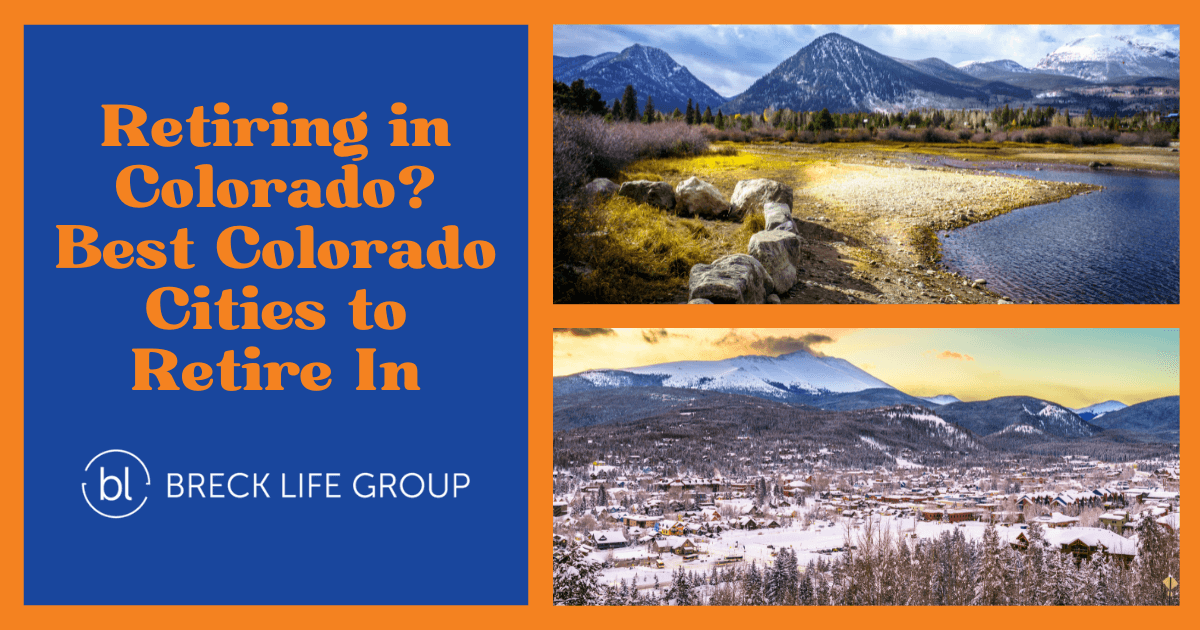 Natural beauty, plentiful outdoor recreation options, and beautiful weather are just a few of the many reasons why Colorado is one of the best places to retire. The state offers scenic views of the Rocky Mountains and plenty of skiing, snowboarding, and hiking opportunities, while cultural attractions and historical sites dating back to Colorado's gold mining past can be explored by history-minded retirees. With so much to choose from, knowing where to retire in the Centennial State can be difficult, but rest assured that the following are among the best places to retire in Colorado.
Breckenridge
The alpine town of Breckenridge sits between Denver to the east and White River National Forest to the west. It's about 90 minutes from downtown Denver and a couple of hours from Boulder. Breckenridge is a great place to retire for those who love hitting the slopes or just enjoying the great outdoors. Hiking, paddle boarding, and fly fishing are some of the most popular summer activities in Breckenridge while winter offers skiing, snowboarding, and snowshoeing. Breckenridge Golf Club offers high-altitude golfing and beautiful golf homes.
This historic downtown area offers art studios, live entertainment, and dining at places such as Cool River and Hearthstone. Breckenridge also offers many local events, including the Breckenridge International Festival of the Arts.
While Breckenridge doesn't have any designated retirement communities, the city does have a lot of condo communities that are ideal for retirees who want to benefit from less maintenance for condo owners. These are mainly located in the central part of town close to restaurants and other amenities. Single-family houses on large lots are also available, beginning at around $1 million. Prices range from around $200,000 and up for studio condos to more than $1 million for 3-bedroom condos.
Fort Collins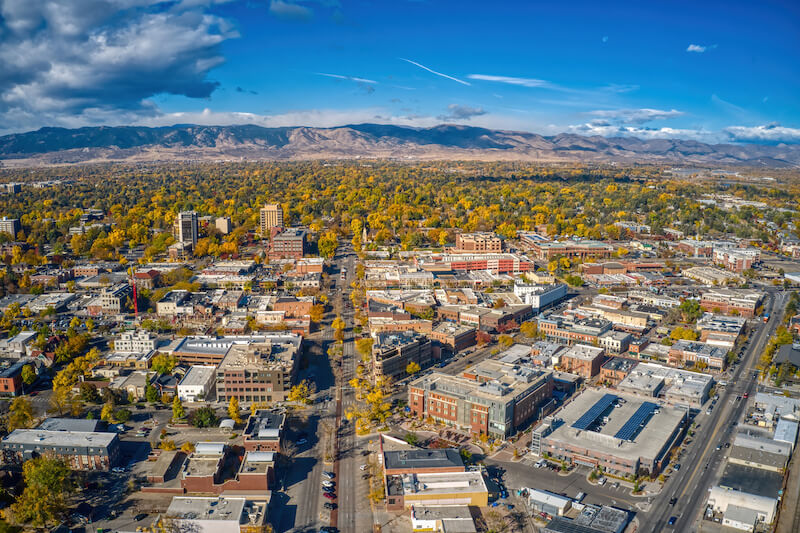 Fort Collins in northern Colorado is located next to Rocky Mountain National Park as well as Arapaho and Roosevelt National Forests. I-25 runs along the eastern side of the city for easy access to Boulder and Denver, which are just over an hour away. Fort Collins is the perfect retirement place for those who want a thriving downtown area, notable amenities for retirees, and picturesque mountain views. Fort Collins Senior Center offers a pool, wellness center, library, spa, community gardens, and other amenities. The senior center also hosts ski trips and other events.
Local attractions for retirees to enjoy include the Fort Collins Museum of Discovery and the Museum of Art. Shopping and dining options can be found along S. College Ave., including Cafe Vino and The Welsh Rabbit Bistro. Lory State Park and other natural areas offer hiking, kayaking, and other outdoor recreation.
Fort Collins has several retirement communities to choose from, with each offering impressive amenities. Many of these feature single-family houses with four or more bedrooms and around 3,000 or more square feet of living space. Prices on these homes range from the $500,000s to around $1 million. Fort Collins also has several condos with two or more bedrooms, ranging from around $300,000 to upwards of $500,000.
Evergreen
Evergreen is a small town nestled between Denver to the east and the Rocky Mountains to the west. This town is around 30 miles from Denver and 40 miles from Boulder. With the mountains on the other side of town, residents can easily go skiing, hiking, kayaking, fishing, and much more. Evergreen is the ideal retirement place for those who enjoy a small-town environment with convenient access to the great outdoors as well as major cities. Evergreen Golf Course near Evergreen Lake and Bear Creek offers golfing among pine trees.
Several dining options can be found along Evergreen Parkway, including Willow Creek and Murphy's Mountain Grill. Stores, a post office, and other amenities are also located along the parkway. Elk Meadow Park offers multiple hiking trails and a chance to see elk herds.
Most homes in Evergreen are single-family houses on spacious lots. A few condos and townhomes are also available, and retirement communities can be found near Evergreen. The town has a mix of smaller houses with one bedroom and large houses with five or more bedrooms and around 7,000 square feet on average. Prices range from $200,000 for single-family homes and condos to upwards of $5 million for larger houses. Many Evergreen homes offer stunning natural views perfect for creating a space for meditation and relaxation.
Frisco
Located a few minutes north of Breckenridge and about an hour from Denver, the town of Frisco offers a cozy escape for retirees. Frisco makes a great retirement spot for those who want to enjoy the outdoors and take in the gorgeous mountain and water views every day. Frisco is nested between Dillon Reservoir, Frisco Bay, and Giberson Bay on the east side of town and mountains and forests on the west side. Residents can go boating, fishing, and more in the bay and reservoir waters. North Tenmile Creek Trailhead offers scenic hiking trails. Frisco Adventure Park offers outdoor recreation all year round, including skiing and biking.
Many amenities, including restaurants and stores, can be found along Summit Blvd. and the downtown area. A few of these include Highside Brewing, 5th Avenue Grille, and Crossroads Shopping Center. Summit County Community and Senior Center offers senior services and events.
Several retirement communities can be found nearby. Within the town, many homes are condos, ranging from studios to 3-bedroom units. Single-family houses with three or more bedrooms are also available. Prices range from the low $300s for condos to upwards of $1 million for larger condos and single-family houses.
Retirement Near the Rockies
Those looking to retire in Colorado have several places to consider based on their interests and needs. From big cities and towns like Fort Collins and Breckenridge to the smaller towns of Frisco and Evergreen, home buyers can find just the right environment to spend their golden years of retirement in Colorado. These places all offer scenic views of the Rocky Mountains and other natural surroundings with stunning views of the Rockies while hiking or skiing.