Breck Snowflake Challenge: snow sculptures in Breckenridge
Posted by Pete Deininger on Monday, February 25, 2013 at 3:39 PM
By Pete Deininger / February 25, 2013
Comment
If the recent International Snow Sculpture Championships left you yearning to create your own snow masterpiece, then the Breck Snowflake Challenge coming to Breckenridge March 4th-9th is your perfect opportunity.
Started by locals in the 1960s, the zany snow art competition was part of the festivities paying homage to Ullr, the Norse god of snow. Shops and restaurants along Main Street were the backdrop to this creative, local event. As time passed that local event morphed into what is now the International Snow Sculpture Championships, that draws professional snow artists from all over the world to compete.

While January's International Snow Sculpture Championships aren't to be missed, what has been lost in the transition over the years is the ability for anyone, regardless of experience to enter and compete. So several years ago the original Breck Snowflake Challenge was revived and is open for anyone and everyone to participate.

Not only are entrants rewarded with the sense of accomplishment they'll experience after bringing their designs to reality, but the top four sculptures (yes, there's judging!) will also be awarded cash prizes.

Set to begin March 4th, there is still time for interested folks to grab some friends, tools and draw up some designs, enter and compete in the Breck Snowflake Challenge. There is plenty of information about the event at the official Breck Snowflake Challenge web page.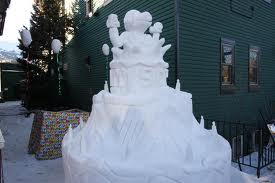 Perhaps you'd rather just view the fantastic snow sculptures as you did in January? Then stroll Main Street March 4th through the 9th and enjoy the works of art as they are being created and finished. While you're out strolling, please stop in and visit me at Breckenridge Associates. We are the proud sponsors (and some of my team mates are the original founders) of the Breck Snowflake Challenge. We'll have sculptures out front and warm drinks and information inside.