5 Breckenridge Fun Facts: How Many Do You Know?
Posted by Pete Deininger on Tuesday, July 19, 2022 at 8:13 AM
By Pete Deininger / July 19, 2022
Comment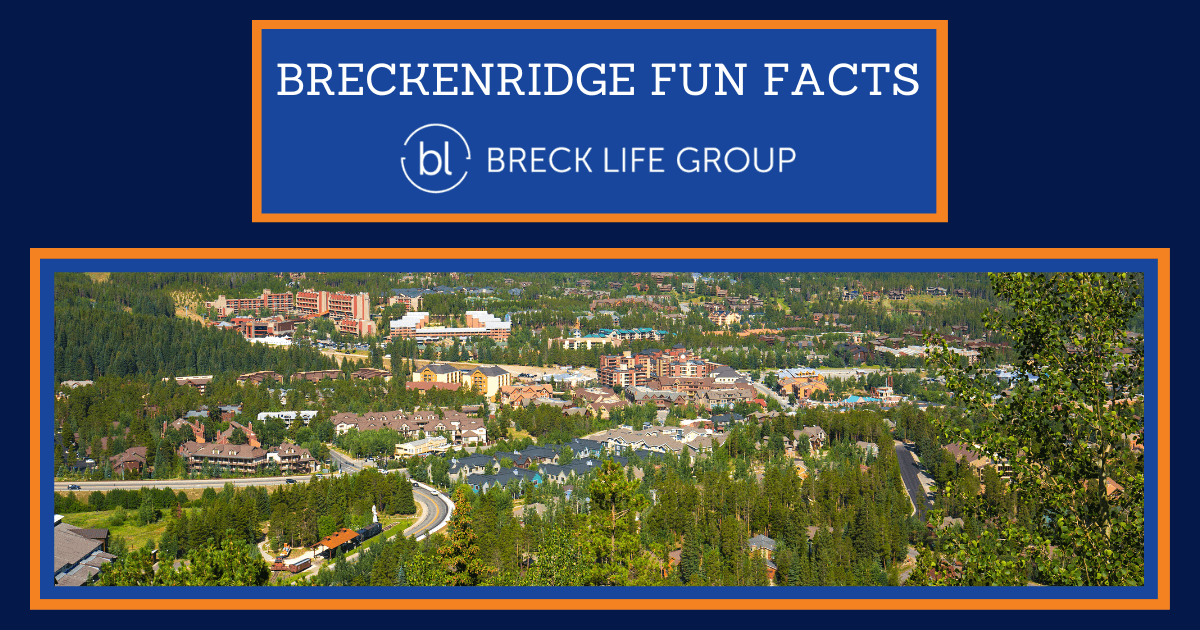 If you've ever been to Breckenridge area, you know there's nowhere else quite like it. Most people know the resort for its world-class skiing and stunning hiking trails, but how familiar are you with its rich history and lesser-known facts? Breckenridge may be a small town, but its roots run deep with fascinating fun facts, an exciting past, and unique claims to fame.
Breckenridge's Imperial Express Is the Tallest Chairlift in North America
The Imperial Express SuperChair climbs the final 939 feet up Peak 8 in Breckenridge, where it reaches a final elevation of 12,840 feet above sea level. It drops skiers off less than a hundred feet from the mountain's peak.
Skiers used to have to hike for about 45 minutes beyond the treeline to reach this lift's current destination. When the Imperial Express opened in 2005, it eliminated the need for that hike.
The SuperChair can carry 600 people up the mountain every hour and expands from there if needed. Skiers who reach the top are treated to views of Breckenridge, Baldy Mountain in the distance, Quandary Peak, Lake Dillon, and the Keystone Resort. The most advanced skiers can hike up further past the SuperChair to reach Lake Chutes and Snow White, two of the most challenging hills in the Breckenridge area.
Breckenridge Contains One of Colorado's Largest Historic Districts
Breckenridge started as a mining town in the 1800s, and today, it has one of the largest Historic Districts in all of Colorado. Much of the earliest architecture is from the Victorian era, although the buildings lack the ornamentation of similar ones from that period.
Breckenridge was first listed as a National Register Historic District in 1980. Here are four buildings in the Historic District to give a sense of Breckenridge's deep history:
Chinese Laundry: First built in 1862, this building is at 107 North Main Street in Breckenridge. It became a laundromat in 1886 and today is home to Pharmstrong, a CBD store.
Edwin Carter Museum: Victorian taxidermist Edwin Carter first built this cabin in about 1868. He had turned the building into his museum by 1875, and the cabin and museum still stand at 111 North Ridge Street.
Iowa Hill Boarding House: This cabin was built sometime around 1868 as a place for mine owners to house their employees.
Pollock House: The Pollock House originally served as the National Saloon when it was built in 1868. Located at 115 North Main Street, it's one of the oldest buildings in Breckenridge that is still standing.
The Town Was Originally Called "Breckinridge"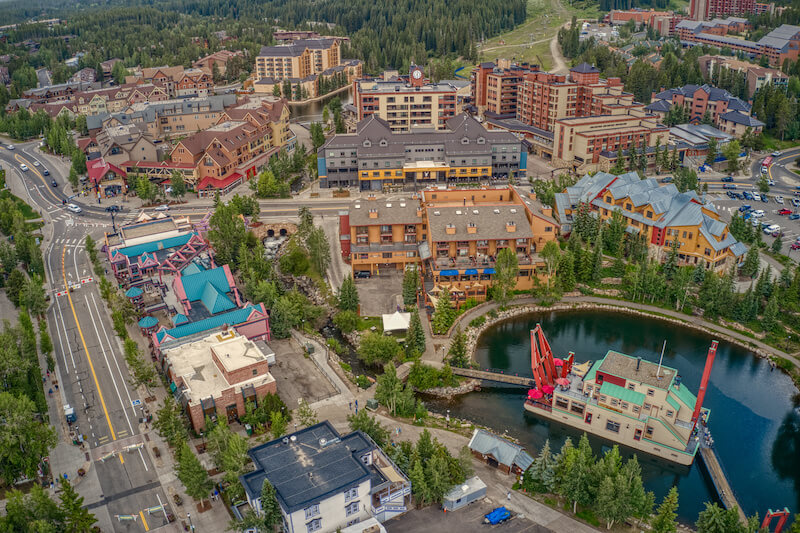 Breckenridge was founded in 1859 by a mining company, and the owner initially called the site "Breckinridge." As the story goes, the community was named after then-Vice President of the United States, John C. Breckinridge. Some people believe that the original spelling was an attempt to persuade the vice president to help the town earn approval for a federal post office.
Breckenridge earned its federal post office in 1860, which helped the town establish further stability and credibility. Shortly after, the town changed its spelling, supposedly due to John C. Breckinridge's loss to Abraham Lincoln in the presidential election.
Local historians still debate over the truth behind the tale of Breck's spelling in those early days, but there's one thing we can say for certain: "Breckenridge" is here to stay.
Breckenridge Was Listed as "Colorado's Kingdom" on a Map
It's a good thing Breckenridge has a great sense of humor about its history. Shortly after the town was founded in 1859, map makers didn't know what to call it—they knew the town existed but didn't know its name. Someone started marking the area as "Colorado's Kingdom," and the name stuck. Those map shenanigans continued for the next 77 years until the town was finally incorporated in 1939.
Breckenridge pays tribute to that topographic error with the annual Kingdom Days festival in June. It's a weekend of free and educational activities for anyone looking for fun things to do in Breckenridge. Events at Kingdom Days usually include saloon and cemetery tours, gold panning, lessons in log cabin building, and the Outhouse Races.
Most events occur on Main Street between the 100 and 200 blocks. Free history lessons are available at the Washington Gold and Silver Mine, the Edwin Carter Museum, and the Barney Ford Victorian Home. Kingdom Days is a hilarious, fun, and family-friendly event that many locals participate in yearly.
Breckenridge Is Home to Many Olympic Athletes
The Tenmile Range has some of the best ski slopes in the world, so it makes sense that the Town of Breckenridge attracts a lot of world-class skiers, snowboarders, and other winter athletes. When the Breckenridge Ski Resort first opened in 1961, it was founded by a pair of Olympic skiers from Norway: Trygve Berge and Sigurd Rockne.
CJ Mueller is a bit of a local legend in Breckenridge and was recently inducted into the Colorado Ski & Snowboard Hall of Fame. He was the first person to exceed 130 miles per hour on a pair of skis and was once recorded going 137! CJ was a top ten finisher in the 1992 Olympics. He's retired today, but you can still find him skiing in Breck.
Katie Uhlaender is a three-time Olympic skeleton racer who lives in Breckenridge. Additionally, national ski mountaineering champion Monique Merrill owns the Amazing Grace restaurant in Breckenridge, and she's won the Imperial Challenge here in town six times.
Some notable snowboarders in Breckenridge include Chad Otterstrom, an X-Games top ten finisher; bronze medal Olympian JJ Thomas; and two-time X-Games halfpipe gold medalist Steve Fisher. Eric Willett, James Woods, and Keri Herman are three other snowboarding medalists who call Breckenridge home.
Breckenridge Is a Great Place to Live, Work & Play
Breckenridge is a beautiful town with a lot of local flavors. Those who have just moved to Breckenridge are welcomed like old friends, and the town is an active community with plenty of things to do and see. However, there's more to Breckenridge's history and character than the fun facts described above. Someone just has to live here for a while to experience everything the town offers.
Thinking about buying a home in Breckenridge? Breck Life Group's expert real estate agents are ready to help you find the perfect home!