4 Luxury Breckenridge Condo Communities with Excellent Amenities
Posted by Pete Deininger on Monday, December 13, 2021 at 9:14 AM
By Pete Deininger / December 13, 2021
Comment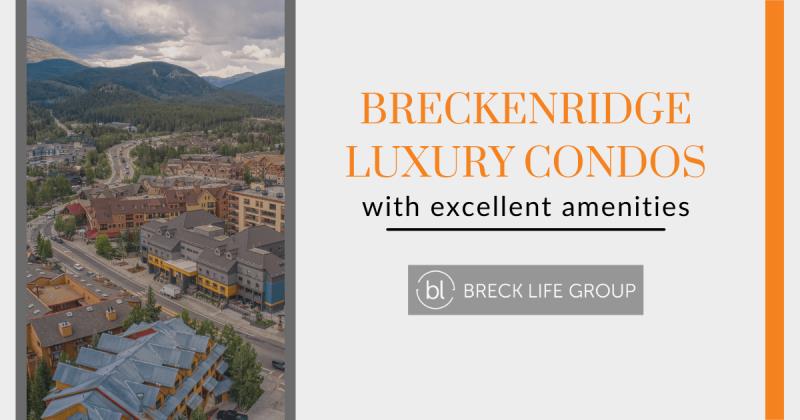 Breckenridge is a small Colorado town that offers some of the best world-class skiing and snowboarding on the planet. It's no wonder this tiny haven has produced multiple Olympic snowboarders and skiers. Breckenridge has many part-time residents who choose to own vacation condos here for winter and summer activities and the stunning views of the Tenmile Range of mountains. The condos in Breckenridge are coveted pieces of real estate, especially for those who want to own a winter getaway in one of the most beautiful spots in the Rocky Mountains. Those looking to invest in a luxury condo should keep reading to discover some of the Breckenridge condo communities with the best amenities.
One Ski Hill Place
One Ski Hill Place is a spectacular resort situated at the base of Peak 8. The ski-in/ski-out facilities offer easy access to the chair lifts for Peaks 7, 8, 9, and 10. The resort is also just steps away from the BreckConnect Gondola, which ferries passengers to and from Breckenridge, which is several minutes downhill.
The condos at One Ski Hill Place feature Alpine-style furniture and decor. The condos have wood ceilings, timber-framed French doors, and spacious, spa-style bathrooms, and the grand room in each unit has a lofty, two-story ceiling. Each condo also features its own luxurious stone fireplace. The heated underground parking facility is an added perk that owners have exclusive access to.
Resort amenities at One Ski Hill Place include aprés-ski amenities like the famous T-Bar, as well as a slopeside plaza, a restaurant, and a lounge that are all geared toward the skiing lifestyle. The resort has two indoor swimming pools with water features and a fitness center. To warm up after a day on the slopes, owners can take advantage of steam rooms, a sauna, and hot tubs. An on-site bowling alley and the Kid Zone are two popular activities at One Ski Hill Place for all ages.
Park Avenue Lofts
Park Avenue is located just off the downtown area in Breckenridge, on South Main Street. It offers easy access to the Main Street Station mall and many of the town's restaurants, bars, coffee shops, and retail outlets. Park Avenue Lofts is just a short walk from the Quicksilver SuperChair and the base of Peak 9. The Lofts are also fairly close to a number of hiking trails that head into the National Forest.
The condos at Park Avenue Lofts have a rustic Western decor that fits in nicely with the overall Breckenridge aesthetic. Wood accents and fixtures abound, and each unit has its own stone fireplace. The condos offer views of the Breckenridge Ski Resort on the mountain or the downtown Breckenridge neighborhood. Each unit also has its own balcony or deck. Vaulted ceilings and skylights in many of the units keep them bright and cheery all year round.
Amenities for residents at Park Avenue Lofts include a fitness center, a heated underground parking garage for residents only, and an outdoor hot tub. WiFi is available throughout the facility and there is an on-site laundromat. It also has a media center, a two-lane bowling alley, and a billiards room. The north side of Park Avenue Lofts is right next to the Blue River, which flows through the middle of town.
Mountain Thunder Lodge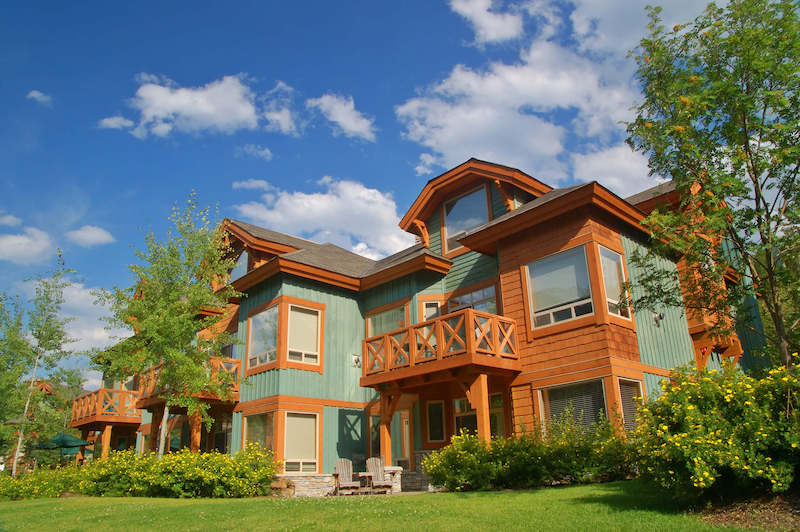 Mountain Thunder Lodge has both condos and townhouses available on its property. It's a luxury ski-in/gondola-out facility located on North Park Avenue, about a four-minute walk to the BreckConnect Gondola, which carries skiers up to the Breckenridge Resort and the lifts for Peaks 7, 8, 9, and 10. The Lodge is just a block west of North Main Street, so it provides quick access to many restaurants and retail outlets.
The condos at Mountain Thunder Lodge have unrestricted mountain views and balconies. Each condo has a large stone fireplace, flatscreen TV, and WiFi. There is a heated underground parking garage for condo owners, and the townhomes each have an attached one- or two-car garage.
Amenities offered by Mountain Thunder Lodge include two fitness centers, a year-round outdoor pool, and three Jacuzzis for residents. The Lodge also operates a free shuttle that ferries residents to any location in Breckenridge. Owners at Mountain Thunder Lodge also have access to the amenities at Park Avenue Lofts, such as the bowling alley and media center.
Crystal Peak Lodge
Crystal Peak Lodge is a luxurious ski-in/ski-out condo facility situated at the base of Peak 7. It also has a private stop on the BreckConnect Gondola, which leads to the Breckenridge Ski Resort and the remaining lifts. This upscale lodge was designed with the traditional Alpine ski resort in mind, and all the decor reflects that.
Crystal Peak Lodge's condos feature luxurious furnishings and interiors. Each condo has its own private balcony and offers stunning unrestricted views of the mountains. The condos are designed as true suites, with separate bedrooms and living room spaces. Each unit also has a stone fireplace. The condos here are spacious and modern, and Crystal Peak offers weekly housekeeping services to all owners.
Crystal Peak Lodge provides year-round activities for its residents. It has a golf course and tennis courts available for the summer months, as well as a fitness center, two indoor pools, and outdoor hot tubs. Owners can park in the heated underground parking garage and take advantage of personalized concierge services and valet dry cleaning. Every condo owner also has full access to the amenities at Crystal Peak's sister lodge, the previously discussed One Ski Hill Place.
Luxurious Accommodations Await in Breckenridge, CO
Breckenridge is a great community to work and play in year-round, but the magnificent skiing on the slopes of the Tenmile Range will always be the main draw. The population of Breckenridge expands each year during the winter months as a result. The luxury condos available in Breckenridge make this community a true gem for those who want to enjoy an active skiing lifestyle.