8 Breckenridge Neighborhoods With the Best Mountain Views: See It to Believe It
Posted by Pete Deininger on Tuesday, November 8, 2022 at 8:47 AM
By Pete Deininger / November 8, 2022
Comment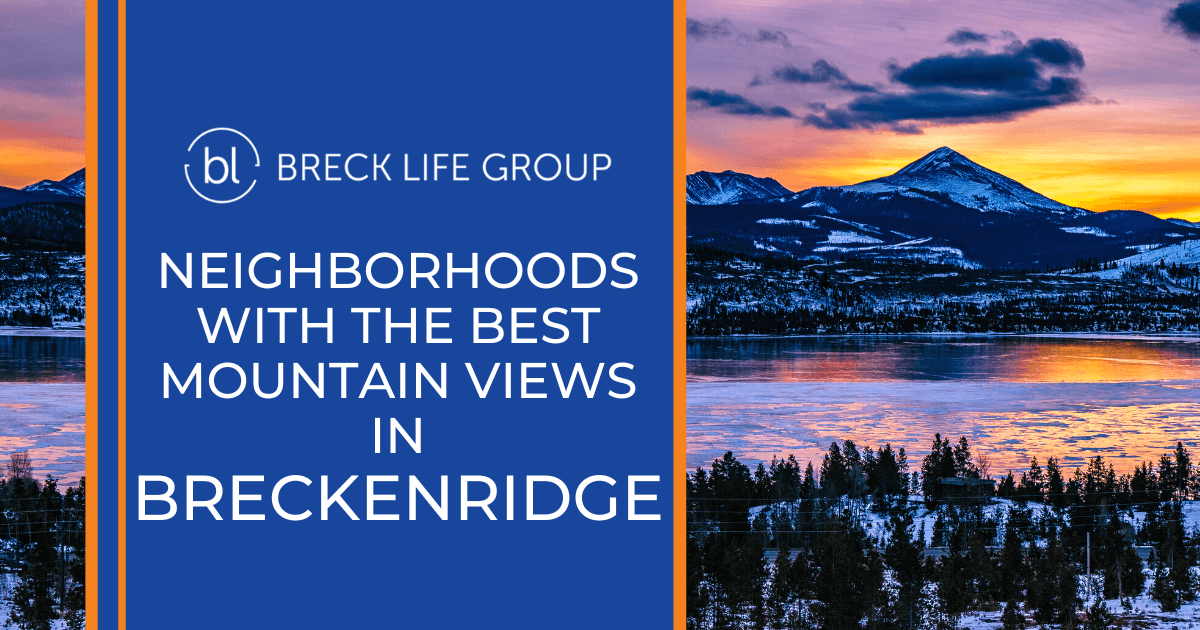 The town of Breckenridge - or "Breck" to the locals - is one of Colorado's best ski towns, not just to hit the slopes but to live in as well! Tucked along the Blue River between the soaring peaks of the Tenmile and Front ranges, Breckenridge treats residents and visitors alike to incredible views. But which parts of town should homebuyers focus on for the absolute best mountain vistas? Let's explore eight Breckenridge neighborhoods offering their residents the best mountain views.
Aspen View
South of Breckenridge proper lies the gorgeous Aspen View community. Part of the town of Blue River, one of America's highest-altitude towns, just 18 properties sit within the Aspen View subdivision, providing the ultimate private living experience.
Just five miles from Breckenridge, residents enjoy a secluded, peaceful setting of woods and mountain streams. Unbelievable views of Quandary Peak and the Tenmile Range are on one side of the community, and the Continental Divide and Front Range are on the other. The many area ski slopes are also just a short trip away.
Homes in Aspen View are large, custom single-family properties exhibiting the characteristic ski-lodge style that marks many local buildings. Development began in the mid-1990s, with homesites from just over half an acre to more than a full acre. Properties typically sell in the $1.5 million to $2.5 million range and include three to five bedrooms and 2,000-4,000 square feet of living space. Many homes have high-end features like stainless steel appliances, luxurious master bathroom suites, ample outdoor space, hot tubs, and much more.
Aspen View Amenities
Tenmile Range and Front Range views
High-end home features and finishes
Just off State Highway 9
Close to Fredonia Gulch
Quandary-Northstar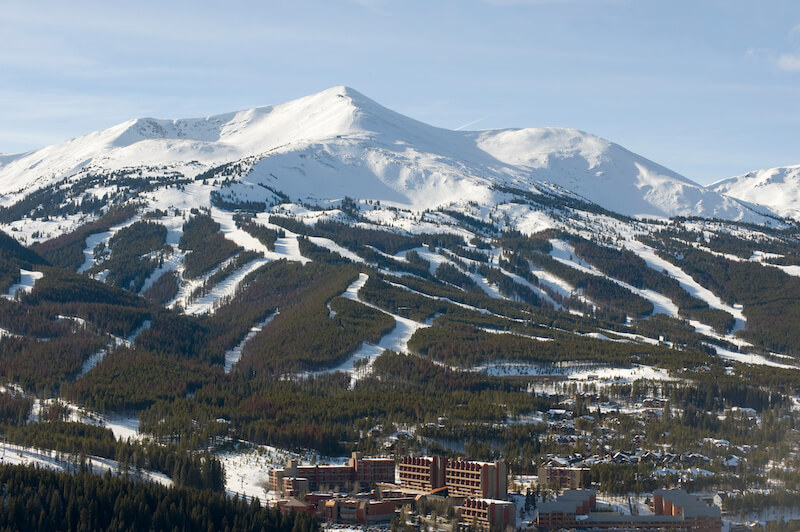 It's not hard to figure out which of the area's beautiful mountains can be seen from Quandary-Northstar. The peaks that give the area its name loom majestically to the west of the community, located just over 10 miles south of Breckenridge along State Highway 9.
While the ski slopes are only a short drive to the north, there's plenty to do close to home. Breckenridge trails leading up Quandary Peak (the county's only 14,000-foot mountain, or "14er") and throughout the area's landscape begin just outside the neighborhood. Additionally, plentiful fishing is available in the adjacent Blue River.
Quandary-Northstar homes are as beautiful as the surrounding area—and nearly as spacious! Many are designed with the area's log exteriors, highlighted with stone, metal, or modern touches. Though most include three or four bedrooms, they can sometimes be spread over 5,000 square feet.
Home prices in Quandary-Northstar start around $1.25 million and can reach $2 million or more. For those looking to build the mountain hideaway of their dreams, Quandary-Northstar also offers a substantial amount of vacant land and lots for sale, typically around a half-acre or larger. These sell from less than $200,000 to around a half-million dollars.
Quandary-Northstar Amenities
Quandary Peak and North Star Mountain views
Secluded location
Nearby hiking, fishing, and other outdoor activities
Shadows
Set at the base of Peak 7, Shadows offers proximity to the ski slopes and central Breckenridge while retaining a quiet mountain feel. Homes provide breathtaking views of peaks 4 through 9, depending on the exact location, and the smaller hills and more distant mountains across State Highway 9. Residents are about one mile from the ski slopes of peaks 8 and 9, making it ultraconvenient for avid skiers who want to be a bit removed from the hustle and bustle.
While entirely residential, Shadow provides easy access to miles of hiking trails like the Peaks Trail and numerous other outdoor activities in Breckenridge. It's also a top neighborhood for those who enjoy a drink, thanks to nearby Breckenridge Distillery and Broken Compass Brewing.
Homes in Shadows are more diverse stylistically than some other communities, ranging from rustic one-story cabin-style properties to more modern, multi-story homes. They also vary from as small as two bedrooms to as large as six. Correspondingly, Shadows home prices range from under $1 million to more than $2 million. Homesites sell from the mid-$400,000s to just under $1 million for lots up to an acre.
Shadows Amenities
Views of multiple Tenmile Range peaks
Peaks Trail Trailhead
Breckenridge Recreation Center
Colorado Mountain College Breckenridge
Downtown Breckenridge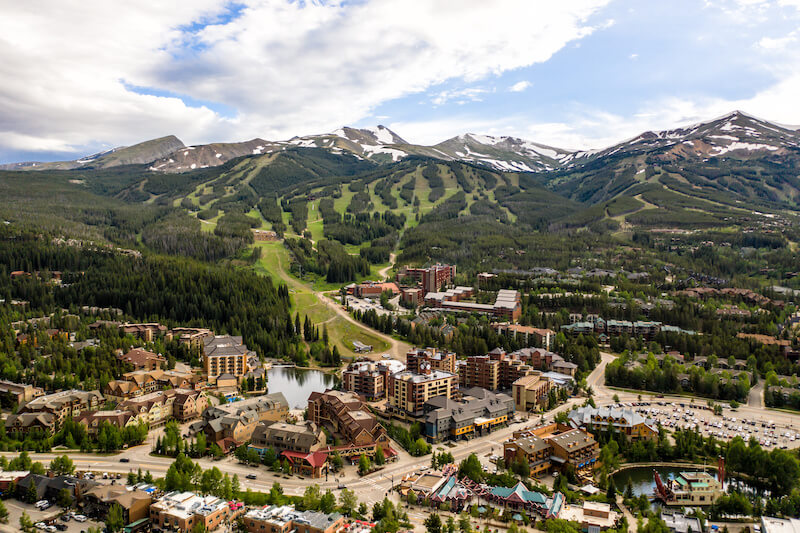 Those who want to combine the conveniences and amenities of a thriving town while maintaining their incredible mountain views may find their new home in downtown Breckenridge. Situated just below the ski slopes of peaks 8 and 9, residents can ski right up to their front door or down toward the shopping and dining of Main Street. These peaks also provide the best-framed mountain views from the neighborhood, which also enjoys vistas of Bald Mountain and Mineral Hill to the east.
Historic Main Street serves as the heart of Breckenridge, with more than 200 local shops, community-favorite restaurants, and everyday services. Downtown is also home to the town's popular, newly developed Arts District, the site of studios, galleries, performance spaces, and other attractions.
Homes in downtown Breckenridge consist of condos and other multifamily units, supplemented by a few single-family homes and other properties. They include a unique mix of new construction and historic homes dating back over a century. Condos span a wide price range depending on location, amenities, and finishes, from just under half a million dollars to more than $1.5 million. Detached homes typically start north of $2.5 million and can sell for over $4 million.
Downtown Breckenridge Amenities
Extensive shopping and dining options
BreckConnect Gondola
Breckenridge Arts District
Adjacent to peaks 8 and 9 ski runs
Bekkedal
Just a mile south of downtown Breckenridge lies Bekkedal, a single-family home community with more than five decades of history. The few dozen residents are lucky to enjoy amazing views of Peak 10 of the Tenmile Range and Baldy Mountain and Boreas Pass to the east. Additionally, the many slopes of the Breckenridge Ski Resort are just a few minutes away, while hiking and cross-country skiing are all just steps from owners' homes. Residents even have private fishing rights to land along the Blue River, a unique benefit for Breckenridge communities.
Bekkedal homes are distinctive and unique, reflecting the varying years of construction and owners' desires. Many include the traditional ski-lodge-style log appearance, but more modern and contemporary designs are also available.
Bekkedal features some of Breckenridge's larger lots, ranging from one to three acres, providing plenty of privacy for owners to enjoy their slice of mountainside paradise. Large stands of mature, native trees also lend additional seclusion. Homes start around $1.25 million but can frequently reach twice that amount or more.
Bekkedal Amenities
Large lots
Peak 10 and Baldy Mountain views
Private fishing space on Blue River
Convenient to State Highway 9
Goose Pasture Tarn
Snowy Ridge
Those looking for Breckenridge ski-in ski-out homes in one of the town's most private communities should keep their eye on Snowy Ridge. Seven single-family properties make up the neighborhood, perched in the hills west of downtown, close to the Quicksilver Superchair and the famous Breckenridge Ski Resort.
For some Snowy Ridge residents, the Snowflake lift is right in their backyard, serving as a trail in warmer weather. The famous 4 O'Clock run is also nearby.
Snowy Ridge's excellent location provides up-close views of peaks 8 and 9 and the Front Range to the east. Meanwhile, downtown shops, dining, and services are just a mile or so down the hill.
Development in Snowy Ridge started in the late 1990s. Due to the community's small size, Snowy Ridge homes come on the market less frequently than in other parts of Breckenridge. Properties typically include four to seven bedrooms and a similar number of bathrooms, though each is entirely custom-built with unique, high-end touches.
Snowy Ridge Amenities
Large, custom homes
Snowflake ski lift
Close to Quicksilver Superchair, Breckenridge Ski Resort
Breckenridge Outdoor Education Center
Sunbeam Estates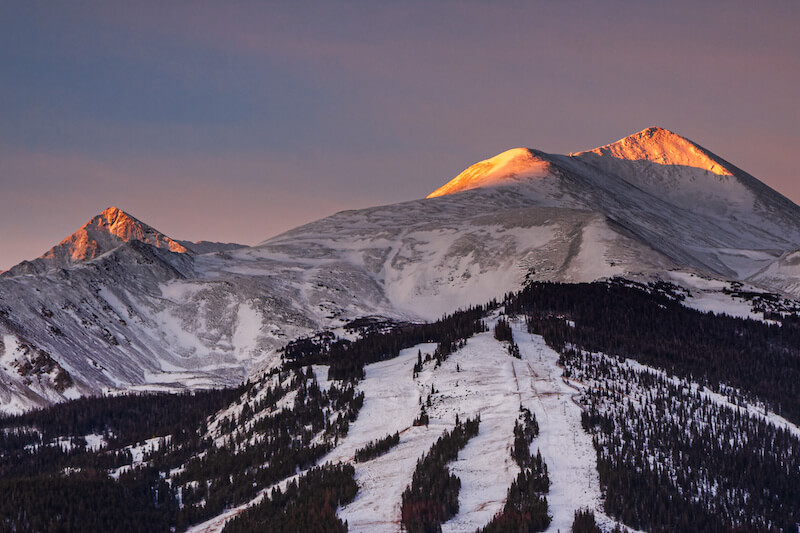 Sunbeam Estates is a community of 40 homes that's as pleasant as its name. Just a block or two east of downtown, residents enjoy easy access to Breckenridge's many amenities within walking distance. Homes also provide spectacular views of the Tenmile Range, mainly the slopes of Breckenridge Ski Resort across the valley.
Sunbeam Estates' central location is between two of Breckenridge's top non-ski attractions, Stephen C. West Ice Arena and Carter Park. The former provides year-round public skating and youth and adult sports leagues, while the latter is one of Breckenridge's best green spaces, hosting sports facilities, indoor and outdoor event spaces, walking trails, and a dog park.
Sunbeam Estates homes include luxurious single-family properties, typically with many custom features like bathroom suites, gourmet kitchens, heated garages, hot tubs, and more. With as many as eight bedrooms spread over 6,000 square feet, there's plenty of space for every household member and guests. Properties typically sell from north of $2 million to close to $4 million.
Sunbeam Estates Amenities
Tenmile Range views
Close to downtown shopping and dining
Stephen C. West Ice Arena
Carter Park and Pavilion
Warriors Preserve
At the base of Peak 10 south of downtown, Warriors Preserve is a newly developed portion of the popular Warriors Mark community. Elevated on a ridge, development on the less than dozen homesites only began in the mid-2000s.
Many homes in Warriors Preserve offer spectacular views of Baldy Mountain, thanks to the community's hilly topography carefully preserved in the area design. Residents are just a short walk from the ski slopes, and experienced skiers can even ski right to their backyards! Summertime changes many of these same corridors to gorgeous hiking trails. Downtown is also within walking distance of these distinctive homes.
Warriors Preserve contains custom single-family homes with four to five bedrooms and as much as 5,300 square feet of living space. These properties often include multiple outdoor areas and large garages. Like other smaller Breckenridge communities, homes may come on the market less frequently but tend to sell in the mid-single-digit millions.
Warriors Preserve Amenities
Baldy Mountain views
Ski-in/ski-out access
Convenient to downtown
Blue River access
The Mountains Are Calling Buyers to Beautiful Breckenridge
For those who must have gorgeous Rocky Mountain views from their home, Breckenridge certainly doesn't disappoint. There are view-friendly neighborhoods for all tastes and budgets, whether buyers want downtown dining and shopping, the ski-in convenience of Snowy Ridge, or more serene getaways in Bekkedal or Aspen View. Keep these communities in mind to make finding that perfect mountainside home as smooth as the skiers weaving down the slopes.
If you're looking for the perfect Breckenridge home, contact Breck Life Group with eXp Realty at (970) 409-4787 to get in touch with a local Breckenridge real estate agent and discover your new dream home today.