Breckenridge Public Transportation: How to Use Breckenridge Free Ride & Local Transit
Posted by Pete Deininger on Tuesday, March 8, 2022 at 7:30 AM
By Pete Deininger / March 8, 2022
Comment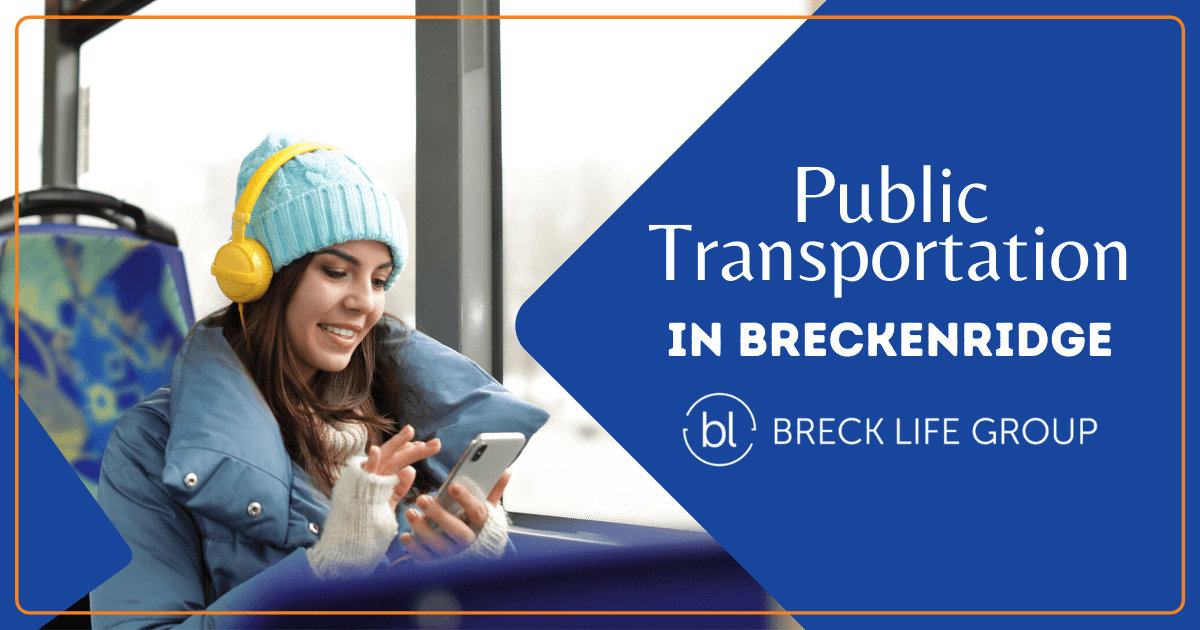 The town of Breckenridge is right at the Rocky Mountains' Tenmile Range base, a go-to location for skiing and year-round alpine amenities. The town has much to offer, whether planning a trip to visit or purchasing a Breckenridge luxury home, condo, or townhome. Those interested in moving to Breckenridge or even visiting should have insight into the area's best public transportation. Keep reading to discover public transportation in Breckenridge, Colorado, from free services to rideshare options.
Table of Contents
Breck Free Ride
One of the most commonly used options for those traveling throughout Breckenridge is Breck Free Ride, a free service provided by the Town of Breckenridge and the Breckenridge Ski Resort. This bus service travels through much of the town along various routes and is available to reduce the amount of vehicle congestion, especially during peak tourism times.
Most routes travel throughout the day, but the website provides updates on any changes. The locations and ski resort have specific routes with few transfers. The transit system also travels to Summit Stage, Summit County's free bus system, providing options outside of Breckenridge.
Service animals are allowed on the buses, and bike racks are available for passengers to use. The Breckenridge Station is the hub for the public transportation provider. At this location, riders can connect to the Breck Connect Gondola to reach Peaks 7 and 8.
Summit Stage
Summit Stage is also a free service but for all of Summit County. It's operated by the Summit County government and provides a bus service that runs throughout various towns to the resorts in the area, including the town of Frisco, Breckenridge, the town of Silverthorne, the Dillon community, and the town of Blue River. It also connects riders to the Breckenridge Ski Resort, Arapahoe Basic Ski Area, Keystone Resort, and the Copper Mountain area.
Summit Stage provides about two million passenger trips annually funded through a sales tax. These trips offer origin-to-destination service, including paratransit services allowing passengers to travel from their location to their destination straight, with curb-to-curb service. This type of service is done through the Mountain Mobility Paratransit Service in connection with Summit Stage.
The Summit Stage website offers a bus schedule. Buses run throughout the day and into the evening, but the schedule changes based on the season. Visitors to the county and residents can use this service, and changes often occur to accommodate tourism.
Main Street Trolley & Condo Shuttles
While the above options are the most used public transportation in Breckenridge, it's impossible to overlook the Main Street Trolley, especially when spotted moving through the city. This Breckenridge public transportation option is convenient for moving up and down Main Street. It doesn't travel much further than this, but it is a viable option for those who want to get dinner down the road during a high-traffic time. It's also fun to ride.
The Main Street Trolley provides access to various shops and restaurants in the area, running back and forth along Main Street consistently throughout the year. It is also free for all to use.
Also important to consider are the condo shuttles available at many of the hotels and condo associations in the area. Many of the condos in the area offer these shuttles free to use by those staying within the communities. Most are free, but be sure to double-check costs before using them.
Transportation To & From the Airport
Whether traveling away from home in Breckenridge or visiting the area, having good access to the airport is critical. Most people travel to and from the city through the Denver International Airport. There are several ways to get around, including shuttle services.
Shuttles to and from hotels, resorts, and condo communities are a fast, simple option for traveling to and from the airport from Breckenridge. Numerous options exist, and all are paid services available at the airport. Fresh Tracks Transportation provides direct access to and from the ski shuttle to the airport. Silver Mountain Express offers both vehicle and limo service. Epic Mountain Express is another option that travels to surrounding areas beyond Breckenridge. Costs for shuttles vary significantly based on demand, booking in advance of arrival, and party size.
Another option is to use the Interregional Express Bus Service provided by the Colorado Department of Transportation. Booking in advance is highly recommended. This route typically requires traveling to Union Station first in downtown Denver and then taking the Bustang West Line.
Taxis & Rideshare
Taxis and rideshare are widely available throughout Breckenridge and are typically ideal for those who don't want to wait long to get to where they need to go. Several taxi services, including 453 Taxis and Jake's Mountain Shuttle, are available. Connect with them to set up a ride at the desired time. Costs will range based on time, day, and demand.
Shuttle rates within Summit County range from $120 to $180 per hour depending on passengers
Uber is another popular rideshare option, especially for those who wish to quickly get from one place to the next. The service is readily available most of the time but may require waiting during peak tourism seasons and when there are few available drivers.
Bikeshare & Bike Rentals
Bikeshare and bike rentals are additional public transportation solutions. Breckenridge is bike-friendly, and most buses allow riders to bring their bikes along. Rental companies make the process easy for those without a bike.
Renting a bike is possible at numerous locations throughout Breckenridge. Some of the most popular include Elevation Ski & Bike and Alpine Sports. Either option allows residents or visitors to rent a bike of several types and sizes and then hit the trails or go for a mountain biking experience.
Getting Around Isn't Difficult in Breckenridge
Walking is a popular form of transportation through much of the downtown Breckenridge area. Using these methods, it's easy to get food, visit a few shops, and get to and from the ski slopes. For those thinking about buying luxury homes or checking out Breckenridge condos for sale, noting the availability of local transportation is a must.
If you're looking for the perfect Breckenridge home, contact Breck Life Group with eXp Realty at (970) 409-4787 to get in touch with a local Breckenridge real estate agent and discover your new dream home today.