Living at Breckenridge Ski Resort vs a Remote Mountain Lodge: Which is Right for You?
Posted by Pete Deininger on Tuesday, May 2, 2023 at 12:29 PM
By Pete Deininger / May 2, 2023
Comment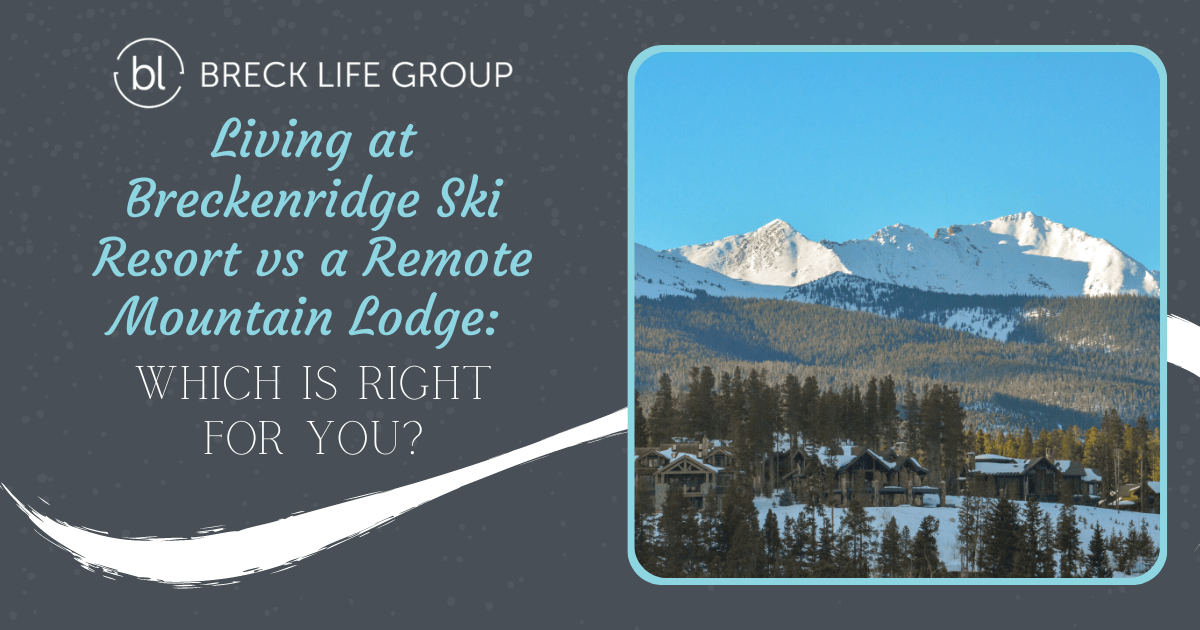 Surrounded by the mighty Rocky Mountains, the town of Breckenridge might be most famous for its world-class skiing. Anyone looking at the many Breckenridge ski homes for sale will find a robust selection of condos by the slopes and stunning alpine retreats. One of the decisions many homebuyers need is whether buying a ski village condo in the heart of it all or a remote mountain cabin is the right choice. While there are certainly no wrong choices, the pros and cons of each property depend on the buyer's needs. Keep reading to find out if your mountain lifestyle is better suited for a ski village condo or a remote mountain cabin.
Perks of a Condo by the Breckenridge Ski Resort
Imagine waking up and being able to set off to do some skiing right away. Less time commuting and more time on the slopes is an important reason to choose this option. At the same time, these properties are located near it all, including some of the best Breckenridge après ski amenities. For those that love this ski resort and want to be as close as possible to it, a Breckenridge ski condo may be just what they're looking for.
Potential for Ski-In, Ski-Out Privileges
Some condos may offer ski-in and ski-out privileges. That means the location allows for those in that community or development to ski into the resort and ski-out when they are done. There are many reasons to love a Breckenridge ski-in, ski-out home, but the most significant benefit here is taking control of the ski resort thoroughly and quickly without making the trek up to the resort every time. It also means that the village or condo community is located mid-mountain or close enough to the base area that it is very accessible. It could mean sleeping in and enjoying morning coffee a bit longer before hitting the slopes.
Prime Access to On-Mountain Restaurants & Downtown Shops
While some people may want to spend all day on the slopes, others wish to add benefits like being close to the numerous shops and restaurants that this community offers. There are many excellent amenities nearby worth exploring.
Consider locations like Briar Rose Chophouse & Saloon for dining, a family-style area with a full menu. It's located less than 2 miles from the resort. Another option is Ski Hill Grill, with its pre-packed menu offerings. It's situated in the resort itself. Consider Hearthstone Restaurant offering seafood, beef, and a full seasonable menu of hearty foods for a restaurant with a view. It's only about 2 miles away from the resort.
When it comes to shopping, check out the boutique shops on Main Street, right at the resort's base. There are more than 200 stores right here to meet just about any need.
Year-Round Resort Fun Just Out the Door
It's not all about the winter and the slopes either. For those who live at the base of the resort, there are numerous other activities to spend time exploring here, including:
Scenic chairlift rides
Goldrunner Coaster
Mountain Biking
Minigolf
Alpine slide
Bungee trampolines
Gemstone panning
Ropes courses
At the same time, there are dozens of experiences to be hand on the area's trails, area events and festivals, and water fun at some of the area's parks. It's all very close to the resort, and when living in a nearby condo, that means this type of recreational experience is relatively easy to enjoy.
Perks of a Remote Mountain Lodge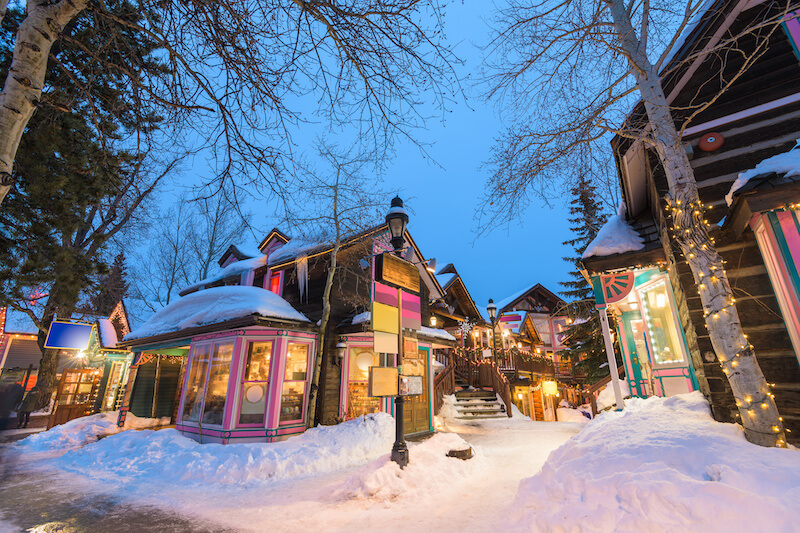 While living close to it all is a lot of fun and offers a range of experiences, for some people, living in the condos and townhomes in the city's heart just is not the right experience. For others, it is about buying or building a small mountain home nestled into a wooded area or one of the luxury homes in the region with all of the best amenities. There are some key benefits to living in this type of environment for some people.
More Space & Seclusion
At the heart of the benefits of purchasing a remote home like this is having access to more space. That includes a house with ample square footage as well as larger lot sizes. For some property buyers, it helps to know that they have acres of land to explore and use as they want. Though every property in the area is a bit different, there are options for many such as living near or on a lake, building a custom home, or purchasing an authentic log cabin. Some of the mountain homes in this area offer ample seclusion providing people with a significant amount of privacy, nature, and quiet.
Private Amenities
Though each property is a bit different, some luxury homes and chalets in this area may offer ample amenities. Some ski resort condos have shared amenities, but the owner has the amenities desired in a cabin like this, and they don't have to share. This may include access to a fitness center, heated ski rooms, and a spa. Some property owners also have a billiards room, wine cellar, or a home theater. For those who have a particular need or desire in a home, it may be a bit easier to obtain than a private residence.
Long-Range Mountain Views
Perhaps most inviting when getting up in the morning is seeing incredible views from each window of the home. When moving further away from the resort, there's more opportunity for impressive views. That may include opinions of the Cooper-Leadville- Minturn Loop or the Independence Pass Loop, depending on where the property is purchased.
Consider: How Will Remote Living Affect You?
While the idea of living in a secluded mountain lodge may sound appealing to some, it's important to consider the potential challenges that come with remote living. While the peace and tranquility of a secluded environment can be a great escape, it can also present challenges in terms of accessibility to resources.
One of the biggest challenges of remote living is the distance to basic necessities like grocery stores, medical facilities, and other amenities. In a remote mountain lodge, you may need to travel long distances just to buy groceries or see a doctor, and the road conditions may not always be ideal. Additionally, in the case of an emergency, it may take longer for help to arrive.
However, remote living also has its benefits, such as the opportunity to disconnect from technology and the hustle and bustle of city life. It can be an ideal setting for those who value privacy, solitude, and the beauty of nature. If you're someone who enjoys outdoor activities like skiing, hiking, and snowboarding, a remote mountain lodge may be the perfect setting for you.
Ski Village Condo vs. Remote Mountain Cabin: Which Is Better?
So which is better, a ski village condo or a remote mountain lodge? In short, it's up to you. Anywhere you choose to live in Breckenridge will allow you to enjoy an unparalleled mountain lifestyle, so it all comes down to preference. For those thinking about purchasing real estate in Breckenridge, it's important to compare your values to the amenities and advantages of each property type.