Breckenridge Snow Sculptures
Posted by Pete Deininger on Monday, January 21, 2013 at 8:16 PM
By Pete Deininger / January 21, 2013
Comment
The time has come again to delight in the incredible works of art that will be on display around Breckenridge's Riverwalk Center. And the medium for such beautiful creations, you ask? Snow, of course. The curtain has risen on the Breckenridge Snow Sculptures where sixteen international teams compete in the 23rd Annual Budweiser International Snow Sculpting Championships.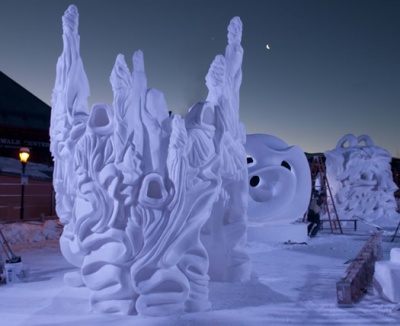 Now through February 3rd, the highly skilled and creative teams will be morphing the 20 ton blocks of snow into mind-boggling creations. Think underwater scenes and geometric patterns that seem to defy gravity. Three dimensional portraits with incredible details and puppy dogs curious of their mirror images. Such is the variety and creativity of the Breckenridge Snow Sculptures.
If you visit the Breckenridge Snow Sculptures this week you'll be able to stroll through the competition grounds as teams work (sometimes throughout the night) to bring beauty to snow. You'll even be able to cast your vote for your favorite - though it is often very difficult to choose just one! Then the weekend sees judging and the creations will then be on display for all to see freely until the 3rd of February. It is well worth visiting multiple times during various phases of the carving and completion to truly appreciate the skill and artistry that is brought to each block.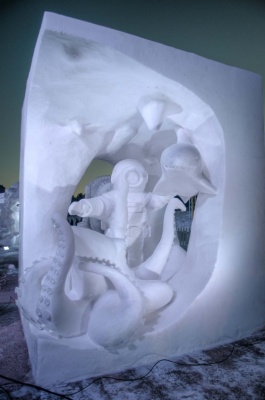 For more information please visit the Breckenridge Resort Chamber or Town of Breckenridge websites. I hope to see you there and please feel free to stop by my office just 1/2 block from the Breckenridge Snow Sculptures on Main Street for some warm drinks and information.
Photos courtesy of Breckenridge Resort Chamber, gobreck.com.