Breckenridge Vacation & Staycation Guide: Where to Stay, Eat & Explore
Posted by Pete Deininger on Tuesday, August 2, 2022 at 10:02 AM
By Pete Deininger / August 2, 2022
Comment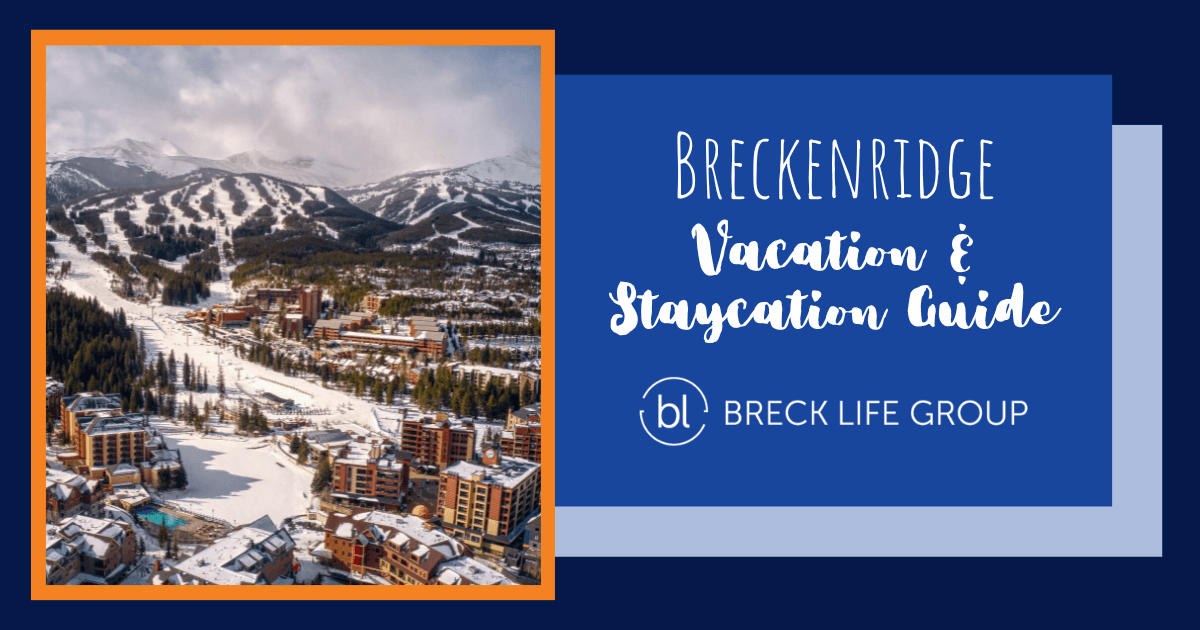 With plenty of activities and attractions to keep everyone busy, residents and visitors enjoy amazing vacations and staycations in the town of Breckenridge. Whether you're looking for outdoor adventure, arts and culture, or just some relaxation, Breckenridge has something for everyone. This guide details some tips on making the most of your time here, whether you live in the area or are just visiting. Get ready to plan the perfect trip and start exploring everything Breckenridge, Colorado, offers.
Breckenridge Resorts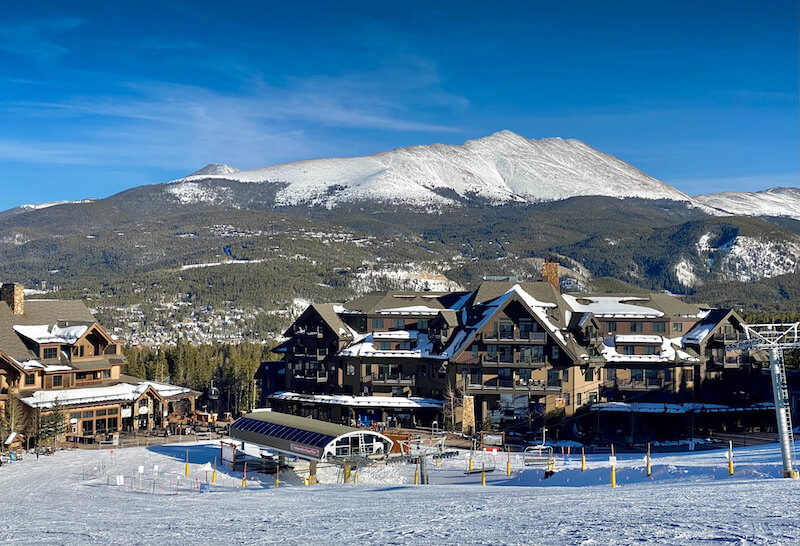 Staying in a resort can provide a memorable Breckenridge vacation complete with upscale lodgings, magnificent amenities, and quick access to the town's best attractions. These Breckenridge resorts offer timeshares and fractional ownership to make it easy to visit Breckenridge again and again.
Hilton Grand Vacations Club Valdoro Mountain Lodge Breckenridge
Located at the base of Breckenridge's Peak 9, the Hilton Grand Vacations Club Valdoro Mountain Lodge Breckenridge is a luxurious ski lodge providing easy access to Breckenridge's slopes and Main Street's various attractions.
The Valdoro Mountain Lodge's guest rooms and suites feature elegant living spaces and private amenities. Guests can cook meals in a fully equipped kitchen, relax in the granite bathroom's oversized jetted tub, or enjoy impressive views of the Rocky Mountains from a private balcony.
Buy or rent ski essentials at the lodge's ski shop, then head to the ski lifts to hit the slopes. The ski lifts are just a quick walk away, making the resort a convenient choice for skiers.
The Valdoro Mountain Lodge puts visitors right in the heart of Breckenridge. Guests can ride the free shuttle to Main Street, where they can explore some of the town's best shops, restaurants, and activities.
Guest rooms at the Valdoro Mountain Lodge start at $483 per night.
Hilton Grand Vacations Club Valdoro Mountain Lodge Breckenridge Amenities
Ski shop
Fitness center
Spa
Heated pool and hot tubs
Concierge
Grand Colorado on Peak 8
Nestled among the Colorado mountains, Grand Colorado on Peak 8 is an upscale ski-in/ski-out resort boasting incredible amenities. With on-site bars and restaurants, movie theaters, and pools, guests can have plenty of fun without ever leaving the resort.
Accommodations at Grand Colorado on Peak 8 feature decor inspired by the resort's mountainous surroundings. Authentic natural materials, spacious floor plans, and private balconies showcasing stunning mountain views give the resort's suites a refined, modern vibe. These suites start at $213 per night.
Grand Colorado on Peak 8 offers numerous entertainment options. Guests can relax at the Infinity Spa after a day on the slopes, watch a film at one of four private movie theaters, or skate around the resort's ice rink. Grand Colorado also has food and drinks covered with four bars and restaurants.
Grand Colorado on Peak 8 Amenities
Infinity Spa
Outdoor pools and hot tubs
Bars and restaurants
Movie theaters
Ice rink
Hotels & B&Bs in Breckenridge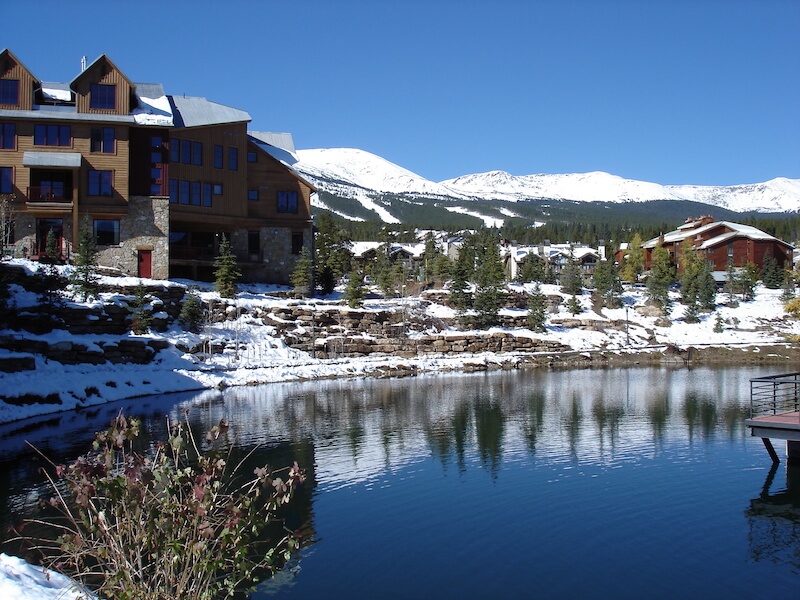 Breckenridge's hotels can provide unique ways to experience the town's ski slopes and other attractions. Relax at the centrally located DoubleTree by Hilton Hotel Breckenridge, retreat to the historically significant Bunk House Lodge, or choose The Bivvi as a base camp for adventure.
DoubleTree by Hilton Hotel Breckenridge
Located in central Breckenridge, DoubleTree by Hilton Hotel Breckenridge offers guests quick access to the slopes, downtown Breckenridge, and Main Street. Guests receive a warm cookie upon arrival before they settle into their rooms.
Guest rooms at DoubleTree feature elegant decor and stylish finishes, and many rooms offer breathtaking views of the Rocky Mountains. Rooms at DoubleTree start at $134 per night.
DoubleTree's convenient location makes it easy for guests to enjoy Breckenridge's best offerings. Walk just five minutes to the Quicksilver Ski Lift or take the free shuttle to downtown Breckenridge and Main Street.
This hotel provides extensive support for skiing. Guests can take advantage of DoubleTree's ski valet or rent skis and snowboards from the hotel.
DoubleTree by Hilton Hotel Breckenridge
Ski valet
Hot tubs and indoor pool
Fitness center
Restaurants
Concierge
The Bivvi
The Bivvi strives to offer guests a base camp for their adventures in Breckenridge. Located just south of Breckenridge on Highway 9, The Bivvi is a chic mountain lodge within walking distance of Main Street and bus routes leading into town and to the mountain.
The lodge employs a rustic aesthetic with natural materials like those used in scouting and mountaineering. Guests can book private rooms or shared dorm rooms. Private rooms start at $169, and shared dorm rooms start at just $45.
Guests at The Bivvi receive a nutritious complimentary breakfast. They can also enjoy draft beers and select wines daily until 8 p.m.
The Bivvi is a stop on the Breckenridge Free Ride bus route, making it easy for guests to access the mountain or town. Main Street is also a mere eight- to 12-minute hike away.
The Bivvi Amenities
Outdoor hot tub
Bar/lounge
Complimentary breakfast
Equipment storage
Free parking
Food & Dining in Breckenridge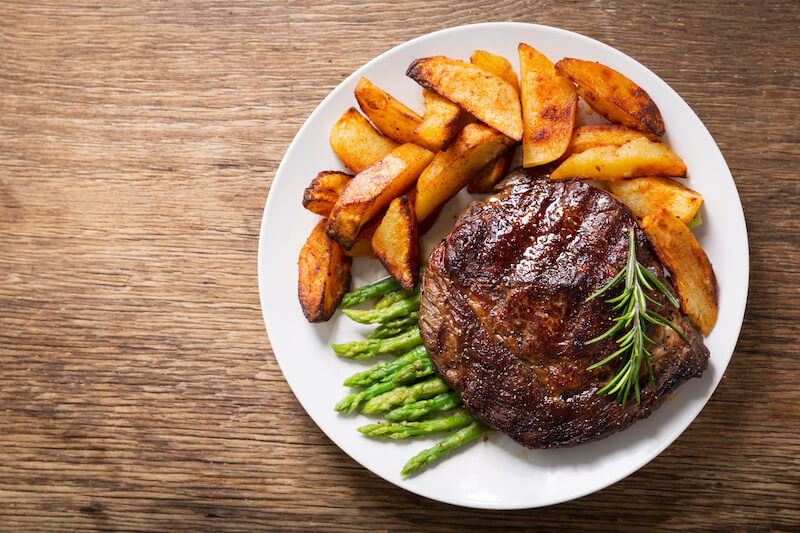 With over 100 restaurants and bars, Breckenridge has a lively culinary scene showcasing contemporary American cuisine. Slice into a fine steak at Briar Rose Chophouse & Saloon, enjoy brunch at Blue River Bistro, or dig into a burger at Flip Side Breckenhouse to sample the town's best offerings.
Briar Rose Chophouse & Saloon
Swing by Briar Rose Chophouse & Saloon for a scrumptious steakhouse dinner in a luxurious, upscale atmosphere. This historic restaurant seeks to bridge Breckenridge's old-west heritage with modern appetites, employing a refined menu of aged beef, wild game, and specialty cocktails.
Briar Rose traces its roots back to 1900, when Breckenridge was a booming mining town. After a long day of working in the Briar Rose Mine, miners dined and drank at their boarding house on Lincoln Street. After years of popularity and success, the boarding house shuttered its doors once the mining era passed. While the original building burned down, a new Briar Rose built in its style came to Lincoln Street in the early 1960s.
Today, Briar Rose Chophouse & Saloon serves top-grade meats and wild game. Diners can choose from eight gourmet sauces and steak toppers like truffled compound butter or find a seat at the historic back bar serving small plates, specialty cocktails, and quartinos.
Popular Dishes at Briar Rose Chophouse & Saloon
Cervena Elk Medallions
Brussels Sprouts & Chorizo
Sauteed Rocky Mountain Trout
Colorado Double-Cut Lamb Chops
Blue River Bistro
Experience live music and savor an eclectic assortment of American dishes at Blue River Bistro on Main Street. This bustling restaurant serves fresh, seasonal dishes, artisanal wines, and hand-crafted cocktails in a casual yet sophisticated atmosphere.
Diners can enjoy brunch on Saturdays and Sundays or come by for lunch and dinner throughout the week. Making a reservation is ideal due to the restaurant's popularity. Parties of more than 10 guests should call or email ahead.
The menu at Blue River Bistro features numerous gluten-free dishes. The chef can also modify several items to make them gluten-free. Diners can choose from various salads, appetizers, and entrees.
Bistro patrons can experience live music during their dinner on Mondays and Tuesdays. On these days, local talent performs from 5 to 10 p.m.
Popular Dishes at Blue River Bistro
Scottish Salmon
Paella
Buffalo Short Ribs
Chicken Marsala
Flip Side Breckenridge
Explore fresh takes on American classics at Flip Side Breckenridge. This local rendition of a rustic restaurant chain offers burgers, sandwiches, shakes, and craft beers on the bustling Main Street.
Flip Side started in Ohio with creators Shawn Monday, Tiffany Monday, and Michael Schwartz. The burger joint boasts Ohio-raised, grass-fed beef, hand-cut triple-cooked fries, and craft beers on tap. Likewise, the Breckenridge location uses Colorado-raised beef and features several locally inspired dishes using Colorado bison.
Flip Side offers an extensive drink menu with milkshakes, craft beers, and various cocktails. Make any milkshake a boozy treat with an added shot of flavored vodka, liquor, or rum. Diners can enjoy their meal at Flip Side Breckenridge or take it to go.
Popular Dishes at Flip Side Breckenridge
Truffle Fries
Sweet Potato Fries
Colorado Bison Burger
Blueberry Pie Shake
Attractions in Breckenridge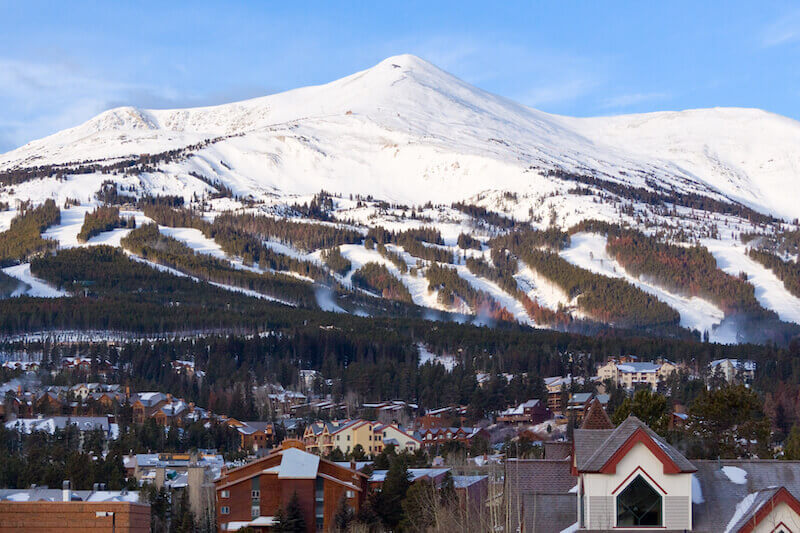 Breckenridge features many fun things to do and unique attractions, including museums, theaters, festivals, and ski resorts. Learn about civil rights history at the Barney Ford Museum, catch a play at the Breckenridge Backstage Theater, soak up German culture and cuisine during Brecktoberfest, or hit the slopes at one of Breckenridge's five peaks.
Barney Ford Museum
Operated by the Breckenridge Heritage Alliance, the Barney Ford Museum features a historical Victorian home converted into an informative museum. Once the home of entrepreneur Barney Ford, the museum now teaches visitors about his life, civil rights history, and Victorian architecture.
Barney Ford was 26 when he escaped slavery and traveled north to Chicago. Throughout his life, Ford had numerous business ventures with varying degrees of success. He came to Colorado in 1860 during the Colorado Gold Rush and opened several businesses in Breckenridge, Denver, and Cheyenne, Wyoming. Ford built his home in Breckenridge above one such venture, a restaurant, where he lived for nearly a decade.
Throughout his life, Ford fought valiantly for civil rights. The museum discusses his support for the Underground Railroad and universal suffrage.
The Barney Ford Museum offers self-guided and guided tours. Exploring the home usually takes about 30 to 40 minutes.
Breckenridge Backstage Theater
Seeing a play at the Breckenridge Backstage Theater is one of the best ways to sample the town's culture. Since 1976, the Breckenridge Backstage Theater has been the town's premier venue for musicals, melodramas, and mysteries.
The theater traces its roots back to 1974, when Shirley Martin and Rockpile Productions staged Poor Pitiful Pearl at a local bar. After the show's success, Martin teamed up with actor Allyn Mosher to create Backstage Theatre. In 1976, the organization became Summit County's first non-profit.
The Sterling Building was the theater's first permanent home, with a tiny stage and just 74 seats. There, the theater began showcasing classic films and live music. In 1980, Backstage moved to a larger 98-seat venue in the Village at Breckenridge. After two decades there, the theater lost its space in 2001.
After a nomadic but busy year, Breckenridge Backstage Theater found a new permanent space in the old Shamus O'Toole's Roadhouse. After several expansions and additions, the theater can now host 137 viewers. Tickets are available online or in person.
Brecktoberfest
Savor Paulaner bier, genuine German cuisine, and spectacular fall foliage at Brecktoberfest, Breckenridge's take on the famous Oktoberfest celebration. Held annually during the last weekend of September, Brecktoberfest is the largest beer festival in the Colorado mountains, attracting over three dozen vendors.
Brecktoberfest kicks off Friday with the Paulaner Brewmaster's Dinner at the Salt Creek Steakhouse. This gourmet dinner features a multi-course traditional German menu with specially selected beer and wine pairings. Tickets for this event typically sell out in advance, but the OktoberFEAST program features numerous German-themed beer, wine, and food pairings at other Breckenridge restaurants.
Celebrants take to the streets for Brecktoberfest's free street party on Saturday and Sunday. Enjoy German traditions like oompah music, Bavarian dancing, and Paulaner bier alongside children's activities and a 5k run.
Take a commemorative stein home as the perfect Brecktoberfest souvenir. These steins ship directly from Munich, Germany, and each year's design features a different artist's work, making it a unique collectible.
Skiing in Breckenridge
Breckenridge offers five peaks, four freestyle terrain parks, and 187 trails for skiing. With 2,908 skiable acres, Breckenridge provides excellent opportunities for skiing at any ability level.
Looking at a Breckenridge Ski Resort map from left to right, the five peaks are Peak 10, Peak 9, Peak 8, Peak 7, and Peak 6. The bases for each peak feature restrooms, warming huts, and phone charging stations, and most offer dining options too.
Peak 10 rises to the highest elevation and is only suitable for expert-level skiing. Advanced skiers can weave between trees in some of the best tree skiing available on The Burn.
Meanwhile, beginners can learn and practice skiing fundamentals at Peak 9. While this peak offers many of the resort's easiest trails, it has various intermediate and advanced runs higher up the mountain.
Ride the highest chairlift in North America up to Peak 8, where the Breckenridge Ski Resort began. Like Peak 9, this peak offers a healthy mix of beginner, intermediate, and expert trails. Advanced skiers can brave the steep slopes and impressive heights of the iconic Horseshoe Bowl.
From Base 8, Peak 7 is just a short gondola ride away. Intermediate runs cut through the trees on the lower half of the mountain. Meanwhile, experts can enjoy steep bowl skiing above the treeline.
Peak 6 is the ski resort's latest addition. Like Peak 7, its terrain is only suitable for advanced skiers. This peak boasts some of Breckenridge's most extreme terrain, with exhilarating no-fall zones in the Six Senses.
Find Breckenridge's freestyle terrain parks at Peak 8 and Peak 9. They offer features of varying sizes, including an 18-foot halfpipe.
Visitors can expect to pay about $80 to $150 for lift tickets in Breckenridge.
Adventures in Breckenridge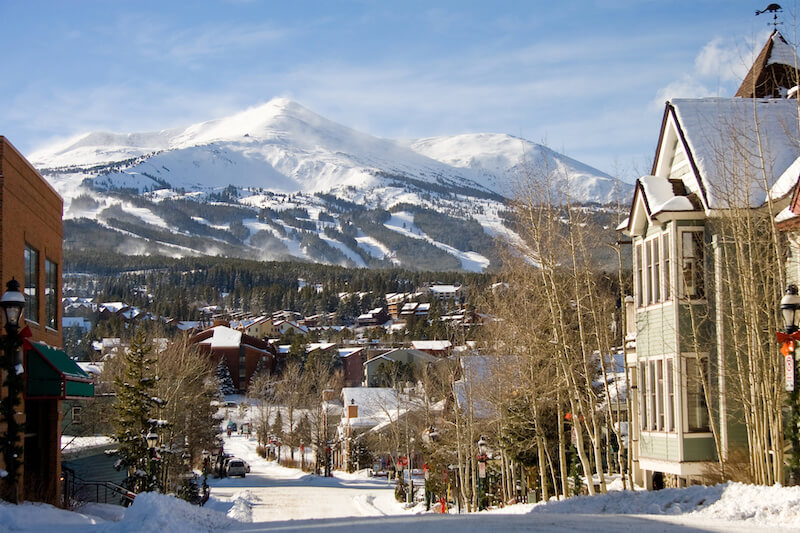 With impressive parks, a thriving arts district, and a lively Main Street, Breckenridge boasts endless opportunities for adventure. Explore nature and get active at Carter Park & Pavilion, revel in local creativity in the Arts District, or try all sorts of exciting activities available on Main Street.
Carter Park & Pavilion
With facilities available for fun activities year-round, Carter Park & Pavilion is Breckenridge's premier location for social gatherings, sports, and other outdoor activities.
This top park in Breckenridge offers several facilities for hosting social events like meetings, weddings, and birthday parties. Visitors can reserve the indoor heated gathering area, choose from several outdoor picnic tables, or sit on the patio with impressive vistas of the Tenmile Range. A large natural gas grill makes cookouts possible. There are also heated public restrooms available.
Visitors can bring their furry friends to the one-acre Carter Park Dog Park. The fenced 24-hour dog park even has a separate small dog area.
Carter Park has excellent summertime facilities for playing tennis, pickleball, and sand volleyball. There is also a youth baseball diamond. Once winter sets in, Carter Park becomes one of Breckenridge's favored sledding spots.
Many hikers start their nature walks at Carter Park. The 0.4-mile Carter Park Trail zigzags up a hill and provides access to Breckenridge's expansive trail network via Sunbeam Trail or Hermit Placer Trail.
Arts District
Experience Breckenridge creatives' paintings, woodwork, ceramics, textiles, and performances in the vibrant Arts District. Anchored by the Riverwalk Center, the Arts District features various historically and socially significant galleries and studios near the corner of South Ridge Street and Washington Avenue.
The Arts District is a hub for entertainment in Breckenridge. Enjoy live music at the 750-seat Riverwalk Center, view outstanding plays at the Breckenridge Backstage Theater, or catch a film at The Eclipse.
Several studios and galleries in the Arts District showcase local talent and offer workshops. Explore woodworking at Fuqua Livery Stable, metalsmithing, glasswork, and welding at Hot Shop, and various firing techniques at Kiln Yard. Or check out the paintings, prints, and textiles at Randall Barn.
The Arts District hosts an open-house walk every second Saturday of the month from 4 to 6 p.m. Participating galleries and studios stay open until 8 p.m. that night to give visitors extra time to absorb the artwork.
Main Street
With great shops, tempting restaurants, and fun activities, Breckenridge's Main Street has everything necessary for a memorable adventure. This walkable area offers excellent opportunities to stroll around Breckenridge on various tours, indulge in the local fare, and explore exciting venues like museums, escape rooms, and playgrounds.
Swing by the Breckenridge Welcome Center to learn more about the town's history and present-day attractions. Town maps and scavenger hunts from the Welcome Center can help inspire Breckenridge vacation itineraries. Check out the local history museum tucked away in a preserved 19th-century log cabin, or catch one of the Breckenridge Heritage Alliance's tours, departing on most days.
Numerous bars and restaurants call Main Street home, including Blue River Bistro and Flip Side Breckenridge. Sample local brews and learn about the brewing process at Breckenridge Distillery's tasting room, Breckenridge Brewery, and Continental Divide Winery, all located on Main Street.
Rent a stand-up paddleboard to take on Maggie Pond, fly fish in the Blue River, learn the art of ax throwing, or experience a Breckenridge-themed escape room — it's all possible on Breckenridge's Main Street.
When to Visit Breckenridge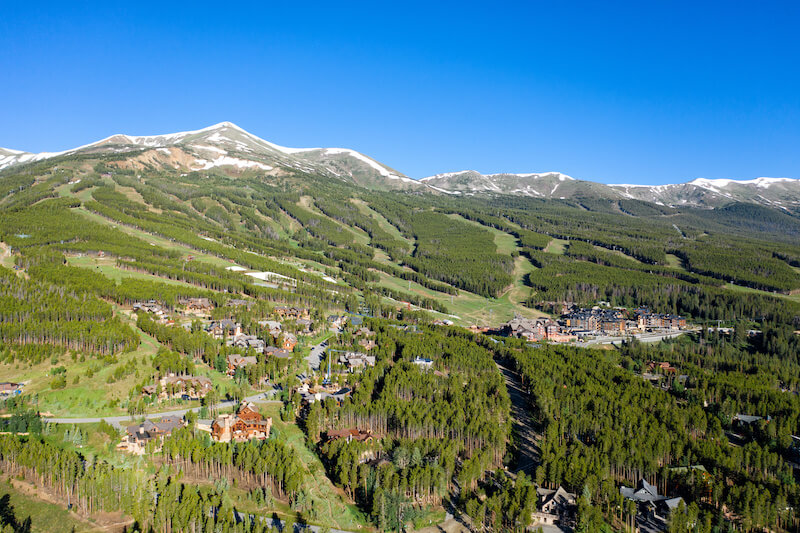 From mild summers to winter wonderlands, Breckenridge's seasons make the town a great place to visit year-round. Hit the slopes during ski season from November to April, watch the aspens turn in the fall, or come for a summer vacation with seasonal activities like hiking, whitewater rafting, and fishing.
Winter and spring are the most popular seasons for visiting Breckenridge. From early November to mid-April, the ski town sees an average of 300 inches of snowfall annually and daytime temperatures in the upper 20s. In addition to fun activities like skiing, snowboarding, and sledding, the cold months in Breckenridge offer events like the International Snow Sculpture Championships and Ullr Fest.
Summers in Breckenridge are relatively mild, with average daytime temperatures in the mid-50s in May and rising to the low 70s in July. Once the snow melts, it becomes possible to enjoy various warm-weather activities, including hiking, whitewater rafting, fly fishing, golfing, and horseback riding.
Visit Breckenridge in mid-to-late September to see gorgeous fall foliage or catch Brecktoberfest. By October, average daytime temperatures fall to the low 50s, so fall offers one last chance to enjoy Breckenridge's warm-weather activities before snow falls.
While summer and fall are less popular times to visit Breckenridge, these seasons still boast various fun events and activities. Resorts and hotels often offer discounted prices during these months too.
Ready to Explore Breckenridge?
After vacationing in Breckenridge, many visitors want to stay in the picturesque mountain town. Living in Breckenridge allows residents to enjoy all of the town's seasons, activities, and attractions. The ski town offers beautiful luxury homes in several great neighborhoods and waterfront homes overlooking the Blue River. Finding a home in Breckenridge can help extend the mountain living experience year-round.
Thinking about buying a home in Breckenridge? Breck Life Group's expert real estate agents are ready to help you find the perfect home!