Breckenridge vs Steamboat Springs: Where Should You Live?
Posted by Pete Deininger on Wednesday, July 12, 2023 at 2:26:12 PM
By Pete Deininger / July 12, 2023
Comment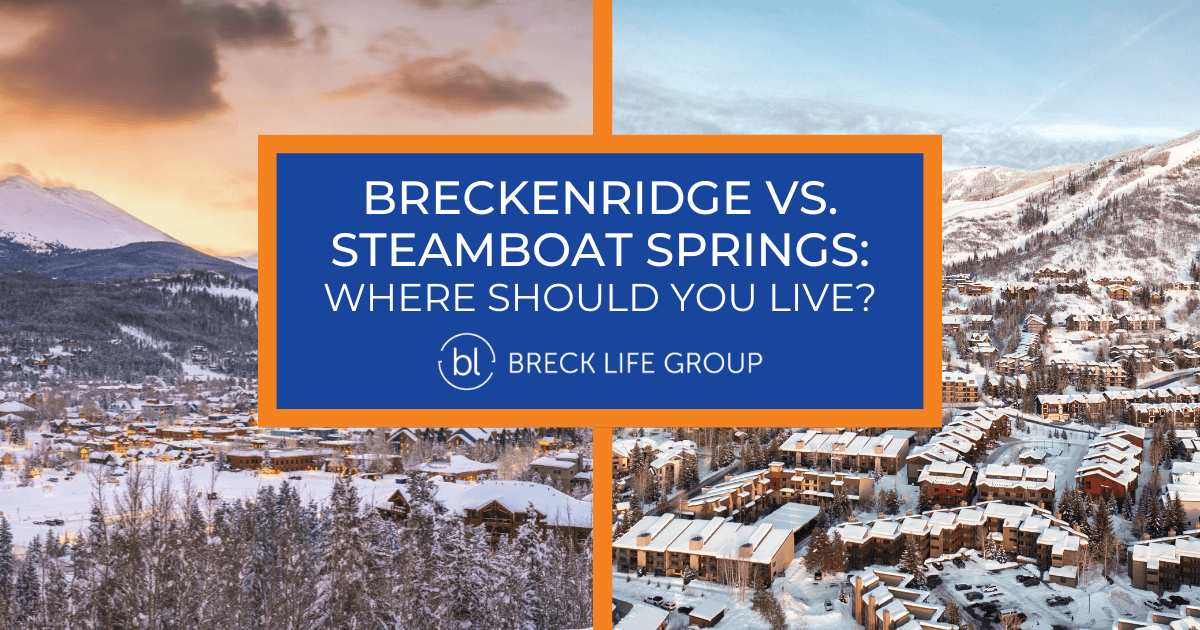 In the picturesque landscapes of Colorado, two towns beckon those seeking an idyllic mountain lifestyle: Breckenridge and Steamboat Springs. These charming destinations hold undeniable appeal for those searching for the perfect place to call home, and the numbers show this fact: people are moving to Breckenridge and Steamboat in droves, with Breckenridge more than doubling in population since 2000.
Nestled amidst the majestic Rocky Mountains, Breckenridge stands tall as a vibrant hub of activity, renowned for its world-class skiing, bustling downtown, and year-round festivities. The ski homes in Breckenridge are spectacular, and the views and amenities can't be beaten. Meanwhile, Steamboat Springs exudes a more laid-back ambiance, enchanting residents with its hot springs, rugged trails, and deep-rooted Western heritage. This article compares living in these two remarkable towns, shedding light on the unique attributes that make them alluring choices for mountain enthusiasts.
Skiing
When it comes to hitting the slopes, both Breckenridge and Steamboat Springs offer some of the best skiing in Colorado. The respective ski resorts are very similar in size, but their individual vibes are significantly different.
Breckenridge has nearly twice the number of lifts, more (and more challenging) ski runs, and a larger mountain to explore. Plus, it's an Epic Pass partner and conveniently close to several other ski resorts, opening the door to more skiing in the area; for homebuyers, there are several great neighborhoods near Breckenridge Ski Resort. For serious skiing enthusiasts, these factors may give Breckenridge the edge. However, Steamboat has a palpable charm all its own. Its particularly fluffy and dry snow, more remote location, fewer crowds, and authentic local feel make it an equally appealing option.
Breckenridge Ski Resort
Picture-perfect Breckenridge is one of the most popular ski areas in the U.S., attracting more than 1.5 million annual visitors. Celebrated for its variety, the resort packs in everything from intense moguls to leisurely wooded runs across its 187 trails, access to which is provided by a whopping 35 lifts. The resort also features a large terrain park. And although there are frequently lines near base camp, it's not difficult to find some space across its expansive 2,900 acres. There are tons of winter events and festivities in Breckenridge, many of which take place at or around the ski resort.
Breck's highest accessible summit stands just shy of 13,000 feet, granting it the honor of the tallest operating chairlift in the country. Technical skiing fans will be thrilled with the high alpine routes, and similarly, lovers of fresh powder will feel right at home here. The resort typically receives 355 inches of snow per year. After days spent on the slopes, the chalet-inspired Village at Breckenridge offers a lively atmosphere with dozens of restaurants, shops, and apres ski hotspots.
As if all that isn't enough, Breckenridge is also part of the Epic Pass network. This ultimate season ticket gives pass holders access to over 40 resorts worldwide, plus countless perks. If you don't need much access, check out the regional Rocky Mountain or Summit Value pass, with access to just Breckenridge and nearby Keystone.
Steamboat Ski Resort
Steamboat Ski Resort offers a distinctly more relaxed vibe, similar skiable acreage to Breck, and a total of 18 lifts. Large sections of the ski area are heavily wooded, making Steamboat a favorite for those who favor tree runs. However, the resort's terrain offerings are diverse, with runs of all types and even night skiing. In addition to the gentle, well-groomed trails, 44% are classified as advanced, which is an excellent option for experienced skiers.
Steamboat's serious approach to winter sports also makes it a noted Olympic training ground. More winter Olympians have come out of the town than any other in the country! There's also never a concern about the lack of fresh snowfall or its quality. Steamboat Springs is home to the one and only "champagne powder" and consistently ranks as one of the snowiest ski resorts in Colorado. The area received almost 450 inches during the 2022–2023 season!
One more major perk to skiing Steamboat: the Howelsen Hill Ski Area. Often referred to as "Hometown Hill," Howelsen is the state's oldest continuously operating ski area, plus North America's largest and most developed ski jumping site.
The ski resort has a laid-back, welcoming Western atmosphere, notably more relaxed than many other Colorado ski resorts. Enjoy a range of drinking and dining options onsite, and set aside time to explore the town's namesake natural hot springs.
Steamboat or Breckenridge: Which Town Has a Better Location?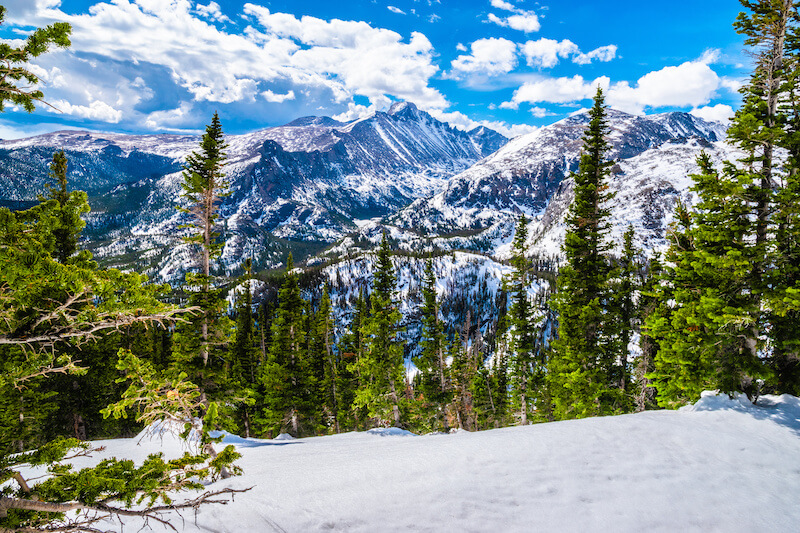 The very different locations of Steamboat Springs and Breckenridge are part of what creates the different ambiances. Steamboat Springs offers a slice of serenity for those looking for more seclusion and a local atmosphere. On the other hand, Breckenridge is much more convenient, especially for quick weekend getaways. It's only 1.5 hours from Denver, with most of the route along I-70. Regarding convenience and accessibility, Breckenridge can't be beaten—but its centrality comes with more crowds.
Breckenridge Location
Located just 80 miles from Denver, Breckenridge is accessible anywhere in central Colorado. The town centers around State Highway 9, 15 minutes south of I-70. Getting here from Denver is a breeze, taking 1.5–2 hours via any method. Its proximity to the interstate also decreases weather-related road closures.
Breckenridge is convenient to reach even without a car. Numerous shuttle companies offer service to Denver International Airport and Eagle/Vail Regional Airport. It's even possible to take Breckenridge public transportation to and from the airport or Union Station downtown. Once in Breck, complimentary shuttles and walkability make it easy to get around town car-free. As a bonus, several other ski resorts are within an hour's drive. This includes those in the Keystone area, Vail, and Beaver Creek.
It's important to note that Breckenridge's accessible location is also one of its cons—it can get busy. Especially on weekends and holidays, traffic jams along I-70 are common, and the ski areas are packed with day-trippers from Denver.
Steamboat Springs Location
Steamboat Springs is more secluded, tucked away in northwestern Colorado and surrounded by national forests. It's just under a three-hour drive to Denver and just over two hours to Laramie, Wyoming. Otherwise, no major urban hubs are nearby, just small, exceptionally scenic mountain towns.
Fortunately, accessibility to Steamboat has improved in recent years with the expansion of Yampa Valley Regional Airport. The hub offers non-stop flights to 16 cities across six airlines, and a shuttle service runs from the airport to town. For those coming from Denver, direct bus service to Union Station runs on weekends for just $40 round-trip.
Steamboat's remote nature is unarguably part of its appeal. It's off the beaten path, providing that coveted "getaway" feel, and there are rarely lift lines or traffic. The lack of a large city nearby and the surrounding Medicine Bow-Routt National Forest also means the scenery is practically untouched. Plus, Steamboat is conveniently situated to explore Wyoming and Utah.
Breckenridge vs. Steamboat Real Estate Market
Breckenridge and Steamboat Springs have in-demand housing markets with a frequent sales turnover. Their average sale prices are nearly identical; however, there are a few key differences.
Breckenridge has more large homes with 5,000+ square feet
Steamboat offers a greater selection of mid-sized standalone homes
Breckenridge allows short-term rentals everywhere in town, whereas Steamboat Springs prohibits them in some areas
Investing in short-term rentals is more affordable in Steamboat Springs
Both towns have an abundance of condos, but Steamboat has a higher density right next to the ski lifts, while a sizable chunk of Breckenridge condos are in the village
Breckenridge Real Estate Market
Breckenridge is well-established as a luxury home market, with a median sale price of over $1 million. Single-family homes are at the upper end of the range, with the premier area right alongside the ski lifts; expect prices of $8 million or more for 5,000+ square foot luxury homes in Breckenridge. There is also an excellent selection of one- and two-bedroom condos in the center of the village. Breck's main attractions are within walking distance but expect smaller sizes and wildly varying prices, heavily dependent on a building's amenities. You'll find several condos starting in the $300s, but several in town are listed for close to $2 million.
Outside of properties in this highly urbanized zone, development throughout Breckenridge is priced relatively consistently. There are many new-construction homes in Breckenridge, especially south toward Blue River. These properties are just beyond the bustle of town and have breathtaking views.
As a popular vacation destination, demand for short-term rentals in Breck is high. Buyers interested in investment properties should be cognizant of city ordinances, many of which have changed in the last year. Breckenridge requires a short-term rental license and an accommodation license tax.
Steamboat Springs Real Estate Market
Steamboat Springs has seen a steady uptick in median home costs, with prices nearly doubling since 2019 and averaging almost $1.2 million. Like Breck, there's a decent selection of smaller, less-expensive condos near the town center. However, Steamboat also has greater availability near the ski lifts.
The area's most luxurious properties are uphill from town toward Fish Creek Falls. Here, residents enjoy a rural atmosphere with panoramic mountain views while also being minutes from town.
In contrast to Breckenridge, Steamboat's surroundings are (far) less developed. A broad selection of large new-construction homes is west along the Yampa River. For those open to purchasing just outside of town, it's easier to find four- or five-bedroom properties for close to $1 million.
When it comes to short-term rentals, Steamboat is more restrictive. The city enforces a 9% short-term rental tax, plus STRs are prohibited altogether in several areas. If you're purchasing property to rent short-term, carefully vet the location beforehand.
Things to Do in Breckenridge & Steamboat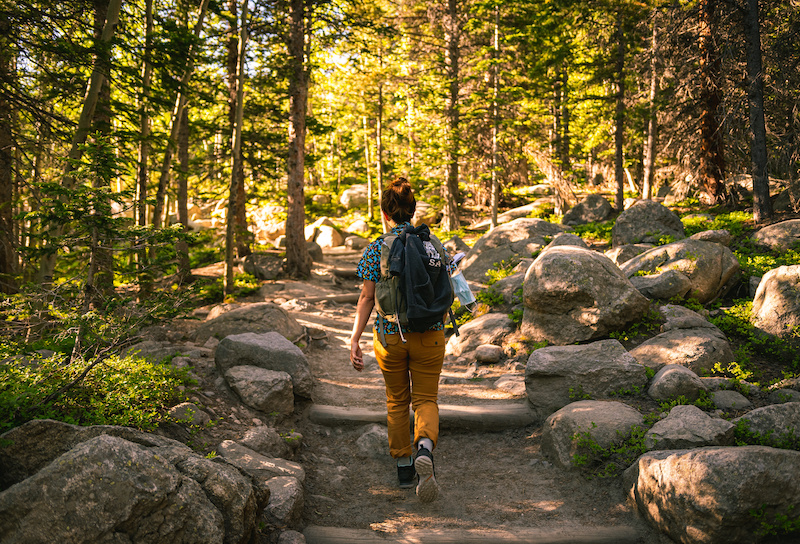 Breckenridge and Steamboat Springs each offer practically endless outdoor recreation, bolstered by small yet lively town centers. Steamboat leans more casual, with a more extensive selection of affordable eateries and low-key drinking spots. On the other hand, Breckenridge has a greater variety and a buzzier atmosphere on weekends.
In terms of outdoor activities beyond skiing, Steamboat Springs has an edge. Whether it's tubing, kayaking, fishing the Yampa River, golfing, mountain biking, or hiking, there are more options and fewer crowds. However, thanks to its taller area peaks, the best hikes in Breckenridge are tough to beat.
Things to Do in Breckenridge
Skiing is just the beginning of things to do in Breckenridge. The eye-catching town center has over 200 historic buildings repurposed into hotels, restaurants, and quaint shops. From local honey to alpine-themed decor and boutique clothing, Breck has an impressive assortment of shopping. The same applies to dining: from classic Italian pizza and Thai to elevated American fare, you won't go hungry here. Nightlife in Breckenridge has plenty to offer, from Western bars and entertainment to upscale bars on Main Street. Art and culture fans should watch the Breck Create Calendar, which includes everything from pottery workshops to riverside concerts.
There are loads more to explore outside of the town's boundaries, too. Embark on one of the incredible hikes, like a stroll to Sawmill Reservoir or a several-hour journey to spectacular Mohawk Lakes. Hikers with summit fever will love fourteeners—peaks over 14,000 feet in elevation—like Mt. Lincoln and Quandary Peak, just south of town. Other outdoor possibilities include kayaking on Lake Dillon, biking on riverside trails, and ice skating on a year-round outdoor rink. And if you're ever craving a true urban fix, don't forget Denver is only 1.5 hours away.
Things to Do in Steamboat Springs
As indicated by its name, Steamboat Springs' most notable attractions are its natural hot springs. There's the centrally-located, developed Old Town Hot Springs, which has eight naturally-fed pools; for something a bit more rustic, there's Strawberry Park Hot Springs. This outdoor resort is set in the forest, offering a variety of pools, lodging, and massage and other spa services.
Steamboat Springs may be compact, but it's full of hidden treasures. Visitors can learn about the town's history at the Tread of Pioneers Museum or peruse art at one of the many small galleries. For foodies, the town punches well above its weight. Options lean primarily casual, with several friendly diners, taquerias, and bakeries. However, several spots are ideal for an elegant night out, including steakhouses and fine dining with a focus on seasonal and locally sourced everything. End your days sipping a beer in one of the town's numerous breweries.
Outside town limits, there's a vast range of incredible scenery to explore. Nearby Medicine Bow-Routt National Forest offers everything from waterfall hikes to lofty summits like Mount Zirkel. Alternatively, enjoy the mountain air by teeing off at Haymaker Golf Course or biking at Steamboat Bike Park. Thanks to the Yampa River, there are also numerous water activities in summer, like kayaking, tubing, and paddle boarding.
Steamboat Springs vs. Breckenridge: Ski Areas, Hot Springs, and More
Ultimately, the choice between Breckenridge and Steamboat Springs boils down to individual preferences in mountain living. While both towns offer a captivating blend of natural beauty and recreational opportunities, Breckenridge's best neighborhoods offer a more dynamic living experience. Its reputation as a premier ski destination and its thriving downtown scene set Breckenridge apart, attracting those who crave a lively atmosphere and many social experiences. However, Steamboat Springs holds its charm, offering a more relaxed and down-to-earth lifestyle, ideal for those who cherish tranquility and a deep connection to nature. Ultimately, the decision rests in the hands of the discerning individual, each town promising an enriching mountain experience in its unique way.
If you're looking for the perfect Breckenridge home, contact Breck Life Group with eXp Realty at (970) 409-4787 to get in touch with a local Breckenridge real estate agent and discover your new dream home today.