Budweiser International Snow Sculpture Championships in Breckenridge
Posted by Pete Deininger on Monday, January 25, 2016 at 1:10 PM
By Pete Deininger / January 25, 2016
Comment
Let your imagination run wild at the Budweiser International Snow Sculpture Championships in Breckenridge. These beautiful works of art, made fun snow, will challenge the way you have viewed gravity. The annual tradition and incredible works of art will be on display at the Breckenridge's Riverwalk Center, tomorrow through February 7th, 2016. The show will begin tomorrow morning on the Breckenridge Snow Sculptures, where sixteen teams from around the world compete in the 25th Annual Budweiser International Snow Sculpting Championships.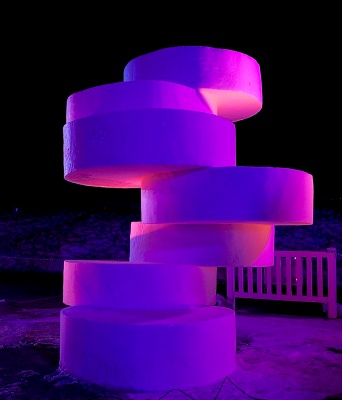 Tomorrow through February 7th, the highly accomplished and artistic teams will be transforming the 20 ton blocks of snow into astonishing creations. Some of the past geometric patterns seem to defy the gravity or bringing an underwater scene to life. There is always an array for creativity at the Breckenridge snow sculptures.
If you visit the Breckenridge International Snow Sculptures during the week, you will be able to watch the sculptors work with hand tools only to bring out the beauty of snow. They will face the harsh alpine temperatures and environment, along with some long days (and sometimes working through the night). Each masterpiece will be judged, and you can even cast your own vote for your favorite piece. The creations will be on display until February 7th and then they will disappear just as quickly as they were constructed. It is well worth your time to make a visit (or two) to check out these magnificent snow carvings. The best time to view the snow sculptures is in the evening, when they are illuminated with LED lights, giving them an entire new dimension. If you do decide to make it out for the event, remember that you are coming to a high alpine environment -- please dress warmly and wear shoes with good traction.
For more information on the Breckenridge International Snow Sculpture Championship, please visit the Breckenridge Resort Chamber website. Feel free to stop by my office (just a half block from the event) to warm up and grab a coffee or hot cocoa.