Copper Mountain vs Breckenridge: What to Know Before Buying Real Estate in Summit County
Posted by Pete Deininger on Wednesday, February 8, 2023 at 9:20:06 AM
By Pete Deininger / February 8, 2023
Comment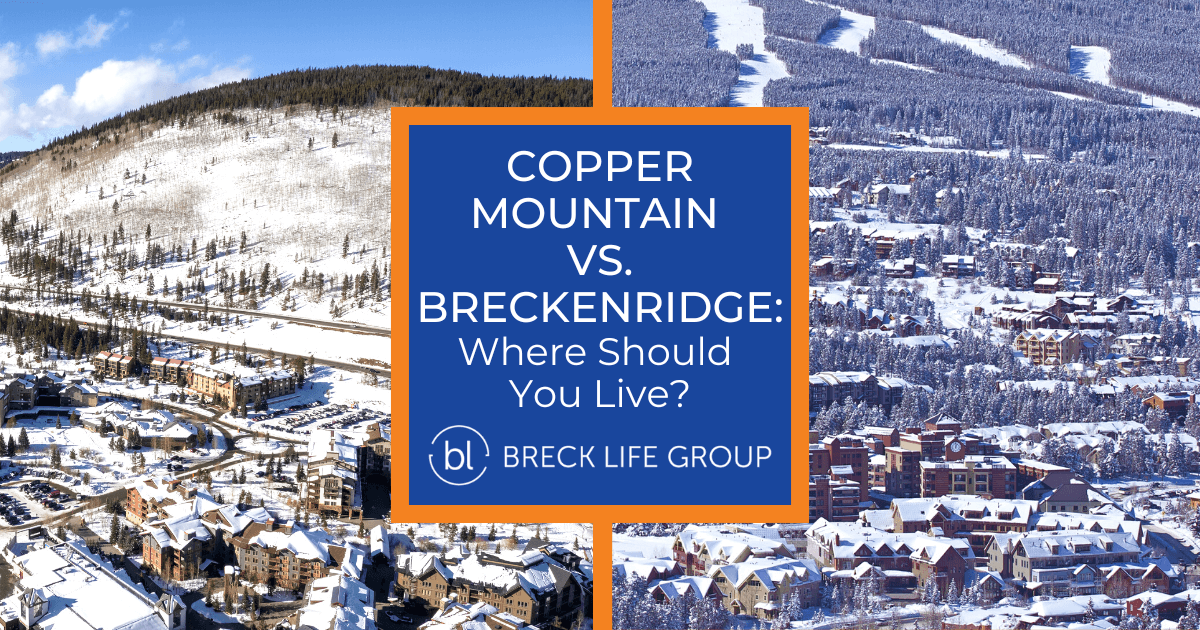 Copper Mountain or Breckenridge: where would you rather buy a home? There's no wrong answer, regardless of whether you're interested in moving full-time, buying a vacation home, or investing in a short-term rental. The town of Breckenridge and the Copper Mountain area are similar in many ways. Obviously, they're both home to world-class ski resorts, golf courses, restaurants, and shops. Copper Mountain is significantly smaller, with only around 450 residents compared to the 5,000 people living in Breckenridge. Not sure which is right for you? Compare and contrast to decide which you prefer.
Copper Mountain Economy vs. Breckenridge Economy
Both towns have economies that depend on ski resorts and related hospitality businesses for most of their revenue. Nonetheless, employment in other industries is available. The rise of work-from-home policies has also further transformed the workforce of each area. People from all over often stay in these towns with the dream of skiing in the mornings and working remotely in the afternoon.
Cost of Living
Although people often think of ski towns as expensive, certain living expenses remain below the state average. Living in Copper Mountain can provide cheaper prices for health care, utilities, and transport than other Colorado cities. For example, accessible public transit helps keep travel expenses low. The prices of food and other retail items are close to average. Residents can easily travel to the town of Frisco when they need additional shopping options. However, one major necessity costs significantly more in Copper Mountain: housing. While it's possible to find less expensive properties, most homes for sale in Copper Mountain list for $1 million or more.
The cost of living in Breckenridge is similar with regard to travel, utilities, medical care, groceries, and other retail purchases. Like Copper Mountain locals, they benefit from free public transportation. Residents can buy most essentials without leaving town. On the other hand, housing costs substantially less in Breckenridge. It's easier to find homes that don't have association fees, and house prices start at around $350,000. Overall, it costs about 12% less to live in Breckenridge.
Job Market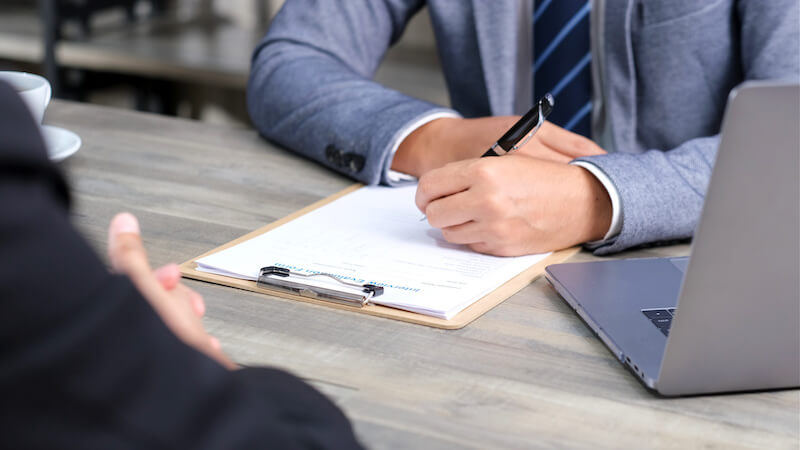 The unemployment rates in Breckenridge and the Copper Mountain area are identical and below the national average. In fact, residents of Copper Mountain often earn more than the median U.S. income. The majority work at the local ski resort. It offers year-round jobs but provides the most employment during winter. Staff members benefit from free ski passes and various discounts. The resort occasionally supplies complimentary meals as well. A few other local businesses hire people from time to time. They include shops, eateries, and a medical clinic.
Like Copper Mountain, the Breckenridge economy offers a growing and lucrative job market. Well-paying industries include education, property management, engineering, and finance. The median income surpasses the U.S. average. In addition to the ski resort, locals can find employment at inns, restaurants, schools, and construction firms. Nearly one out of six Summit County residents are self-employed.
Top Industries & Biggest Corporations
Summit County's major industries include retail, hospitality, construction, medical, real estate, and entertainment. Hospitality ranks as the top economic sector in both towns but isn't the only local industry. The ski resort is the biggest employer in Copper Mountain. Around 400 to 500 people work there throughout the year. It also hires more than 1,000 seasonal workers. Examples of job positions at the resort include cook, bartender, ski instructor, nurse, manager, electrician, and lift operator.
Breckenridge's largest employer is Vail Resorts, the operator of Breckenridge Ski Resort. It doesn't disclose exactly how many employees work at this location. Breckenridge Grand Vacations is another major employer. This lodging company has over 600 staff members in the town. Nearly 100 people work at Beaver Run Resort, and it features a spa, conference center, restaurant, and swimming pools. Centura Health ranks as the fourth largest employer in Summit County. This company runs hospitals and medical clinics. It has locations in Breckenridge, Copper Mountain, and Frisco. Breckenridge is also home to four small tech companies, including two software development firms. The town has a few other significant industries:
Entertainment
Transportation
Vacation rentals
Real estate
Both villages primarily offer employment at resorts, restaurants, and hotels. A few healthcare positions are available as well. Breckenridge supplies a broader range of employment, making it more appealing to people who seek careers in the technology, finance, or education fields.
Copper Mountain Commutes vs. Breckenridge Commutes
While Breckenridge is closer to Route 9, Copper Mountain provides easier access to Interstate 70. Both are located within 80 miles of Denver. Copper Mountain is nearer to Frisco and the town of Silverthorne. Travelers can check COTrip.org for details on road closures, conditions, and construction throughout the state.
Traffic Patterns and What to Expect During Busy Season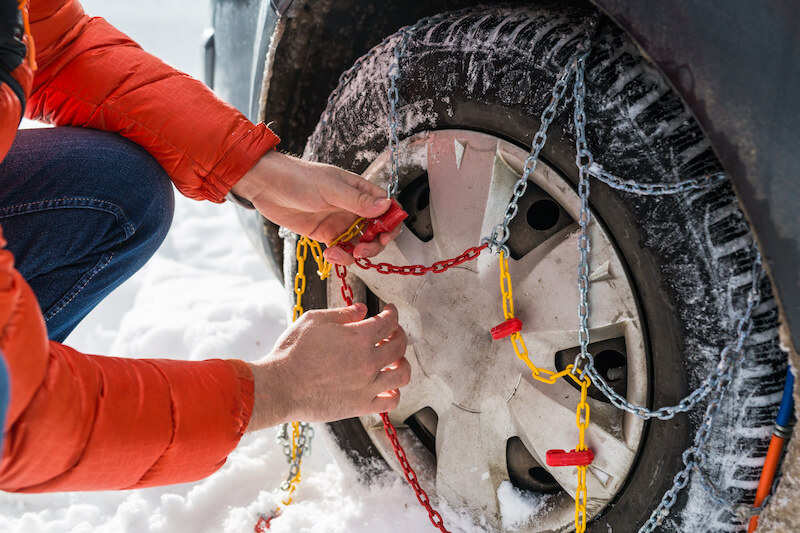 Colorado law calls for winter tires in snowy weather and requires chains under severe conditions. It's wise to use studded tires during winter. Due to severe weather, the authorities sometimes close Vail Pass on I-70. It can be found six miles northwest of Copper Mountain (not near Breckenridge).
Route 91 and I-70 tend to have the heaviest in the Copper Mountain area traffic. The eastbound lane on I-70 frequently turns busy in the mid to late afternoon and early evening on weekends. Travelers heading west will experience heavier traffic during Saturday morning and late Friday afternoon. The same goes for holidays. Breckenridge residents often forgo traffic by using Route 9 instead of the interstate. To reach Denver, they can drive to Fairplay and travel north on Route 285.
Public Transportation
Another way to avoid driving in traffic and snow is to use public transit. Riders also needn't worry about finding open parking spaces. Copper Mountain runs a free shuttle service that operates between 7 a.m. and 10 p.m. in the winter. Among other places, the vehicles stop at Passage Point, East Village, CenterVillage and various parking lots. Local homeowners can even request that the shuttle pick them up at home. The resort offers this service at no extra charge.
Copper Mountain and Breckenridge residents may use a free countywide transportation system called Summit Stage. It carries passengers to both towns as well as Keystone and other destinations. Breckenridge provides free local buses, a trolley, and a seasonal gondola. Riders can board these vehicles at Breckenridge Station on Watson Avenue. The transit system operates from 6:15 a.m. to 11:45 p.m. throughout the week. Some lodging establishments also supply complimentary transportation.
Best Towns Near Copper Mountain & Breckenridge
Colorado ski enthusiasts can find attractive housing near both locales. Lewis Ranch at Copper Mountain offers gated community homes, including single-family homes and duplexes, just over a mile from Center Village dining and shopping. East Village's Foxpine Inn Condos were constructed in 1980 and feature balconies and great alpine views, while Tucker Mountain Lodge consists of affordable condominiums—ranging from studios to two-bedroom units—in a walkable Center Village.
In Breckenridge, the Base 9 condos provide residents with convenient access to two chairlifts, ski academies, and the downtown district. The town frequently holds special events in this area. Meanwhile, the Four O'Clock neighborhood is also near shops and restaurants and offers quick access to the Snowflake chairlift. Breckenridge condos and townhomes are the most common property types, but buyers who favor single-family homes may prefer Downtown Breckenridge, which is conveniently located near the BreakConnect Gondola.
Both villages have more condo units than other dwellings. Nonetheless, it's possible to find townhouses and detached homes. Breckenridge has somewhat more single-family properties. The amenities and mass transit options available to Breckenridge residents are a bit more comprehensive.
What to Do in Copper Mountain vs. What to Do in Breckenridge
While they're mostly known for being two of the best ski villages in Colorado, Breckenridge and Copper Mountain offer an impressive variety of things to do all year long. Locals play golf, ride mountain bikes, and much more. After the sun goes down, they enjoy an assortment of dining and nightlife.
Outdoor Activities
Golfers can find the Copper Creek Golf Course in East Village at Copper Mountain. It features 18 holes and excellent mountain views. Center Village has a free disc golf course with nine holes. During summer, it's still possible to ride a chairlift and admire the scenery. An alternative is the Rocky Mountain Coaster. This alpine coaster was constructed in 2017 and carries passengers over tracks spanning 5,800 feet. Residents who want some exercise can rent mountain bikes or hike the trails instead.
Breckenridge outdoor activities are one of the best parts of living here. Locals may go sledding for free at Carter Park Sledding Hill. Winter recreation choices also include snowshoeing ice skating, and riding horse-drawn sleighs. After the snow melts, golf enthusiasts can visit the award-winning Breckenridge Golf Course and other top golf courses in the Breckenridge area. It boasts 27 holes and a clubhouse situated at over 9,000 feet above sea level. Residents also enjoy cycling, hiking, horseback riding, whitewater rafting, and paddleboarding on Maggie Pond.
Skiing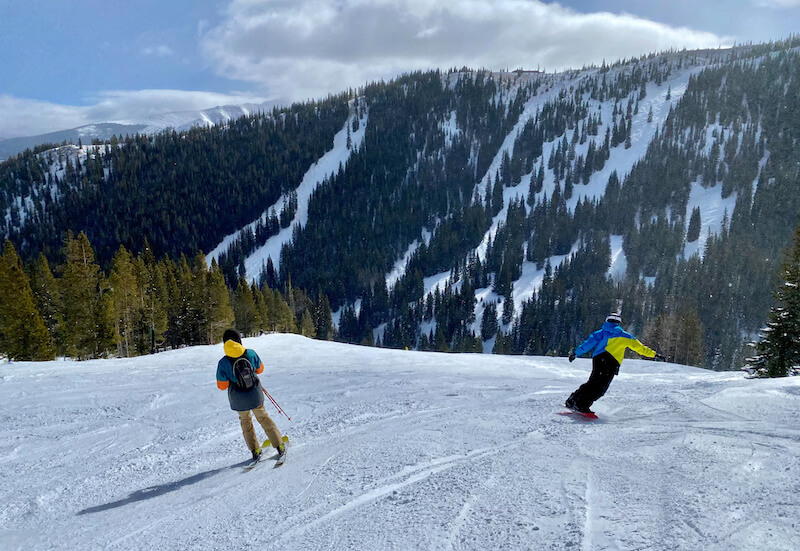 Not surprisingly, the main sports in this area involve snow. Copper Mountain offers ski areas for novice, intermediate, and expert skiers. While most intermediate runs are accessible from Center Village, rookies should consider starting in West Village. Many pros may prefer to ski-in, ski-out homes near East Village. The elevation ranges from about 9,700 to 12,300 feet. Visitors can also partake in tubing, snowboarding, and ice skating.
Breckenridge Ski Resort features nearly 190 trails that wind through snow-laden trees, stunning peaks, and beautiful ski homes for sale. It has something for everyone. Peak 10 holds the greatest appeal for expert skiers. Moderately skilled individuals often experience the best results on peaks six and seven. Meanwhile, newcomers may have better luck on peak eight or nine. Among other services, the resort offers equipment rentals and ski lessons.
Nightlife
After some time on the slopes, Copper Mountain skiers can visit nearby bars for snacks, beverages, and music. High Rockies Whiskey and Wine Bar stays open late. This establishment near Center Village serves more than 200 different drinks. Customers have a better chance of hearing live music at JJ's Rocky Mountain Tavern in East Village. Its food menu includes soup, salads, and hamburgers.
Breckenridge offers a diverse selection of nightlife options. The Briar Rose serves cocktails in a saloon with old-fashioned Western decor. Modis also dispenses mixed drinks but has a more modern style. Bars with dance floors include The Gold Pan Saloon and Cecilia's Martini Bar & Nightclub. Cecilia's patrons can play pinball or pool as well. Another place to hear live music is the 750-seat Riverwalk Center. This waterfront venue has hosted bands from across the nation.
Opportunity Awaits in Breckenridge & Copper Mountain
So which one would you choose? Copper Mountain is smaller but packed with awesome amenities and adventures. On the other hand, Breckenridge's size lends itself well to a more diverse jobs market, lower real estate prices, and more robust transit options. If you're having trouble choosing, there's no need to worry. Located about 17 miles apart, you can enjoy the best of both worlds no matter where you choose to invest.
If you're looking for the perfect Copper Mountain home, contact Breck Life Group with eXp Realty at (970) 409-4787 to get in touch with a local Copper Mountain real estate agent and discover your new dream home today.