Dillon Open Regatta this Weekend in Summit County.
Posted by Pete Deininger on Friday, August 1, 2014 at 1:23:37 PM
By Pete Deininger / August 1, 2014
Comment
The annual
Dillon Open Regatta
, an inland-lake regatta, is returning to Lake Dillon this weekend for its 41st year.  The largest, U.S. Sailing-sanctioned competition, west of the Mississippi, will feature between 100 and 150 sailboats that will race against each other in several categories.  Spectators travel from near and far to see this amazing spectacle.  "The legend of the event lives nationally," says Dillon Yacht Club director Scott Snyder.
Lake Dillon poses challenging conditions for the sailors that compete in the Dillon Open Regatta.  The ever-changing Colorado weather, sunny one minute, thunderstorm the next, along with the various valleys that empty into Lake Dillon, makes it especially challenging, even to the best.  Add that to the beautiful sceneryof the Ten Mile Range and this regatta is on the list for many avid sailors.  It is a beautiful place to sail, but can be frustrating as well. Some of the local sailors have an upper-hand when sailing on Lake Dillon.  Lisa Wildeman, longtime Dillon Yacht Club member and former Open director, said, "You never know which way thewind is coming from. It makes it very difficult to sail on this lake if you don't know the winds. It's really fun for us as locals having local knowledge. Racers from Texas (and other places) come up here and think they're going to win."  But in years past, it is the local sailors that take the top prizes.
This year at the Dillon Open Regatta, a notable among boats, will by a 40-foot ocean racing sailboat that usually is docked in California. This boat is larger than many sailboats seen on the lake in Summit County.  
This afternoon, kicks off the Dillon Open Regatta registration, check-in and welcome party.  Races will be held Saturday and Sunday from noon to 4 p.m.  There will be a fundraising auction and dinner party on Saturday night benefiting the DillonYacht Club Junior Sailing Program.  For more information, please visit www.dillonopen.com.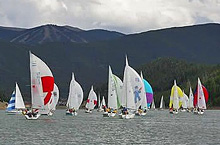 Source: SummitDaily.com