5 Smart Tech Upgrades to Get the Best ROI
Posted by Pete Deininger on Friday, March 4, 2022 at 8:33 AM
By Pete Deininger / March 4, 2022
Comment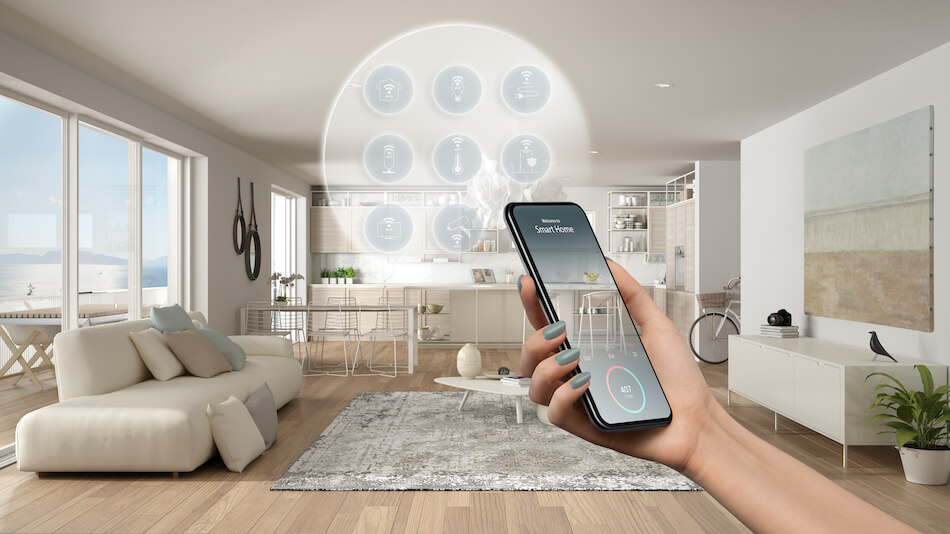 Smart technology is no longer a novelty in the home. In today's heavily connected world, the benefits that come with smart tech are steadily becoming a must-have for many home seekers. Homeowners who want to boost the appeal of their homes often integrate smart technology into their households to increase the comfort, convenience, efficiency, and security factors, while simultaneously increasing the value of their property.
Yet, not all upgrades or installations pay for themselves. Ready to discover the future of home convenience? Keep reading to discover five smart tech upgrades that have a great return on investment.
Smart Home Security Features
In recent years, smart home security has become an increasingly desired feature for homebuyers. Owners who integrate smart security features into their homes find it to be one of the best high-ROI home improvement projects. Statistics in the United States show that roughly 1.7 million homes are burglarized every year; many occur during the daytime hours.
Popular smart security products to consider installing include smart cameras, locks, and doorbells. Homeowners can interact with people at their doors without being at home but giving the appearance of being inside. As smart home security systems become more mainstream, they continue to drop in price, yielding a great ROI. Not to mention, owners enjoy the numerous benefits they provide, which often include savings on homeowners' insurance premiums and expenses associated with theft and property damage.
Smart Thermostats
Homeowners wanting to install upgrades that offer an instant ROI need to look no further than a smart thermostat. Traditional thermostats offer no control over energy use, but smart thermostats are a total gamechanger. But how much can be saved with smart thermostats? These devices, designed to adjust a household's energy consumption automatically, can be programmed to set and forget as the device learns to detect patterns and determine how occupants use heat and A/C. Furthermore, homeowners can control their HVAC use from the convenience of their phones, even when away from home, to give the ultimate in-home energy management. Smart thermostats generally deliver a 100% ROI very quickly.
Smart Appliances
Smart appliances kick the kitchen and laundry experience up significantly. As one of the best energy-efficient home upgrades homeowners can make, these units are highly energy-efficient and designed to promote water conservation. Users can program their appliances and control them remotely from their phones. Great appliances to consider replacing include refrigerators, dishwashers, ovens, clothes washers, dryers, standalone freezers, and even smaller appliances, such as microwaves, toaster ovens, and toasters. When buying a smart appliance, look for the yellow sticker that designates the product that has met the Energy-STAR rating criteria.
Smart LED Lighting
Smart LED lighting is not only convenient and energy-conscious, but it also significantly upgrades the coolness factor of any home. Lights inadvertently left on? No problem. Smart lighting apps can regulate lights remotely, even if the homeowner is currently miles from home. Going on vacation? Turn the lights on and off and make it look like someone was home. A relatively inexpensive investment, smart LED lightbulbs are long-lasting, give off better light, are energy-efficient, and decrease the cost of electricity. According to Green America, LED bulbs produce light up to 35 times longer than incandescent lightbulbs and three times longer than CFLs. Not a bad investment at all.
Automated Blinds and Curtains
People wanting to add a unique but increasingly popular feature to their homes should consider installing automated blinds and curtains. Automated blinds and curtains yield a pretty good ROI and add value to a home while offering several other benefits. The technology integrated with these window treatments is designed to work with automated voice systems. All an occupant has to do is tell the blinds and curtains to open or close – buyers typically take delight when they see these kinds of features in a home.
High-ROI Home Smart Tech That Pays For Itself
As smart technology and the Internet of Things (IoT) steadily become more conventional to everyday lifestyles, smart home upgrades are a surefire way to add attractive and appealing features to a home, upping its value and desirability. Not all upgrades provide a good ROI, but smart technology is one upgrade that delivers both short-term savings and long-term increases in property value.