How Much Money Can You Make on a Breckenridge Vacation Rental?
Posted by Pete Deininger on Monday, January 31, 2022 at 11:00 AM
By Pete Deininger / January 31, 2022
Comment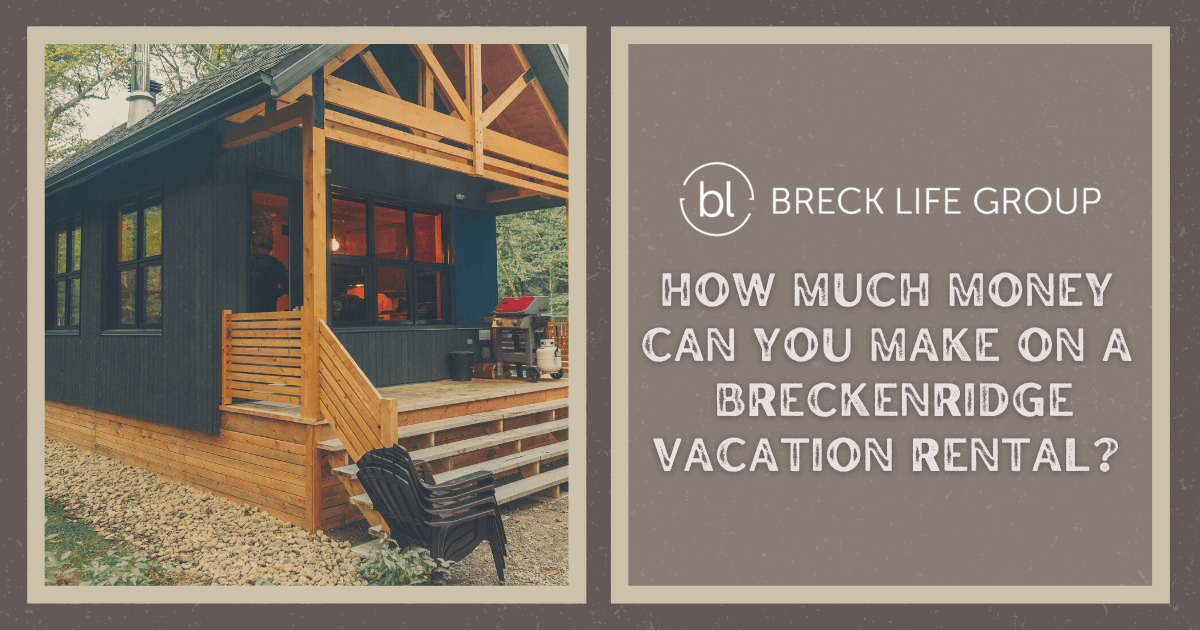 As one of the most popular ski destinations in the nation, the town of Breckenridge is an excellent place for those looking for a profitable investment property. The scenery is beautiful year-round, but the town is truly hopping with visitors during the summer and winter months. Skiers, hikers, mountain bikers, and thrill-seekers of all types and ages enjoy being proximal to the mountain base while also being within walking distance to restaurants, shops, and spas.
While investing in a Breckenridge condo or home to rent short or long-term won't make one wealthy overnight, these properties can prove to be a very lucrative source of income over time. How much money can be made from a vacation rental in Breckenridge depends on numerous factors that include the property's location, amenities, and rental rates. Keep reading to explore some factors that investors should consider when looking for the ideal rental property in this vibrant ski town.
How Much Per Night do Breckenridge Vacation Rentals Go For?
As with any rental, the price depends on the level of luxury and amenities present in the home, how many bedrooms there are, and the length of time guests choose to occupy the property. A predominant factor determining rental rates for guests during the ski season is proximity to the nearest lifts or whether the property offers ski-in/ski-out access.
Homes further from the lifts or the mountain base will typically draw lower rates, but that's not always the case—especially for those seeking a quiet, remote location. Of course, generally speaking, the more posh the rental is, and the more amenities are available to occupants, the better the rates. Because of the many variables, rates vary widely, so we'll discuss a few averages.
According to reports from Evolve Vacation Rental Network, median nightly price ranges for rentals in Breckenridge are around $302 for 2 to 3 bedroom condos, $737 per night for 4 to 5 bedroom homes, and $1,969 for luxury estates. Ski-in/ski-out status tends to add about 20% to rental rates, and many are willing to fork it out without complaint to have immediate access to skiing pursuits right outside the door.
Those planning to rent short-term will generally want to have a target rental income each year of about $10,000–$12,000 per year for every $100,000 spent on the property itself. Investors must keep in mind that maximizing revenue relies on getting high occupancy rates. For example, it might be better to get a 3- or 4-night booking at $350 nightly than seek to charge $800 per night, which might steer travelers on a budget away from longer stays. Rental owners can also invest in home improvement projects to boost rental bookings.
How Much Does it Cost to Buy a Property to Rent Out?
Housing prices in Breckenridge, CO, vary widely, with older homes and those further from the mountain going for less on average than those with quick mountain access. According to Summit County real estate market reports, off-mountain properties usually fall within the $400–$600 per square foot range. Homes near the mountain base close to town average around $950-$1,000 per square foot.
Keep in mind that amenities and the size of homes are huge pricing factors. Crystal Peak Lodge condos, for example, are luxury condos with excellent amenities and can list for over $1 million for a 1 bedroom and double that for a 3 bedroom.
Modest 2-bedroom models in communities within reasonable walking distance to the lifts, such as condos in Gold Camp, or with a ski shuttle, such as Highland Greens Lodge condos, might be found in the mid-$600s, with luxury condos with ski-in/ski-out access possibly costing up to $3 million for 3 bedroom units and larger. That being said, a slope-side condo in Breckenridge has the potential for much higher demand than some single-family homes.
Looking for up-to-date real estate market reports for Breckenridge? Check out our real estate market update blog, or contact us directly to get the latest news on the Breckenridge real estate market!
How Much Does a Property Management Company Cost?
Services offered by property management companies have a wide range of costs that depend on many factors, including:
If 24-hour desk staff & security is onsite
How often the home is rented (daily, weekly, or monthly)
Whether interior cleaning services are provided
Whether their team advertises the property & collects fees
The amount of routine maintenance & repairs desired
It goes without saying that the more services owners want or need, the more a property management company will charge. Typically, the commission rates for vacation rentals fall between 15% and 50% of the unit's monthly income. Rates on the higher end tend to involve high-end properties, full-time vacation rentals, and resort-style condo-hotels in Breckenridge that require an elite level of service from property management companies.
Some property management companies may discount summertime and off-season rates, particularly those willing to work on a sliding scale. Long-term rentals of a month or longer may also qualify for discounts due to the reduced need for services pertaining to the individual unit.
Regulations and Taxes for Short-Term Rentals in Breckenridge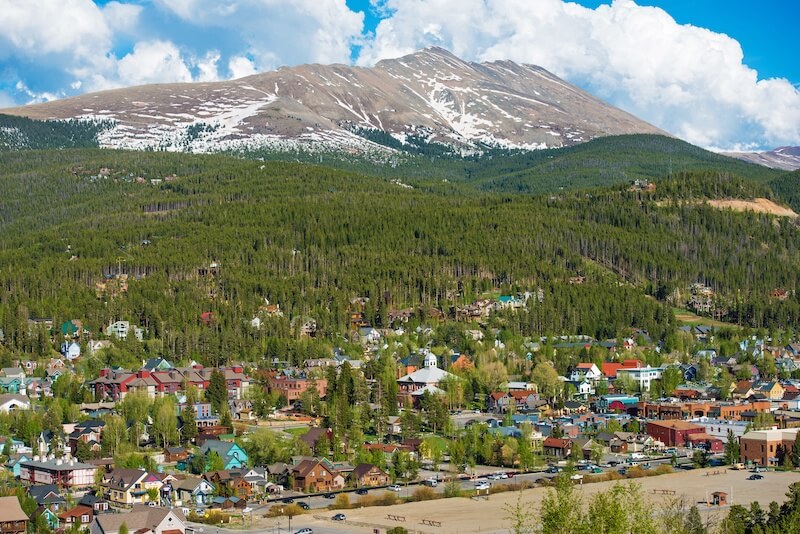 Breckenridge requires a permit for and collects taxes on short-term rentals. Here's a lowdown on rental rules concerning listings and tax issues for vacation rentals in the area.
The standard 12.275% sales and accommodation unit tax rate is still in place, but as of the end of 2021, there are new regulations on short-term rentals in Breckenridge. Short-term-rental licensees are now required to pay $400 per bedroom as of 2022. Primary residents who rent for 21 days per year or less are exempt from this fee. Current business occupational tax licensing fees in Breckenridge, CO are:
Studio Unit: $75.00
One-Bedroom Unit: $100.00
Two-Bedroom Unit: $125.00
Three-Bedroom Unit: $150.00
Four or more Bedroom Unit: $175.00
The most recent IRS rental property publication provides additional rules. For example, those who occupy a vacation rental for a certain number of days during the year can lose some of the tax advantages of owning an investment property. It's essential to look into ways to optimize taxes for short-term rental properties for maximum return on investment.
So, How Much Can You Make From a Breckenridge Vacation Rental?
With so many factors in play, it's a good choice for even experienced property investors seeking rental properties to talk to a few local brokers and real estate agents before taking the plunge. With the perfect property added to one's portfolio, there are great opportunities for investors seeking short-term rental properties.