How Much Money Can You Make on a Breckenridge Vacation Rental?
Posted by Pete Deininger on Thursday, March 30, 2023 at 11:00 AM
By Pete Deininger / March 30, 2023
Comment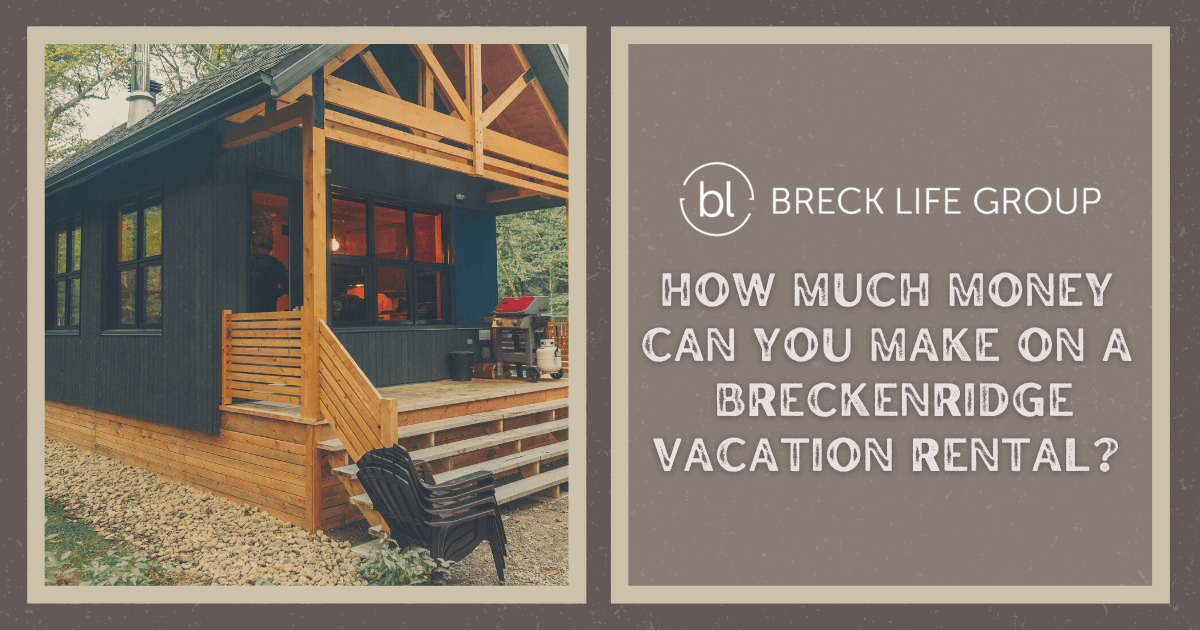 Have you considered investing in a Summit County rental property? Homes in Breckenridge — a year-round vacation destination — can provide long-term income when used as short-term rentals, but some considerations are vital to maximizing the likelihood of a successful investment. Not all rentals are the same, so you should learn how to identify which ones make the most financial sense before investing.
The process for assessing the viability of a property as a short-term rental investment can vary greatly depending on several factors, including location, property type, geographic region, the local real estate market, and more. The great equalizer — and the only direct route to differentiating a good investment from a bad one — is running the numbers.
When assisting our clients at the Breck Life Group, we encourage you to look at the potential return on investment (ROI) from several different angles. Potential rental income, taxes and community fees, regulations, and market conditions can all have considerable impacts on the viability of your investment in one of Breckenridge's best vacation rentals, so having a firm grasp of all of these factors is essential.
Crunch the Numbers
The first thing you should do is figure out how much your operating expenses, mortgage payments, and rental income would be. For rental income, it's a good idea to come up with a few different figures: a conservative estimate, a moderate estimate, and an optimistic estimate. The latter two estimates will show you the possibilities for passive income, while the former will give you a good idea of what to expect during downtimes or slow seasons.
To start, take a look at the actual rental numbers for the property you're considering. Many Summit County homes have rental histories due to the popularity of the destination and the rental market, but if a property doesn't have a history, we'll help you obtain accurate rental projections from local management companies familiar with comparable properties. As a frame of reference, some rough nightly price points for vacation rentals in Breckenridge include:
2–3 Bedroom Condos: $300/night
4–5 Bedroom Homes: $750/night
Luxury Estates: $2,000/night
Next, subtract your annual mortgage payments from the annual gross rental revenue. There are online calculators that can give you a rough estimate of mortgage payments based on the sale price and downpayment, but we encourage you to speak with one of our recommended local vendors, who can help you get a much more accurate mortgage payment estimate.
Now comes the tricky part: determining your operating expenses. This is where The Breck Life Group shines. We'll ensure you have everything you need to make an informed purchase—from monthly HOA dues to utilities, service providers like snow plowing and hot tub maintenance, and typical repairs for normal wear and tear of the property. A useful figure to keep in mind is the target rental income.
Investors should shoot for an annual rental income of $10,000–$12,000 for every $100,000 spent on the property itself; to achieve that, the priority should be high occupancy rates. Home improvement projects to boost rental bookings are typically smart investments, and upping your occupancy rates can make a big impact on your ROI.
Reading Between the Lines
We work with a lot of buyers interested in purchasing rental properties, and we encourage all of them to run the numbers. To make the process as accurate and thorough as possible, we've created a spreadsheet template that will walk you right through the process, leaving you with an estimate of the annual ROI that's based strictly on the numbers.
But comparing rental income and operating expenses is just one of the ways to measure your ROI. In addition to rental revenue, you get to factor in long-term annual appreciation if you're going to hold the property for multiple years.
The Summit County real estate market has seen appreciation pacing between 5%–6% over the long term. And when you consider the fact that your rental guests are helping you pay down your principal each month, that appreciation can seem like icing on the cake!
Getting a Foot in the Door in Summit County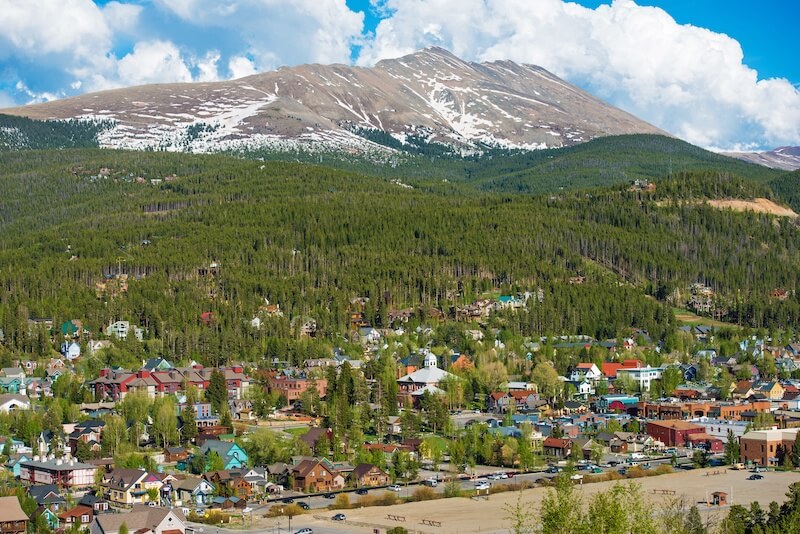 We invite potential investors to think about a "return" that can't be quantified: the pure enjoyment of being in Summit County. Whether you spend a day, a week, or several months at your rental property, you'll enjoy all the things to do in Breckenridge, from skiing and snowboarding to hiking and biking. Inviting family and friends to join you in the mountains will produce memories that last a lifetime, though, after a visit, they may start simply inviting themselves!
How much will it cost to get your foot in the door? Summit County market reports estimate that off-mountain properties cost an average of $400–$600 per square foot, while homes near the mountain's base and close to town will run you upwards of $1,000 per square foot. Keep in mind that amenities are hugely important to pricing, particularly for homes in vacation destinations. But while the purchase price for an amenity-rich property in Breckenridge may be high, those amenities typically translate to much higher rental and occupancy rates.
The Property Management Wrinkle
Once you've invested in a Summit County short-term rental property, you'll have to decide whether to handle property management or hire a company. Managing a rental property can be a lot of work, but hiring a company to handle things will cut into your return on investment.
The cost of property management services can vary greatly depending on many factors, including:
If 24-hour desk staff and security is onsite
How often the home is rented (daily, weekly, or monthly)
Whether interior cleaning is provided
Whether they advertise and collect rental payments
Amount of routine maintenance and repairs desired
It goes without saying that the more services owners want or need, the more a property management company will charge. Typically, the commission rates for vacation rentals fall between 15% and 50% of the unit's monthly income. Rates on the higher end tend to involve high-end properties, full-time vacation rentals, and resort-style condo-hotels in Breckenridge that require an elite level of service from property management companies. Regardless of the services you require, be sure to ask your vacation rental management company comprehensive questions to cover all bases.
Taxes & Regulations for Breckenridge Short-Term Rentals
Breckenridge requires a permit for and collects taxes on short-term rentals. Here's the lowdown on Breckenridge's short-term rental rules and taxes.
The standard 12.275% sales and accommodation unit tax rate is still in place, but as of the end of 2021, there are new regulations on short-term rentals in Breckenridge. Short-term rental licensees are now required to pay $400 per bedroom as of 2022. Primary residents who rent for 21 days per year or less are exempt from this fee. Current business occupational tax licensing fees in Breckenridge, CO, are:
Studio Unit: $75.00
One-Bedroom Unit: $100.00
Two-Bedroom Unit: $125.00
Three-Bedroom Unit: $150.00
Four-Plus Bedroom Unit: $175.00
The short-term rental specialists at The Breck Life Group will help you factor in all of the taxes and fees before making an investment property purchase, as they will directly impact your potential return on investment.
Breckenridge Awaits
If you're considering the purchase of a Summit County investment property, let us help you walk through the numbers, including gross rental revenue, normal operating expenses and mortgage payments, before deciding on the right property for you.