How to Choose a Home Builder: 5 Tips For Successful New Construction
Posted by Pete Deininger on Thursday, May 11, 2023 at 11:45 AM
By Pete Deininger / May 11, 2023
Comment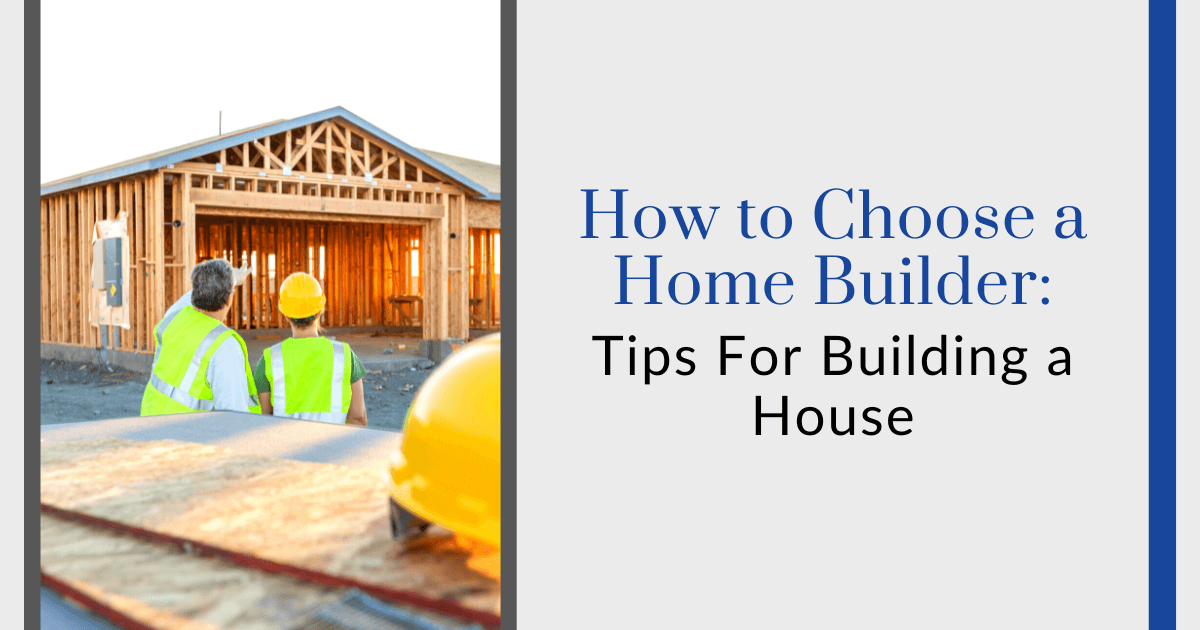 Not many experiences can compare to being the first owner of a new construction home. Whether a buyer desires an urban townhome, a modest single-family dwelling, or a luxury custom home in a gated community, finding the right builder to contract with is essential for a successful project. From their reputation and the style of homes they build to the customizations and warranties they offer, choosing the right home builder is an essential factor to consider before buying a new construction home. Read on to discover what buyers should know when selecting a new construction home builder.
When to Choose a Home Builder
Choosing the right timing to engage a home builder is crucial for the success of your new construction project. The timing of when you select a home builder can have a significant impact on the overall timeline and efficiency of the construction process.
Project planning and design phase: It is advisable to involve a home builder during the project planning and design phase. This allows the builder to provide valuable insights and expertise, ensuring the construction plans align with your budget, vision, and feasibility. By engaging a home builder early on, you can benefit from their knowledge and experience, making necessary adjustments and avoiding potential pitfalls.
Pre-construction preparation: Before the actual construction begins, there are various pre-construction tasks that need to be completed. This may include obtaining permits, securing financing, finalizing the architectural plans, and selecting materials. Involving a home builder at this stage enables them to review the plans, provide cost estimates, offer suggestions on material selection, and help streamline the pre-construction process.
Builder availability and scheduling: Consider the availability and scheduling of home builders when deciding the right time to engage their services. Experienced and reputable builders often have busy schedules, so it's recommended to reach out and discuss your project well in advance. By doing so, you can secure their availability and ensure they have adequate time to dedicate to your project, preventing delays and maintaining a smooth construction timeline.
Seasonal considerations: Seasonal factors may also influence the timing of selecting a home builder. Construction projects are typically affected by weather conditions, especially for certain regions. Consider the climate and weather patterns in your area to determine the most suitable time to start the construction. Some builders may have busier schedules during peak construction seasons, so planning ahead can help you secure their services at the desired time.
Personal factors and flexibility: Consider your personal circumstances and any potential life events that could impact your availability or ability to oversee the construction process. If you have specific timelines in mind or need to accommodate other commitments, communicate these factors to the home builder. Being transparent about your expectations and discussing your availability can help the builder plan accordingly and tailor the construction schedule to meet your needs.
Choosing the right timing to engage a home builder is a critical aspect of successful new construction. Following these tips can help you optimize the construction timeline and enhance the overall efficiency of your project.
Research the Builder's Reputation
Any buyer should do their due diligence to vet the potential builder. Knowing their reputation as a builder and whether they use qualified contractors are two of the most important factors before committing to one. Their level of expertise and experience is likely to impact the results and quality of the final product significantly.
A good starting point involves online searches, where information of specific builders is available to see user reviews or relevant news stories that may dive deeper into the company's reputation. In addition to talking with other local contractors to get their insight on a builder's reputation, obtaining references from previous clients and making inquiries about the builder can help cement a decision.
Pay attention to what types of materials the builders typically use. Are they mid- to top-range quality that are resilient, renewable, and recyclable? What level of detail can they achieve, and what customization options do they offer? Buyers will also want to ensure that contractors communicate routinely throughout the home's construction.
Find out how transparent all parties involved were throughout project delays or other issues. Inquire whether the builder conducted important home inspections and whether permits were obtained appropriately. Of course, ask former clients how clean the work site was kept and attest to the builder's level of pride.
Does the Builder's Style Suit the Buyer's Needs & Lifestyle?
Builders can specialize in one particular construction style or have skilled architects and teams to offer several home styles. Buyers who have a good idea of what they desire stylistically and in their interior design elements will want to ensure that builders under consideration have a proven ability to make that vision a reality.
For example, if builders who typically deal with tract or economy homes decide to pursue luxury home construction, delays could be an unexpected reality. Try to stick with a tried and true builder committed to dealing with similar styles and price points to prevent setbacks.
Even if planning to have a custom home built from the ground up, do everything possible to do walkthroughs of a few current or completed projects by the builder and designers. In-progress builds allow buyers to witness how things operate onsite during construction and evaluate cleanliness, professionalism, and approaches to the design process.
Visiting a model home or one that's currently up for sale lets shoppers get an idea of the contractor's craftsmanship, attention to detail, floor plans, and upgrade options. Remember that model homes in master-planned communities usually contain all the bells and whistles. Ensure to inquire about which features will be included and which upgrades will cause sticker shock.
Are They a Custom Builder, Spec Home Builder, or Tract Home Builder?
There are differences between builders in the type of homes they typically construct. Some may specialize in custom homes or spec homes, while others may be more involved in tract homes.
Custom Home Builders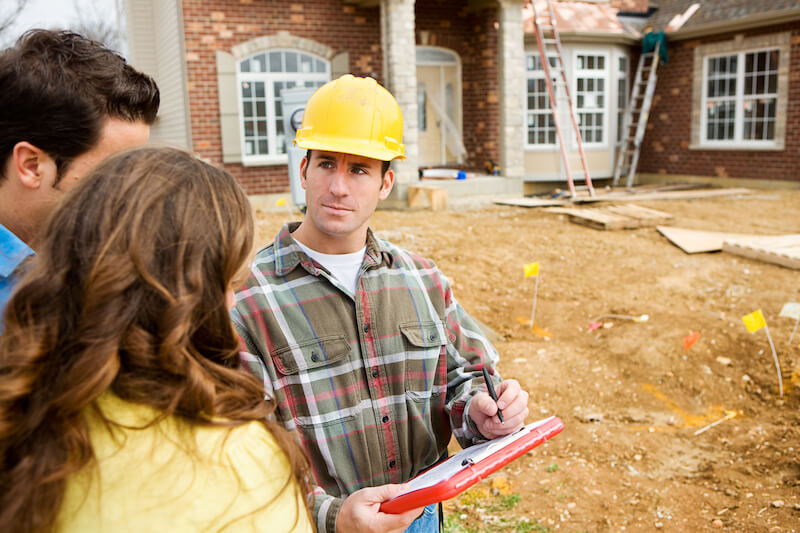 Buyers wanting a one-of-a-kind house constructed in an established neighborhood or on their land will want to hire a custom home builder. These companies generally build homes in small volumes, with often less than a dozen jobs annually, depending on the size of their team. More effort, time, and expense is typically required in a ground-up home build.
Spec Home Builders
Spec homes are constructed by builders who invest in land or lots to build houses to sell. Essentially, builders speculate that they'll make money and often design using styles and incorporating features popular with buyers in the area. These may be custom or semi-custom homes that allow buyers to choose many upgrades and finishes.
Tract/Production Builders
Tract builders are also called production builders because they build large volume housing such as townhomes, condos, and single-family homes nearly identical in communities. The timeline for building these homes is often much quicker and less expensive than custom homes. One drawback is the lack of customization and the use of modest materials for elements like:
Hardware
Cabinets
Appliances
Framing components
Paint grades
Shingles
Carpet grade
Verify Their License, Insurance, & Warranties
Builders and their contractors or others working on the job site need general liability insurance and worker's compensation coverage in states where required. Some states also require contractors and builders to be licensed. It's relatively easy to look up a company on the appropriate state licensing website.
The buyer or builder should carry builders risk insurance, and sometimes the costs are split between the parties but most often are covered by the company. This coverage protects construction sites against theft, vandalism, and natural disasters. Policies typically also cover damage to construction materials, temporary structures, subdivision signs, and landscaping.
Should the builder become insolvent, inquire about any warranties that come with the new home, which typically lasts for ten years to cover builder defects, contaminated land cover, and any deposits made. These are all indicators of qualified new construction home contractors.
Make a New Home Construction Dream a Reality
Buyers should remember the many pros and cons of buying a new construction home. Anyone on the market for a custom, spec, or tract home that is brand new will need to find a builder or work with a community that already has one in place. Depending on the type of home desired, the budget, and time constraints, not all builders are a good fit. These tips for choosing a builder for new construction homes will keep things on track and increase the odds of achieving the desired results for a dream home.