How to Design Your Living Room Around the Fireplace
Posted by Pete Deininger on Saturday, May 14, 2022 at 12:52 PM
By Pete Deininger / May 14, 2022
Comment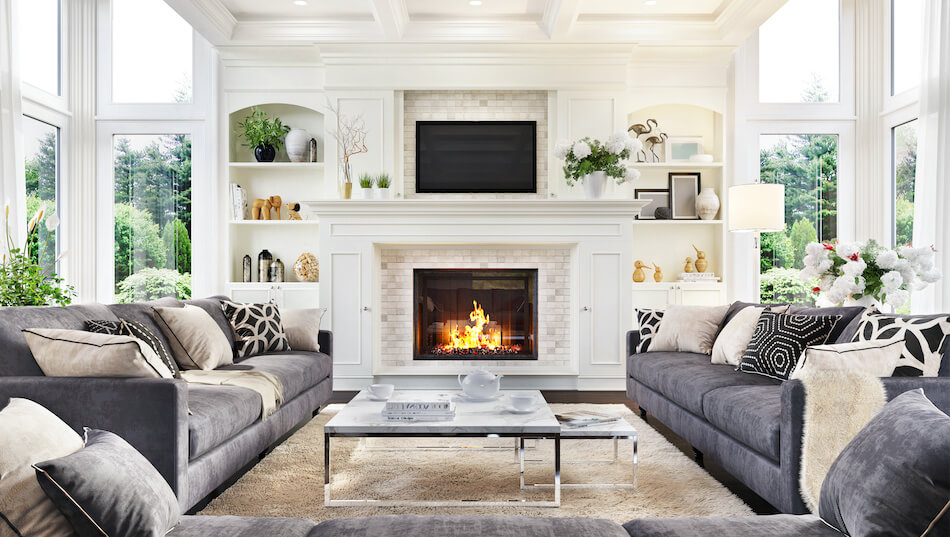 What is it that makes fireplaces so appealing? There are so many things to love about fireplaces. For starters, they're the ultimate symbol of shelter. Historically, open fires can provide freshly cooked food, warmth on the coldest nights, and a gathering place for friends and family. These strategic design tips make homes with fireplaces feel cozier than ever before.
A Brief Fireplace History
People have been designing their homes around fireplaces for centuries.
In fact, the in-ground fire pit is the predecessor of modern fireplaces. It sits in the middle of ancient rooms and is used as a meeting place where people also gather to warm themselves.
Fireplaces may serve slightly different purposes today, but they largely look and function the same.
The fireplace grate was invented long ago (the 1600s), a development from the andirons. Andirons then held massive logs, even chunks of firewood, but the fireplace grate contained the fire, charcoal, kindling, and fuel (wood).
Fenders are made of iron or brass and are used as fireguards. These prevent ash or rolling logs from burning that beautiful area rug right in front of your fireplace.
Add the dust bin, bellows, fireback, fireplace screen, and other tools, and you're ready to start enjoying the crackling flames in your living room.
Designing Around the Fireplace
Fireplaces are more than just a great way to add value to your home. If you're lucky enough to have a fireplace in your living room, you know that it can be a beautiful focal point that ties your open floor plan together. But how do you design the rest of the room around it? Here are some tips to help you make the most of your space.
Learn Balance
An essential element of decorating any living room fireplace is balance. Make sure that the objects you bring to decorate that space are symmetrical or artistically asymmetrical. Homes with a more conservative and classic look should follow the rules of symmetry, while more modern design schemes can be more abstract.
You would also want to pay attention to another element of design – scale. Remember this so that your design pieces will not overwhelm the space. Experiment with different textures, shapes, and colors. You might be surprised at how much you would like a bold color or a lofty statement piece.
Add Layers to Your Mantel
In the South, it is common to see stylized fireplaces and seats arranged to frame this structure. With more layers that are added, the prettier the finished look becomes.
A famous mantel decorating idea in that area is to layer different sizes of unframed or framed art. These can adorn the mantel with many stylish accents; not just stockings during the holidays. You can either hang or use the immediate area around the fireplace as the display zone.
If you have to hang a framed piece of art or a photograph, then make sure you do it at eye level. Just hang it a few inches above the mantel as this is the ideal height.
Local artwork is a more meaningful mantel accessory. Imagine having a locally painted scene of your city or town hung above your living room mantel. It will surely be a conversation catalyst.
Layer also with the living room furniture pieces arranged around the fireplace. Remember that closely-spaced chairs and couches are for intimate conversations, while broader spacing is great for socializing. Putting a solo chair right by the fireplace could mean you want that spot to be your reading nook.
Your Style Matters
Visualize your fireplace as a stage where you should showcase your style. Be creative, bold, and with the correct design elements, you should be able to turn even an unused fireplace from being an eyesore to the living room's focal point.
Know what theme you would like to evoke. Fireplaces look great in rustic, industrial, and any traditional living room, but this doesn't mean you can't have one in a modern or contemporary home.
You can also have the fireplace backlit by onyx if you have a current living room setup. Adding an accent wall will make the fireplace pop. It will become a vibrant mosaic emphasizing the beauty of your fireplace.
If you have a more minimalist taste, you can simply add texture by installing colorful tiles that match the color of the walls. This is a great avant-garde move to unleash your more artistic side.
The fireplace mantel says a lot about your style – whether you're a minimalist or a lover of ornate things. Using the right lighting fixtures and accessories to frame this part of the fireplace is essential.
Mirror, Mirror on the Fireplace Wall
Another excellent fireplace design tip is to hang various shapes and sizes of mirrors instead of the usual one piece above the mantel. Either way, whether you use a statement piece or a group of mirrors, be sure to make the fireplace become the primary design element.
An antique-looking mirror will surely draw the eye to any impressive living room mantel. Add a more modern approach by installing a metal-framed piece.
Accessorize with Plants
A fireplace is often made of hard and heavy materials like stones or bricks, so they tend to weigh down a room, especially if they are not appropriately dressed.
To break these materials' monotony and dry look, you must soften them with fluid lines. And what better and easier way to do this than to bring in some potted plants?
Having a pop of green can complement a wide array of designs. Floral arrangements, on the other hand, add a more feminine look.
Make Your Fireplace the Heart of Your Home
Now that you know how to design your living room around a fireplace, gather around the warm and inviting flames this winter. With these helpful tips and regular fireplace maintenance, you can create a beautiful and functional space for all of your friends and family to enjoy. Be sure to add layers to your mantel and experiment with different styles to find what works best for you. By following these simple guidelines, you'll have everything you need to cozy up by the fire all season long.