Condo Interior Design: 4 Style Tips For Breckenridge Luxury Condos
Posted by Pete Deininger on Tuesday, December 21, 2021 at 6:38 AM
By Pete Deininger / December 21, 2021
Comment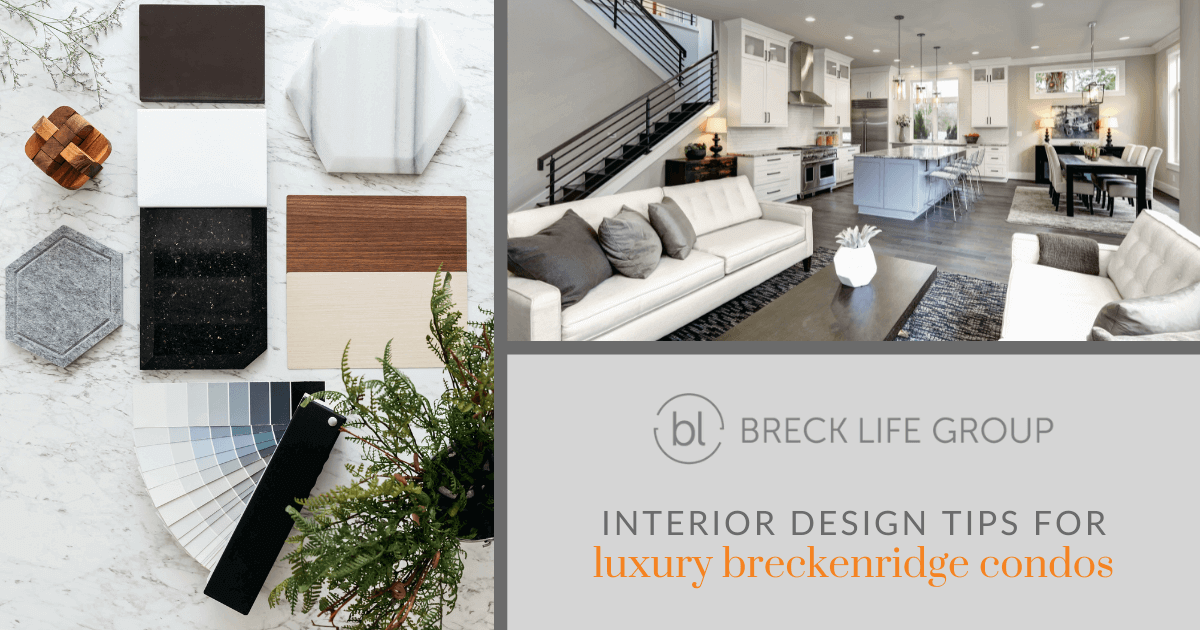 Breckenridge offers residents easy access to world-class ski resorts and a cozy urban vibe. This popular ski town is characterized by amenity-rich condos and beautiful mountain views. Keep reading for luxury ski condo design tips to shed some light on how ski town homeowners can bring out the best in their luxury spaces.
Lean Into the Luxuriously Rustic Aesthetic
Mountain towns often have exceptionally picturesque landscapes. Many ski towns are smack in the middle of the Rocky Mountains, meaning scenic vistas wherever one turns. As a result, most condos in the area are designed to take advantage of the views. There's no better way to capture them than incorporating rustic elements in a condo's interior design.
For instance, heavy timber or reclaimed barn-wood floors paired with beamed ceilings and floor-to-ceiling windows create a rustic aesthetic in an interior and add warmth while enhancing instead of competing with the views. Consider using materials typically used outdoors, such as stone in the interiors. For instance, a stone sink or washbasin is instantly rustic and natural, making an excellent accent or focal point.
However, too many rustic elements can also be heavy and overwhelming in a space. So, balance out the rustic elements with modern or contemporary décor pieces such as modern art and white walls. Play around with ambient and fixed lighting fixtures such as pendant lights over the kitchen island or the dining table. Use granite, quartz, or marble for countertops and similar surfaces. Such materials are reflective and help soften the rugged nature of rustic spaces while giving a high-end and contemporary appearance.
Throw in brightly-colored fabrics, plush fur, and throw pillows to add pops of color and create a clean but luxuriously rustic aesthetic that's in harmony with both the condo's architecture and the laidback natural environment in the Rockies.
Create a Comfortable Space
While rich and warm rustic hues capture raw natural beauty when used in an interior, luxury ski condo owners should try to achieve not just a rustic aesthetic but a cozy and functional space. Invest in large, natural-hued armchairs and deep-seated sofas that complement the rustic style while creating comfortable areas for relaxation.
Get large, deep-seated lounge sofas to stretch on after a long day of skiing, throw in faux-fur blankets, and layer patterned or colored throw pillows to snuggle into when it's chilly while adding visual texture to the space. The goal should be to achieve a space that complements the beautiful surroundings while creating a contrast between the indoors and the snowy outdoors.
Consider making the fireplace a focal point and building the living and lounging areas around it to achieve a space that provides an excellent escape from snowy weather. For bedrooms, think silky or plush velvet textures to contrast the wooden and rustic elements, and play around with earth tones like brown and gray, paired with ambient lighting to make the rustic elements stand out while still achieving a cozy space. Stock the kitchen with plenty of mugs and a good coffee machine (or tea kettle or hot cocoa mix), and use fixtures and appliances that complement the design.
Are you interested in living in a luxurious Breckenridge condo? View all Breckenridge condos for sale.
Plan Around Playing Hard
One of the advantages of a luxury condo in a ski town is that many are only a short distance from the gondola. Residents and visitors love ski-in, ski-out condos because they can wake up, hop on a ski lift just outside, and get back home just as conveniently. While designing a luxury condo's interior, keep such activities in mind, and design a ski-in ski-out condo so that it creates a smooth-sailing transition from the slopes to the condo's cozy interiors.
Use durable flooring materials that can withstand heavy traffic and are easy to clean on the entryway, such as brick floors with radiant heat or slate flooring. Add a custom, free-standing, or built-in bench with open storage beneath where one can sit to remove wet ski shoes and snowsuits, set up hooks for snowy ski clothes, and get stackable shelves or floor-to-ceiling cabinets for wet ski gear. Use easily washable and endurance fabrics when designing the mudroom as they're easy to clean and generally perfect for a high-traffic area.
Embrace Nature-Themed Colors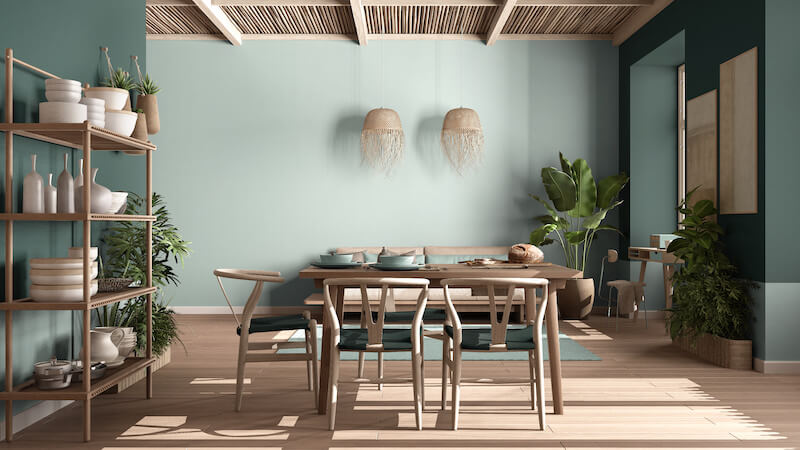 To recreate nature's tranquil vibes in a luxury condo, go neutral by using shades like cream and rusty red to complement the rustic aesthetic and add warmth and energy to a luxury condo while enhancing the cozy factor. Opt for a deep green color palette to perfectly capture the trees or a warm gray to reflect the clouds to achieve a space that blends the indoors with the outdoors.
Other great naturalistic colors that work well in a rustic-styled space include orange, white, brown, black, and even blue. While reviewing color options, consider adding a large wooden mirror in blank spaces overlooking the outdoors, such as on a wall opposite a floor-to-ceiling window or a small entryway. It'll create an illusion of space while reflecting the beautiful and serene outdoors during different seasons, becoming a piece of live art.
Creating Fantastic Luxury Spaces in Breckenridge
Although Breckenridge is already a great place to call home, owners of a Breckenridge luxury condo can make it even better by enhancing their interior spaces. There are so many ways to turn a luxury condo investment into a cozy mountain retreat. From using nature-themed colors such as rusty red to enhance the rustic appeal and bring the outdoors into layering faux throws to create a functional but cozy space, homeowners have many options!