Pet-Friendly Breckenridge: Carter Dog Park, Breckenridge Gondola & More
Posted by Pete Deininger on Monday, October 3, 2022 at 11:37 AM
By Pete Deininger / October 3, 2022
Comment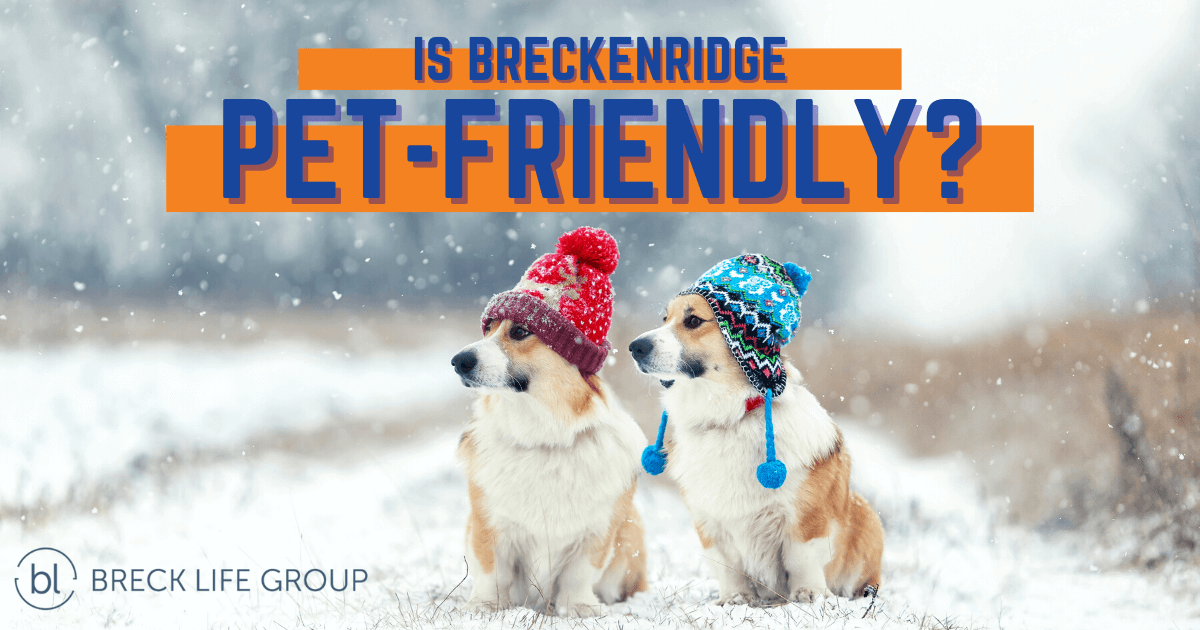 There's no question that the town of Breckenridge is a great place to live for humans, but what about dogs? There are several great dog parks in town amid Breckenridge's luxury homes, ski-in chalets, and boutique shops. Some are in the best parks in Breckenridge, with amenities for humans after the pups play in their dedicated areas.
But wait—there's much more than just dog parks for pets around town. Several activities, shops, restaurants, and accommodations welcome dogs, too! Let's fetch some information about some of the top dog parks and dog-friendly activities in Breckenridge, Colorado.
Play at Carter Park Dog Park
The Carter Park Dog Park is open year-round and has a full acre of fenced-off space for dogs to play, run, and socialize. This off-leash park has areas for large dogs and a separate zone for smaller dogs, and there is a pet water fountain near the entrance and exit gates.
The designated dog area features a mostly flat surface of dirt and grass. After rainfall or snow melts, it can get muddy, so bring a drying towel to use before heading home. The views of the mountains are stunning, and human companions can soak in the sights from tables and benches just outside the dog park.
The dog park is part of Carter Park & Pavilion, one of the community's most popular locations for gatherings and events year-round. Those looking for amenities will find plenty of outdoor pursuits in this spacious park. There are tennis courts, pickleball courts, baseball diamonds, sand volleyball courts, and open recreation fields, and all are free to use. The hill is used for sledding in winter, and heated restrooms are conveniently onsite.
Carter Park Dog Park Additional Information
Address: 300 S. High Street, Breckenridge, CO 80424
Hours: 9 a.m. to 4 p.m.
Phone: (970) 547-3119
Ride the Breckenridge Gondola
The BreckConnect Gondola is open from mid-June to mid-September and from early November to May. The gondola has become a favorite experience for locals and visitors since its opening in 2006. Each pod can hold up to eight riders, and pups are permitted on board, too!
The BreckConnect Gondola carries passengers in heated and enclosed cabins from the base of Peak 8 to its summit, and the ride takes approximately 13 minutes. Along the route, passengers will cruise over picture-perfect views, including the Cucumber Gulch Wildlife Preserve, Ten Mile Range, and the luxury homes in Shock Hill.
Once arriving at 7,500 feet after a 400-foot vertical lift, passengers can hop off at the top of Peak 8 and have a meal and a drink on the outdoor patio at the pet-friendly Ullr Café. After having a howling good time, explorers can head back to the base of the mountain or proceed on to Peak 7 on the Breckenridge Gondola.
This segment of the trek takes passengers and pups to locations that include the Grand Lodge, Pioneer Crossing lodge, and the Independence. The gondola is a great way to scope out outdoor activities in Breckenridge. Riders can access the gondola from the northern and southern areas of the mountain at the Welcome Center or park in the free Breck bus shuttle parking lot.
Breckenridge Gondola Additional Information
Address: 170 Watson Avenue, Breckenridge, CO 80424
Phone: (800) 536-1890
Dog-Friendly Restaurants in Breckenridge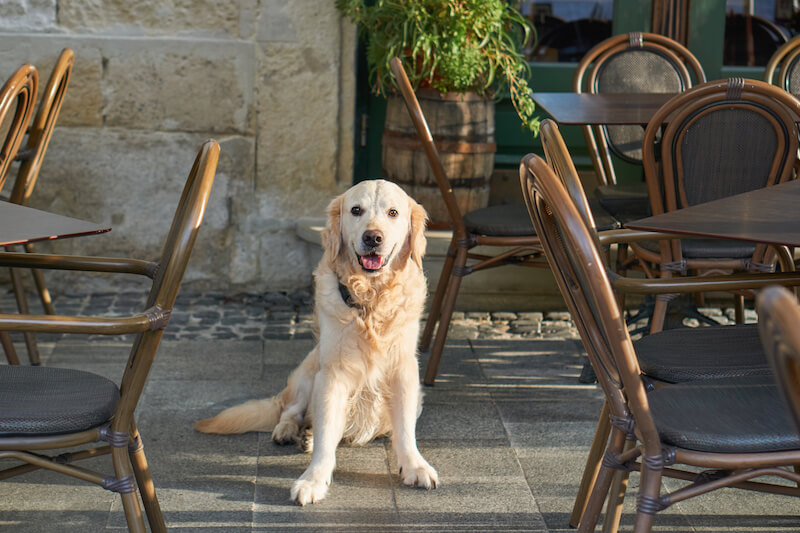 Pups and their human companions can have a great time together at several tap houses and pet-friendly restaurants in Breckenridge, Colorado. Several options around town will have everyone begging for more!
The Kenosha Steakhouse & Bar offers in-house aged steaks, BBQ, burgers, steamed lobster, juicy ribs, and more than 30 beers on tap, including over a dozen Colorado craft beers. Dogs are welcomed with a bowl of cool water at the picnic tables at the back, so book room for the pack early to get your paws down at this hot spot.
Pups and their humans can ignite their love for epicurean cuisine at Ember, where pets are welcome on the patio to soak in the remarkable mountain views. Ember is a well-known Breckenridge Distillery, and their weekday happy hour gets both tongues and tails wagging with tasty appetizers and clever brews.
Fatty's Pizzeria, a dog-friendly sports bar and pizzeria, has fun and food for all. As the oldest pizzeria in Summit County, the property is filled with history. If pizza isn't a favorite for the crew, the menu has an excellent selection of wings, salads, sandwiches, and pasta.
Empire Burger is proud to serve juicy burgers, sandwiches, hand-cut fries, and freshly battered onion rings. The specialty sauces are excellent, as are the free dog biscuits!
Dog-Friendly Shopping in Breckenridge
Several popular Breckenridge shops welcome pets on leashes, so owners and their pets can shop together in the community. Canines can be groomed and bathed at the Dog House and then head next door to pick up some new toys, treats, and supplies at Animal Lovers Pet Supply.
On Main Street, the For Pets' Sake thrift shop carries human goods, but the proceeds fund the Animal Rescue of the Rockies. Stop in with a leashed pup and check out the excellent selection of gently used clothing, housewares, jewelry, and more.
The North Face shop in Breckenridge is pet-friendly, and dogs are allowed to peruse the store's vast selection of outdoor apparel. This is the ideal place to stock up on ski gear, water vessels, seasonal clothing, snow boots, and more for any outside excursion. Marmot Breckenridge is another outdoor recreation store that opens its doors for people and leashed pets seven days a week.
Breckenridge, CO Pet-Friendly Lodging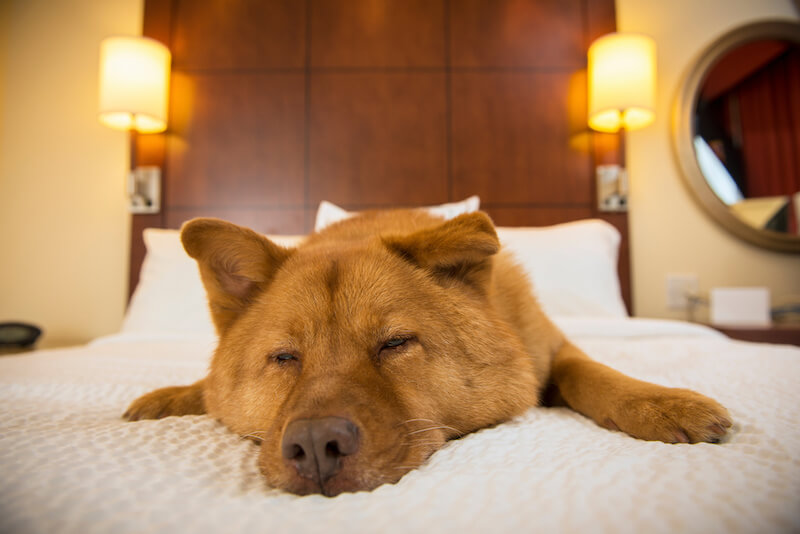 Those on the prowl for a fabulous oasis for themselves and their furry friends will find plenty of options at numerous pet-friendly accommodations in Breckenridge, CO. Let's take a scratch at revealing top lodging options.
The Lodge at Breckenridge
The Lodge at Breckenridge offers cozy accommodations for canines and their human companions. Pet rooms are limited, so book early to secure a spot for Fido. Ten percent of pet fees are donated to the local Summit County Animal Control and Shelter.
Colorado Pines Inn
Take respite at Colorado Pines Inn, a lovely mountain home on Peak 7, where there is one dog-friendly room on the property. The room has a sliding door to let pups out quickly, and the host offers healthy evening treats for two-legged and four-legged guests. This small rental lodge has something for everyone, and the hosts are highly responsive to lodgers' needs.
The wooded areas around the property are as impressive as the English country-style interiors. There is a sizable hot tub for stargazing and soaking sore muscles after a day playing on the mountain.
There are numerous activities near Colorado Pines Inn, including hiking, golfing, canoeing, horseback riding, fishing, skiing, and much more. Schedule a reservation during some of the most popular local events and festivals, like the Summer Music Festival during warmer months.
Moose Mountain Lodge
Moose Mountain Lodge is a unique pet-friendly vacation rental in Breckenridge with three bedrooms, a large family room, luxurious bathrooms, and an outdoor kitchen and deck complete with a six-person hot tub. Guests can access free WiFi, complimentary parking, and a laundry room. Its convenient location on Peak 7 makes it an ideal rental for those planning to enjoy all this peak has to offer.
Other Things Breckenridge Pet Owners Should Know
Those planning to bring their pet into town or rent a room in Breckenridge will want to know some key aspects of dog etiquette. While dogs are welcome in most places around the community, there are a few places where dogs aren't welcome, including:
Kingdom Park's Fields
Riverwalk Center Lawn
Cucumber Gulch
Breckenridge Golf Course
Of course, any businesses and areas with signs restricting dog access should be considered pet-free zones. Regardless of where one goes in town, it is required that owners pick up any solid waste after them, and there are poop bags and trash receptacles throughout the community. Failure to do so could result in a citation and a fine.
Leash laws are strict inside the town limits, but dogs can run free outside of town as long as they can respond to voice commands. Learn more about dog regulations in Breckenridge at the city's website.
Breckenridge is An Excellent Place to Be a Dog (and a Dog Owner!)
Breckenridge, Colorado, is a pet-friendly community in the heart of the Rocky Mountains. Between the shops, restaurants, parks, trails, and local activities that allow well-behaved leashed pets, there's always plenty of fun things to do in Breckenridge without leaving your dogs at home!
If you're looking for the perfect Breckenridge home, contact Breck Life Group with eXp Realty at (970) 409-4787 to get in touch with a local Breckenridge real estate agent and discover your new dream home today.