10 Things to Love About Living in Dillon: Natural Beauty Meets Modern Convenience
Posted by Pete Deininger on Thursday, October 12, 2023 at 10:40:19 AM
By Pete Deininger / October 12, 2023
Comment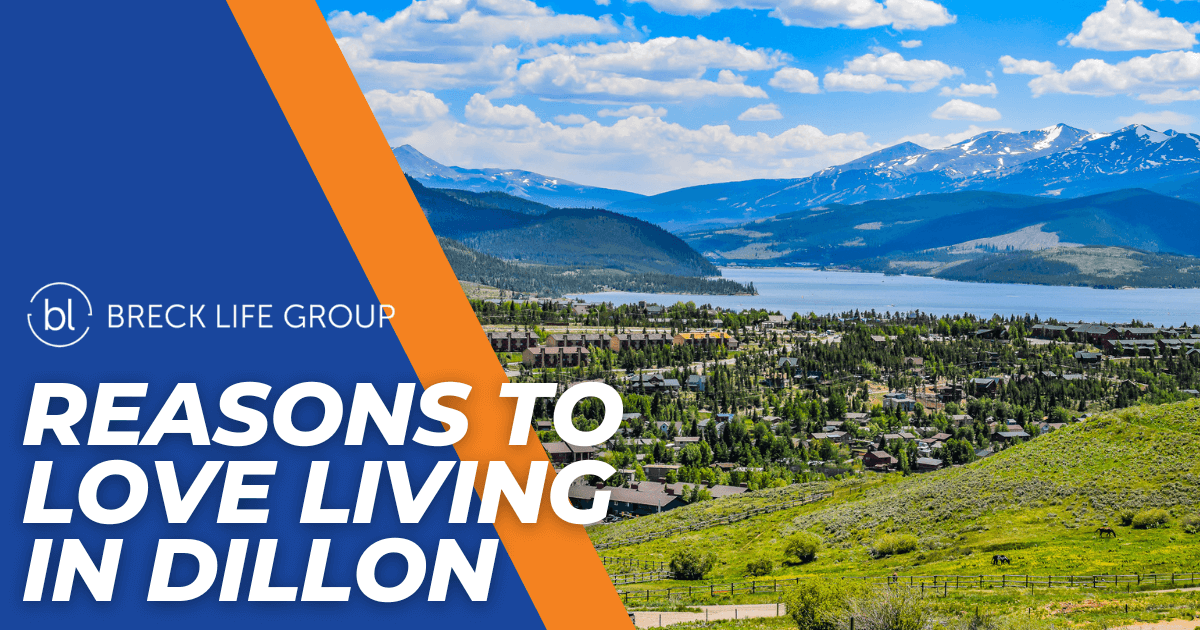 Dillon offers more than just a picturesque backdrop; it's a gateway to year-round fun in Summit County. Located on the banks of Dillon Reservoir, this charming town of just over 1,000 people is a haven for outdoor enthusiasts. Whether you're drawn to the allure of serene boating and invigorating hikes during the summer months or the thrill of carving down snowy slopes at renowned resorts like Keystone and Breckenridge come winter, the town won't disappoint.
Moving to Dillon means making every day feel like a vacation. With the famous Ice Castles event, dozens of fantastic shops, and countless outdoor activities, homes in Dillon are surrounded by a lifetime of adventure.
10 Reasons Dillon Is a Great Place to Live
Stunning Natural Beauty: Situated on the banks of Dillon Reservoir, residents enjoy breathtaking water views against a mountainous backdrop.
Outdoor Recreation: From boating and fishing in the summer to sledding and ice skating in the winter, Dillon is a hotspot for outdoor activities all year round.
Proximity to Ski Resorts: World-renowned ski resorts like Keystone and Breckenridge are just a short drive away, making weekend ski trips easy and convenient.
Unique Events: The annual Ice Castles installation is just one of the many events that make Dillon special, attracting visitors and locals with its icy allure.
Established Year-Round Community: While tourism is an enjoyable aspect of life in Dillon, most residents live there all year.
Cultural Attractions: Dillon boasts an array of cultural attractions, including outdoor entertainment at the famous Dillon Amphitheater.
Tasty Alpine Dining: The town offers a variety of dining options, catering to a range of palates, from gourmet restaurants to cozy cafés.
Convenient Summit County Location: With the town of Silverthorne, Breckenridge, and the Frisco community all a short drive away, Dillon residents are well-positioned to explore all of Summit County.
Luxury Real Estate: Whether it's a waterfront condo or a remote mansion, the Dillon real estate market is flush with luxurious homes for sale.
Close to Denver: Dillon is less than 70 miles from Denver, making it a convenient drive to the big city.
The Dillon Lifestyle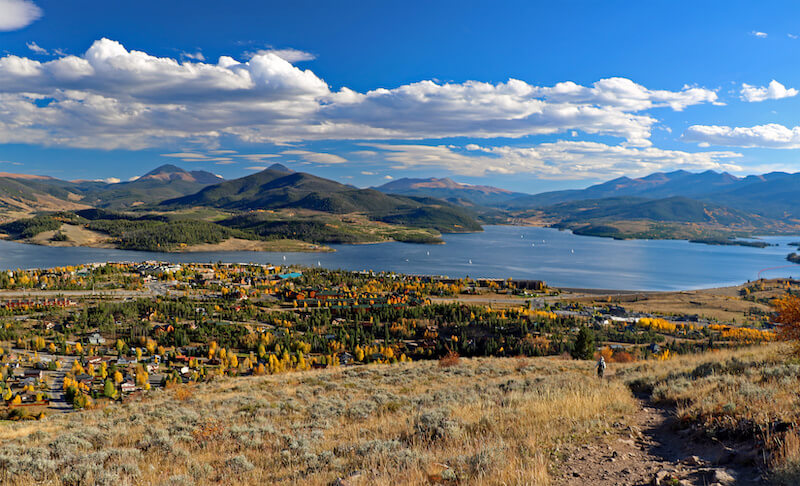 Time spent outdoors is a shared passion among Dillon locals. With Colorado's playground at their doorstep, residents are immersed in activities that can be enjoyed any time of year. Less than 10 miles away lies the Keystone community and its renowned Keystone Resort. A 20-minute drive will get you to Copper Mountain and even more ski runs. Breckenridge Ski Resort is just 30 minutes from Dillon, serving as another impeccable winter wonderland.
Dillon Reservoir also enriches the local lifestyle. Boat owners find Dillon Marina invaluable, offering easy access to the expansive reservoir. The serene waters invite both seasoned and novice kayakers and paddleboarders alike, allowing them to glide peacefully amidst picturesque mountain reflections.
However, life in Dillon is not solely about rustic escapades. The town seamlessly blends its rugged roots with a touch of elegance. Amidst its natural charm, Dillon offers many upscale shopping experiences, ensuring that residents do not compromise on luxury. Moreover, the city provides all the essential amenities one might desire, ensuring convenience is always at arm's length. In essence, Dillon offers a lifestyle that perfectly marries the thrill of the wild with the comforts of modern living.
Types of Homes For Sale in Dillon
Real estate in Dillon is some of the most desirable in Summit County and all of Colorado. Topping the list is the town's highly sought-after share of the luxury homes in Summit County, and potential homeowners have a range of opulent options to consider.
Condominiums often represent the most affordable entry into this upscale market, but with affordability comes no compromise on grandeur. Particularly, communities such as the Yacht Club and Dillon Bay in Corinthian Hill are revered for their mesmerizing water views. Condos for sale in Dillon cover a broad price and size spectrum, ranging from the $300s for a 500-square-foot unit to nearly $1.3 million for a luxurious 1,600-square-foot condo. Those looking to invest in a condo can expect average prices to float between $600,000 and $900,000.
Single-family homes are often a go-to choice, with prices generally ranging from $800,000 to $2 million. Water-view homes in Dillon are among the most sought-after and trend toward the higher end of the price spectrum. Detached properties range from charming A-frame-style hideaways to modern-mountain masterpieces with waterfront privileges.
Dillon Amenities
Dillon offers many amenities ranging from convenient public transportation to county-wide recreation centers. Its shopping landscape, highlighted by the Dillon Ridge Shopping Center and unique boutiques on Main Street, seamlessly combines convenience with local charm, enhancing the town's overall quality of life.
Local Services
The town of Dillon and Summit County work together to offer various services to support its residents' everyday lives. Summit County's bus line, Summit Stage, provides a Dillon-Silverthorne-Keystone route for convenient connections between the three communities. The bus runs from about 5:15 a.m.–11:15 p.m.
Also nearby is the Silverthorne Recreation Center. This newly updated facility features an indoor lap pool, waterpark, fitness classes, and sports leagues for adults and kids.
Shopping
Shopping in Dillon offers both convenience and a touch of local charm. The Dillon Ridge Shopping Center is a one-stop destination for many residents' daily needs. This comprehensive center boasts a City Market grocery store, ensuring fresh produce and household necessities are always within reach. REI provides a range of recreational gear and equipment, while Petco ensures our furry friends aren't left wanting. Rounding out the essentials, Walgreens caters to pharmaceutical and miscellaneous needs.
Beyond the convenience of the shopping center, Main Street adds a distinct flavor to Dillon's shopping experience. Here, local gems punctuate the street, with the Dillon Farmers Market offering seasonal bounties that are both fresh and local. If residents can't find something in Dillon, shopping in Breckenridge is feasible, thanks to the proximity.
Things to Do in Dillon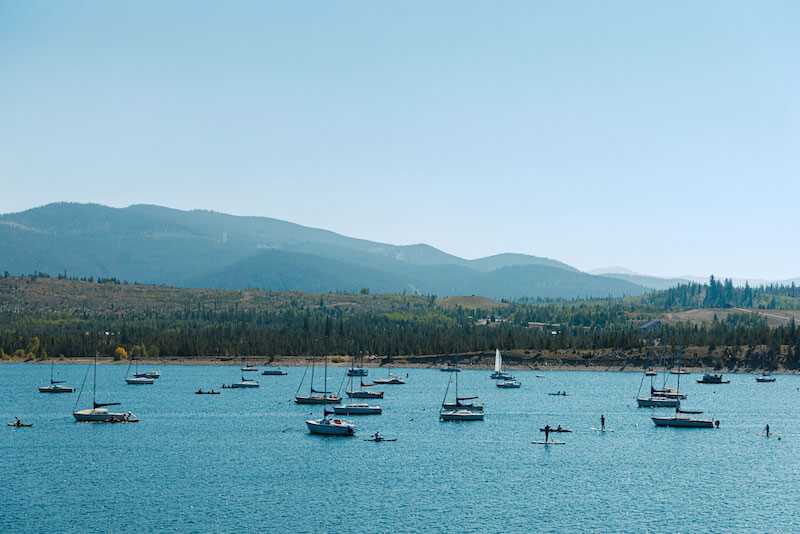 Skiing and snowboarding may steal the show, but there's so much more to do in Dillon. Whether you want to see a concert, check out a local brewery, or get out on the water, there's an activity for everyone to enjoy in Dillon.
Skiing, Hiking & Parks
When the landscape is blanketed in white, skiers and snowboarders flock to the nearby renowned ski resorts, including Breckenridge, Keystone, Copper Mountain, Arapahoe Ski Basin, and Vail. As the snow melts away, these mountainous terrains transform into idyllic spots for mountain biking and hiking.
Within Dillon, trails like Ptarmigan Trail and Tenderfoot Mountain Trailhead beckon to be explored, offering awe-inspiring views and invigorating hikes. The best trails in Breckenridge, Keystone, and beyond are also all within reach. The expansive Dillon Reservoir elevates the town's outdoor appeal with many water-based activities. Whether you're drifting on its tranquil waters on a boat, gracefully paddleboarding, kayaking, or seeking a catch on a fishing charter, the reservoir promises serene moments.
Dillon Town Park is not only equipped with a playground, climbing wall, and a multi-use field, but it also hosts the mesmerizing Ice Castles event, turning the park into a winter wonderland. A stone's throw away, Dillon Marina Park enchants visitors with its picturesque waterfront, inviting walking trails, a thought-provoking sculpture garden, and the Dillon Amphitheater.
Skiers and snowboarders deciding where to live in the area frequently consider communities like the town of Breckenridge, Vail, and Keystone, but Dillon's convenient location provides easy access to all of the area's mountains. This, combined with the far more affordable real estate, has many homebuyers set on moving to Breckenridge or Vail considering Dillon instead.
Best Restaurants
Dillon, Colorado, renowned for its breathtaking landscapes, also boasts an impressive culinary landscape. At the historic Arapahoe Cafe & Pub, diners can relish modern twists on American comfort food within rustic interiors. Dillon Dam Brewery, one of the state's largest brewpubs, entices with an extensive array of handcrafted beers and dishes like the lauded fish and chips. Meanwhile, Pug Ryan's Brewing Company, named after a famed outlaw, marries lore with flavor, offering award-winning craft beers alongside mouthwatering dishes.
Local Attractions
Nearby Breckenridge, often celebrated for its world-class ski resort, offers a wealth of activities beyond the slopes. Plus, Breckenridge's public transportation makes movement around the community a breeze. History enthusiasts can journey back in time at the Breckenridge Heritage Alliance, exploring preserved buildings and mines that tell tales of the town's rich past. The arts district of Breckenridge stands as a testament to its vibrant cultural scene, with workshops, galleries, and events that nurture creativity.
Nature lovers can embark on picturesque hikes, such as the trail to Mohawk Lakes or the Boreas Pass, both promising breathtaking vistas. The town's Main Street, brimming with unique boutiques, artisan shops, and gourmet restaurants, invites leisurely strolls and indulgent culinary experiences. And for those seeking relaxation, the numerous spas in town offer rejuvenating treatments against the majestic Rocky Mountains.
Employers Near Dillon
The employment landscape is shaped significantly by the community's unique characteristics and its mountain locale, and many Dillon residents commute to participate in the larger Breckenridge economy. The Summit County government dominates the roster of employers, which oversees numerous essential services and operations vital for the region's smooth functioning. The Summit County school district plays a pivotal role in shaping the educational framework and as a significant source of employment, providing opportunities for educators, administrators, and support staff.
The Town of Dillon is also a significant employer. Furthermore, given Dillon's allure as a travel destination, the tourism and hospitality sectors are thriving, creating thousands of jobs. From hotels to restaurants, adventure sports to events, the influx of visitors to this picturesque town ensures robust demand for professionals in these industries, underscoring the importance of tourism in Dillon's economic tapestry.
Schools Near Dillon
Dillon is part of the Summit County School District, which also operates the schools in Breckenridge. Students will start with Dillon Valley Elementary, which offers a comprehensive curriculum designed to cultivate foundational skills and knowledge. For older students, Snowy Peaks High School is located in the nearby town of Dillon.
Beyond the public school system, Main Street in Dillon is home to Lake Dillon Preschool, providing early education in a nurturing environment. Additionally, for those pursuing higher education or seeking to enhance their skills, Colorado Mountain College's Dillon campus offers a range of courses and programs, making education accessible right in the heart of town.
Love Nature? Move to Dillon!
Dillon is a great place to live, well worth consideration for anyone thinking of buying real estate in Summit County. Its prime location offers unparalleled access to year-round recreational activities, from boating on the pristine Dillon Reservoir to hiking picturesque trails. The thriving local economy, bolstered by both government and tourism sectors, provides ample employment opportunities. With its rich mix of events, upscale shops, gourmet dining, and a close-knit community spirit, Dillon encapsulates the essence of mountain living in Summit County.
Dreaming about living in Dillon? Call Breck Life Group with eXp Realty at (970) 409-4787 to talk with a local real estate agent who can help find the perfect home in Dillon for you.