Living in Highlands at Breckenridge: 9 Things You Need to Know Before Moving to Highlands
Posted by Pete Deininger on Thursday, April 20, 2023 at 10:07:05 AM
By Pete Deininger / April 20, 2023
Comment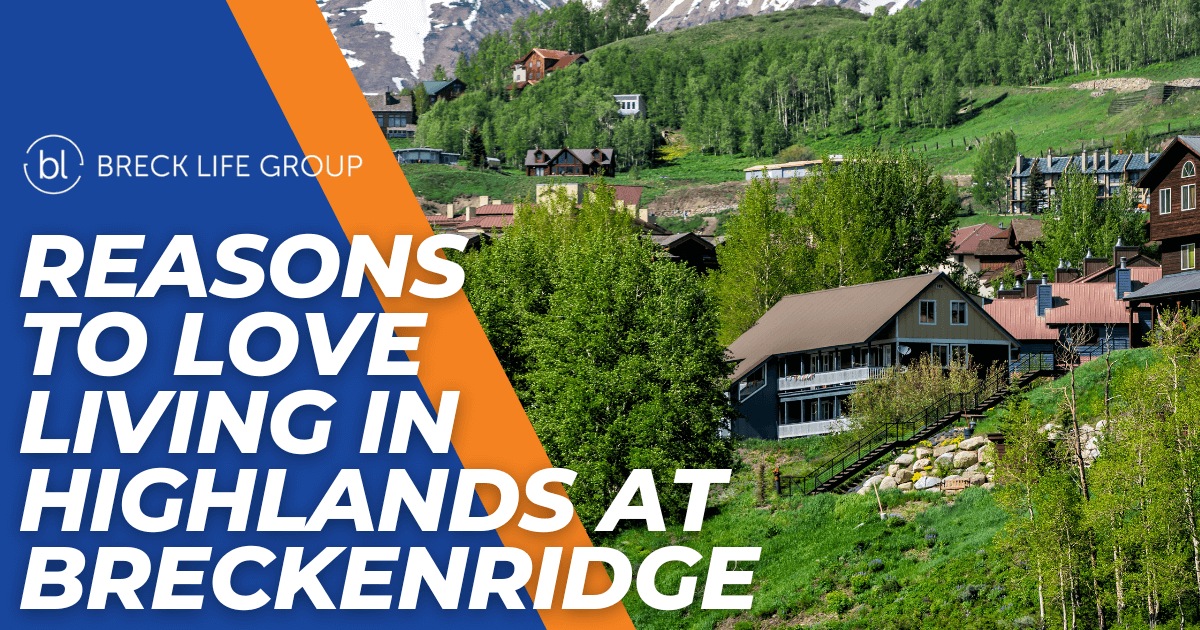 Living in the Highlands at Breckenridge puts residents within minutes of a world-class ski resort, premium golf course, and amenities galore. The custom home designs are second to none, offering endless opportunities to soak in the serene high-alpine ambiance. Between the community's idyllic location and luxurious offerings, it's clear why this area attracts so many people looking to enjoy a high standard of living.
At 9,600 feet above sea level, homes for sale in the Highlands at Breckenridge invite buyers to enjoy the best of mountain living. Here's a closer look at why someone should consider living in the Highlands at Breckenridge.
8 Reasons to Move to The Highlands at Breckenridge
Beautiful mountain views
Easy access to the Breckenridge Public Golf Course
Large luxury homes
Just 10 minutes from Downtown Breckenridge
10 minutes from Frisco
16 minutes from Silverthorne
Several communities to choose from
Breckenridge Recreation Center
The Highlands at Breckenridge Lifestyle
The Highlands at Breckenridge is a luxury suburb within the northern city limits to the east of Highway 9. Lots for new construction homes in the subdivision range from about 0.5 acres up to around 10 acres in size. Dozens of lots in the neighborhood have been preserved as open spaces. The Highlands has trail markers noting public hiking, biking, and cross-country skiing trails. Owning a home in the Highlands gives the property owner discounts at the Breckenridge Recreation Center, the Breckenridge Golf Club, and the Breckenridge Ice Rink.
Luxury custom homes fill the neighborhoods across the Highlands at Breckenridge. Their stunning floorplans exceed the area's build standards and have been kept well-maintained since their construction in the late 1990s. Each home sits in a private high-alpine setting yet enjoys connections to city water, sewer, and power.
From every vantage point, residents can enjoy views of the golf course, Breckenridge Ski Area, and rolling hillsides all around. The picturesque scenery gets even better while lounging on the second-floor balconies at sunset. Between the upscale amenities and panoramic views, there's little reason to leave home. But residents can still find plenty of things to do in town whenever they want to get out of the house.
Communities Within Highlands at Breckenridge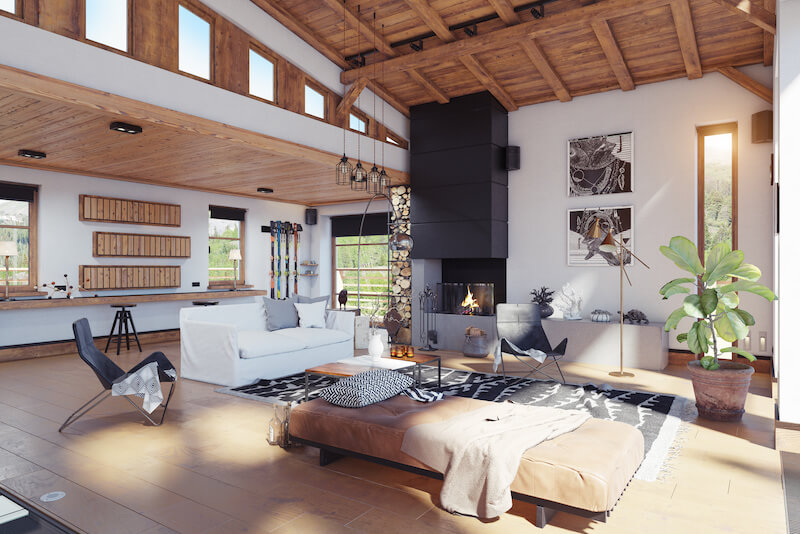 There are many different subdivisions within the Highlands neighborhood. All new homes within the Highlands must meet building codes and approval from the town. Here are some different communities within the Highlands and the home price ranges one can expect to find in them.
Braddock Hill: This hilltop on Highfield Trail has a group of luxury homes that circle the top, each with spectacular views of the valley. Homes for sale in Highlands at Braddock Hill list for around $3 to $3.25 million.
Crescent: The Crescent community is south of the Breckenridge Golf Club on Fairways Drive. A 3-bedroom luxury cabin can run as high as $2.8 million.
Discovery Hill: Located south of the golf course, this eastern hillside community has some fantastic three- and four-bedroom luxury cabins near the Breckenridge Ski Lodge. Homes in Discovery Hill are in the $4 million range.
Gold Run: Gold Run Road passes some historic mines east of Highway 9 and further south of the golf course. Homes for sale in Gold Run can vary more along this road based on elevation and the views provided, but they have sold for between $2.8 and $3.8 million.
Highlands Golf Course: Marksberry Way begins at Tiger Road and extends around the western and southern edge of the golf course to make up the Highlands Golf Course community. Modest golf course homes and cabins in this neighborhood can sell for $2 to $2.5 million.
Across all the neighborhoods, the homes have a rustic arts and crafts design with exposed beams, metalwork, and stone accents throughout. Enormous picture windows let in tons of natural light, while the second-story balconies offer unmatched views of the surrounding evergreen forest. Open floorplans make excellent use of the 4,000-plus-square-foot layouts, managing to make the interior designs look even more spacious than they already are.
From the outside looking in, the homes are a true sight to behold, with their commanding presence offset by rich, warm lighting. Two- to three-car garages and porte-cochere entrances are a common sight, as are huge wraparound patios perfect for entertaining guests. With up to 10 acres of space on each property, towering trees set against the open sky beautifully frame each dwelling.
Highlands at Breckenridge Amenities
Highlands at Breckenridge is conveniently located near amenities, neighborhood services, shopping, and more.
Neighborhood Services
Breckenridge is a small town, but the resort brings in a lot of business during winter. This allows the city and the resort to financing an accessible transportation system of shuttle buses. Breck Free Ride doesn't cost a thing to ride. The Green Route runs from the Highlands neighborhood south to the Breckenridge Station Transit Center, making it possible to head into town for work or shopping before heading home on another shuttle, all at no cost.
The Breckenridge Recreation Center is located near the base of Highlands Drive, on the west side of Highway 9. The rec center has an indoor aquatics area and pool, a gym, a fitness center, a climbing wall, an outdoor skatepark park, and personal fitness trainers.
Neighborhood Shopping
Several specialty businesses are on the west side of Highway 9 from the neighborhood. That's where Black Tie Ski Rental is located. Those who prefer to rent a pair of skis for several days can deliver a pair directly to a homeowner in the Highlands. Animal Lover's Pet Supply is located in the same area for pet food or supplies.
For the closest groceries, Highlands residents can drive south into Breckenridge. There is a City Market, City Liquors, and City Market Fuel Center at North Park Avenue and Main Street.
There's also the option to travel up Highway 9 to reach Frisco or Silverthorne. To get the essentials, residents just have to stop at Walmart, Safeway, and Whole Foods Market in the shopping center near the Grand Army of the Republic Highway. Additional shops in that area include Epic Mountain Gear, Big O Tires, Rebel Sports, and Natural Grocers.
For even more shopping adventures, residents can continue on to Silverthorne. In that city, there's a sprawling outlet mall with clothing stores, souvenir shops, and everything in between. If they continue north, they'll find Target, Murdoch's Ranch & Home Supply, and the Habitat for Humanity ReStore.
Things to Do Near Highlands at Breckenridge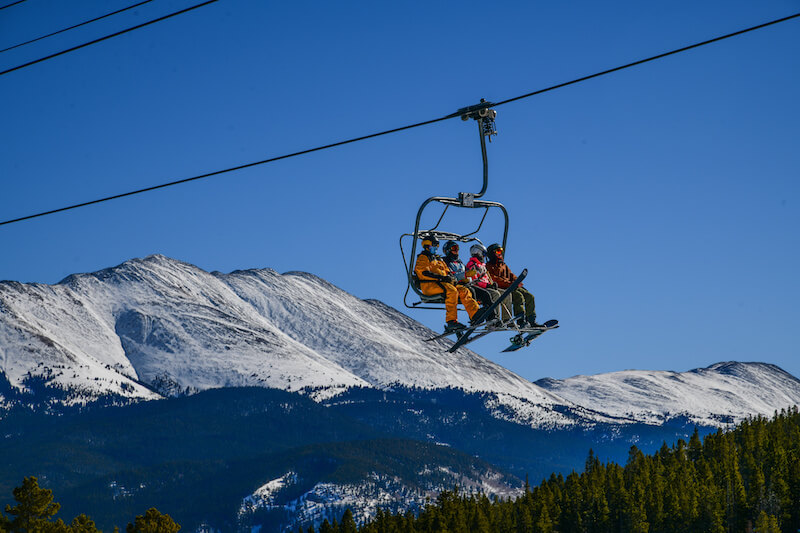 Breckenridge is a year-round playground for people who love the outdoors. Living in the Highlands at Breck means full-time outdoor activities, from skiing to golf. But it also means that the city's fine dining, premier Colorado breweries, and nightlife are just minutes away, along with some nearby attractions that every Highlands resident should visit at least once. Here's a look at some of the many activities available for residents of the Highlands at Breckenridge.
Outdoor Activities
The Breckenridge Golf Club is hard to miss for anyone in the Highlands neighborhood. Golf legend Jack Nicklaus designed this 27-hole signature course, a significant feature in the Highlands. The three nines at the club are named the BEAR, the BEAVER, and the ELK. This course is at 9,300 feet in elevation, presenting different challenges and obstacles compared to a lower-elevation course. Homeowners in the Highlands receive discounts on rounds of golf here. The course is open from early June until late September each year.
The Breckenridge Ski Resort is the town's pride and joy. It can't be understated how much the resort and the tourism that the ski runs generate each year contribute to the Breckenridge economy. Not to mention the sheer fun every winter! For even more snowy fun, head to the Runway Sledding Hill at the airport parking lot or one of the numerous other nearby ski areas.
In between runs, shopping, dining, and spa treatments easily fill the day. When warm weather arrives, the kayak park, dog park, and playgrounds get the most action. Residents love to come by Kingdom Park for softball, tennis, basketball, and many other sports games.
Restaurants, Breweries, and Bars
Breckenridge has an incredible dining scene and world-class breweries and bars to explore. All of these venues are just minutes away from the Highlands at Breckenridge.
Breckenridge Distillery - Fine dining, cocktails, and a Whiskey Club
Broken Compass Brewing - Craft brews on tap
Ollie's Pub & Grub - A must-visit floating restaurant on a pond
Clint's Bakery & Coffee House - Straightforward coffee shop with fresh pastries
Giampietro Pasta & Pizzeria - Classic Italian fare & pizza
Blue River Bistro - Upscale dining with live jazz & blues
Ski Town Chicken Joint - Full bar, beers on tap, and chicken
Nearby Attractions
The Highlands at Breckenridge is conveniently located near many fun attractions and things to put on a person's to-do list during the summer months. Maggie Pond becomes a standup paddleboarding (SUP) haven during the warmer months. There are even SUP Yoga classes out on the water. Local outfitters and guides can lead people to the best fly fishing spots on the Blue River near Main Street. Over half a dozen breweries have outdoor patio seating open during the summer months; leashed dogs are welcome with their owners at many of these outdoor venues!
Historical walking tours set out from the Breckenridge Welcome Center almost every day. Breckenridge Creative Arts also offer walking tours to experience public art displays in this unique mountain town. Those who want a tour with some drinks can try the Ridden Bike & Brew Tour.
A visit to Main Street is a must-try experience, especially when festivals and other events light up the town. This iconic hot spot runs right through the center of Breckenridge, ensuring residents always have a wonderful place to spend the day.
Sundays bring the farmer's market to Main Street, while the summer months mean festivals nearly every weekend. Beer festivals, art shows, and so much more fill the calendar and promise great times for all.
Schools Near Highlands at Breckenridge
The Summit School District administers the public schools for all of Summit County, including the schools in Breckenridge. For students who live in the Highlands at Breckenridge, their K–5 students attend Upper Blue Elementary School. Middle schoolers in grades 6–8 attend Summit Middle School in the town of Frisco, about five miles north of the Highlands. High school students in grades 9–12 attend Summit High School, located just 3.5 miles north of the Highlands neighborhood.
Students wanting to start their college education can also do so in Breckenridge. Colorado Mountain College has branch campuses in Breckenridge and Dillon in Summit County. CMC serves approximately 20,000 undergrads each year across its various branch campuses. This two-year community college allows students to obtain an associate's degree, and most credits will transfer to a more prominent four-year university or college elsewhere. The two-year Nursing Program is widespread, and students can also pursue degrees and certificates in Culinary Arts, Wilderness Emergency Medical Services, Outdoor Education, and more.
Life is Great in Highlands at Breckenridge
Highlands at Breckenridge is a community of homeowners who enjoy the best of Colorado mountain life. Breckenridge may be a small town, but many people who come here for a visit decide to stay forever. Something about this high-altitude community's natural beauty and settings draws people back every year and makes many of them choose to stay. The amenities and lifestyle living in the Highlands affords homeowners makes it a great choice to live, work and play in the great outdoors.
Thinking about buying a home in Breckenridge? Breck Life Group's expert real estate agents are ready to help you find the perfect home!