6 Reasons to Love Living in Keystone: What to Know Before Buying Real Estate in Keystone
Posted by Pete Deininger on Wednesday, June 21, 2023 at 11:23:56 AM
By Pete Deininger / June 21, 2023
Comment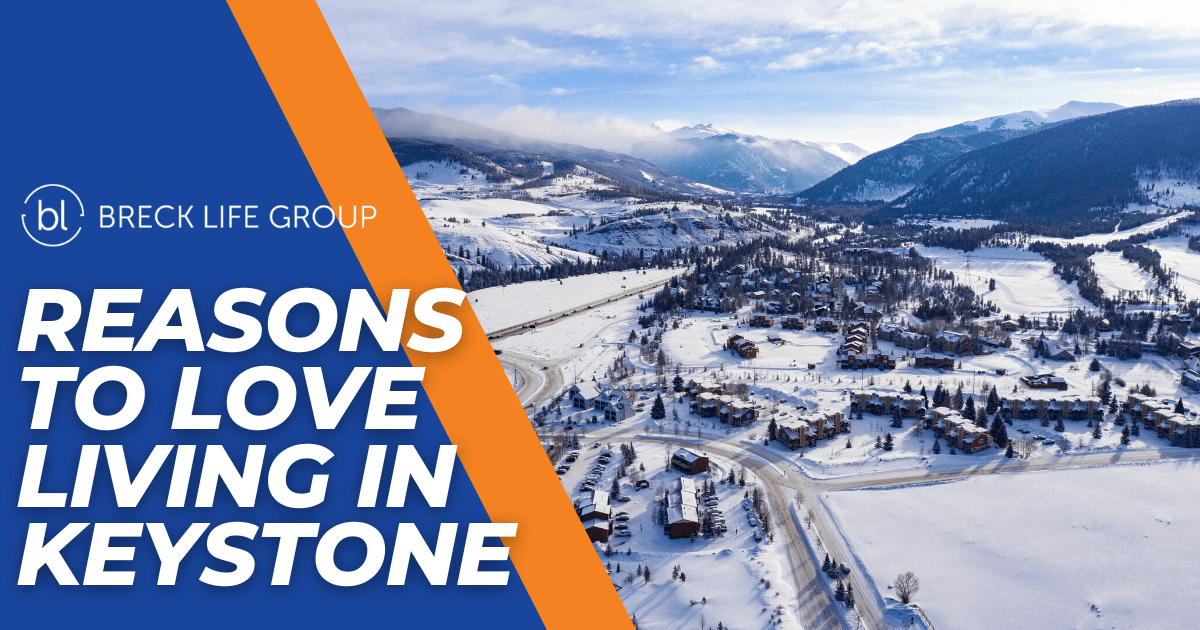 Nestled between the natural splendor of the Rocky Mountains lies the charming town of Keystone, a hidden gem in real estate. With its striking landscapes, a plethora of outdoor activities, a friendly community, and an attractive property market, Keystone offers more than just a place to live; it offers a unique lifestyle wrapped in the comforting blanket of nature.
Many things bring people to Keystone. Some come for a seasonal vacation, while others choose to make this mountain community their home. Whether you're considering a vacation property, an investment, or a complete change of scenery, here's why Keystone might be the ideal place for you.
10 Reasons to Love Living in Keystone
Keystone Ski Area
Keystone Lake
Loveland Pass
Pass Lake
Keystone Resort
Unique nightlife
Scenic hiking and biking trails
Seasonal festivals
Luxury homes and condos
Amazing scenery
The Keystone Lifestyle
Keystone has a vibrant past and a bright future as a growing Colorado resort destination. The community's lively history began with being the home of the Arapahoe and Ute native peoples. Eventually, other early settlers took advantage of logging and mining activities here just over a century ago.
Keystone is centered around the popular River Run Village, which lies at the base of the town's slopes. The community sits at 9,280 feet above sea level, and the mountain itself summits at 12,408 feet. Keystone Ski Resort is the best place for night skiing in the state and offers the longest day ski runs across five different bowls.
Keystone also has upscale spas, five-star restaurants, and several locally owned businesses that support the community and visitors year-round. In addition to the luxury condos surrounding the town, plenty of vacation rentals are available year-round, allowing visitors to partake in Keystone adventures.
Types of Homes in Keystone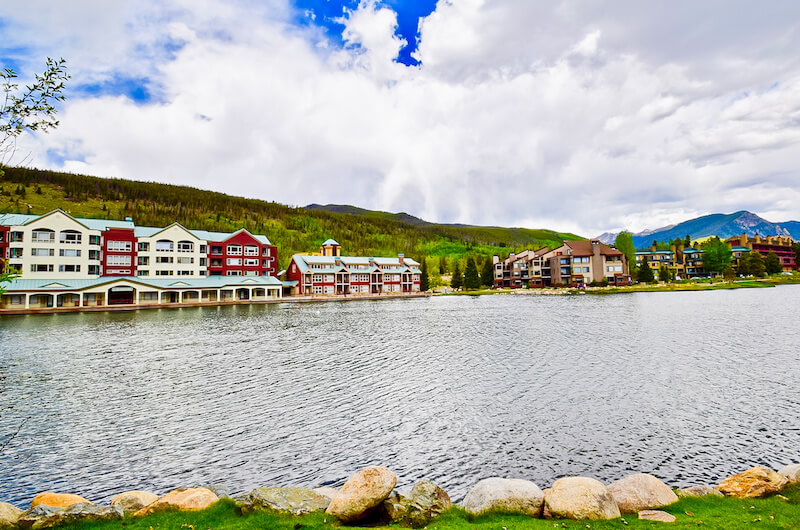 Several gated community homes, cozy cabins, condos, and townhouses make up the homes in Keystone. Sizes of each structure vary, and many outstanding estates and chalets are replete with the most modern amenities available.
Keystone is a relatively new city compared to older communities, so several construction communities exist here. Homes average $850,000 in the region.
Can I Buy a Vacation Rental in Keystone?
A vacation rental in Keystone is a solid investment, as this respite is recognized as a vacation-home haven, so it's ideal for short-term rentals when you aren't visiting. There are licensing rules for short-term rentals that typically require a designated agent.
Rentals also have limitations, including restrictions of two persons per bedroom with only four additional occupants. Before investing in a rental unit, check out the city's current restrictions and regulations, as they are subject to change at any time.
Keystone Amenities
While Keystone, Colorado, is a small community with less than 1,000 full-time residents, there are several amenities that locals and visitors can enjoy and take advantage of. Community centers, public transportation, event venues, gyms, and medical centers are all within reach.
Neighborhood Services in Keystone
Keystone has a free transportation system, and all Keystone Resort guests have complimentary shuttle access from the bus stops within the resort. Keystone Transportation offers a superb schedule that takes guests to and from their lodging locations to the skiing base areas. However, the shuttle runs throughout the community.
St. Anthony Keystone Mountain Clinic is near the resort for emergency and injury incidents. For entertainment, the Creekside Event Center and the Keystone Conference Center have regular concerts and special speaking engagements during the year.
Neighborhood Shopping
Plenty of locally owned and operated businesses near Keystone and major retailers exist. Keystone Sports sells and rents gear and apparel to customers and is a popular shop for outdoor enthusiasts. Just 10 miles from Keystone is an outlet store in the Silverstone community with dozens of shops and eateries to enjoy.
Keystone has an impressive pedestrian area known as Village at River Run, with numerous shops perfect for spending an afternoon popping in and out of. Whether you want themed gear, a new ski jacket or hat, or Keystone souvenirs, this is the place to go! There is also a market for basic groceries and necessities.
Things to Do in Keystone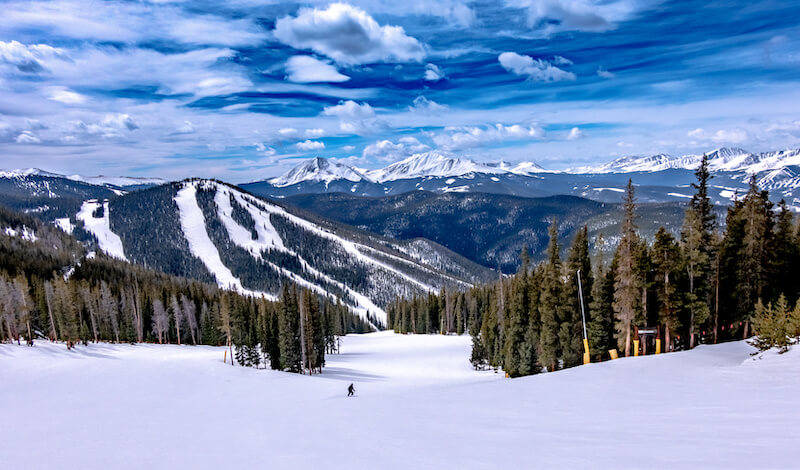 Of course, skiing and snow activities draw in guests seasonally, but living here is a different story. Beyond skiing, hiking, biking, and exploring the great outdoors, there is plenty to do in Keystone for everyday residents. Let's cover a few key perks of the lifestyle here.
Skiing In & Around Keystone
Keystone Kidtopia & Snow Fort is located at the top of Dercum Mountain. This space is a type of kid-centered 'festival' that offers year-round activities designed to keep kids entertained. All ages can enjoy the snow fort, cookie time, snowshoeing, and matinee movies.
Keystone Ski Resort is, of course, the highlight of the community for skiers. There are two gondolas, five high-speed lifts, and several multiple-person chair lifts. With five bowls and over a dozen trails, this draws people into Keystone year after year.
Other Outdoor Activities in Keystone
During winter, those who don't ski can still get outside at Keystone Lake, where recreational opportunities exist. The lake freezes over and becomes the largest outdoor ice rink in the United States. During summer, it transforms into a spectacular alpine lake perfect for kayaking, paddle boarding, and more.
Keystone Adventure Tubing Hill has six tubing lanes that sit at 11,640 feet of elevation. The River Run gondola can take explorers to the top of the mountain to start the run, and the tube lift gives them a ride back up the hill. Many of Keystone's ski runs serve as hiking trails ranging from easy to expert levels in the spring and summer.
Restaurants, Nightlife & Attractions
There are several places to enjoy a nice meal or Keystone's nightlife. One hot spot is Inxpot, a combined coffeehouse and bookstore. It's a great place to chill out during winter or relax on a sunny day.
The Crepe Stand is a bit hard to track down in the center of River Run Village, but worth hunting for. Start the day with a menu of delights ranging from sweet and savory crepes, donuts, and exceptional breakfast items perfect for eating on the go.
Want a night out on the town? Check out the Kickapoo Tavern, where you can partake in a combination of Mexican food and pub fare and indulge in an outdoor patio. Live music, cool brews, and hot food mean Kickapoo has a little something for all to enjoy.
Employers Near Keystone
Several locally owned businesses and retailers offer job opportunities in Keystone. However, those looking for a larger job demographic might need to be willing to make a commute to Silverthorne, Dillon, or the town of Breckenridge.
Target, Lowes, Whole Foods, and Starbucks are top employers in nearby communities. UPS and bank jobs are also common in town and nearby cities. There are also plenty of local purveyors that are hiring, especially in peak seasons for visitors.
Want to work at Keystone Resort and be at the heart of the action all year long? The good news is they're almost always looking for new employees passionate about the mountains and the exceptional environment. The resort offers routine training and development courses, retail discounts, and employee health and wellness benefits.
Schools Near Keystone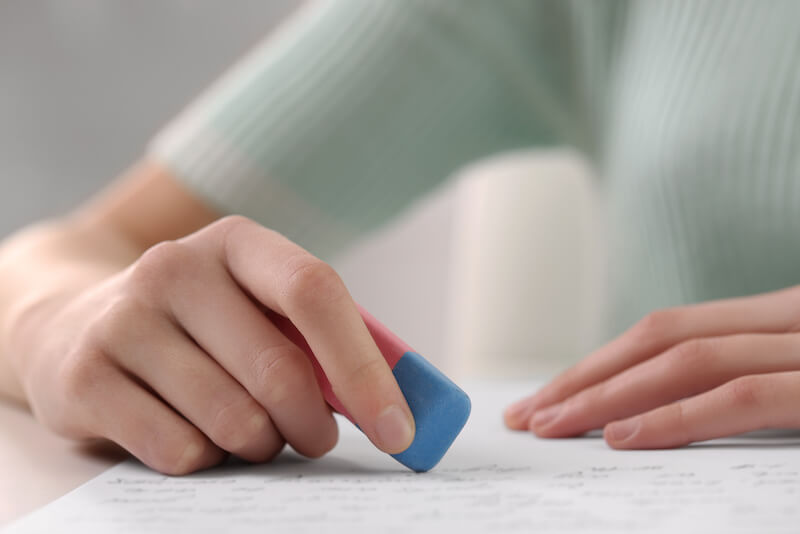 The Summit School District is the primary educational resource in the Keystone community. There are only nine schools in the district, and students receive much one-on-one time with teachers and counselors.
STRIVE Prep is a local charter school offering unique opportunities for students. Those looking for a private school might find Heritage Heights Academy a good fit, as they provide each student with tutoring opportunities, athletic sports, and several clubs.
Colorado Mountain College in the town of Dillon has a good program and is popular with students seeking vocational and two-year degrees. They have various programs and offer affordable tuition and scholarships for qualified applicants. Another option is Colorado Mountain College in Breckenridge, a good choice for those looking for small class sizes and instructors who offer one-on-one assistance.
Ready to Live in Keystone?
Keystone's majestic mountain scenery, year-round recreational activities, and vibrant community encapsulate tranquility and vibrancy. The diverse property options cater to a wide range of preferences, whether you're seeking a luxurious mountain-side property, a convenient townhouse near local amenities, or a quiet, cozy cabin tucked away in nature.
Living in Keystone doesn't just mean buying a house; it means investing in a lifestyle that connects you with nature while offering a warm, welcoming community. For those seeking a harmonious balance of adventure, serenity, and community spirit, Keystone could very well be your dream home destination.
If you're looking for the perfect Keystone home, contact Breck Life Group with eXp Realty at (970) 409-4787 to get in touch with a local Keystone real estate agent and discover your new dream home today.