7 Old Home Red Flags: What to Know Before You Buy
Posted by Pete Deininger on Wednesday, August 30, 2023 at 8:00 AM
By Pete Deininger / August 30, 2023
Comment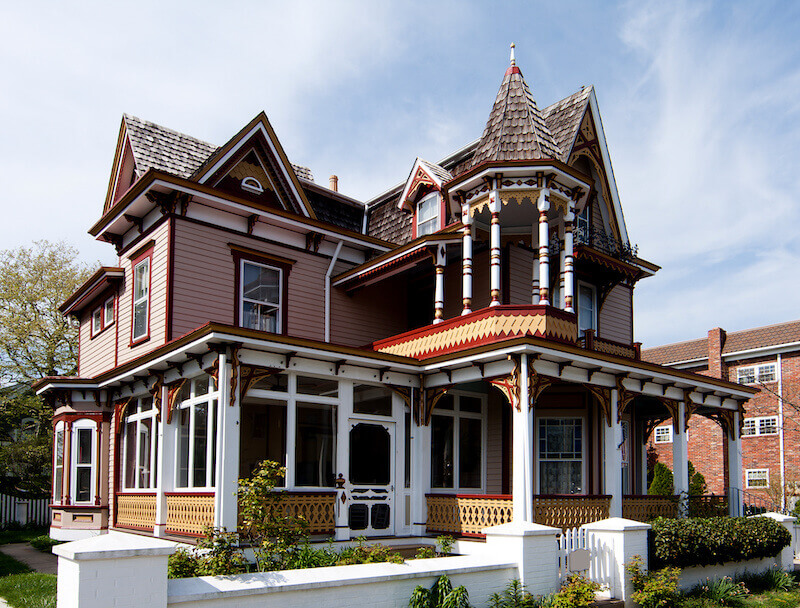 As you journey through your home search, you will likely encounter homes of all ages. The median age of owner-occupied homes in the United States is 39 years, but this statistic varies significantly depending on where you live. In New York, the median home age is 60, while Nevada has some of the youngest homes with a median age of 23.
Whether your home is brand new or 100 years old, you should conduct a thorough home inspection to ensure it is in good condition. A home inspector can alert you to any issues, but there are a few things you can look out for before you even reach that point. In addition, you can do a little research on your own to discover the age of the house.
There's no reason to avoid historic homes. However, you need to be a smart house hunter and interview several real estate agents to find your best fit. Look out for these red flags when buying an old home so you can avoid expensive repairs and dangerous materials.
Homeowner's Insurance Rates
There are a lot of factors that contribute to the affordability of a house. Even if you have a large down payment, other costs like property taxes and homeowner's insurance could push your debt-to-income ratio above 36%—potentially disqualifying you for home loans. Unfortunately, your affordable historic dream home could become too expensive once you look at the homeowner's insurance rates.
Insurance costs increase the older a home gets. This is because the risk levels are higher for older properties. Not only will these homes have traditionally weaker infrastructures and lack the modern materials and technology used in construction today.
There is good news if you are in love with an old house, but not its insurance costs: you can make improvements to the property without sacrificing the home's history. For example, you can replace the roof or update the electric and plumbing systems to modern standards. Whenever you do this, call your insurer. They might give you a reduced rate because the risk of damage is now lower.
Lead Paint
Lead paint is one of the most common hosuehold hazards buyers can find in old homes. The Environmental Protection Agency (EPA) says buyers should assume houses built before 1978 have some form of lead paint in them. According to home surveys, 87% of homes built before 1940 have lead paint, and 24% of homes built between 1960 and 1978.
You can hire a certified risk assessor to check for lead-based paint or ask a home inspector to check for it during their evaluation (not all will know how to do this). If you know the house has some form of lead paint, your assessor can tell you the paint location and provide steps to renovate your home safely.
Lead-based paint is toxic and can lead to various health complications related to the kidneys, nerves, blood, and other organs. It is better to know whether there is lead paint in your old house so you can remove it or cover it to keep your family safe.
An Old Electrical System
Buying an older home often means living with older systems. You might not have an HVAC system or have to manage a series of ductless units installed in each room. Similarly, you might have older electrical wiring that needs to be replaced.
It's not uncommon to find older houses with knob and tube wiring—or at least electrical systems over 50 years old. You might not think that a house from the 1970s is that historic, but your home may be more than a half-century old at this point.
Talk to your real estate agent about these old wiring systems, what they mean for your home insurance, and what it would cost to replace them. If you are serious about a property, you can also contact a licensed and insured electrician to get a ballpark estimate. Make sure you know the square foot area of the old house before you call as this will affect the price.
Single-Pane Windows
Historic windows with lace curtains might look adorable in an older house; however, they also increase your insurance rates and energy costs. Single-pane windows and windows from previous eras lack the technology to protect your home from storm damage the way modern options can. If you live in an area that is prone to hurricanes, you might be required to get storm windows to bring your house up to code.
Older windows also lack energy efficiency. They won't block the heat from the sun as efficiently and could turn your older property into a greenhouse. This will drive up your cooling bills in the summer, while a lack of insulation features will keep your heating bills high in the winter.
It might be worth the cost, in the long run, to budget for a window replacement when you are buying an old house. You might qualify for historic home restoration grants to help you save money on this project while protecting the integrity of your property.
Uneven Floors
There are several reasons why there might be uneven floors within an old house. The wood could be warping naturally after several decades of use, or there could have been a leak that affected the flooring at some point. Uneven floors could also be a foundational issue that a structural engineer needs to review.
Old houses develop more problems as they get older. While a roof replacement or plumbing system upgrade is a pretty straightforward process, identifying the source of flooring problems is harder. Make sure you know exactly why the floors are uneven before you buy the property.
It's not uncommon for home buyers to get caught up in the beauty of older homes; however, you need a realistic picture of the work required (and the estimated budget) to get the house in good shape.
Home Size
While there are some exceptions, older homes tend to be smaller than modern homes. In the 1950s, the average new home was 983 square feet. By the 2010s, the average new home had 2,392 square feet. Newer homes tend to have more living space, bedrooms, and bathrooms. They also tend to have more amenities—like room for a dishwasher and an indoor laundry area.
If you find an old house you love, ensure it is large enough for your needs. Not only should it have enough bedrooms, but it should also have storage space and areas for your hobbies.
Not every house on the market needs to be large; however, you need enough square footage to live comfortably in the modern era. Otherwise, you may need to sell the furniture in your current house to accommodate the smaller rooms in your historic home.
Ghosts
Most home buyers recognize that they will have to invest more time and money to repair historic homes to maintain their charm. However, you might have one problem that no amount of home improvement projects can help: the idea of ghosts.
Older homes may have doors that seemingly magically open due to a crooked frame. Remember that squeaky windows and creaking floorboards are due to age and part of the historic charm, not in part to a perceived ghost. Many seeming symptoms of a haunting are also common signs of a carbon monoxide leak, so if you think your house may be haunted, your first course of action should be buying a carbon monoxide detector.
Find an Old House in Good Condition
You don't have to limit your search to new properties and historic replicas if you are in love with a previous era in home design. There are plenty of old houses that are in good condition and have all the charm you want in a living space.
When you start house hunting, tell your agent you want an old house. They can recommend a few neighborhoods and areas that may have properties you'll enjoy.