The Breck Wire - July
Posted by Pete Deininger on Wednesday, July 18, 2018 at 9:13:37 AM
By Pete Deininger / July 18, 2018
Comment
Breckenridge International Festival of Arts
August 10–19, 2018
Blue River Plaza
This year's Breckenridge International Festival of Arts (BIFA) runs for ten consecutive days bringing together works of art, installation, and skill in spectacular settings throughout Breckenridge. 2018's BIFA festival hones in on the themes of the environment and mountain culture through film, visual works, dance and music forging together to create a relatable and approachable art festival unlike any other.
Our Top Choices of the 10-Day Event
Thomas Dambo: Peeking [Name TBD] (event page)
Wellington Trail
These enchanting woodland trolls can only be truly experienced up close and personal. Take a stroll down the Wellington Trail and be transported into another world of giant trolls created purely out of recycled materials.
Concrete Jams: Sk8 + Jazz (event page)
Check calendar - happening on multiple days
In one of the most unique events, skateboarding and jazz are blended together in a seamless groove of movement. Come witness Denver-based Other Black perform a blend of jazz, funk, and hip-hop while top athletes, such as Jordyn Barratt, Bucky Lasek, and Andy Macdonald, rip up the skate park.
Edina Tokodi: Yeti (event page)
Illinois Creek Trail
Not only does the Yeti exist, it transforms! Edina Tokodi's Yeti, comprised of living grasses, allows viewers to become an active participant - just make sure to bring your camera, this is one photo op you don't want to miss.
---
Breck Epic
August 5-10, 2018
All Day

The EPIC is a grueling 6 day race comprised of over 40,000 vertical feet of gain over the course of 240 miles. Did we mention this is a MOUNTAIN BIKE race (read: not on the road, not on pavement, not on gravel, all on the rugged, rocky terrain surrounding Breckenridge in the Colorado Rocky Mountains). Split into 6 larger-than-life loops that begin and end in the heart of Breckenridge, the Breck Epic is a a spectator-centered race that invites watchers to hit the town or head trailside to cheer on not only your favorite rider but the entire group of uber elite athletes.
Dubbed by the masterminds behind the courses, the Breck Epic is rad with a mid-90's mayhem vibe, can you hang? Register Here!
---
Spartan Race
August 18-19, 2018
All Day (event site)


©Spartan Race, Inc.
Sprint, crawl, climb, and trudge through this endurance race not suited for all activity levels. Ripping through the immense beauty of the Colorado Rockies, Breckenridge is home to one of the toughest Spartan Races held throughout the country. Starting at an elevation of 9,600 (and going up from there!), the race traverses many of the iconic Breckenridge trails with views to the Tenmile Range.
Spartan Race's Top 10 Reason to Take on the Breckenridge Course:
1. The Epic Discovery challenge course at Breck provides the perfect warm up for your race.
2. This venue has the highest starting point of any Spartan course across the globe.
3. Stay within walking distance of the venue. You might even catch a view of the course from your room at Beaver Run Resort.
4. When else will you run a course in the sunshine when there's still snow on the ground?
5. Breckenridge is the outdoor enthusiast's dream. Hike on the extensive trail network or rent a mountain bike and rip up the singletrack.
6. Cool off on the water - fly fish, boat, or whitewater raft while visiting Summit County.
7. The child-friendly town of Breckenridge and Kids' Base Camp at Breckenridge Ski Resort make for a perfect family weekend.
8. Whether your post-race relaxation includes a massage or a Colorado craft beer, you can find your vice just minutes from the course.
9. Refuel and crush those cravings with delicious dining options up and down Main St.
10. Go for gold. Breckenridge shows off its roots as a historic gold mining town with several mine tours.
---
Breckenridge Hogfest Bacon & Bourbon
August 25, 2018
Main Street Station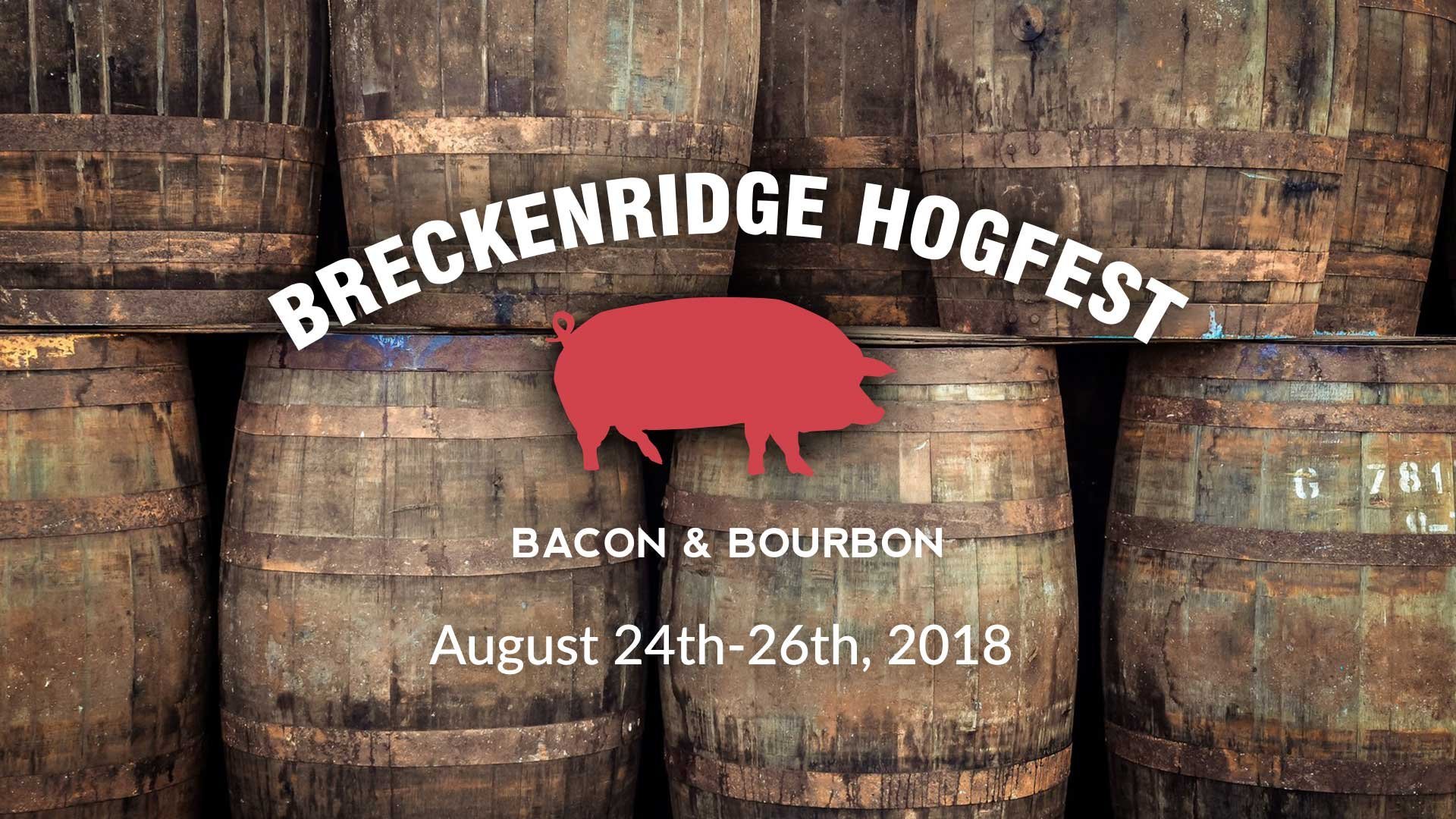 Looking for a festival that dives a bit deeper into mountain culture than a glass of rosé? Breckenridge's HogFest is the ideal weekend-long event to indulge in the meatier side of life with full servings of bacon (served in every way imaginable) and America's sipable staple - Bourbon. Featuring multiple events to suit your needs, from the Supreme Sampler to the VIP All-Access for those wanting a big more Tender Belly in their life (yep, they are a partner and "certified awesome"). One of our favorite aspects of HogFest - the tribute to the designated driver - Free Entry and Samplings to all of those that are dedicated to prolonging the good times by offering themselves up at the DD.
Schedule
Friday: VIP Bourbon Pairing Dinner
Saturday: Grand Tasting
Sunday: Brunch