The Breck Wire - Ski Season Summary
Posted by Pete Deininger on Tuesday, May 23, 2017 at 9:17 AM
By Pete Deininger / May 23, 2017
Comment
In Summit County, there are two very distinct seasons for real estate - the summer season and the ski season (typically November through April). This month we are taking a peak into the market conditions of our recently completed ski season compared to years past.
Residential Sold Property Comparison
The number of residential properties sold throughout the ski season (November-April) remained relatively flat in Breckenridge with 254 sales in the 2015-2016 season and 250 in the 2016-2017 season. Mirroring the micro-market of Breckenridge, the overall Summit County market saw a slight increase of 19 additional sales year over year.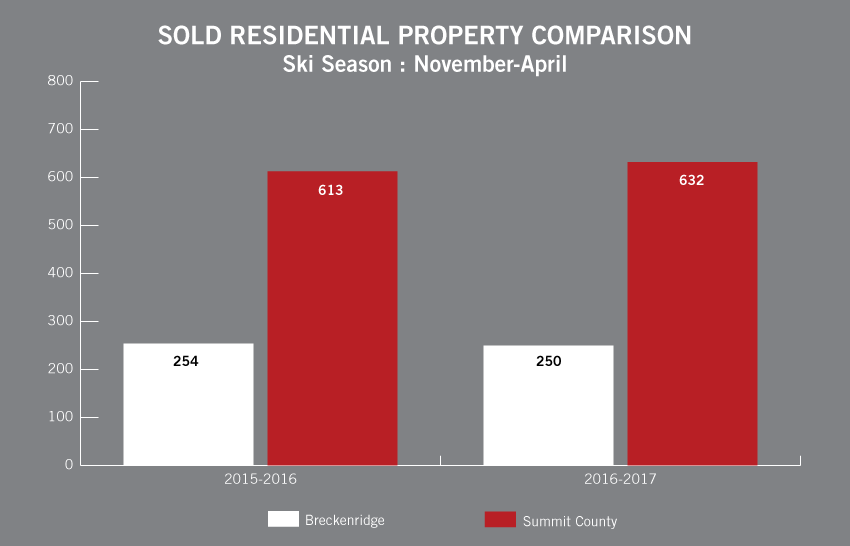 Sales Price Comparison
While the number of sales stayed roughly the same, the median sales prices increased across the board. The most staggering improvement was a 30.8% increase in median sales price for single family homes located in Summit County when comparing this ski season to the 2015-2016 season. Single family homes in Breckenridge followed suit with a 28.2% increase over the 2015-2016 season.
Summit County Single Family Homes: 30.8% increase
Summit County Condo/Townhomes: 13.8% increase
Breckenrdige Single Family Homes: 28.2% increase
Breckenridge Condo/Townhomes: 8% increase
Cumulative Days on Market
In coordination with the increased median sales prices of November 2016 through April 2017, the median days on market also took a plunge. Breckenridge's residential market shaved off 67 days over the previous year - an incredible 65.7% decrease. In similar fashion, Summit County's residential median days on market decreased from 70 (2015-2016) to 31 (2016-2017), a 55.7% decrease. Buyers are acting more quickly once they find a property that suits their needs.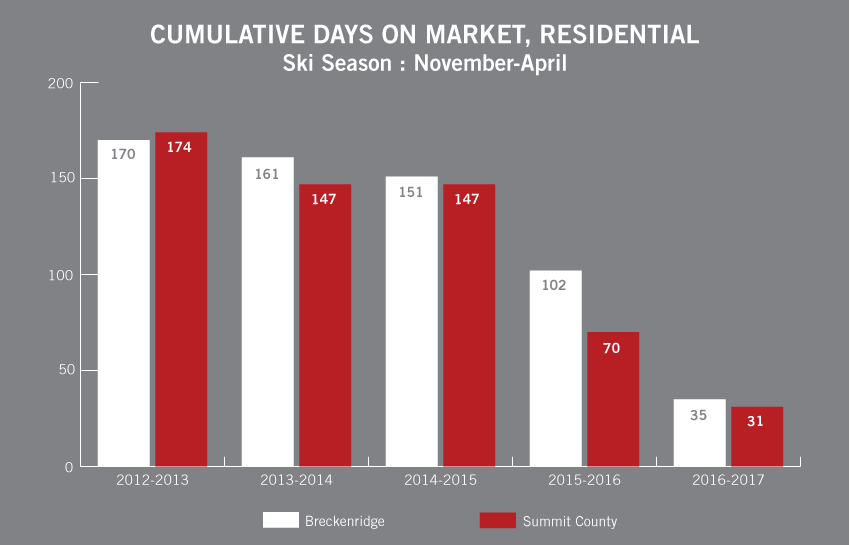 ---
The residential segment of the Summit County real estate market continues to outpace previous years in median sale prices and, coupled with decreasing median days on market, this summer is shaping up to be a banner year for sellers.