Uniquely Breckenridge: Breck Bike Guides
Posted by Pete Deininger on Thursday, June 22, 2017 at 9:00 AM
By Pete Deininger / June 22, 2017
Comment
Uniquely Breckenridge: Breck Bike Guides
A new monthly feature, Uniquely Breckenridge spotlights a local small business owner providing insight into why they love Breckenridge, how they chose to build their business here, and the integral role that they play in our small community.
When in Breckenridge there really is only one shop to get you ready for a ride - everything from gaining insight on how the local trails are riding to demoing the latest in bike trends and technology. Breck Bike Guides strives to be an non-intimidating shop with the goal providing a guiding service that gives people the experience of our incredible trails without the frustration of navigating them alone.
Nick & Sydney Truitt opened Breck Bike Guides in 2013, but the road to opening started many years before. Nick spent the majority of his life competing in just about every aspect of the bike industry, from BMX racing as a kid, mountain bike racing throughout high school and college, and then racing professionally in the road discipline in both time trials and road races. Upon graduating from college, Nick had an opportunity to go to Belgium to compete on the race circuit, but was simultaneously offered a position in the construction industry. Ultimately, the steady construction management work brought him to Breckenridge. Not wanting to get fully out of the bike industry, while in Breckenridge Nick joined the Yeti pro cross-country team.
Jumping at the opportunity to leave construction behind, Nick joined up as a rep for Yeti Cycles and traveled across the country and visiting the best bike shops. The wheels started turning as he visited these shops, thinking about the idea of owning his own one day. All it took to tip the scales was an "interesting experience", as Nick stated, to change his idea into a realty. "Being lost in the woods overnight in an area where I trusted a map, I got myself pinned down in a thunderstorm and ended up spending a hypothermic night in the woods." Through that experience, Nick realized a void missing from the bike community and how much trouble people are able to get themselves in without proper knowledge of the area. And that is where he found the niche for his own shop; one that focused not only on enhancing a rider's skills and confidence but guiding riders around the local trails so they could enjoy the ride and spend it worrying about route finding and navigating an unknown area.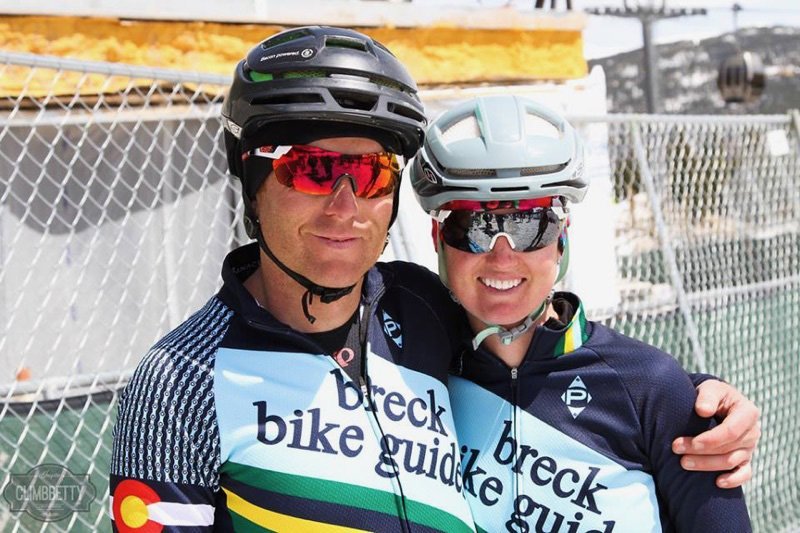 *image courtesy of Breck Bike Guides.
When asked about the growth of Breck Bike Guides over the last year, Nick explains how the customers have shaped how the company expands. Fueled by questions and comments, Breck Bike Guides has added, in addition to the Guided Tours, the Cycling Studio and Bike Service to their gamut of offerings; but mentions that the "biggest thing for us in the last year or so has been finding really good employees."
Moving to Breckenridge in 2008, Nick has always gravitated towards biking but notes that the best part about working and living in Summit County "is all of the different sports, terrain, skiing, and activities. I think it's the healthy lifestyle and people wanting to be active-people are just very happy."
Breck Bike Guides is located at 411 S Main St, #12 in Breckenridge, Colorado and is open from 9 am - 6 pm, Monday through Saturday and 12pm - 6pm on Sundays. Visit Breck Bike Guide's Website for more details!