Uniquely Breckenridge: Brett and Sara Cox of The Crown
Posted by Pete Deininger on Tuesday, April 11, 2017 at 9:20 AM
By Pete Deininger / April 11, 2017
Comment
Uniquely Breckenridge: The Crown Coffee in Breckenridge
A new monthly feature, Uniquely Breckenridge spotlights a local small business owners providing insight into why they love Breckenridge, how they chose to build their business here, and the integral role that they play in our small community.
---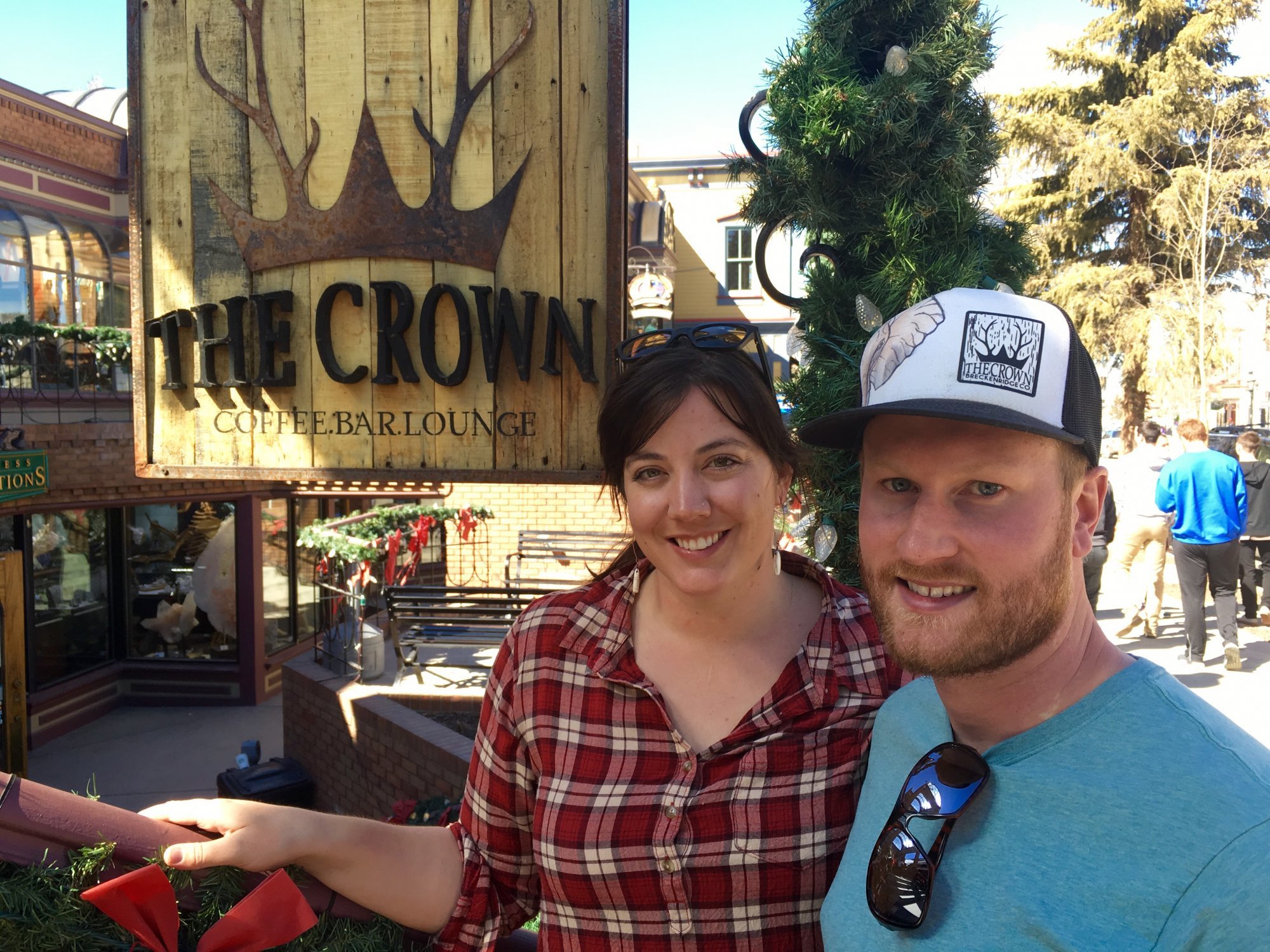 Walk up the stairs off Main Street on any given day and you'll find the Crown teeming with locals and tourists alike. A family sits in the corner drinking cider and playing a board game. Local freelancers type away on their computers. A couple is asking the barista for dinner recommendations. The atmosphere is homey and friendly, exactly what Breckenridge locals love to portray.
Brett and Sara Cox bought The Crown in May 2014 as an existing business that had been in operation for 12 years. Before purchasing The Crown, Brett managed several ski shops around town and Sara worked in sales and marketing as an account manager. While they didn't have any prior restaurant experience, Sara frequently worked in coffee shops and thought, "I could do this". Sara decided that she wanted to create a coffee shop for herself and others and says, "I decided that I wanted to work for myself and not other people."
Brett and Sara had discussed starting a business before getting married in September 2013 and shortly after, the opportunity arose to make that discussion a reality. After a quick face lift in the summer, the two closed the shop for three months in the fall for extensive renovations. Step inside the building, and you'll find a warm, large fireplace, bright colored deer antlers, a sleek bar top, and plenty of comfortable seating. It's the perfect mixture between mountain and modern.
Brett, from Troy, MI, and Sara, from Denver, have been in Summit County since 2008. They originally met in Breckenridge and bought the business to root themselves in the community after debating moving elsewhere.
The best part about working and living in Summit County for the two is the longevity of the community.
"I feel like we're on vacation every day," Brett says, "We have a lot of friends that visit us to come ski." Sara responds "I love the community here. We've had a lot of the same friends for the past nine years. Summit County can be transient but then there's the people that stay here forever. We've been lucky to tap into that core. Now, being a business owner, it's cool to also get the regulars that come back year after year from all around the world."
When asked about the highlights of starting and running The Crown, Sara comments that they have been lucky to have record years each year and continue to grow the business. The two are fortunate to be surrounded by a great staff as well. "We feel really lucky to have an awesome staff that has stuck around for multiple years. This certainly isn't the case for every business in town, but we feel like a big family," Brett adds. Sara chimes in "We have two people who have been with us since our first interviews. We really only have one person on our staff that's been with us less than two years."
Sara and Brett seem to be growing a Breckenridge business that tourists, locals, and their own staff love and take ownership in. Reviews call it a "gem," some people's "favorite place in Breck," and a place for "tourists and locals to feel at home."
Sara attributes her ability to start a business to constant moving around when she was younger. "I'm from Colorado but spent a lot of time growing up all over the country. I lived in Scotland for four years. I've been a lot of places and I feel like that gave me the skills to be in a customer facing business. I feel like I can make conversation with anyone."
The Crown is located at 215 South Main Street and is open Monday through Sunday from 7:30 am to 8 pm. The food menu consists of breakfast burritos and sandwiches, toast, yogurt and granola, lunchtime sandwiches, soups, salads, and flatbread. The drink menu has traditional coffee drinks paired with boozy specials, wine, and beer.
---