Uniquely Breckenridge: The Cheese Shop of Breckenridge
Posted by Pete Deininger on Friday, July 21, 2017 at 11:00 AM
By Pete Deininger / July 21, 2017
Comment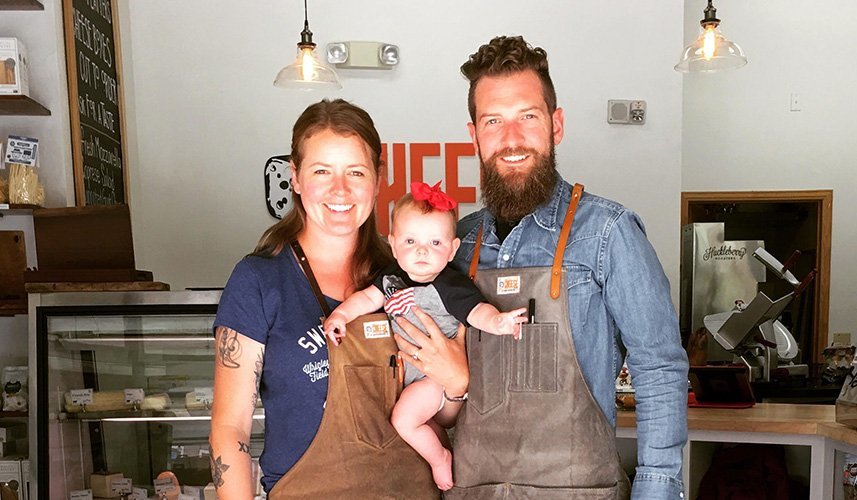 Located in the heart of Breckenridge's Main Street Station, just steps away from the base of Breckenridge Mountain's Quicksilver Chair, The Cheese Shop of Breckenridge is Summit County's premier foodie destination. Owners Brooks and Courtney Leedahl help locals and tourists alike make gourmet memories with their families and friends. They take pride in selling the best small batch, handcrafted American farmstead products, as well as Europe's legendary staples.
Brooks and Courtney met through their love of the mountains and fine food. On a cold evening in November 2014, on a stoop in Breckenridge, Brooks asked Courtney to marry him. It was the next day while strolling Main Street that they realized what the town was missing, a gourmet cheese and provisions store. One busy year later, Brooks and Courtney made the move up the hill from Denver and The Cheese Shop of Breckenridge was born.
The Cheese Shop of Breckenridge was opened for business on New Year's Day 2016. Brooks and Courtney have over 12 years of professional experience in the gourmet specialty foods industry and are on a first name basis with many of the best cheesemakers and salumists in America. The pair are passionate about finding and sharing the best America and Europe have to offer.
Cultivating an atmosphere of a traditional artisan cheese shop, all of their famed cheeses and cured meats are cut to order; but the true hidden gems are the sandwiches made fresh daily using the finest ingredients found on earth. The shop also sells inventive and thoughtfully curated pantry items to round out the shop's offerings. They encourage guests to come in to learn and taste before they purchase. Their mongers are passionate and knowledgeable and eager to help you find your perfect palate match.
The Leedahls understand the importance of community and continue to partner with local events such as The Breckenridge Wine Classic. They truly enjoy providing cheese pairings for many of the wine, beer, and bourbon events that happen throughout the year in Breckenridge. The Cheese Shop of Breckenridge strives to help you, your family, and friends make gourmet memories in the mountains.
The Cheese Shop of Breckenridge-where gourmet memories are made.
Located in the plaza at Main Street Station (505 S Main St, Breckenridge, CO 80424 - map it!). Visit The Cheese Shop of Breckenridge every Wednesday - Monday (closed Tuesdays) from 11AM - 6PM.
Find The Cheese Shop on social media: Instagram | Facebook | Website