4 Reasons You'll Love Owning a Breckenridge Ski In Ski Out Home
Posted by Pete Deininger on Friday, November 12, 2021 at 12:04 PM
By Pete Deininger / November 12, 2021
Comment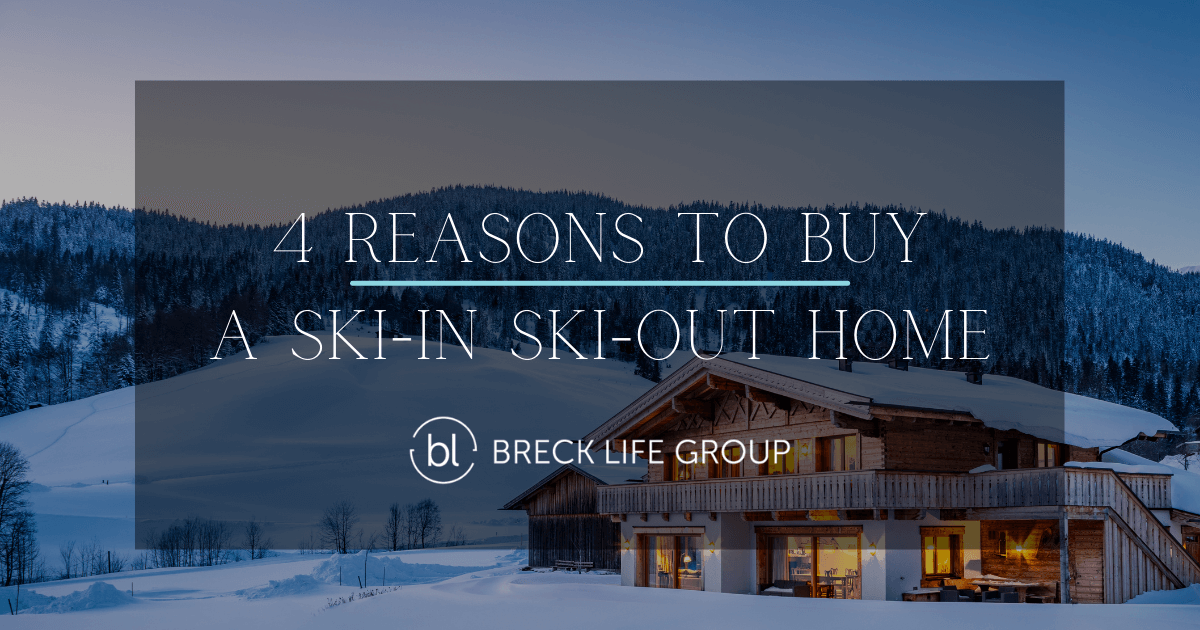 Once a renowned mining town, Breckenridge in Colorado is a vibrant and picturesque town known best for skiing. This is no surprise considering this mountain town boasts over 2,358 acres of terrain characterized by classic ski trails, steep and pristine double black diamond runs, and some of the best freestyle skiing slopes in all of Colorado. The best part? You don't have to enjoy these as a visitor or limit your stay in this quaint town since you can always invest in a Breckenridge ski condo. Keep reading to find four great reasons to buy a Breckenridge ski home.
Ski-In, Ski-Out Promises the Best Snow
Since ski-in, ski-out properties in Breckenridge are typically built right off the slopes or just a short distance away, they allow the convenience to ski whenever one wants. You may wake up, put on your skis, hop on a lift, and be the first person to hit the snow before other skiers make it choppy. No more having to wake up hours before the sun is up to have a full day on the slopes or having to drive through slippery, snow-laden roads to get to the mountain.
A Breckenridge ski-in, ski-out property also eliminates having to pack a lot of gear to the mountains since you can hop back home for sunscreen, a snack, or a forgotten item and ski back to the mountains just as quickly. It also affords you the luxury to engage in nearly any Breckenridge winter activity, from snowshoeing and hiking to night-skiing.
Since most people who buy ski-in, ski-out homes in Breckenridge lead an active lifestyle and love being close to nature, owning such property also puts you next to like-minded individuals. Together you can explore the area, conquer double-black diamonds, and enjoy après-ski gatherings at the end of the day.
Ski-In, Ski-Out Is Fantastic Investment Opportunity
A ski-in, ski-out property makes an excellent primary residence, but if you plan on using it as a vacation or secondary home, it can be a great source of passive income when you rent it out to vacationers.
You can be confident you'll always be booked, as the demand for such properties is high and is expected to increase more since recent trends are allowing townsfolk to work from vacation destinations.
As most vacationers prefer homes with direct access to ski lifts, trails, and resorts, buying a ski-in, ski-out home in Breckenridge guarantees higher investment returns. That's because you can always rent it out at higher rates than if it was a driving distance from the mountains.
What's even better is that your ski-in, ski-out home will be attractive to adventure-seekers all year round, as Breckenridge has great summer activities. These are typically characterized by high alpine lakes, seemingly endless trails with beautiful wildflowers, and plenty of other attractions to explore on the mountain.
The resale value for such properties is usually also high. So, buying a ski-in, ski-out home is an all-around worthy investment, regardless of your intentions with it.
To maximize your returns on investment while renting it out, buy a property with seamless access to the earlier mentioned amenities (ski lifts and trails) and, at the same time, ensure it's a short drive from Breckenridge's Main Street.
Ski-In, Ski-Out Can Have Benefits of a Condo Association
Breckenridge's ski-in, ski-out condos are often part of a resort village community typically managed by an association. These condo associations are often in charge of property upkeep and general maintenance tasks. They'll hire staff to shovel the snow, remove the trash, handle the landscaping, and do whatever's necessary to keep the ski-in, ski-out condo in Breckenridge in tip-top shape.
As a result, residents get more time to enjoy the incredible perks of owning a ski-in, ski-out condo, such as seamless access to ski-lifts, without having to worry about the heavy-lifting associated with maintenance.
Ski resort communities in Breckenridge such as One Ski Hill Place, Crystal Peak Lodge, and Beaver Run Resort generally feature shared amenities. These can include fitness and gym facilities, pools and hot tubs, communal clubhouses, and multi-purpose lounge areas where you can enjoy Breckenridge après-ski amenities and hang out with new neighbors. Such amenities foster a sense of community and overall cohesion, making it easier for residents to establish new friendships with other winter sports enthusiasts.
Take in the Perfect Mountain Views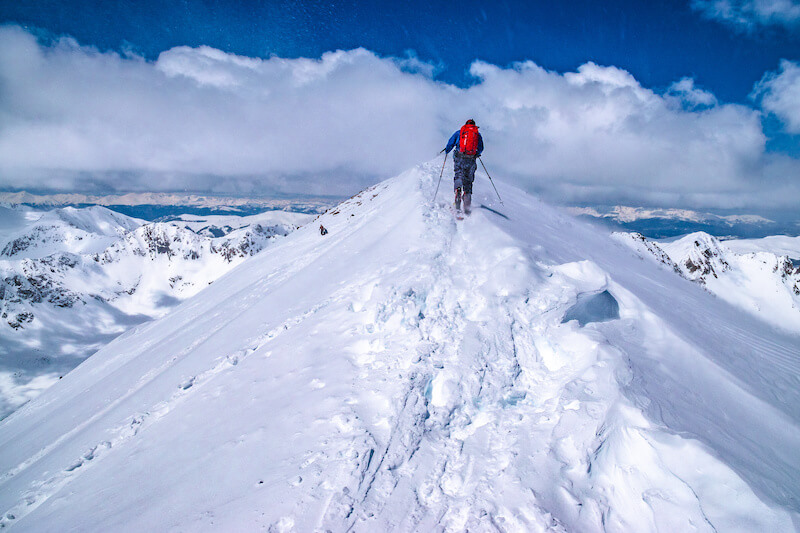 A ski-in, ski-out condo in Breckenridge is precisely what it sounds like: a condo built right off the slopes of the Breckenridge Ski Resort. That means magnificent, unobstructed views of the sun as it rises and crests the snow-capped mountain range and stunning views of the Ten Mile Range. Whether you live in a condo at Breckenridge resort or a remote lodge, It's a blissful experience to watch the sun as it sets behind the mountain range from the comfort and privacy of your home.
Whether you want to go night skiing, snowboarding, or snowshoeing, a home right off the slopes puts you minutes away from all the action, so you can indulge in as many outdoor activities as you want. And with property maintenance tasks off your plate, you have much more time to explore and satiate your spirit for adventure.
Also, with a home off the slopes, your skiing breaks no longer have to be spent in your car or dealing with crowds on the trail since you can ski back home and enjoy a relaxing break with magnificent views. And since Breckenridge has great summers, too, your ski-in, ski-out condo will offer quick and convenient access to the mountain for your summer hiking and biking adventures.
Explore Breckenridge from the Comfort of a Ski-in, Ski-Out Property
Winters in Breckenridge are unbeatable. With miles of snow-covered trails, legendary steep skiing slopes, excellent après-ski amenities, and breathtaking scenery, there's something fun to do and see for everyone.
Summers are equally exhilarating thanks to the endless fun-filled activities such as fly-fishing, mountain biking, and stand-up paddleboarding in the high alpine lakes.
In a nutshell, Breckenridge is a world-class, year-round destination, and the best way to enjoy what it offers is by buying a Breckenridge ski home that puts you smack in the middle of all the fascinating action.